If you are a survivalist, sportsmen, first responder, military personnel, or knife enthusiast, searching to buy the top-rated tactical knife on the market then these are the knives that I say you should be looking at. In this article, I have reviewed some of the best tactical folding knives and best tactical fixed blade knives that you will find on Amazon.
What Are the Best Tactical Knives in the World?
---
Best Tactical Knife
---
1. CRKT M16-14SFG Special Forces Folding Knife – Top Tactical Knife
The CRKT M16-14SFG is one of the most popular tactical knives in the special forces gear industry. Its 3.99″ blade is made of premium quality 8Cr14MoV stainless steel (HRC: 58-59). Recently I tested it to cut for seat belts, ropes, buckets, cordage, webbing, limbs, electric cable, branches, etc; I was surprised to see the result, due to partially Veff serrations the blade cut all the materials easily compared to the fine edge knife. After a long use over the week, the blade held its edge very well. Also, the hollow grind with a tough tanto point can penetrate hard objects. A non-reflective black Titanium Nitride coating on the blade, hardware, as well as on the entire frame, gives the knife a high-resistance ability against corrosion and scratches.
Black G-10 laminate scales and stainless steel liners are used for designing the open frame handle. I always prefer G-10 because of its lightweight and great insulating properties. Aggressive friction grooves and solid gripping texture provide a firm pinch grip in slippery and wet cases. The innovative automated liner safety mechanism of this military-grade pocket knife has taken the locking liner to the next level. The locking mechanism has a metal pin between the frame and the locking liner. That pin is used as an additional tier of security.
When you need to close the blade just draw the red color buttoned security lever back, pull the locking liner over, and smoothly fold the blade inside the frame. Also, the dual hilt or flipper helps you for a rapid single-hand opening and makes itself a finger guard during incautious use. The 4-way pocket clip supports tip-up/tip-down carry on both left/right-handed positions. The CRKT M16-14SFG is proudly made in the USA and delivered to me with a limited lifetime warranty. This top-rated tactical knife weighs 5.9 oz, overall length of 9.25″, and is folded 5.38″.
Pros
Pretty thick heavy duty combo blade
Incredible rust resistance and edge retention
Strong tip, no bending, great for stabbing
Larger, ergonomic handle for bigger hands
Quick, one-handed opening and closing
Good enough for both lefties and righties
Carson Flipper prevents injury and adds safety
Four-way adjustable pocket clip
Limited lifetime warranty from CRKT
Cons
Abuse can chip Veff serrations
Veff serrations take a bit extra time for honing
Flippers tend to get stuck in pockets
---
2. Smith & Wesson SWMP4LS M.A.G.I.C. Assisted Opening Tactical Self Defense Knife
If you prefer an everyday carry self-defense tactical folder, which has a concealable design, and multi-functional gear with sturdy lock back construction as well as all accomplished at an affordable price then Smith & Wesson M&P would be the right choice for you.
This tactical folding knife is equipped with multi-tasking features like a combo edge blade, ergonomic handle, glass breaker, thumb knobs, safety locks, ambidextrous design, and most importantly single-handed opening M.A.G.I.C. assisted mechanism. Its total length is 8.6″, the folding length is 5.2″ and the weight is 7.6 oz.
Its 3.6″ clip point blade is made out of 4034 high carbon stainless steel (56-58 HRC) and coated with black Teflon. Due to the HC steel, the blade holds a decent edge even after prolonged use and is also surprisingly easy to sharpen.
The blade was razor-sharp straight out of the box. It has cut plenty of cloth, straps, cords, cans, tape, boxes, cardboard, utility rope, zip ties, wood pieces, set belts, rubber sheets, and trimmed plastic parts and sometimes me. The partially serrated blade easily cuts through hard, flexible, or fibrous objects.
Smith & Wesson M&P comes with an Aluminum handle with a darker grey rubber inlay. Its handle is a bit thicker and heavier than other folding knives of the same size. Besides, the handle fits my big hand like a glove.
The flipper actuator on the top and finger grooves with jumping on the bottom of the handle provide maximum traction and control for heavy penetrating or pus cutting. Although there isn't enough texture, I had no problem getting a non-slip grip with wet or sweaty hands thanks to the ergonomically designed handle.
The most striking feature is its "Multipurpose Assisted Generational Innovative Cutlery" (M.A.G.I.C) mechanism, which deploys the blade really fast by either sliding up on the thumb disk or turning back on the spine flipper actuator button. The mechanism is quite strong, after operating it thousands of times I have never had a problem with the spring mechanism nor has it ever failed to fully open the blade. The knife is easy to operate by both left and right-handed users.
It has a liner lock which ensures that the blade will not close suddenly while using the knife. Once the blade is deployed, the lock engages with a satisfying "click" ‍sound. Lock-up feels very sturdy in hand, and there is no play in the blade in either direction. Also, disengaging the liner lock with one hand is a breeze.
Furthermore, a security switch confirms no accidental opening in your pocket. The safety switch is designed for right-handed users, but lefties can also easily use it. Both locking systems are reliable enough, while in use I never felt like the blade would fall on my fingers or suddenly deploy in a pocket due to a lock failure.
The pocket clip cannot be moved to different positions allowing only one-sided tip-down carry. The clip holds the knife securely, yet allows for a quick draw from the pocket, with no snagging at all.
Pros
The blade arrived very sharp out of the package
HC blade is great for easily taking a sharp edge
Easily cut through tougher and fibrous materials
Handle is thick, sturdy, bulky, and durable
Handle fits my larger hand exceptionally well
Spring-assist opening is smooth and quick
One-handed opening and closing the knife a breeze
Safety lock prevents any accidental flying open
For the price, this is an unbeatable tactical knife
This knife includes a limited lifetime warranty
Cons
Non-reversible clip supports tip-down carry only
Weight a bit heavy for an 8.6″ folding knife
Toggle, thum plate, and safety lock are made of plastic
---
3. Ka-Bar KA1214-BRK USA Fixed Blade Tactical Fighting Knife
If you want something with the kind of features that the US Marines need in a tactical self defense knife, stop your search now and purchase the 11.88″ long USA-made Ka-Bar KA1214-BRK model. The 11.2 oz weighting knife has a limited lifetime warranty.
Its 1095 Cro-Van stainless steel (56-58 Hardness Scale) blade with full tang structure has created an ergonomic and nearly indestructible blade. The 0.165″/4.19mm thick blade has a razor-sharp 20 degrees partially serrated multipurpose cutting edge.
The 7″ long blade guarantees instant death if it is applied to a wild animal or a human. The clip point blade has a non-reflective black powder finish to reduce scratch and friction drag and protect from rust as well.
KA1214-BRK best tactical knife comes with a hand-made Kraton G handle. It is the composite stuff of Synthetic Elastomer. The Synthetic Elastomer feels comfortable and fits perfectly in my hand. The Kraton handle provides a better grip, good control, and durability than wood.
Even in any situation, you can apply the pommel as a hammer, and the Kraton-G handle will not break or crack like wood. The knife is effectively useful for chopping or cutting or cooking in any hunting and survival trip or any outdoor adventure.
The hard plastic-made sheath offers the user to carry it left or right side. This plastic sheath is well suitable for wet tropical conditions because it protects the knife from water and moisture pretty well. Also, the sheath comes with a minor safety system for the young child. A short strap wraps around the handle for keeping the knife tightly into the plastic sheath.
The same model is also available in the plain edge version: Ka-Bar #1213 Black Straight Edge Knife
Pros
Came shaving sharp from the factory and retains its edge well
Not terribly hard to sharpen with any sharpening stone
An acute tip, great for delivering a quicker and deeper puncture
The handle easily fits in my large hands even with gloves on
Didn't slip out of my hands even with wet/oily/fish slime cases
Great ergonomics, with a few options for holding it in different situations
Cross-guard is a steel for durability, balance, and secure use
Weatherproof pre-molded hard case sheath is Molle compatible
Awesome USA product is not outrageously expensive
Cons
Not suitable for heavy abuse like batoning
The blade can rust without proper care
Sharpening the serrated part may seem a bit difficult for beginners
---
4. Cold Steel Recon 1 Series Tactical Folding Knife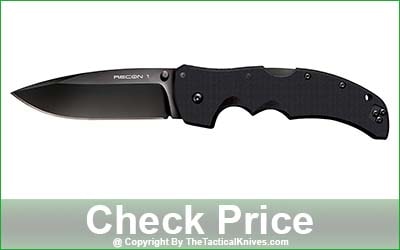 If you are an outdoor enthusiast, active/ex-military personnel, first responder, law enforcement officer, wilderness guide, or survivalist and looking for a hard-use tactical EDC knife that requires very low maintenance then this latest model in the Cold Steel Recon 1 Series will be perfect for you. The folded length of the knife is 5.38″; the overall length is 9.38″, and the weight is 5.2 oz.
The Recon 1 has a 4″ long and 0.13″ thick spear point fine edge blade. The core of the razor-sharp blade is made of the world's most superior stainless steel CPM-S35VN (HRC 60-62). The blade is also vacuum heat treated as well as sub-zero quenched.
I have used the knife to cut cord, rope, cardboard, plastic boxes, feathering sticks, food prep as well as many other objects I have to deal with each day. In fact, its edge retention is so good that there was no issue with sharpness even after months of heavy use.
However, after some abusive work such as cutting electric cable for renovation, piercing plastic pipes and thick tin cans, and hog skinning, I get a lot of reduction in its sharpness. Although it is good quality steel, the blade is thick and beefy, and even the steel is very tough, so I had to spend a bit more time getting the factory edge back.
The Recon 1 comes with G-10 laminate handle scales. It is a heavy-duty knife but I was a bit concerned about the handle having no metal liner. However, after using it for a couple of months I realized the handle is strong enough without the metal liner. The textured scale, thick body, and ergonomically contoured super smooth deep finger grooves – all provided me with a firm and non-slip grip, even with wet/oily hands.
The mechanism was a little tight for the first few weeks of receiving the knife. First I lubricated the phosphor bronze washer and started using the knife. After a few weeks of use, I realized that opening and closing a folding knife of this size with one hand became very smooth and quick.
It just needs a flick of your wrist or slide push on the thumb studs the blade comes flying out. Most importantly, the knife is integrated with Cold Steel's revolutionary Tri-Ad locking mechanism that holds the blade like a fixed blade knife and I never feel any blade play.
The knife comes with a reversible tip-up deep carry pocket clip. The retention of the clip is perfect, folder stays firmly in place. Comparing its size I hardly feel anything in my pocket.
Pros
Premium-grade CPM-S35VN stainless steel blade
DLC coating is durable and long-lasting
Mine came hair-off sharp from the factory
G-10 scales are light, durable & well textured
Handle fits my large hands like a glove
Ergonomic handle allows so many grip options
Big folder, not too heavy for the size
Manufacturer provides a bonus pocket clip
The knife also has a great lifetime warranty
Skillfully crafted in Taiwan, not China
Reliable heavy-duty EDC, well-worth the money
Cons
No metal liners but the handle is enough strong
The mechanism is a bit stiff at first
---
5. CRKT M16-14ZLEK Law Enforcement Tactical Folding Fighting Knife
The CRKT M16-14ZLEK has a 3.75″ AUS-8 High-Carbon Stainless Steel blade which is triple point serrated. When I tested it to cut things like rope, straps, cord, canvas, electric ware, vegetation, heavy plastic, or fibrous materials than found greater advantages compared to the plain edge blade. Its incredibly stiff and sharp tanto shape point allows me to pierce into thin metals and solid objects. All the parts of this folding knife are painted with a black Ti-Nitride coating to make it stealthy as well as increase stain, rust, and corrosion resistance.
The InterFrame construction handle is complemented with textured Glass Filled Nylon over the 420J2 stainless steel liner. To make sure best permanence in any circumstances the handle is assembled with offset Torx fasteners. The friction grooves support all-weather grips in my hand. Moreover, the knife features a cool seat belt cutter to the Carson Flipper and a handy tungsten carbide glass breaker at the handle butt. Also, the Flipper makes the blade really easy for a quick single-hand opening and sets itself as a finger guard when open. CRKT M16-14ZLEK is made in the USA.
This tactical folding knife is manufactured with the automated liner safety mechanism. It puts a pin between the frame and the liner lock. The metal pin performs as the 2nd tier of security. To fold the blade just draw back the red color buttoned security lever, turn the locking liner over, and smoothly close the blade into the folded location. Its four-position pocket clip allows me tip-up, tip-down in pocket carry, and left or right-handed for mobility. The CRKT M16-14ZLEK arrives with a limited lifetime warranty and measures 9.25″ in overall length, 5.5″ in folded length, 6.2 oz in weight.
Note: You will get more CRKT's top tactical knives on this listing; those are purchasable in different colors, plain and serrated blades.
---
6. Gerber StrongArm Fixed Blade Tactical Survival Knife
Gerber StrongArm is one of their best-selling tactical combat knives for many years. The 9.8″ long Gerber StrongArm is made in the USA, has a limited lifetime warranty, and weighs 7.9 oz.
The 4.8″ blade is crafted from commercial high carbon stainless steel 420 that has a 58-60 HRC rating and excellent rust resistance. This type of HC steel is far better than 440A or S30V. The drop-point blade has a stealthy black ceramic coating to increase corrosion and scratch resistance in any harsh environment.
The blade has higher edge retention and keeps razor sharpness for a long period even a heavy usage. With a 0.19″ thick fine-edge blade, it is a high-quality tactical knife for slicing, chopping, firewood batoning, feathering sticks, and other fundamental works.
The main body of the 5″ handle is made of with Glass-Filled Nylon. The surface area of the handle is covered with a diamond-textured rubber overmold. The ergonomic handle provides proper traction and a nonslip grip even if my hands are muddy, wet, or bloody.
Due to the full tang design, the knife is as strong as it is balancing, easy to use, and maneuver. The extended part of the tang or steel pommel at the base of the handle can be applied as a hammer. It has a lanyard hole in the middle of the pommel.
Another important accessory of this tactical knife is its multi-mounted Thermo-Plastic sheath. The sheath is mildew resistant, military-grade, and lightweight. The modular strap-together system allows one to carry the knife in many ways – from vertically on a MOLLE mount to drop-leg style to horizontal carry with a 1.75″ belt. Also, it helps to keep the knife firmly both active and passive holding.
Check out its half-serrated version: Gerber StrongArm Serrated Edge Fixed Blade Knife
Pros
The knife is strong enough for multi-purpose heavy usage
Feels good in my hand, not too big and not too small
The thick blade was very sharp out of the box
It also sharpens easily and holds an edge well
Well balanced full tang handle fits even an XL hand
The rubberized handle absorbs shocks, feels comfortable, and doesn't slip
The sheath has the most versatile design I've ever seen
Extremely functional USA product relatively cheap
Cons
The pointed pommel is not preferred by many users
Really good knife, no more cons against this knife
---
7. Benchmade – Mini Griptilian 556 Drop-Point Tactical Knife
If you want a tactical EDC knife under $150 that is light, super sharp, and compact enough then Benchmade – Mini Griptilian is a perfect choice. The 2.91″ blade is made out of the premium quality 154CM Stainless Steel material (58-61 HRC) to ensure ultimate edge retention, as well as corrosion resistance.
The thickness of 0.100″ (2.54mm) and a drop-point shape, deliver versatility and strength. Moreover, the razor-sharp blade is partially serrated and comes with a durable black-coated finish to minimize reflection. This little buddy can serve for piercing, slicing, rope cutting, set belt, push cutting, electric cable, webbing, etc.
Its Grivory handle is entirely ambidextrous and mini Griptilian scales are crafted from Glass-Filled Nylon. The handle also has stainless steel liners to ensure ultimate durability. You'll love the feel of jimping and anti-slip diamond shape texture patterns on the handle. Moreover, with the lanyard hole, you can hang it anywhere you want.
This manual-opening knife is mechanized with the Axis Locking system that ensures the safety of the user. Also, it enables users to quickly open and close the knife in one hand. The knife also has a tip-up carry reversible pocket clip.
The Benchmade 556 is a unique product manufactured in the USA and backed with LifeSharp service and a lifetime warranty. It has a small design with an overall length of 6.78″, a closed length of 3.87", and weighs only 2.81oz (79.66g).
Note: This listing has many best tactical knives like Benchmade – Mini Griptilian 556, which are available in different colored blades and handles as well as plain or half-serrated blade options.
---
8. Kershaw Blur Tanto with SpeedSafe Opening Tactical Pocket Knife
Kershaw is one of the best tactical knife brands in the world. It was established in 1974 with a view to design and produce the world's best knives and tools at an affordable price. Also, the users of the product would be proud to purchase, use, and carry. With this in mind, Kershaw launched the Ken Onion Blur in 2009. Since then the Blur models have taken the crown of the top position of the tactical pocket knife in the world. The Kershaw Blur Tanto Black Serrated Pocket Knife is one of the best-selling EDC knives on Amazon.
The knife has a 0.125″ (3.18mm) thick and 3.4″ long blade that is formed of high-quality Sandvik 14C28N Stainless Steel. The tanto point blade is also protected with black Diamond-Like Carbon (DLC) coating for additional rust and corrosion resistance. Its half-serrated multitasking blade provides an extra cutting advantage for rope, cord, set belt, electric cable, and other fibrous materials.
The handle is made of 6061-T6 anodized Aluminum to make it durable, lightweight, tough, and scratch-resistant. For a very solid grip, there are Trac-Tec inserts patterns on the handle. It has an easy one-handed opening with a SpeedSafe system and a Liner Lock mechanism. To deploy the blade, all you need is a flick of your wrist or a manual push on the thumb stud. The pocket clip is reversible. You can change it to a tip-down or tip-up carry on the right side.
Kershaw Blur is proudly produced in the USA and comes with a limited lifetime warranty against any manufacturing defects as well as offers free lifelong sharpening. Most importantly, by chance you broke this Blur's blade; Kershaw will replace it just for $10. Measurement: folded length 4.5″, opened length 7.9″, and weighs 3.9oz.
Pros
Heat-treated steel strongly takes & holds an edge
Acute tip, great for stabbing/piercing stuff
Aluminum handle feel feels solid and grippy
Ergonomic handle offers so many grip possibilities
Easy, super fast, and consistent assisted action
Ambidextrous one-handed opening and closing
Lock is strong and reliable with no slop or wiggle
Adjustable pocket clip is sturdy and tight
USA made and I believe in US products
Lifetime warranty with excellent customer service
For the price, it's a pretty awesome knife
Cons
Pocket clip does not have left-hand side carry
Some users found the hand grip to be rough
---
9. Ka-Bar KA1245-BRK Black Tanto Tactical Combat Knife
If you are in search of a good tactical knife for close combat or hand-to-hand fighting, then this Ka-Bar knife might just be the perfect fit. This knife, particularly designed for US Marine Corps, has an overall length of 12.8″. The core of the 8″ blade is made from high-quality 1095 Cro-Van Stainless Steel and coated by a non-reflective black epoxy powder layer.
This grade of steel alloy provides an excellent mixture of toughness (HRC 56-58), corrosion resistance, edge retention ability, and easy-to-sharpen, making it the ideal choice for a tactical fixed blade knife. Moreover, the partially serrated edge tanto point blade has a thickness of 4.191mm (0.165″) – which is strong enough to pierce through anything that is not solid.
Kraton G used to make this full tang knife handle. The handle profile has deeply rounded finger troughs that provide extra strength and a slip-free grip. The oval-shaped handle nicely tapers towards the bottom and top of the knife. It also comes with a crossguard that is slightly curved and gives essential protection to the user's hand.
To add on, both the crossguard and steel pommel of this knife enable the user to have a solid, unmoving grip on the knife. The 11.2 oz (0.70 lbs) weighing knife comes with a Glass-Filled Nylon sheath that is MOLLE compatible. As this USMC fighting knife is made in the USA and also comes with a lifetime warranty by KA-BAR, it is definitely worth a try!
---
10 SOG Escape FF25-CP Tactical Rescue Pocket Knife
The SOG has impressed me with its knives before as they always have a superior performance which makes them suitable to be used in military, industrial and law enforcement. This award-winning brand's famous tactical knife is Escape FF25-CP. It is an emergency gear with versatile rescue features that can be carried anywhere for being a compact design. The 3.4″ long partially serrated blade is made of 9Cr18MoV Stainless Steel (HRC 57-58) and coated with a Hardcase black finish for increasing stealthiness and excellent wear resistance. The 0.13″ thick blade has a sturdy clip point tip that is perfect for deep puncture or opening a can.
SOG Escape FF25-CP Survival Pocket Knife comes with a 6061-T6 hard-anodized Aluminum made handle with a black finish. The ergonomic handle is contoured in a user-friendly manner to assure you have a comfortable as well as firm pinch grip in your palm. The multi-tasking handle also features an emergency glass breaker, a wire stripper, and an extra line cutter blade situated beneath the handle slab. The formidable line cutter that capable to cut a variety of fibrous things such as seat belts, strings, cords, and so on. Moreover, the thumb jimping and blade spine rasp both works together for filing, notching, and stable thumb placement.
For easy one-handed opening or closing, it just needs a slight push at the thumb studs. Don't worry, SOG ambidextrous Lockback Mechanism makes this knife 100% safe when it is in use or able to be safely carried or moved around with all the time. The fixed pocket clip behind the handle can also be used as a money clip. This best SOG tactical knife offers a limited lifetime warranty against any manufacturing defects and materials. Its overall length is 8.2″, folded length is 4.8″, and weighs only 4.80 oz.
---
11. Kershaw Clash SpeedSafe Assisted Opening Tactical Utility Knife
If you are looking for a great multi-use pocket knife that is compact in size, very well made, reliable assisted mechanized, and easy to carry and use every day then the Kershaw Clash will be an affordable choice for you. The folded length of the knife is 4.25″, the overall length is 7.4″ and the weight is 4.3 ounces.
The tactical knife has a 3.1″ long blade made from heat-treated 8Cr13MoV stainless steel. The blade has a black oxide coating for protection which makes it non-reflective and also increases its rust resistance.
The combo edge folding knife is perfect for cutting through everyday packages, plastics, wires, rope, letters, zip ties, packing tape, cardboard boxes, and disturbing plastic items from labels. The super sharp blade is able to cut through all types of hard or soft materials smoothly, both in downward pressure and sawing.
The drop point blade is quite thick and strong so I've also used it as a small pry bar for occasional emergence needs.
The glass-filled nylon scales on the handle are a bit heavy and thick but feel sturdy enough. The handle is a little short for larger hands but pretty spacious. The handle has a deep finger groove, grip lines, and enough texture to allow me to grab the handle easily and comfortably despite my large hands.
As the flipper is pulled back, the SpeedSafe assist mechanism deploys the blade instantly with a slight jerk. The locking liner bar takes position behind the blade as soon as the knife swings open and prevents accidental closure. The blade lockup is solid and secure, even after months of use I haven't had any play at all.
Although I miss the thumb studs for the opening, the knife feels more compact without this feature. Also, I found it much easier to put the knife in and out of the pocket.
For convenient carrying, there is a sturdy wide profile reverse clip that allows the knife to be carried in tip-up and tip-down positions.
Pros
The blade came absolutely shaving sharp right out of the box
Heat-treated blade holds its edge longer and easier to re-hone
The handle is comfortable and not slippery in all manner of gripping
The size and shape of the handle feel great, fits nicely in my hand
Assisted opening is safe, insanely fast, and smooth as butter
Deploying takes zero time and can be done single-handed
The liner lock engages perfectly, with no wiggle or play
Not many outstanding tactical knives at this price point
This knife includes a limited lifetime warranty
Cons
The clip is only reversible for righties, not lefties
Unimpressed with the plastic-like feel of the handle
---
12. SOG SEAL Pup Elite Tactical Fixed Blade Knife E37T-K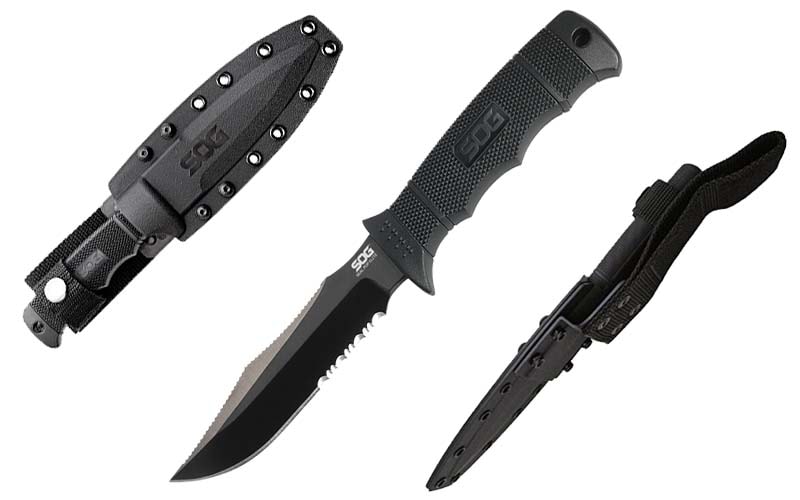 If you are looking for a wide range of versatile use (combat, survival, self-defense, and hunting) best tactical knife under $100, then SOG SEAL Pup Elite E37T-K will be your right selection. The knife is backed by a lifetime conditional warranty.
Heat-treated AUS-8 Stainless Steel blade has 4.7-mm/0.185″ thickness and the core has a 57-58 HRC scale rating which means it is one of the strongest steels in the world. Cryogenic heat-conducting is a method that improves the durability, viability, and longtime edge-holding ability of the blade. Hardcase Black Tiny finish and with heat conducted process have not only made it rust-resistant but also improve the sustainability and razor sharpness at the same time. Its 4.85″ long partially serrated multi-tasking blade is useful for day-to-day work like cooking, cutting, chopping, piercing, etc. Also, the spine rasp of the blade supports filing, notching, and thumb placement. A sturdy clip point tip helps to create a dip hole with less thrash. Due to its heat-treated blade and corrosion resistance TiNi coating, the knife can stand in salt spray or seawater, snowfields, and tropical rainforests.
The tang part (3″-4″) of the blade passes through the handle that fulfills it as a full tang tactical knife. The handle of this fighting knife is created from Fiberglass Reinforced Nylon. GRN is a material that is unaffected by electricity, harsh acids, and obsessive temperatures. The handle is textured by the pattern of diamond checking for a strong grip and pleasant holding. In the meantime, the ergonomic deeper finger grooves also provide maximum strength, and bolster-like finger guards protect your hand from slippage. This 9.5″ long and 5.4 oz weighting knife arrives with a Kydex sheath and a belt loop extra. You can also carry it with a backpack or other gears and attach it either right or left-handed as well.
---
13. SOG Trident Assisted Opening Tactical Folding Knife
SOG Trident has a partially serrated 3.75″ long AUS-8 Stainless Steel blade (HRC: 57-58). Furthermore, the blade core has undergone a cryogenic heat treatment process and finished with stealthy black TiNi (Titanium Nitride) coating – all these procedures have increased the blade's edge retention, longevity, rust, and scratch-resistant.
The lightweight handle is manufactured by impact and moisture-resistant Glass-Reinforced Nylon as well as having a Digi-Grip pattern for an essential anti-slip grip. There is a slot cutter, framed into the handle slab, you can use it for cutting heavy belts, paracord, cable, webbing, thin rope, or fishing line without deploying the blade.
SOG Trident is assembled with SOG Assisted Technology (S.A.T.) that's a spring-assisted mechanism, the blade fly's out rapidly by either hand with a flick of the dual thumb studs. While you release the blade, a piston lock system applies a temporary metal bar that takes a position between the knife handle and blade tang. Moreover, SOG's patented Arc-Lock technology guarantees the blade closes more firmly and unlocks more safely.
Bayonet-mounted reversible pocket clip expands from the end of the handle and supports the right or left-handed users for deep and guarded carrying options. The folding knife offers a limited lifetime warranty. The origin of the tactical knife is the USA. SOG Trident has an overall length of 8.5″, a closed length of 4.75″ and weighs only 3.6 ounces.
---
14. Gerber LMF II – Best Tactical Survival Knife
Since the 1939s, Gerber the Legendary Company has been manufacturing the world's best outdoor gears and different types of knives, especially for outdoor enthusiasts, survivalists, law enforcement, and sportsmen. Its head office is situated in Portland, Oregon; where they produce most of their domestic products including the LMF II. The Gerber LMF II is available in 3 different colors and models. The truth is, all these three tactical survival knives are the same except for their color of handle and sheath. Most importantly, all the parts and accessories of this knife are made in the USA and Gerber offers a limited lifetime warranty with this knife.
Gerber LMF II comes with a 420 High Carbon Stainless Steel made blade which is 0.198″/5.03mm thick and 4.84″ long. The drop point blade has a convex curve shape from the blade spine to point. High Carbon steel, 58-60 Rockwell hardness rating, and partially serrated cutting edge – all these characteristics have made it an ultimate tool for cutting rope, branches, set belt, electric wires, vines, prying, slicing, chopping, bushcraft chores, hammering, digging, and other utility works. To protect from corrosion, scratch, and rust the blade is finished with black oxide coating as well as gives a stealthy non-reflective visual signature.
The handle of this tactical self-defense knife is made of Glass-Filled Nylon and TPV Overmold. Gerber LMF II was actually designed to free the aircrew members from an accidental aircraft, and the blade has a three-quarter tang because it breaks between the butt cap and tang. Such type of unique craftsmanship protects the users from being electrically shocked while someone cuts the live wires and survives themselves from the downed aircraft. Moreover, to prevent slippage, there is a half-inch grip jimping on the end of the three corners of the handle. There are 2 more lanyard holes on the handle in the middle place of the knife. These two holes are used to lash the handle with a stick to prepare a spear.
The 10.59″ long Gerber LMF II Survival Knife comes with a military-grade Ballistic Nylon sheath, and it is coated with a fire retardant finish. The multi-purpose sheath is equipped with an integrated V shape sharpener, two ergonomic leg straps for calf or thigh carry, MOLLE compatible, easy to carry with a waist belt, and a strap or belt cutter/safety strap. The 11.67 ounces weighting knife is tightly held in the sheath applying the friction lock method. Also, it has two small profile straps to hold the knife tightly with the sheath, so the knife does not come loose easily while moving or running so fast. You will also find the right or left-handed carrying options on this sheath.
---
15. Benchmade Barrage Tanto Tactical Folding Knife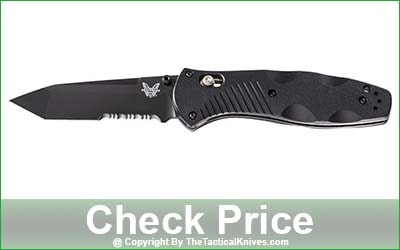 Benchmade is known for making some of the best pocket knives in the industry, by incorporating traditional and contemporary manufacturing into their knives – including their Barrage. This 4.51 oz weighing Benchmade Barrage measures 8.35″ in open length and 4.75″ in closed length.
The 0.121″ thick blade of this knife is crafted in premium quality 154CM stainless steel which makes this blade incredibly tough (58-61 HRC) and wear-resistant. The 3.6″ long blade comes with a black Cerakote coating and has a stealthy look. Also, Benchmade thoughtfully integrated a fierce-looking tanto tip to the blade and a partially serrated edge.
The handle is made of black Valox scales and stainless steel liners which are anti-slip and provide a really strong grip. Moreover, the ergonomic structure of the handle allows the user to have a rather comfortable grip.
The tactical knife comes with the strongest assisted mechanisms that enable easy single-handed deployment for both righties and lefties. The action is very smooth and quick, just a slight flick or push of my finger on the thumb stud opens the blade.
Another plus point of it is its AXIS Locking Mechanism which ensures the folding knife is properly locked in its position. In terms of safety for both opened and closed positions, the AXIS Locking Mechanism is definitely the winner.
The good folks of Benchmade also made sure to include a reversible left/right-hand pocket clip – which has good retention but is not too tight. The pocket clip is tip-up and can be used to safely hold the knife to the user's belt or pocket.
The folding knife under $300 is made in the USA and comes with a lifetime warranty – to help you keep your knife in the best possible condition.
Pros
The blade is fairly thick and scalpel sharp out of the box
Holds its edge very well before needing resharpening
Fearful tip geometry and is great for stabbing
The very sturdy handle fits my hand comfortably
Fast, secure, and smooth assisted operation
Easy one-hand opening and closing
Solid lockup with double-locking and no side-to-side movement
A pocket-friendly, reversible, tip-up pocket clip
Rock solid lifetime warranty and sharpening services
Cons
Handle material feels like a cheap plastic
The knife doesn't have a lanyard hole
Maybe a bit pricey
---
16. Benchmade – Nimravus 141 Tanto Tactical Fixed Blade Knife
Benchmade has sought to deliver a good tactical knife that can accommodate nearly any combat needs that you might have. This comprehensive approach is visibly observed by the sheer glut of unique and amazing features of the Benchmade – Nimravus 141 Tanto Fixed Blade Knife. Nimravus 141 is made in the USA and offers a limited lifetime warranty. Its weight is 5.00oz (141.75g) and full length is 9.45″ (24.00cm).
This knife features a premium quality 154CM Stainless Steel blade that is finished with durable non-reflective black BK1-coating. For sturdiness, the blade is 0.115″ (2.92mm) thick with Rockwell hardness of 58-61, meaning that the knife is robust, and can basically handle anything you throw at it without breaking or bending. Its 4.50″ partially serrated razor-sharp blade on the knife sports a truly modified tanto point tip as well as has a dual taper grind for maximum strength – all have made it a perfect option for cutting objects like webbing, hoses, rope, leather, strapping or small branches.
What I like most about this high-quality tactical fixed blade knife is the ergonomically designed 6061-T6 Aluminum handle. This unique and patented handle provides 23 to 24 grip points segments divided by small "grooves". These small grooves serve the purpose of channeling away water, oil, and mud. A large handle with several grips means that the knife is extremely versatile, and gives added assurance in harsh or wet working conditions. For optimum feel, this full tang tactical knife is also designed with a striking pommel, a lanyard hole, and thumb jimping. The Benchmade – Nimravus 141 comes with a custom black Nylon sheath with a paracord, belt strap, a MOLLE-compatible clip, and adjustable two Velcro loops.
---
How to Choose the Best Tactical Knife – Buying Guide
The thought process it takes to choose the tactical knife is extensive. First, you have to determine the use of your knife as well as know the difference that makes a tactical knife. Knowing these two things will help with your choice but narrowing down the buying guide will let you make a more detailed and informed decision on which knife will be perfect for you as an individual. The next several paragraphs will help in outlining and informing the finest ways to choose the best tactical knife.
What Makes a Knife a Tactical Knife?
A tactical knife is a knife that has different types of multitasking features and is crafted for use in combat or extreme survival circumstances. Actually, it is a gear designed to accomplish some special military requirements in any harsh situation. Those needs can extend from cutting a cable, rope, or wood, using it as a tool, opening a metal box, or defending yourself in a close-combat scenario.
An example to illustrate the genesis of the tactical knife from law enforcement or military use, every day carries and civilian use is the rescue knife. This knife may have a seatbelt cutting component or glass breaker on the handle or the knife may have a partially serrated tanto blade, ideal for cutting flexible stuff and puncturing into the solid materials.
What are the Differences Between a Tactical Knife and a Regular Knife?
There are several differences between a tactical knife and a regular knife. A tactical knife is any that meets the military specification, may that be fixed-blade or folding. A regular knife, fixed or folding, is most commonly used by the sportsman in hunting, fishing, and household utility activities.
Regular knives are often made of lower-quality material. But the tactical knives are made of harder materials with good edge retention to stay sharper longer. Usually, a tactical knife is used by military personnel, law enforcement, survivalist, outdoor enthusiast, traveler, and amateur collectors.
A regular folding knife has a lock that locks the blade to the handle and it's different because it tends to be a little harder in releasing it. The difference between the two kinds of knives is as vast as it is similar to the naked eye. Once you delve deeper, you will start to understand the complexities of knife craftsmanship.
What is the Purpose of Your Tactical Knife?
The usefulness of a knife is completely up to the individual using the gear. Protection, utility, part of your job or just to carry? The uses are vast but the knife chosen is important because many knives are made with specifications and use in mind. A hunting knife used for skinning and cleaning an animal will be made to sharpen more often and have a straight edge. Depending on what the hunter prefers, it may be folded for easier carry or fixed for strength.
If it is being used for a job, then it might be beneficial to understand exactly what the job requires. A carpenter will benefit from a tactical folding knife that has multiple blade types. A combat soldier may benefit from a tactical knife in the event that it comes to the last resort. You see, knives are created for purposes, and choosing the right knife depends on the use of that knife.
What Should Be the Overall Length of the Tactical Knife?
The overall length of the knife depends on the purpose for which you are going to use it. For any utility, traveling, office use, or law enforcement or EDC reason would require a shorter and lighter knife (Fixed 6″-8″ & Folding 6″-7″) knife.
The outdoor task like survival, hunting, camping, skinning, cooking, self-defense, hiking, would require a medium-length tactical knife (Fixed 8″-12″ & Folding 7″-10″) due to mobility. A folding knife is used for utility more often and it's easier to be concealed and stored.
Finally, the extreme use of survival tasks needs a longer thinner blade knife (Fixed 12″-16″ & Folding 10″-12″). These types of longer knives are usually used when the need arrives.
Which Steels Are Best for Tactical Knife Blades?
Blade material is important because it determines the strength and durability of the blade. A knife will be made with a variety of stainless steel whereas the best tactical knives are made with high carbon stainless steel.
Blades that have a high carbon count are usually harder and tougher than their low-carbon counterparts and are often easier to sharpen, but they do have some significant drawbacks. In addition, high carbon steel is significantly more erosion-prone, meaning that it requires more upkeep such as oiling and that environments with many corrosive elements, such as on a boat at sea with sea spray and salt, will quickly deteriorate the knife. Below is a list of materials most commonly used in fixed-blade and folded knives.
Blades are most commonly carbon/alloy steels made of D2, O1, 1095, 42oHC, 154CM, S3oV, CPM-S35Vn, and 13C26 Sandvik. All these carbon steels have variable degrees of hardness and moldability as well as best for the different types of environment.
Stainless steel blades have less carbon in them and are therefore strengthened, and they don't dull much quicker, though they are relatively difficult to sharpen and stainless steel is significantly less prone to corrosion.
Commonly used stainless steel materials such as 440 A, B, C, ATS-34/154CM, S60V, ATS-55, Kin-2, BNG10, Co-special, M390, and CPM-2oCV. If used for prying, the stainless steel blade may bend instead of break, which is significantly easier to repair in the field.
What Should Be the Length of the Tactical Knife Blade?
Before choosing a tactical knife, measure the blade length of the knife. A folding knife will have a smaller blade in comparison to a fixed-blade knife due to the fact that the blade has to be folded into the handle. A fixed-blade knife has more choices for blade length than a folded knife. A folding knife is convenient for utility, concealment, and carry but its blade lengths are limited in use.
• Small-Length Blades: Fixed blade knives with a small blade (3″-4″) are used most frequently for utility tools and EDC carry. They are kept sharp and compact for easy maneuvering. Tactical folding knives with a small blade (2″-3″) can be used for the same purpose and they are easy can be concealed. From everyday carry through the public to opening boxes, to being used as a makeshift screwdriver. The possibilities are endless and storing a folding knife with a small blade is much easier than a fixed blade knife.
• Medium-Length Blades: Fixed blade knives with medium-length blades (4″-7″) have a wide range of uses. From cutting rope or material to cleaning games and fixing things around the house. A folding knife with a medium-length blade (3″-5″) is easily stored carried and used by Electricians' cutting wire, survivalists cutting rope, vines, or fishing line, or the everyday person trying to free a small animal from a bush. It fits easily in a pocket, purse, or bag and is light enough to keep from being obvious about carrying a knife. Due to its easily maneuvered in activities, a medium-length blade can be and is used by most people.
• Large-Length Blades: Tactical fixed blade knives with a large blade (8″-10″) are mainly used for specific purposes in survival, from cutting branches for firewood to filleting a fish. A folding knife with a large blade (5″-8″) also has specific purposes. From cutting wood with a saw blade, cleaning large game animals, or self-defense. They are harder to conceal, carry, and maneuver compared to smaller blades. An example of a large fixed-blade knife is a machete, often used by survivalists to cut away overgrowth and hunting. A folding knife with a large blade is called a Mega-folder and is classified by any folding knife that has a blade longer than 5″.
Which Blade Edge Would Be Better as a Tactical Knife?
The picking of blade edge dispends on the use of the knife. There are three main edge types – plain edge, which is flat and even, and serrated edges, serrated edges which are saw-like teeth on the edge of the blade, and partially serrated edges which feature the combination of plain and serration.
• Plain Edge Blade: It is the most-used type of blade edge due to its ease of sharpening and precision cutting, chopping, or firewood batoning. However, plain-edged tactical knives often have trouble cutting through heavier material and require more sharpening to maintain their edges, two very serious drawbacks to consider. This is not to say that plain edged blades are incapable of slicing, far from it, but plain-edged blades can be incapable or, at the very least, ineffective when faced with strong or flexible materials.
• Serrated Edge Blade: Serrated edge blades, on the other hand, have no problem cutting through tougher material when applied in a sawing motion. Also, maintain their sharpness longer, and can cause extra damage to a target by getting caught on the skin. That said, one fatal flaw of serrated edge knives is that they may catch and stick to an opponent's skin or clothes, and one may lose grip or control of the blade. Sharpening a serrated edge blade is not an easy task. You should not buy a serrated edge tactical knife until the purpose arrives where you want it.
• Partially Serrated Edge Blade: To get the "best of both worlds," so to speak, a combination of a plain and serrated edge is a solid choice for someone who wishes to have either edge at their disposal at any given time. Naturally, while this does allow for more utility, where the blade types are on the blade, whether sharing the same edge or on opposite ends, will affect the use of each edge. Partial-serrated knives can be used for almost any task you want. In my own experience, I suggest a partially serrated blade with a plain edge and serrated edge sharing the same edge so that the strength of the blade's spine is not compromised in any way and can still be used in tasks such as batoning.
What Are the Effective Blade Shapes or Tips for Tactical Knives?
For the sake of brevity and relevance to finding the best "general-use" tactical knife, I shall only mention the three most common knife blade types.
• Drop Point: Perhaps the most common type of blade tip is the drop point, characterized by a wide "belly" and a flat blade spine that gradually slopes and tapers to a point. Drop point tactical knives are usually considered the best general-use knives due to their maneuverability and precision when using the blade tip. Their construction also champions blade strength, making a drop point knife perfect for most scenarios.
• Clip Point: Clip point knives are dissimilar to drop point knives, as clip point knives usually feature a concave slope, whereas drop point knives have a convex slope. Clip point tactical knives surpass drop point knives in piercing potential, but the thinner point does increase the possibility of the tip breaking. Despite this, clip point knives such as Buck and bowie knives both feature clip points and are held in high regard by hunters across the globe.
• Tanto Point: The point is high on the blade with flat grinds, equaling a strong point. Sacrificing a belly in the design left an even more powerful point and the craftsmanship to be a perfect tactical knife. Though it can be used to pierce sturdy materials, controlling the point is tough.
What Should Be the Structure of the Blade Spine in the Case of Tactical Knives?
The "back end" of the blade that is opposite the edge is known as the spine, and as far as tactical knives go, a flat spine and a single-bladed knife is the most acceptable solution. While two-sided knives have greater stabbing potential, they lack the utility often needed from tactical survival knives, such as batoning, and generally weaken the blade. While it may be tempting to choose a double-edged knife, a more durable single-edged knife with a flat spine is a better choice overall.
Which Type of Tang Would Be Better for a Tactical Fixed Blade Knife?
In a best fixed blade knife, you will find a portion of the blade that extends into the handle is known as a knife's tang. Remember you only need to check this feature in a fixed blade knife. The durability, balance, and weight of a fixed blade knife depend on the tang. The manufacturer produces different types of tang blades for different purposes. The most popular, effective, and durable shape is a full tang knife. This is when the blade extends to the end of the handle and covers the full length of the knife. A full tang tactical knife has good construction, balance, and leverage. Some other tangs you can consider like partial tang, gut hook, encapsulated tang, skeletonized tang, tapered tang, extended tang.
What Should Be the Material and Design of a Tactical Knife Handle?
For proper holding and using a knife, you must need a perfect length handle. Also, sometimes it depends on your hand size. The bigger size hand requires a long handle. The standard size of a handle of the medium size knife is 4 to 5.5 inches, both for folding and fixed blade. At present, there have made revolutionary changes in the knife handle material. If you need a waterproof, durable handle then you should buy an aluminum, high-quality plastic (Rubber, G-10, Molded Plastic, Micarta), carbon fiber, or metal handle knife but if you like the old or classic knife then find a premium quality wood, bone or leather handle.
Handle design and structure also are important issues for the tactical knife. Select a knife that has ergonomic finger grooves which is so effective for different circumstances. The grip of the handle should be non-slip and comfortable. You may not want that your knife could slip from your hand when you are using it. Select one that has a non-slip grip or grip pattern with the body of the knife handle.
What Are the Best Opening and Locking Mechanisms in a Tactical Folding Knife?
Folding knives unlike fixed blade knives have to have different locking mechanisms attached in order to ensure the safety of their users. There are several extra craftsmanship additives that are added to the blade, handle or tang in order for the knife to open safely or lock in place.
One is the blade lock. The blade lock is a small device that slides into place safely locking the blade. This is so the user doesn't accidentally cut or stab themselves when carrying the knife. Those tactical folding knives are mechanized with Liner Lock, Frame-Lock, Piston Lock, AXIS Lock, Compression Lock, Tri-Ad Locking system safer than others.
Another mechanism for safety is the assisted open. The assisted open helps the user open the blade with an assisted extended rod or spring. The rod or spring when pushed down with the thumb puts pressure on the blade and opens it with a swift motion; keeping the fingers at a safe distance. SpeedSafe, Automatic, M.A.G.I.C, and Spring assisted tactical knives are working better in modern times.
What Type of Pocket Clip Is Suitable for a Tactical Pocket Knife?
A folding knife has several ways to carry it when not in use, besides the sheath. A folding knife can also have a pocket clip. The pocket clip allows for easier storage and transfers from use and non-use. A reversible 4 position pocket clip is most convenient to use. But exposes the knife to the outdoor elements causing the knife to rust, scratch, or malfunction sooner than if it was in a carrying sheath. The sheath protects the knife from the outdoor elements the user doesn't want the knife exposed to. Kydex, Nylon, and Leather sheaths are durable for a fixed blade knife. This is a user's decision as to the preference of which they prefer.
How to Choose the Best Tactical Knife for the Money?
The budget is another major factor when you are going to buy something like a knife. This is a critical option for any newbie. Most of the common people think that a higher budget ensures the highest quality product. It is true but not always. If you have a detailed idea or a perfect buyer's guide you can easily buy the best budget tactical knife for the money. Let me present some recommended budget ideas.
Knife Under $10
Don't worry, if your budget is under $10, you still can buy a tactical knife. Though it would be difficult to find a good one that you can apply for utility work. But remember, under $10 knives do not have a strong steel blade, safety lock, and sheath. So you should not use it for any heavy task.
Knife Under $20
The twenty-dollar is also a lower price range for a quality knife. With this budget, I wish you would get a durable handle but not a good edge retention blade. Almost all the knives under $10 to $20 are made in China. My suggestion is, to try to increase your range and move to $30.
Top Tactical Knife Under $30
The $30 budget is the most desirable price range for the newbies. You will get medium-quality knives with this economical range. There are some popular knife manufacturers who use to make top-rated tactical EDC knives under $30.
Best Tactical Knives Under $50
For most tactical fixed or folding knives, this is the ideal budget range. When you move over $30, you will get improved edge retention stainless steel blade, upgraded tactical blade design like partially serrated or full serrated, razor-sharp robust tip, durable material for the ergonomic handle, and heavy-duty sheath with a convenient carrying option. Overall at $50, you can buy a significantly finest design-perfect tactical knife. Read More: Best EDC Knife Under $50
Good Tactical Knife Under $100
If you ask me what is your recommended price range then I will tell you this is the ideal budget range I use to consult with the others. With this budget, you can easily purchase an ideal tactical knife that has a comfortable ergonomic handle made of a super quality component, long-time edge retention, and a razor-sharp high carbon stainless steel blade. These types of knives are designed for multipurpose, featuring a quality tactical sheath with a variety of facilities as well. A knife under $100 is capable to sustain around any type of hard condition. With this range of budget, only buy a knife from the most reputed brands.
High-Quality Tactical Knives Under $200
For those who want a special knife for collection, or gift, or need to use the knife for any super hard task on a daily basis then you should go to this budget range. Knife enthusiasts, professional survivalists, and retired army officers use to buy tactical knives under $200.
What Are the Best Tactical Knife Brands?
In the knife industry, you will find hundreds of knife manufacturing companies. If you select a famous knife manufacturing company rather than a new or non-popular brand, the chances of picking the wrong product would be very less. This is why I am going to suggest to you some most reputed tactical knife manufacturers' names.
Gerber
SOG Knives
Smith & Wesson
Kershaw
Spyderco
Columbia River Knife and Tool
Cold Steel
Don't Forget to Check the Knife Legality Rules in Your Town
The legality of the knife depends on where you are going to use or carry it. For example, the United States of America has specific federal rules in various states about the length of the blade, it can be carried or concealed, or open carried. Different countries have different types of rules regarding knife length and carry options. Read more about the details from Wiki Knife Legality.
What Are the Extra Features That You Can Consider?
Warranty
Blade edge angle
Blood groove
Jimping
Color or finish
Solid pommel
Knife weight
Lanyard hole
Decorative milling
Safety features like a glass breaker
Firestarter
Emergency whistle
Paracord
Final Verdict
Choosing the top tactical knife is choosing the knife that performs during its intended use. The knife that may be good for one will not be for another. With that in mind, the above points should help in determining and narrowing down the high-quality tactical knife for the individual. Chose wisely and choose well. The knife can serve you for the best job but also serve you for a very long time with the right choice and care.
Read More Related Posts: