Millions more recognize the KA-BAR USMC Knife as the knife that fought its way all from island to island across the Pacific until the day that Japan surrendered on the deck of the USS Missouri when Japan finally surrendered at the end of World War II. Here, you're going to take a look at this legendary tactical knife, and aside from its historical value which makes it a collector's item and it is still carried by elite combat forces, the Marines, and anyone else who wants the best in utility/combat steel.
What Are the Best KA-BAR Knives?
---
Best KA BAR Knife
---
1. KA-BAR 1217 Straight Edge Full Size USMC Fighting Knife
If you are searching for the best KA-BAR USMC knife under $100 which can be used for multitasking purposes, then you have come to the right place. KA-BAR has been a well-known fixed blade knife brand that is present in the industry since 1898. Even now, its best fixed blade knives are used by a ton of knife enthusiasts and survivalists and armed forces. Used as a typical combat knife in WWII, the KA-BAR Full Size US Marine Corps Fighting Knife is considered a legendary weapon in the field of fixed blade knives.
Hard 1095 Cro-van Stainless Steel (HRC: 56-58) is used for producing the 7″ full tang blade. For improving the blade's overall sharpness and edge-holding ability, a combined mixture of vanadium and chromium is used in the steel and the black oxide finish gives it better protection against rust. High carbon steel and 0.165" thick plain edge blade make it easy field-sharpening and excellent edge holding ability keep the sharpness for a long. The slim-curved brass guard acts as a shield to prevent your fingers from getting cut by its razor-sharp edge.
The knife also features a handle made from leather that provides a firm and comfortable grip. The knife can also be used for hammering due to having a hard pommel at the end of the leather handle. The sheath, brought from Mexico, is made of leather, too. It is as strong and durable as a premium-grade sheath should be. The overall length of this combat knife is 11.88″ and weighs 11.2 oz. It is made in the USA and comes with a lifetime warranty.
---
2. Ka-Bar USMC Fighting Knife – Full Size, Serrated Edge
KA1218-BRK USMC is a variation on the famous USMC knife that is designed for a utilitarian purpose as well as a combat roll. Since 1942 the KA-BAR has undergone modifications to suit the needs of those who carried them into combat. Though the basic shape and size of the knife haven't changed much.
This variant has the addition of a serrated section on the main cutting edge near the hilt. This makes it a perfect tactical fixed blade knife for cutting fences, vines, electric cables, and small tree limbs. That also makes it perfect as an all-around camp knife as well. It is a rugged knife that was made famous in Iraq by the troops there as they were searching for booby traps and mines.
The tip is shaped to penetrate and the wide 7″ blade will stand up to the stress and would snap like the early issued KA-BAR Stiletto that the early ranger units carried. This Mark-II-based knife has the full tang you expect from a Killing-A-Bear knife and has the 1095 Cro-Van steel composition that is superior to stainless as it takes and keeps a razor's edge and when you take yours out of the box it will be sharp enough to shave with. The leather sheath is from Mexico and has a snap near the pommel to secure it in place. Overall a good knife that lives up to the name KA-BAR.
---
3. Ka Bar USMC Knife Review – Full-Size Serrated Edge Knife
The same knife we talked about before is in use all over the world by survivalists, the military, and is still the favorite knife of the USMC. The model 5018 resembles the Mark II with its blood groove and needle-sharp tip. The serrated edge is added to make it a tactical combat knife.
This means when you carry one you are not only able to defend yourself if you had to but have the perfect outdoor knife that is the only real tool you need to survive. This type of knife is the first choice of aircrews and is part and parcel of Navy survival kits and you'll find one like it in any First responder's Go-Bag.
Don't Miss: Best Bowie Knife on the Market
The sheath for this variant is a composite that is made of Glass-filled Nylon that holds up better in saltwater than leather. So if you are a diver and you want a good diver's knife. You have the one knife that goes into the deep and helps you in your explorations and survival needs on the land, sea, and mountains.
The knife-like all current issues KA-BAR has a blade sharpened to 20 degrees. It'll cut like a barber's straight razor out of the box and wait for you to sharpen it to your custom edge if you desire.
---
4. KA-BAR Dozier Folding Hunter – 4062BL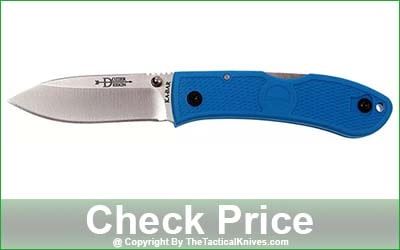 If you are on a tight budget and want an easy-to-use pocket knife without an assisted mechanism for everyday utility work, then the KA-BAR Dozier is the best choice for you. The overall length of it is 7.25″, and only 4.21″ when you close it.
The AUS-8A stainless steel blade is an excellent choice for a budget EDC or first time knife purchase. The rust and corrosion resistance of the steel is very good, even after cleaning small game and fish, I wash the blade several times in water and I did not get any rust on the blade.
The tip of the hollow grind blade is slightly spear-shaped and thick enough to penetrate very hard objects, and I've tested it for screw-tightening or loosening chores for any emergency.
The 0.11″ thick blade was razor sharp and sliced through paper effortlessly. I was surprised at how well the 3″ blade performed against cardboard, cord, utility rope, fuel/fishing lines and hard-use opponents. I love using this knife for tasks like slicing an apple or preparing food.
I've been pleased with the level of edge retention on this knife. With frequent EDC work, it won't stay super sharp for a long time, but it will remain sharp enough to perform well. The 56-58 HRC steel takes a good edge without difficulty.
The green handle made of Zytel has no steel liner which sacrifices some strength but reduces the weight significantly. Even with my big hands, I can get a secure four-finger grip confidently. Because of the simplicity of this handle, it feels nice however you hold it.
With a good amount of texture ‍and jimping, I felt like I had good control even when my hand or knife handle was wet. I was very happy with it as it was grippy but still comfortable and extremely durable.
I found that thumb stud deployment was smooth but not fast enough. The thumb study is semi-ambidextrous as it is located on only one side but can be switched. It feature a lockback mechanism and the lockup is solid. I feel confident the knife will not close on me and there's no side-to-side play.
The pocket clip is reversible and tip up carry. Easy to put in and out of pocket. Also, the steel clip is firm, well functional and does not make any kind of discomfort in my pocket. The lightweight Dozier (2.20 oz) is lovely in the pocket, mainly because it feels like it isn't there.
There are extremely few pieces to the knife, making it very easy to take apart and clean.
Pros
Japanese steel blade, amazing at this budget
Cuts well through a variety of materials
Takes a razor-sharp edge quickly and easily
Comfortable grip, easy to hold
Blue handle knife is easy to locate if lost
Lockback mechanism engages perfectly
Knife is thin, simple, very light and still strong
KA-BAR offers a limited lifetime warranty
The price for this knife is very low
Cons
Not easy to close with one-hand
Thumb stud is one on side only
---
5. Ka Bar USMC Knife Review – Short Kabar Knife
Some who want a good survival knife find the traditional KA-BAR too much a knife for their use. It's either too unwieldy or weighs too much. Well, you can now have all the benefits of the famous KA-BAR combat/survival knife in a 3/4 size or original US Marine Corp Knife. Instead of the 7 inches blade, you get 5.75 inches and the overall length is 8.91-inch with a reduction in weight as well.
Now you have a hunting knife that fits better with the skinning of a game animal and with the serrated edge near the hilt you have a universal camping tool that will do all the mundane and yet vital chores when you are out in the wild. Cutting away brush, ropework, and has 1001 uses in camp. The knife is the same basic model as the famous 1018 but in miniature. You have that Razor Sharp 20 degree cutting edge.
This unique medium size version of the genuine USMC fixed blade knife comes with a durable leather sheath. The KA-BAR Short Kabar US Marine Corp Knife is made in the USA but the sheath comes from Mexico. Its weight is only 181.44g or 6.4 oz and the blade is made of tough 1095 Cro-van stainless steel which is 0.165 inches thick.
---
6. Ka-Bar USMC Knife Review – Straight Edge/Fix Blade Ka-Bar 2-1250-5
Here is the 1250 variant of the famous USMC Combat Knife. Only 3 quarters the size of the original. It also features the now-famous rounded handles that many prefer over the original straight handle as they feel it has a more organic feel to it. But in all other respects, you have everything that made the 1942 Mark II famous across the Pacific and feared by the Japanese during WW II.
The cutting edge is superb with its 20-degree grind angle and the tang goes the whole length of the handle that feels like an extension of your hand. It comes with a leather sheath with the proud USMC seal and lettering of the men who have left their mark in both famous and not so famous places where marines have fought and died to change the history of the world.
Now you have the perfect survival tool, present to a serving marine going abroad and a utility/combat knife to put in your bag depending on your needs. The KA-BAR name was made by service people in the many wars America has fought in the last 70 years and it is still the choice of those who stand the line protecting our way of life and freedom. This tradition continues today with the 1250 and all the knives made by KA-Bar today.
---
7. Ka Bar USMC Knife Review – Operation Iraqi
If you want to show your appreciation to the men and women that fought in Iraq there is nothing better to give former or current service members a gift that means something. The Ka-bar USMC Operation Iraqi Freedom Commemorative Knife is one of these items. It is the same KA-BAR that went across the deserts with the men and women who broke the back of the Republican Guard from Kuwait all the way to Baghdad itself where many participated in the fall of Saddam Hussein.
If you were one of the many veterans you'll have something to show your sons and daughters along with their kids that you were one of the people who risked it all to remove one of the last madmen who threatened world peace. You'll have a knife that is as sharp as a razor the same length and feel like your original issued knife and embossed on the blade with the mission you were entrusted to complete.
The sheath is made of leather and is embossed with USMC, KA-BAR, and the Marine Sigil showing the pride and dedication that the Marines have stood for over 200 years and will continue to do so for the next 200 years as well.
---
8. Ka Bar USMC Knife Review – Presentation Knife
If you want to thank a Marine you buy him a drink and give him something that he'll appreciate and use if the need arises. That's what you get with this gold-plated brass hilt and pommel fitted to the deadliest knife in the world.
That'll put a smile on Marine's face and says you are thanking him/her for the years of dedicated service to our country. The Marines go in first and are the ones who take the ground and leave it to others to clean up after they are done. They are the people who are cooped up on transports waiting for the call in far-off lands should American citizens need to be evacuated or when Marines are needed to go ashore in a hot zone to restore the peace.
This knife is not a knockoff or toy. It is the 11.88-inch original based on the 1942 Mark II combat knife and even though it glitters a bit, it still is made from Chrome Vanadium Steel with its blood groove and needle-sharp tip that will even go through the stone.
The edge is cut at a precise 20 degrees and will even let you shave if you like. But make no mistake this is still the real deal as one of the deadliest knives ever made and one the most versatile as well.
---
9. Ka-Bar USMC Fighting Knife – Straight Edge Ka-Bar 2-1217-8, Pommel Leather
The Ka-Bar 1217 is the standard Marine combat/utility knife. You'll find a variant with the Marines, Army, Air Force, and Navy. The elite units like the Rangers, SEALS, and Force Recon all use them along with their plethora of specialized tactical knives and folders. This is the most recognized knife used throughout the tactical community and law enforcement as well.
This is because some things never go out of style and use. The almost 11″ length gives you the edge if things go to close-in work. Designed to slash, stab, and cut this knife has proven its worth on the battlefields and in survival situations too countless to number. Marines swear by them and will accept nothing less to carry. That should be all the endorsement any knife should need. The 7 inches blade, heavy pommel, and non-slip leather grip are the things that make this knife supreme.
Chrome-Vanadium steel that takes and keeps the sharpest edge ever, lets you cut through wood, bone, and even stone on occasion and you can still shave with it afterward. So, like a hunting knife, outdoor survival knife, and QBC, you'll not find an all-purpose knife that will go with you strapped at your side or tucked away waiting in your Go Bag or a Prepper's Bugout Bag.
---
10. KA-BAR Kukri Machete Large Chopping Knife 2-1249-9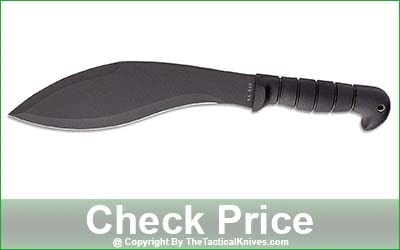 This knife would be great for those looking for a large fixed blade knife that can do heavy chopping for camping, survival, or hunting. Also a handy tool for clearing a variety of backyard weeds, small trees, or branches.
The 11.5″ long carved blade is made from KA-BAR's famous 1085 high-carbon steel (HRC: 52-54). The blade is hefty, thicker (0.165″), hollow-grinded, and sharpened at a 22-degree angle. It has a black powder coating that wore off a bit during heavy chopping.
The knife is quite large (17″) but light in comparison to its size and well-balanced. Also, due to good weight distribution, it can be maneuvered easily. Although the blade is a bit heavy on the front it will give you leverage during heavy chopping.
Out of the box, the blade was sharp enough and I had cut through small trees, branches, pumpkins, melons, twigs, canes, and palmetto bushes in one swing. In the first month, I tested the knife doing light backyard work and I didn't notice any difference in sharpness, it was almost like new.
But in the second month, I used it for heavy work, such as cutting lots of branches, and five to seven-inch thick trees in 60 to 70 swings; I split two to four-inch thick firewood for my cabin. After a week of heavy use testing, I noticed some chipping and loss of sharpness on the blade which I had no problem getting back to the factory edge with a few minutes of sharpening.
The hand material of the Kukri is Kraton G thermoplastic elastomer, an incredibly durable material that is very impervious to heat, water, impact, and temperature changes.
The handle is large enough (5.50″) that I can easily grip it with gloved hands. The handle has an ergonomically curved shape, five rounded grip troughs, and a hook in the rear section to ensure a firm and comfortable grip. Above all, the knife has never suddenly slipped out of my hand during heavy cutting with wet or sweaty hands.।
Besides, the feel of the handle is soft and rubberized, it can absorb the shock while doing heavy chopping, and even after working for a long time, I did not have any problems like busters or fatigue in my hands.
The knife comes along with a sheath made of a combination of leather and Cordura. The sheath has a belt loop and two retaining straps with two button closures attached. There is a D-ring for lashing. The sheath holds the knife well for safe carrying, even in the up-sight-down position.
Pros
Blade came crazy sharp from the factory
Thick blade is flexible, won't break under hard-use
HC steel also can be easily re-sharpened
Full tang handle is solid, balanced & comfortably large
Rubberized handle absorbs shock & very slip-resistant
Knife is large and hefty but not too heavy (1.30 lbs)
A heavy chopper that can withstand a lot of abuse
KA-BAR Kukri includes a limited lifetime warranty
For the price, you will not find a better deal
Cons
The sheath could be better, however, it's okay with the price in mind
---
Frequently Asked Questions About the Best KA-BAR Knife (FAQ)
Question: What is KA-BAR USMC Knife?
Answer: Today you have seen 10 modern variations of the tactical knife that won the war in the Pacific. They all share the same pattern of Cro-Van 1095 steel that holds an edge, The characteristic needle-pointed tip, and a thick blade that can stand up to the stresses of combat and life or death survival situations. So if you are an active service Marine/Navy/Army, First Responder, and TAC OPs person you will want to own a KA-BAR.
This is the original knife that probably your grandfather carried with them during World War II in the Pacific theater of operations or perhaps you carried when you were serving in Vietnam and even more recently in the Middle East. You'll remember the familiar grip of the 7″ blade and the tang that runs all the way to the pommel and that many of you used and are still using as a hammer when you're out on the field and trying to set up a tent for your family at a forest preserve or near the beach.
Read More: Best Rated Knife Sharpening System
There were some changes made since Vietnam and World War II. The metal today's KA-Bar uses is 1095 Cro-Van steel. The leather for the handle and the sheath come from Mexico, where the leather Smith's south of the border take great pride in their leather products and KA-BAR chose them as they were worthy of gracing this piece of American history and a staple for the outdoorsman, professional soldier, and people who want to survive in this turbulent world of the 21st century.
The knife comes out of the box razor-sharp. However, you'll probably want to put on an edge of your own and once you do so you'll have a knife that is virtually indestructible and if taken care of properly can be passed on down through the generations to your grandson as the quality of this knife transcends the milieu from which it was crafted.
Question: Why KA-BAR Knives Are so Popular?
Answer: The sword is what made the samurai the most feared warriors of medieval Japan. Since 1942 however, the Marines have taken their combat knives and demonstrated that 11 inches of steel beat 32 inches of Samurai sword. Wielded by the World War II Japanese soldiers. In fact, most people only recognize the sword of the samurai from movies and TV shows.
The marines are American Samurai with a proud tradition that goes back over 200 years of American history. They are the "First to Fight" and since WW II the legendary knife brand KA-BAR has been by their side in places like Iwo Jima, Corregidor, Vietnam, and Iraq. The Mark II Combat knife became the standard that all other knives emulate and none has surpassed it.
You too can own a piece of history (KA-BAR Knife) and it is something that doesn't sit on a mantel but goes with you anywhere when you need to have a versatile and reliable tool to help you when the going gets tough or you are outside in the wild where even today a knife is still the most useful tool known to man next to the fire.
KA-BAR Knives is the one tool that will save your life as millions of service people over the years will attest to it. Because when the chips are down you can always rely on KA-BAR's Cold Steel to save your life.
Final Thoughts
I have gathered 10 of the best representations of the famous KA-BAR tactical knife and from this elite grouping you can choose the one that suits your needs, gives you that sense of power, and self-reliance that only a real USMC/USN utility/combat knife offers.
Read More Reviews Of