I am stranded in the wilderness. Maybe it's the result of a hike gone wrong or a busted kayak over the falls. One thing is certain, I thought I prepared for an emergency like this, but as I continue to try to trek my way back to civilization, I find myself wishing I had taken the time to choose a better tactical survival knife. Since I have a long way to go, I begin to contemplate what that knife should've been.
---
Best Tactical Survival Knife
---
1. Gerber Gear Ultimate Tactical Survival Knife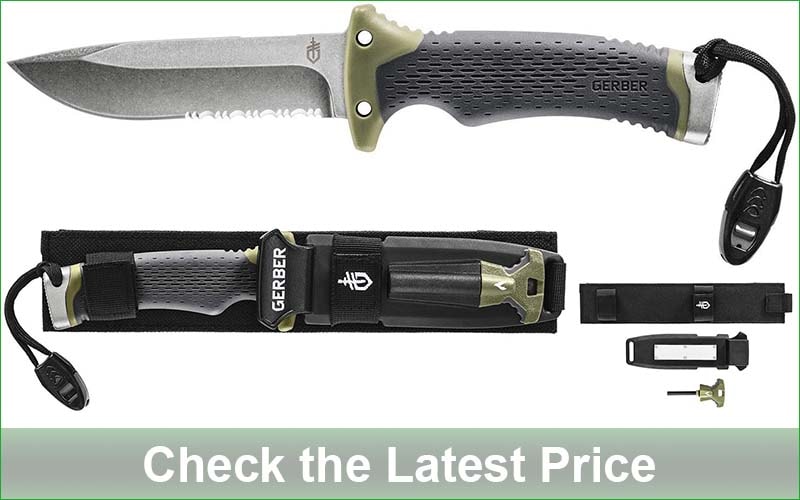 If you are looking for the best tactical fixed blade survival knife that boasts premium-grade materials, then Gerber Ultimate is the perfect pick. The knife features a blade measuring 4.75″ long and is made using 7Cr17MoV high carbon stainless steel (HRC: 57-59). The half-serrated blade acts like a spear while offering unmatched piercing abilities.
Gerber Ultimate is not just any other tactical knife but a high-quality knife that features a black oxide-coated blade, which helps in diminishing reflection and assists in fighting corrosion. Popular as a master of knives, Gerber Ultimate stands tall to its name and is uniquely designed keeping distinct activities in mind.
This full-tang survival knife features a handle made of an ergonomic textured rubber, which makes it a study piece to hold and use. The rubberized soft feeling helps in offering an unmatched grip to the user during survival applications and combat. This best quality tactical knife is built to provide a great grip complemented by the exaggerated bolster.
The 10.9 oz weighting knife comes with a ballistic nylon sheath material. Gerber claims that the knife can endure the test of time and is also backed by a limited-period lifetime warranty, exclusively in North America.
---
2. Morakniv Bushcraft Survival Fixed Blade Knife
This top-rated tactical survival knife features a high carbon steel blade that measures 1/8-inch thick. The blade is sharp and durable to serve you in equal measure in the long term. With a blade length of 4.3 inches, you can easily keep it discrete. It is lightweight at about 4.3 ounces making it flexible as well. In an effort to boost durability, the blade is hardened with a black coating that plays the role of protecting your blade from corrosion.
The handle offers a firm grip thanks to its Scandi grind that prevents slipping. In addition, it has an ergonomic handle made of rubber. When the knife is not in use, you can easily lock it away in the lockable sheath that keeps it secure once the plastic clips are put in place. It is highly recommended as a carving tool thanks to its sharp edge and balanced handling as well as a hunting knife.
Pros
The knife comes with multiple tactical survival accessories
Straight-edge blade suitable for outdoor sharpening
Compact Morakniv fire starter, approximately 7,000 strikes
Scandi grind blade edge for stuck-free cutting
The blade can be used for batoning wood
Cons
Comes with cheap sharper
There is no lanyard hole in this knife
---
3. CRKT Ripple Tactical Survival Folding Knife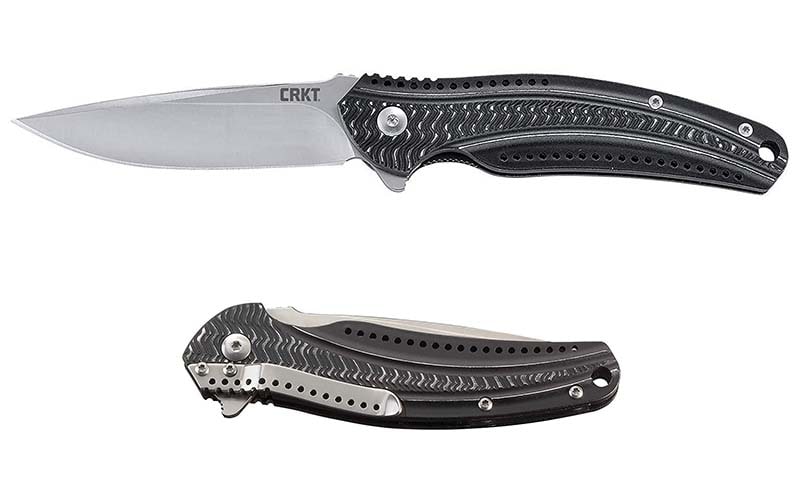 An everyday carry pocket knife is ideally designed for multipurpose uses – from preparing fruits to self-dense. The CRKT Ripple knife is a high quality EDC knife with a 3.97" blade, made of 8CR14Mov high carbon stainless steel that is corrosion-resistant. The satin finish to the blade prevents the blade from any stains or scratches in the long run. With an appealing modified drop point and a high hollow grind, the 0.1" thick blade has a plain edge.
The ergonomic handle of this folding knife is made of textured 6061 aluminum, which consists of more than 40 tiny holes milled on them by a CNC machine. The ripple pattern throughout the rounded handle adds to the knife's attractive appearance. Jimpings on the thumb ramp and the handle play an important role in providing a great grip.
The CRKT Ripple features a sturdy liner lock that keeps the blade in its place. It can be easily opened with both hands by simply pressing on the blade flipper. The IKBS ball bearing pivot system allows opening the knife to be friction-free. The 2.5 oz weighing knife feels incredibly lightweight to carry. The pocket clip features a tip-down carry using the right hand only. The CRKT Ripple is made in the USA and has a limited lifetime warranty.
---
4. SOG SEAL Pup Elite Fixed Blade Tactical Survival Knife – E37T-K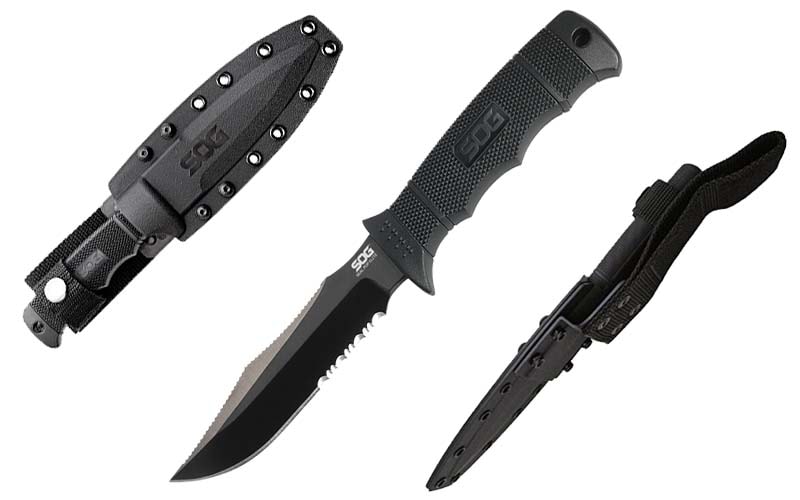 This best tactical survival knife is praised for its lightweight, compactness, and corrosion-resistant blade. Its blade is made from AUS-8 steel accompanied by a powder-coated finish that aims at serving you in the long term.
Its razor-sharp clip point can easily make deep punctures allowing you to move faster when working with it. The blade promises wear resistance as well as toughness to boost durability. The edge of the blade is partially serrated to deliver non-stop cuts as well as versatility.
The handle is ergonomically contoured allowing for an outstanding grip so it ideally fits comfortably in your hand. Thanks to its material, it is abrasion and impact-resistant so you can even use it for tasks that are time-consuming. It is glass-reinforced nylon material making it durable and maintenance-free.
This does not compromise on performance and its style eases handling. Overall, it delivers durability and a sharp blade as well as a firm and strong handle.
Pros
Mine literally would shave hair right out of the box
AUS-8 steel holds an edge better than most
Great multi-use blade cuts through all materials with ease
The handle is ergonomic, never slips, and fits like a glove
Kydex sheath is durable, lightweight, quality top notch
This knife is definitely well worth the money
The knife has a limited lifetime warranty
Cons
No option for mole attachment except through the sheath hole
---
What Is the Tactical Survival Knife?
In order to be classified a tactical survival knife; it must be a multi-purpose tool that can function in a range of situations; some of which may be life-threatening. It's more than just a knife you wear on your hip or strap into a holster. It's the knife you wield when nothing else will do. Simply put, a tactical survival knife is just that, a knife that will aid you in survival.
What is the Purpose of Your Tactical Survival Knife?
While some may argue on what the best feature of a tactical survival knife is, all would agree that it must fulfill a couple of requirements. First, a tactical survival knife must be able to cut–vines to build a shelter or maybe to flay the skin off a fresh kill. Second, a survival knife must be able to dig–maybe a foreign object from your own flesh or a trap for your dinner.
Which One would be Best – Fixed Blade or Folding?
While there is a need for carrying a folding blade on your person, other than the sheer convenience of size, a fixed blade would always be the best choice when selecting the best tactical survival knife because of its strength and durability.
In a fixed blade knife, there is no joint, which could present a number of issues. A knife with a joint has a very notable weak point. The joint could become worn from excessive use, causing the actual blade to become loose-fitting, hampering the full function of the knife. Because of the weak point of the joint, the survival knife is also at risk of being broken under forceful use such as prying or twisting the knife while in use.
Depending on the type of folding blade, the bendable joint could also begin to rust after becoming wet from use, causing the already weak area to become more so. As a secondary weapon/tool, a folding blade is a must, but when reaching for the better tactical survival knife, makes sure to get a firm grip on your fixed blade. Read More: Best EDC Knife Under $200
Considering the Overall Length of the Tactical Survival Knife
Fixed: If choosing a fixed knife as your primary tool, you should put some consideration into the overall length of the knife. If it's too small, you will be limited in your abilities to utilize it properly, but too large of a knife can prove to hinder you both in your usage and mobility. A perfect size would be around 10"-12".
Folding: If you're choosing a folding knife as your primary knife–DON'T!!! If you have it as your secondary, and you have lost your primary in a bear fight or down a crevice while scaling a cliff, keep in mind that the blade is thinner and the knife should be smaller (around 6"-8").
Measure the Blade Length According to Your Requirement
Another thing to consider is the length of the actual blade in reference to the overall length of the tactical survival knife. While the blade is important, one should take into account the type of handle when determining the most desirable blade length for both a fixed and folding tactical survival knife.
Small Blades: For a small knife with a fixed blade, you will usually want a blade no shorter than the length of your handle, but it could be slightly longer. For example, for a six-inch knife, you want a minimum 3" blade. For a small knife with a folding blade, your blade should be slightly less than the length of your handle because it has to be short enough to fold. For a six-inch knife, you want just under a 3" blade.
Medium Blades: For a medium knife with a fixed blade, you will usually want a blade no shorter than the length of your handle, but it could be slightly longer. For example, for an eight-inch knife, you want a minimum 4" blade. For a medium knife with a folding blade, your blade should be slightly less than the lengths of your handle because it has to be short enough to fold. For an eight-inch knife, you want just under a 4" blade.
Large Blades: For a large knife with a fixed blade, you want a blade that is no shorter than the length of your handle, but it could be slightly longer. For example, for a ten-inch knife, you want a minimum 5" blade. For a large knife with a folding blade, your blade should be slightly less than the lengths of your handle because it has to be short enough to fold. For a ten-inch knife, you want just under a 5" blade.
Choosing the Blade Material
Choosing the blade material really depends on how you as the owner plan to use and care for the knife and in what environment you find yourself in often. Typically, tactical survival knives are either made out of stainless steel or carbon steel. Both have their strengths, and both have their weaknesses, so it's important to understand their strengths and limitations. When looking at a stainless knife, a person may be drawn to the fact that this type is rust resistant and wouldn't have to be cleaned as often or as well when exposed to the elements, specifically water.
If you find yourself in a work environment in which you are consistently around water, specifically saltwater, choosing a stainless knife might be your best option; however, being rust resistant seems to be one of the few factors stainless has over carbon. Carbon steel knives are more durable and stronger when compared to stainless, and they also can be sharpened easier and to a finer degree, which is very important in a survival situation. If you are a responsible knife owner, you would know that it's easy to care for a carbon steel knife when it gets wet by simply wiping it down with mineral oil. Proper care is essential, and that's a small price to pay for a dependable weapon/tool.
Selecting the Blade Shape or Tip
When selecting the best type of blade shape or tip, it really depends on the intended use of the tactical survival knife, and that is up to whomever wields the weapon.
Drop Point: If you are looking for a strong tactical survival knife that can chop, dig, pry and function as a small weapon, then the drop point blade is a good choice. It is typically a shorter blade, which makes it easier to keep up with. It is also known for its strength.
Clip Point: If you feel that you are in need of a knife whose blade will assist you in more precise measures, then the clip point is the way to go. It is best used for picking and it also good for digging. It can also function well in a hunting situation.
Spear Point: If you feel that you will need your tactical survival knife mostly to dress small game, dig, pry, or convert to a spear-type weapon, then the spear point is the choice for you. The tip of a spear point blade allows itself to be utilized best in these types of situations.
Tanto Point: If you are looking for a blade that is an example of strength and durability, then your choice should be that of a tanto blade. Its design of an angled blade proves itself as a wonderful chopping tool as well as a knife that is practical for piercing and slicing.
Blade Spine
The spine of your survival blade is an important feature if you are in a situation where you need to use your knife to split wood (also called batoning). If the spine of your blade is beveled or rounded, you will find it difficult to utilize in this manner. A flat spine is essential for a method such as this.
Selecting the Blade Edge
When weighing the pros and cons of blade edges, one must decide which type best suits his needs. The plain edge and serrated edge have their strengths; if you can't decide, a combo is an option, but depending on the situation, there is always one more useful than the other.
Plain Edge: The plain edge, also known as the straight edge, seems to be the most useful in survival situations because of its versatility and range of uses. It's easier to baton with a plain edge because the serration of the alternative blade tends to get stuck more in the wood. A plain edge blade is also easier to sharpen in the wilderness when you do not have access to sharpening tools.
Serrated or Saw-toothed Edge: Perks of a serrated or saw-toothed edge are obviously tied to the structure of the serration on the blade itself. The "teeth" on the blade are perfect for sawing. This means that if you are looking to cut rope, saw through vines, or even be forced to saw through bone, the serrated blade will do the trick. You just have to understand that your cuts will most definitely be jagged.
Combination or Partially Serrated Edge: Some argue that having a combination blade is the obvious choice when you are unsure of what your situation will be. That sounds like a logical conclusion, but what tends to happen is the owner of the tactical survival knife discovers his blade is really half of what he needs. Either the serration part is too short or becomes dull too quickly, or there isn't enough straight edge to baton properly.
Knife Tang for Fixed Blade
Typically, there are two types of tang for a fixed blade. The first type is known as partial tang, which means a portion of the blade extends past part of the handle, but doesn't extend through the entire handle. In a knife with partial tang, the blade is inherently weaker because it can become loose in the handle and break off. The second type is known as full tang, which means the blade extends through the entire handle, making the blade stronger and more balanced. If you're looking for overall better quality, the full tang is the way to go.
Considering the Knife Handle
The handle of your knife is one of the most important features, being that your hand will be in constant contact with this portion at all times. While, it may be appealing to consider a hollow-handled knife that can be used to store things, this is not a good choice. A knife such as this will be weaker because it is not full tang. You will want a solid handle that's easy to grip, which means it doesn't need to be too rounded or smooth, and it will be beneficial to the handler to have some type of stippling or grooves that will provide some resistance in his hand while in use. Keep in mind that if your knife does find itself in a situation where is gets wet, your handle doesn't need to be made of a slick material, causing you to lose your grip and your knife altogether.
Solid Pommel of the Knife Handle
The pommel sometimes referred to as the butt, is typically the end of the tang or an end cap that reinforces the actual butt. Its purpose is to provide the knife with a strengthened area to "hammer." This can be helpful when needing to split wood. The pommel, depending on the shape and size, can serve as a hand stop, which prevents the knife from sliding out of your hand.
All about the Knife Sheath
A tactical survival knife requires a proper sheath because of its size. While there are all sorts of materials from which to choose, a leather sheath is one of the most comfortable; however, it's not a good choice for a wet climate. In that case, Kydex would be better. The most important feature of a sheath is its ability to keep the knife secure in its sheath and to your body.
Final Verdict
After reading the articles provided, it has become apparent that although a person's knife is most definitely a personal choice, there are a few characteristics that are essential when choosing a tactical survival knife. If I had to purchase a knife today, I would go with the durable and versatile 8"-10" fixed drop point blade with a full tang and straight spine held securely in place by a custom-made Kydex sheath that I would carry on my hip.
Read More Reviews Of:
Read More Related Posts: