When it comes to Buck knives, there are quality products and others that have more than just high-quality going for them. In fact, they are more than just a pretty blade or handle.
For four generations, the Buck knives have been made with this same philosophy that has gone into every blade.
Maintaining this continuity, here I have reviewed and listed some of the best buck hunting knives that are the result of the company's many years of technical hard work and workmanship.
Moreover, all these Buck knives I have recommended here are well-made, American-made, and all covered by Buck's lifetime warranty.
What Are the Best Buck Knives?
---
Best Buck Knife for Hunting
---
1. Buck Knives 119 Special Fixed Blade Hunting Knife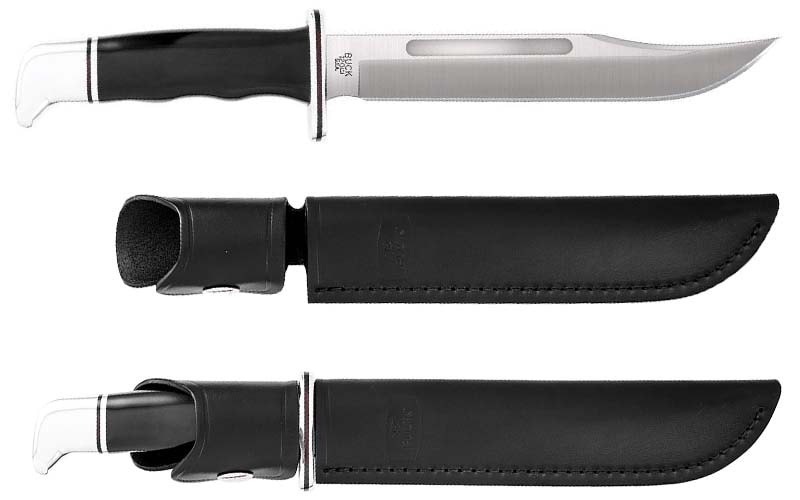 First of all, you should know that this "119 Special" is a robust and No-1 fixed blade knife Buck has ever made.
If you are an outdoorsman or a hunter who wants something just a little extra that the strength and dependability of a fixed blade knife can offer, the Buck 119 Special Hunting Knife is probably just the thing for you.
The trust that knives like these earn come from generations of users who have looked to them to save themselves in countless situations.
The Buck 119 comes with a 6″ clip point blade that is fixed into the handle to assure long life. The knife has a total length of 10.5″, weight is 7.5 oz, and a full tang hunting knife that will provide you with excellent balance in different chores.
The blade core is made out of 420HC stainless steel (HRC 56-58). Because of the heating, freezing, and again reheating of the steel core, the blade stays sharp longer after heavy use. The 420HC is a sturdy, workhorse steel that is known for higher edge retention, corrosion resistance, and ease to sharpen.
The handle of this top-rated Buck knife for deer hunting is made of traditional black phenolic with a polished aluminum pommel/guard. The size of the handle is good enough that it can be easily held in a large hand. I also got a good grip on wet, sweaty, or bloody hands during heavy work due to swells and guards.
Buck Knives 119 Special comes with a 100% originally fitted leather sheath. You can securely and safely carry it with your belt or into a bag.
The Buck 119 is proudly made in the USA. The knife also offers a lifetime warranty by Buck Brand.
Whether you use this one to hunt or survive with, or just use it as a general-purpose knife, you'll be glad that you adopted this one like yours. This was the first model of knife that Buck Knives ever made back in 1902, and it remains the same quality tool today.
This hunting knife is ideal for various works like trimming or cutting woods, batoning survival, or military use in any tight places, hunting, and outdoors.
Pros
Best fixed blade Buck knife ever at a reasonable cost
Heat treatment 420HC stainless steel blade
The blade is very sharp out of the box
Simple design knife for easy field-sharpening
Perfect blade shape for killing and skinning the games
The handle has palm swells for control and a solid grip
A perfect size guard ensures extra protection and balance
Genuine leather sheath with snap fastener
Life span warranty from Buck Company
Extremely durable knife for various kinds of hard work
Cons
This knife does not have any lanyard hole
---
2. Buck Famous Pocket Knife 110 Folding Hunter
First, I would like to confirm that this Buck 110 is one of the best EDC knives under $50 and the No-1 Buck Folding Hunting Knife they have ever made. It's hard to imagine any hunter or fisherman who doesn't have fond memories of this knife.
You can find plenty of other classic knives everywhere, but when it comes to customizing everything you want in a hunting knife, only Buck can be depended on to deliver top-quality results to meet every requirement you have for the tools you use.
The blade core of this knife is made of 420HC stainless steel. Because of the steel's Paul Bos Heat Treatment process (First heating the steel, then freezing and again reheating is called Paul Bos Heat Treatment System) the blade stays sharper for a long time under heavy use and also for edge retention, increases strength and corrosion resistance.
The crescent tip design razor-sharp blade is particularly useful for animal hunting and skinning. The 3.75″ clip blade is coming to the rescue when there was a use for a top-quality knife.
Even the Dymond Wood handle and brightly polished bolsters exude quality, from the tip of the blade to the finely crafted lock back. You will feel a comfortable feeling and grip while you will use it for any tactical or usual task.
There's nothing like a Buck Knife, especially when you are depending on it for safety and trustworthiness. Interestingly, for everything that made it an iconic knife, the 110 Famous Hunter is the product that Buck Knives is most famous for.
Everything else fades in comparison with not only the quality of this special knife, but also the reputation that it has earned in the hunting spots, duck blinds, and fishing holes around the world.
This best Buck pocket knife comes with an equally high-quality and 100% original leather sheath. Due to its leather sheath, you can safely carry it in your pocket, bag, or with your belt.
It's hard to mention the word Buck and not bring to mind the product that probably made them most famous, the 110 Famous Folding Hunter Knife. This knife is loftily made in the USA and provides a lifetime warranty.
This Buck pocket knife is highly recommended for cutting or trimming small wood, hunting, outdoors, tactical, or survival use in any tight places.
Pros
In the Buck industry, it is the best Buck folding knife for EDC
100% secure lock-back locking mechanism
Super quality Buck knife at a cheap price
Suitable for all kinds of environment
Original black leather sheath with snap closure
Dymond wood handle with stunning brass bolsters
Buck lifetime warranty
Cons
Classic model knife with no SpeedSafe
This folding knife does not have a lanyard hole
---
3. Buck 863 Selkirk Fixed Blade Bushcrafting Knife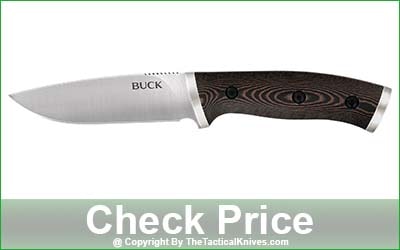 If you wanted a medium-size (9.5″), lightweight (7.6 oz), high-quality, durable, as well as affordable Bushcraft knife then this is that.
Buck 863 Selkirk comes with a 4.6″ long and 0.135″ thick blade that is made out of 420 high-carbon stainless steel (HRC 56-58). The heat-treated 420HC is the standard steel that Buck uses in all their knives and speaking from my experience, it is a good choice for Bushcrafting or multitasking knives.
Firewood batting was very easy as the thickness of the full tang blade was good. Besides, since the blade has a razor-sharp plain edge, drop point tip, and a flat grind, I have gotten enough benefits by skinning, slicing, and pushing cutting.
The shape and angle of the Micarta handle are pretty ergonomic. My hands would often get wet with animal blood or sweat during prolonged work but every time I got a very comfortable non-slip grip due to jimping on the spine as well as notches on the handle area.
Furthermore, a steel bolster and butt cap have been used for the durability of the handle. Also, the handle fits easily in my large size hand and I didn't feel any lack of balance during use.
I really like the hard injection-molded nylon sheath because it has the configuration of horizontal or vertical belt carry for convenient carrying. The sheath also includes a built-in Ferro-rod/whistle which is very useful for camping or emergency survival situations.
The Buck 863 Selkirk Fixed Blade Knife comes with a conditional lifetime warranty that protects against defects in manufacturing and materials.
Pros
Well-sharpened blade right out of the box
It is easier to re-sharpen and retains an edge for long
Heat-treated steel has excellent strength and corrosion resistance
A very sturdy handle that is resistant to heat, cold, and moisture
The sheath allows left/right and horizontal/vertical carry
The whistle and fire starter works fine
High-quality knife, not so outrageously expensive
Cons
A really good knife for outdoor users, I didn't find any significant con
---
4. Buck Fixed Blade Hunting Knife 105 Pathfinder
For those who love Buck knives for deer hunting for no other reason than the way they look, this is the knife for you. It's a fixed blade with a generous 5 inches customized clip 420HC heat treatment stainless steel blade. First heating the blade core, then freezing, and once more reheating the steel is called "Paul Bos Heat Treatment," which makes it extra strong and able to keep an edge no matter how hard you work with it. Don't worry this is not a low-quality China or Taiwan product, the blade is proudly manufactured in the USA. This makes it virtually indestructible even under the heaviest use.
This Buck razor-sharp hunting knife has a beautiful traditional Cocobolo Wood handle as well as brass pommel or made of aluminum and steel combination. This Buck full tang knife is designed for durability and proper balance. Moreover, the handle is designed with a finger guard intergraded which will protect your finger from touching the razor-sharp blade even if your hand is sloppy with an animal's blade. This is just a slightly smaller version of the Buck 119 Hunting Knife, but don't let that fool you. This is still a top-quality blade that would be able to get you out of the toughest situations but still allows it to be small enough to keep it with you easily.
All of this makes the Buck 105 Pathfinder the perfect hunting knife to have with you in your pocket, on your belt, or in your bag because it comes with an attractive designed 100% original leather sheath. And just as is the case with all Buck fixed blade knives, this one has a lifetime warranty, a nice thing to have since you will probably want to have it with you wherever you go for hunting, skinning, survival, or camping use in any harsh place, cutting wood or any outdoor work.
Pros
Comes in two different colors
Perfect crescent tip shape blade for hunting and skinning the animals
Smaller size so easy to carry and use
Useful for various hard work due to its full tang design
Finger guard intergraded for secure use
Buck lifetime warranty
Cons
No lanyard hole with this Pathfinder 105
---
5. Buck 124 Frontiersman Fixed Blade Knife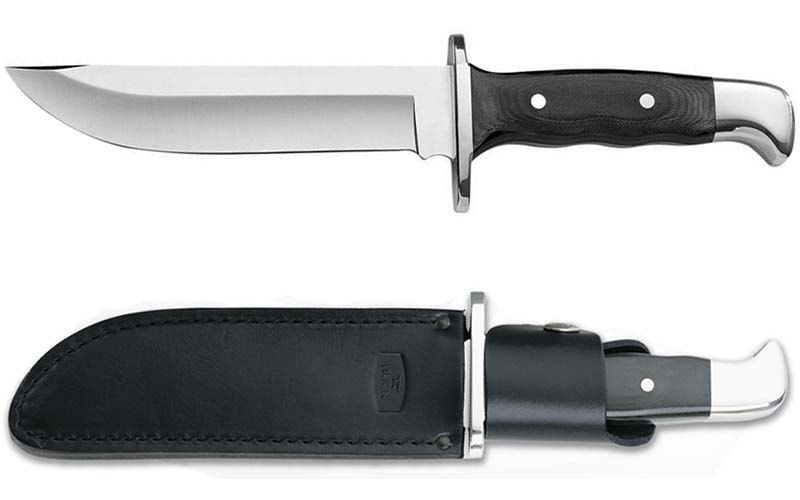 For those who are looking for the best buck knife for Bushcrafting, this could be a knife that will exceed your expectations.
Buck 124 Frontiersman is a durable bowie-looking knife that features a 6.25″ long and 0.178″ thick drop point blade made of high-performing 420HC stainless steel (HRC: 57-58). The heat-treated 420HC steel has great edge retention and corrosion resistance.
This large crescent tip-shaped fixed blade is a perfect tool for hunting work such as skinning, de-boning, cooking as well as camping, and survival work in any tight places and outdoors.
In fact, this one has a blade that is tougher than the KA-BAR USMC which everyone respects as one of the top-rated combat knives that were ever created. If that's the kind of tool you need, this is the Buck Knives' version of it.
But more than just the blade, the Buck Frontiersman has just about everything else going for it too.
There's a black Micarta handle with brass pommel and a finger guard that makes this knife fully ergonomic and secure in any harsh outdoor condition. The handle also has finger curves and palm swells to make it more comfortable and easier to grab.
Whether you are field dressing game or doing fine deboning or chopping trees or batoning firewood, this 11.75″ long and 13.3 oz weighting knife will get your vote for quality every time.
This Buck special hunting knife also comes with a 100% genuine leather fitted sheath so you can transport it safely and securely on your belt or in a bag wherever you are going and for whatever you are planning to do.
Most importantly, all the parts of this Buck full tang knife are made in the USA and come in beautiful two different colors as well as with a lifetime warranty.
From the time you own this knife, you won't go any outdoor work without it.
Pros
Hair-popping sharp right out of the box
Very thick full tang blade that is easy to resharpen
Weatherproof and maintenance-free black Micarta scales made handle
The handle fits perfectly in my large hands
Aluminum pommel & cross guard for safety, durability, and balance
Leather sheath with snap fasteners for convenient carrying
Forever warranty from Buck Company
Highly recommended for versatile hard works
Cons
No lanyard hole
The knife is relatively expensive
---
6. Buck 192 Vanguard Fixed Blade Hunting Knife
The first time you put this little powerhouse in your hand, the first thing that will come from your mouth is "Wow!" After all, that's what most people say the first time they check out this little Buck 192 Vanguard. This best Buck knife has a fixed length of 8.125″ with a 4.125″ drop point of 420HC durable stainless steel made blade for excellent strength that will keep an edge under even the hardest use. The razor-sharp edge with the spacious hollow ground makes your hunting and skinning quite easy.
But the thing that really makes this one a winner is the feel of it. It feels every bit like the dynamo that it is. It's a pleasure to use whatever you might happen to be doing, from field dressing to skinning to general cutting. It comes featuring a stunning heritage walnut contoured handle, finished by polished brass butt and pommel, which makes navigating through whatever you are cutting easy and quick. And when you're done with this one just put it back into the sheath that you will be happy to hang on your belt.
Yes, it comes with an original full leather sheath. The leather sheath protects the knife from outside scratches and unusual circumstances. Additionally, this Buck knife has been produced in the USA. This Buck fixed blade hunting knife has a bigger hilt down the site of the knife, so there is no possibility of slipping or touching your finger with the sharp blade even if your hand waits with the animal's blade. Everyone is sure to ask you about this one. This knife is sure to be an heirloom. You'll be anxious to use this one every chance you get. This Buck skinning knife also comes with Buck's lifetime warranty.
Pros
Safe and useful hunting knife for difficult circumstances
The razor-sharp blade has easy & fast shaping capability
Heritage Walnut contoured handle
Suitable for hunting, skinning, survival work
High-quality leather sheath
Bigger hilt for extra protecting
Lifetime warranty from Buck Knife
Cons
The blade does not have any lanyard hole
Do not use it for any hard work
---
7. Buck Folding Hunting Knife – 0055BRS
All Buck Knives are known as being tough working knives, but in terms of a worker, this is one of the best of the best. In fact, the Buck Knives 0055BRS Folding Hunter Knife is one of the most popular of all Buck Folding Hunting Knives. It is known as a direct descendant of the original 110 design. This is an heirloom design edition of Buck's traditional 110 folding knives. With a crescent tip point design blade that takes up only 2.38 inches, 3.3.8 inches closed length chances are good that you will end up never leaving the house without this one.
In fact, there's a good chance that you will tuck your folding hunter knife into your pocket or onto your belt before you do anything else for the day. The natural wood grain handle and brass fittings will make this one pride to keep with you, but you also won't mind showing it off when someone asks to borrow your knife. For general use knives, there are very few that can beat the folding hunter.
They are light to carry, strong to use, and not only clean up nicely but also hold a sharp edge like a few others. This is one very tough Buck Hunting knife that will be the reason you get through most of your days after you get one. For secure locking, the 0055BRS has a lock-back mechanism that makes it a perfect EDC knife. Finally, it also comes with a full lifetime warranty.
Pros
High-quality classic EDC knife at a cheap price
Proudly manufactured in the USA
Buck unconditional forever warranty
Lightweight, secure, substantial strength EDC knife
Useful for various hard work
The 420HC stainless steel with satin finish
Cons
The knife does not design with SpeedSafe
No leather sheath or carrying option
---
8. Buck Skinning Knife 113 Ranger Hunting Skinner
Many people who try this Buck knife for field dressing call it the butcher because compared to the knife above; that's what it is. The difference in this knife comes clear when you try to use it, which is an experience unlike any other you have ever tried. Not only is this knife a full 3.25 inches blade to use, but it also has a 420HC stainless steel made drop point razor-sharp plain edge blade that is easy to cut through whatever it is that you are making. You can see that the blade's hollow ground is completely designed for killing or hunting any animals and skinning them perfectly.
This kind of drop point hunting blade provides proper control for versatile work and cutting in thick places. It's also easy to keep sharp and it holds an edge like a champ. And as far as holding it in your hand, this one is so ergonomically clean that you will want to use it over and over again. The overall length of this knife is 7.25 inches. This best Buck fixed blade knife has a stunning American Walnut handle and steel accents all around. With this kind of handle, you will get extra benefits for thrusting and skinning any animal's body. From the blade name you can easily understand this Buck knife is a perfect killing knife for the rangers.
There's also a lanyard hole for keeping it convenient, but you will want to keep it handy in the beautiful full-sized 100% pure leather sheath that comes with it. The leather sheath provides all kinds of protection from any harsh environment. Don't worry, the Buck ranger skinner hunting knife does not come from China or Taiwan, it is loftily made in the USA. There aren't too many blades that can claim to be so well made as this one, or as beautiful. This is one gorgeous knife. It also comes with Buck's lifetime warranty.
Pros
Perfect hunting knife for all kinds of environment
Durable stainless steel-made blade
Fast and easy to sharp
Has a black 100% leather sheath
American Walnut agile handle
Best buck skinning knife for hunters & rangers
Pretty legit price for this quality knife
Comes with Buck's lifetime warranty
Cons
Not suitable for cutting any thick or hard things
---
9. Buck 284 Bantam One-Hand Opening Tactical Folding Knife
Did you ever have your hands full and you needed to open a folding knife? And if that's not bad enough, did you ever try to do it while your hands were damp or wet, maybe even covered with blood from your kill? For anybody who has, the benefits of an assisted opening pocket knife under $30 are obvious. The Bantam model is the only Buck tactical folding knife on my list. Bantam models are the latest and upgraded version of the Buck traditional knife. This Buck EDC knife has a mid-lock back mechanism that will provide you with proper balance and usefulness in difficult circumstances.
The blade material is contracted with incredibly durable 420HC stainless steel for edge corrosion, maximum strength, and resistance. Better still, with a Buck Knives 284, Bantam BBW Assisted Opening Folding Knife you have one of the most trustworthy of the Buck hunting knife family. All of the hype about Buck Knives aside, this is one knife that is not only easy to use but easy to handle overall too. For starters, it has a 2.75-inch Drop Point 420HC stainless steel blade that's very durable and has a great edge that is easier than most to keep sharp. The crescent design blade has razor sharpness that will give you the perfect befits for hunting and skinning any animal.
Also, it has a handle that is contoured injection-molded which is Glass reinforced textured ETP, and sports ridges for a comfortable hold. The ergonomic finger-grooved handle ensures a firm grip even if your hand is wet or sloppy. Above all, it has a nice-sized thumb stud that makes it easy to get hold of one-hand open when you need it. It's also lightweight and small enough to slip into your pocket on the way out the door. You'll be using it throughout the day, be sure of it.
The most important thing is the Buck offers a lifetime warranty with this spring assisted tactical pocket knife. The Buck 284 Bantam BBW is useful for different objects like cutting a thick rope, cutting or trimming small wood, killing or skinning an animal, survival use, and outdoors. At the base of the handle has a lanyard hole for flexible transportation.
Pros
One of the best budget Buck pocket knives
Newly designed folding knife for versatile use
Injection-molded Glass reinforced textured handle
Lightweight, easy to carry, and one-hand opening system
The mid-lock back mechanism for the highest strength
Weather-protected razor-sharp blade
Proudly manufactured in the USA
Lifetime warranty by Buck Knives
Cons
Some users find problems with the locking mechanism
Not useful for any hard work
---
10. Buck 110 Folding Hunter Knife with Finger Grooves
If there was ever a folding hunting knife that felt as good in your hand, it's a Buck Knife, but for Buck Knives, this one fits like a glove.
In fact, one of the reasons that this best folding knife under $100 is as popular as it is due to the fact that it is another descendant of the first Buck Knife model.
Moreover, this Buck folding hunting knife produces in the USA, so you don't need to worry about its quality.
This is in cooperation with the fact that so many years have gone into modifying this knife to not only fit the kinds of people who work with it but the kinds of jobs they do.
The finger-grooved handle is made of natural wood-grained brass bolsters. Everything, from the wooden handle to the 3.75″ 420HC strong stainless steel clip blade, spells quality without compromise.
The heat-treated blade ensures long-lasting capability with the edge retention and excellent strength. The blade will stay sharp for a long time of heavy use without the need for sharpening.
The blade has a crescent tip shape design with razor sharpness which will help you for versatile work, especially animal hunting, and skinning.
And when it's time to close the blade it goes down to a convenient 4.75″ to fit comfortably in your pocket or in the 100% pure leather sheath carrier with the snap closure that comes with it.
The blade can be opened easily and smoothly using the nail notch. The lock-back mechanism of this hunting knife provides maximum safety and strength.
There might be a lot of knives on the market that are similar to this one, but there are no others like it. In fact, once you have experienced the famous folding hunter, you probably won't want to use anything else.
The Buck Knives 110FG Famous Folding Hunter Knife comes with Buck forever warranty.
Pros
Fairly decent sharp out of the box
Outstanding wear and corrosion resistance
Easy enough to resharpen, but doesn't dull very quickly
The crescent tip blade shape is useful for hunting & skinning
Ergonomic finger grooved handle
It comes with a black leather sheath including a snap closure
A high-quality, versatile knife at a pretty legit price
Lifetime warranty from Buck Company
Cons
Not useful for any hard work
---
11. Buck 112 Ranger Folding Hunting Knife
Buck Knives makes a lot of high-quality knives and other tools, but for dependability and resulting longevity, there are few that can even come close to the Ranger Lockback Folding Knife, which has been a mainstay of the company since practically the beginning and for a good reason. From the top of the 3-inch clip shape blade to the end of wood and beautiful brass bolsters and matching pins, this is one of the most beautiful and functional models the company makes. The razor-sharp 420HC stainless steel made blade has a tipping point. It will help you to cut hard things, killing or skinning a deer.
There's little wonder that so many people from all over the world use it in their daily lives. It's so easy to open and use that you probably won't bother to buy any other knives. This is part of the reason that so many Buck folding hunting knife owners use this knife for so many different purposes. The design, the quality materials, and the balance of the parts, all make this the company prize that it is. The handle of this hunting knife is made of traditional Dymondwood including Brass Bolsters. The combination of these two materials makes it durable and provides a fascinating lookout. The blade is proudly made in the USA.
It's big enough to do the toughest and biggest jobs, but still small enough to put comfortably in your pocket. Also, this Buck folding knife has a pure leather sheath. You can safely carry it in your pocket or in any harsh environment without thinking twice. Why not share in the Buck legacy by owning one of the best the company makes? You can't do better by owning a Lock back Folding Knife from Buck Knives. From its name you can easily estimate that this Buck Knife is a perfect folding knife for rangers. The Buck Knives 1128RS Ranger Lockback Folding Knife offers a lifetime warranty.
Pros
Incredibly durable stainless steel blade
Suitable for hunting, camping, survival, and tactical use
Genuine leather sheath
Easy to open and lock
Dymondwood handle with beautiful brass bolsters
Useful for any versatile environment
With a lifetime Buck warranty
Cons
No SpeedSafe mechanism
This is a classic model knife
No lanyard hole
---
Frequently Asked Questions About the Best Buck Knife (FAQ)
Question: Is Buck Knives a good brand?
Answer: Definitely, Buck Knives is a good brand because the Company has been making classic-style sport and field knives with a reputation for more than a hundred years. Also, each of their knives is made with great care and good quality parts which are also relatively inexpensive. Most importantly, they offer a lifetime warranty on each of their knives.
Question: What Buck knife is best for deer hunting?
Answer: I would recommend only two knives that I like to use for deer hunting.
Buck 119 Special Fixed Blade Hunting Knife
Question: Where are Buck knives manufactured?
Answer: The Buck Company currently makes almost all of its knives (87%) at its main factory in Post Falls, Idaho, USA. However, some products they make overseas.
Question: Are Buck knives made in China?
Answer: Almost all of their products (87%) are made in America, especially hunting knives. However, some items are also made in China, the number of which is very low.
Question: What is the Buck forever warranty?
Answer: The legendary Buck Company offers a rock-solid lifetime warranty for each of its knives because the brand believes that each knife represents the integrity of the organization.
Provided that if there are any defects in the material and craftsmanship of the knife, they will either repair it or replace it with a new knife.
However, be aware that this warranty does not support misuse, duplicate, or copied products, bought from an unauthorized seller, and modifications of the original knife. They also recommend that their knives not be used as chisels, screwdrivers, hammers, or pre-bars.
Question: What is the best Buck knife?
Answer: Buck makes knives of various designs for different purposes, some of which are worth mentioning-
Question: Does Buck Company make any tactical knives?
Answer: A standard tactical knife is a specific type of knife that the Buck Company does not actually make.
However, I have also reviewed some of the world's best tactical fixed blade knives with molle sheaths and tactical pocket knives. My recommended versatile or multi-tasking tactical knives are very useful for everyday chores so I think you should check them out at least once.
Question: Do Buck Knives hold their edge?
Answer: Definitely, Buck Knives hold their edge very well.
All of the steel used to make Buck knife blades has to go through Buck's famous patented tempering process. As a result, the hardness of the steel increases more than in normal conditions as well as the edge holding capacity also increases at a significant rate.
Buck's blades are also made of high carbon stainless steel, which makes it much easier to re-sharpen their knives. You may like to read – Top Knife Sharpening Systems
Final Verdict
There's an old joke that is told among knife owners that if you have never stood ankle-deep in animal guts, you have no reason to use a Buck knife.
To a certain extent, that's true, after all, above all else, Buck knives are considered working tools for those who work hard with their tools, but there's also no reason to deny anyone who has a need for a trusty well-made knife not to own a Buck.
All the Buck knives mentioned above are the result of many years of insistence on workmanship and top-quality products. That's why so many people buy and depend on them.
Read More Reviews Of: