Here are some of the premium quality EDC knives that can meet almost any need of a knife enthusiast, collector, or fancy user.
The best knives under $500 I've featured here are from reputable pocket knife companies that combine top-level craftsmanship, superior materials, and cutting-edge designs.
Based on my long experience and feedback from other users these pocket knives have been selected so that your investment becomes worth every penny.
What Are the Best Pocket Knives Under $500?
---
Best Folding Knife Under $500
---
1. Zero Tolerance 0308BLKTS Tiger Stripe Pocket Knife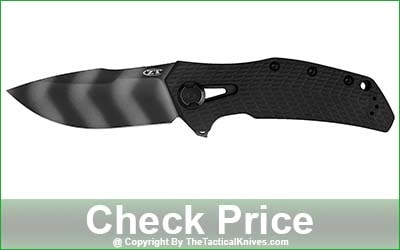 If you want a hard use premium quality tactical EDC knife, there is no better knife than the Zero Tolerance 0308BLKTS. Since the knife is made for heavy-duty use, the size is quite large at 8.9″, but due to the excellent craftsmanship, the knife felt quite compact to me after handling it.
The blade was so sharp out of the box that it shaved the hair on my arm. The knife's 3.7″ long blade is made of premium grade CPM 20CV stainless steel (HRC: 59-61) and even after heavy use, its sharpness lasted for over a month without any re-sharpening. Besides, being a flat grind blade, it is unparalleled at slashing and slicing.
The drop point blade is a bit thick (0.15″) so it won't chip as easily, but the tip is a bit thinner and still easily penetrates hardwood or thin tin cans. Its edge retention is outstanding and the blade is back to shaving sharp within minutes of sharpening my whetstone. The tactical blade has a black-oxide finish with tiger stripes for durability and military-style camouflage.
The handle is 5.125″ long and fits my large hands very well. G10 scales are used on the front of the handle and titanium scales on the back for aesthetics. The handle also has titanium liners for ultimate strength. The combination of grip patterns and black DLC coating make the scales look like alligator skin. What I like most about the handle is its slightly curved profile and deep finger choil as I found a solid grip in all sorts of rough conditions.
Although there is no assistant mechanism in this knife, the blade is quickly deployed as soon as the flipper is pulled. Opening and closing action is very fast and butter smooth, and this is made possible mainly by the premium quality KVT ball bearings. If the smoothness of the action ever goes down a bit, using gun oil will restore the action to like new.
Many have complained that the blade is a bit difficult to deploy or operate with one hand, although I don't think so because after using the knife for a few days you will find it very easy to operate with one hand.
A titanium frame lock is used in the knife for safety. Opened and closed about hundreds of times in a few months and the lock never missed engaging. The frame lock mechanism provides completely solid lock up, the blade has no play in it at all.
A folding knife at 6.9 oz will seem a bit heavy to carry in a pocket, but I think it's not unusual for a heavy-duty knife to have that weight. The knife has a reversible tip-up carry pocket clip. The clip holds the large and heavy knife securely in my pocket.
With this hard-use EDC knife under $500, you will get ZT's rock-solid lifetime warranty and free sharpening promise. The knife made in America is a bit expensive but definitely worth the price.
Pros
It is a very strong steel that holds a sharp edge longer
CPM 20CV offers greater corrosion and rust resistance
The tip of the blade is very pointed, sharp, and tough
Textured handle is very grippy, comfortable, and easy to hold
Choil/jimping for more control, even with wet/oily hands
Fully ambidextrous, can be opened/closed equally with either hand
Lock engages solidly, it feels like a rock-solid 1 piece of knife
Strong as a tank capable of handling all heavy daily tasks
Cons
Many people are not satisfied with the weight of the knife
Missing the 4-way clip like other knives of this brand
---
2. Benchmade 496 EDC Knife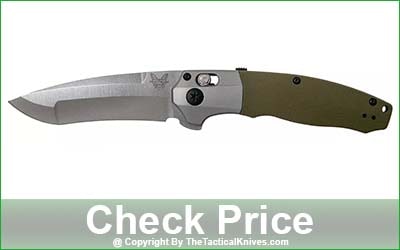 If you asked me to recommend the latest premium folding knife from the Benchmade company, I would choose the 496 model. The Benchmade 496 EDC knife is 8.42″ long, folded length 4.82″, and weighs 4.5 oz.
Of all the blades I've reviewed in the past, this one is the most unique, versatile, and attractive in terms of design. The stunning satin finish 3.6″ long compound grind blade is crafted from premium grade CPM-S20CV stainless steel (HRC: 59-61). This is the first compound grind blade from the legendary Benchmade brand. The main cutting edge of the modified drop point blade is a hollow grind and has a thick tip with a hollow grind.
The scalpel-sharp and slightly curve blade is very agile for cutting flexible materials such as paracords, utility ropes, zip ties, or tie-rips. Moreover, the 0.1″ thick blade easily cuts through various hard materials like cardboard, plastic boxes, wood, electric cables, and small branches. Surprisingly the tip is thicker than the primary cutting edge and can handle much more abuse than the thin tip of other regular blades.
Like the blade, the design of the handle is also very unique. In the first third of the handle, there are eye-catching 6061-T6 aluminum bolsters. The remaining two-thirds of the handle is made in a sandwiched style where OD green G-10 scales are on the outer, white G-10 liners are in the middle, and full stainless steel liners are at the end.
The fittings and finish of all parts and corners are perfect, there are no mismatches or sharp edges anywhere on the handle. The handle has light finger grooves but lacks the necessary texture which makes it a bit slippery in wet, sweaty, or oily hands. However, the handle feels comfortable and balanced, not too heavy not too light.
It is a spring-assisted pocket knife that can be opened easily with one hand using the flipper. The assisted flipping and closing action of the knife is very smooth and quick. I just missed the thumb stud as an opener but not having it makes the knife more compact and relatively easy to keep in or take out from the pocket.
The AXIS lock engages with a click sound as the blade deploys, but requires two hands to close. It feels very sturdy in hand, the AXIS lock is firm, and yes, the blade will definitely stay in place.
There is a safety spring retention lock tab on its spine to ensure that the blade does not deploy in your pocket or in any other way due to sudden pressure. You can easily lock/unlock the safety mechanism with one hand.
The knife has a tip-up carry pocket clip that is reversible. I like the black clip very much because the retention of the clip is very good so there is no fear of losing easily. Also, the deep carry clip is suitable for discreet carry.
Finally, I think it is unfortunate that such a uniquely crafted EDC knife is not in the collection of an avid collector.
Pros
Right out of the box, the blade was extremely sharp
Incredible corrosion resistance and edge retention
Handle looks beautiful and has outstanding ergonomics
Handle is durable, thick, and fits even an XL hand
Open-back design for easy maintenance
Assisted mechanism makes fast, easy & secure blade flip-out
A safety sliding lock prevents any randomly flying open
Lock-up is extremely solid, no wiggle or play in any direction
Sits deep in the pocket for discreet carry
Awesome USA product that fits any gentleman's pocket
Cons
Only flipper, no thumb stud as an opener
Blade deployment is fast but not super fast
The knife cannot be folded with one hand
---
3. BUCK 110 50th Anniversary Folding Hunter Knife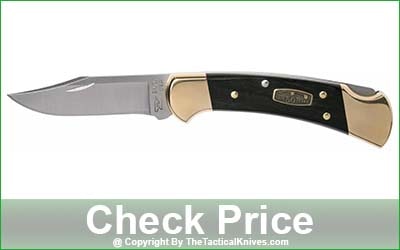 Buck 110's 50th Anniversary edition has long been a favorite among outdoor enthusiasts and collectors. From small everyday tasks to hunting in the vast outdoors, you can count on this masterpiece to stay by your side.
This 8.5″ long folding knife is equipped with a 3.75″ long and 0.120″ thick 420HC stainless steel (HRC 56-58) straight-edge blade. Individually testing each blade to guarantee their quality standards, the high carbon stainless steel is treated with the industry's finest heat treatments, and it shows.
This high-carbon stainless steel has excellent corrosion resistance as the chromium it contains creates an oxide layer that prevents rust. The stonewash finish minimizes scratches, which makes it ideal for rough use.
From printer paper to thick cardboard, this blade glides through the material like butter. It slices through heavy-duty rope and shaves wood with minimal effort. It makes an excellent hunting knife due to its compact size and razor-sharp blade. The blade length is ideally suited to skinning and deboning large game.
The clip-point shape perfectly collaborates with the longer blade length which allows me to efficiently slice and saw through thick and thin materials. The well-defined tip allows for accurate and intricate piercing. Precision is almost effortless.
For everyday tasks, the blade holds up very well for long periods of time. There is little effort involved in sharpening the knife, and it results in a razor-sharp knife ready to tackle any task at hand.
The 50th Anniversary Buck 110 handle is constructed from Macassar Ebony Dymondwood and highly polished Brass Bolsters. The handle liners are made of brass and shape the handle foundation and add to the knife's integrity and longevity.
The handle of this knife is 4.74″ long, which allows for a full-size grip and a snug fit. What I find most convenient is how I can adjust my hand grip in various ways comfortably without worrying about hotspots or changes in performance.
Despite being engineered perfectly, it may have a problem with the smoothness of the materials. If you're skinning an animal, for example, the handle will get wet and the slickness can be dangerous.
Though I've been very satisfied with this knife, the opening mechanism was underwhelming. It has a manual two-handed opening system which is slower than other manual mechanisms.
I found the lockback mechanism reliable as it offers a safe and solid lockup. The sound it makes when it locks, the click, is very satisfying. It is possible to close one-handed but your fingers could come into the path of the blade's edge which can cause accidental cuts so I wouldn't recommend it. The opening and locking are smooth, swift, and trouble-free.
The classic EDC knife under $500 comes with a black leather sheath. Many people prefer the look and carry of a sheath, but the convenience of a pocket clip is unmatched.
Pros
Precision heat-treated steel great for everyday use
Blade holds an edge well & sharpens relatively easily
Handle is classic, thick, and fits in my big hand
Blade feels firmly locked in place with no play
Buck offers a rock solid limited lifetime warranty
Exquisitely crafted American product will last a lifetime
You will never go wrong buying this brand's knives
Cons
Weight (7.4 oz) is a bit heavy for an EDC
Minimal grip in slippery conditions
Two-handed operation for opening/closing
It doesn't have a pocket clip
---