1. Benchmade – Bugout 535 EDC Manual Open Folding Knife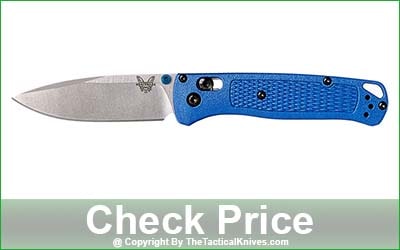 Benchmade's famous EDC knife is the Bugout 535, each of its premium quality parts is made in America. Bugout 535 is a multipurpose knife that can be used for hiking, camping, backpacking, survival kit, or tackle box. The knife measures 7.46" full length, 4.22" fold length, and weighs only 1.85oz (52.45g).
The 0.090" thick and 3.24" long blade of the knife is made from Benchmade's famous steel CPM-S30V (58-60 HRC). Being a very good quality alloy, the blade is able to retain its sharpness well enough for a long time.
Also, the maintenance of the knife is much less required as the stain and corrosion resistance are much higher. So you can use it safely in the outdoor environment.
The razor-sharp blade has an aggressive grind and flat belly, which gives ample control over cutting rope, fibrous material, plastic, or hard objects.
The scales of the ergonomically designed handle are made from Glass Filled Nylon (GFN) and the liner is made of stainless steel. The handle has textured diamond grip patterns that will give you a non-slip grip in all conditions.
The knife can be easily opened with one hand, a slide push on thumb studs, or the shaking of your wrist can release the blade. For safety, the knife has an ambidextrous Axis locking mechanism that prevents any type of blade play after opened and gives you a secure feeling.
The knife has a reversible tip-up pocket clip for easy transportation. You'll be glad to know that the knife is also available in a few different colors and half serrated edges.
Pros
A high-quality pocket knife for almost all types of work on a daily basis
American made premium quality CPM-S30V steel blade
The blade is very sharp right out of the box and retains its edge well
Secure Axis locking system for smooth open and easy close
Stronger, lighter, and comfortable handle with ergonomic textured grip
Lanyard hole and reversible pocket clip for flexible carrying options
The knife features a LifeSharp service and a limited lifetime warranty
Benchmade Bugout 535 is proudly made in the USA
Cons
Not suitable for heavy work at all
Re-sharpening is a time-consuming matter
Manual open folding knife, no assisted mechanism
2. Spyderco Para 3 Signature Folding Utility Pocket Knife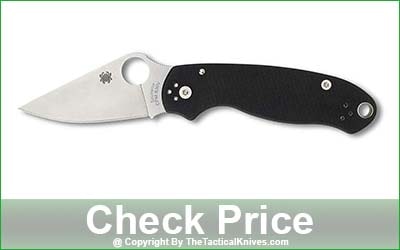 The Para 3 knife comes with some premium features which made the knife an extreme EDC one among all other folders. The knife has an overall length of 7.24″ and when closed is 4.29″ and weight 3.45 ounces.
The 3.18mm thick and 2.95″ long razor-sharp blade is made of high-performing CPM S30V stainless steel and has a durable satin finish. The CPM S30V steel is well known for rust and corrosion resistance as well as long-lasting edge holding capacity.
Due to super hardness, the clip point blade has greater piercing capacity. This sharp blade can be cut through leather, hard plastic, or even a thin metal box.
The handle is crafted with textured G-10 scales over the stainless steel liners. The open-backed structure of the handle minimizes its thickness and provides essential support for the lock.
The ergonomic handle includes a textured pattern and finger grooves for a very solid grip. It also gives an aggressive grip feeling as the handle includes a textured index-finger choil and thumb ramp. With a well-grip-able handle, it is easy to get good control in the time of precise cutting chores.
The knife is mechanized with a compression lock. The design of the lock is secure and robust; you would not feel any blade play during use. The lock has no spring mechanism for rusting or breaking, nor is there any ball bearing – which means a knife that is almost maintenance-free.
The total weight of the knife is only 3.45oz which makes it easy to carry accessories for the lightweight EDC knife-seekers. The knife includes a 4-position pocket clip that brings some extra benefits for tip-down/tip-up or left/right-handed users.
No matter if you use this knife for survival, campaign, or for hiking in any remote place it will not disappoint you. All above the manufacturer offers a lifetime warranty for this robust multitasking knife.
Pros
Premium quality CPM S30V stainless steel blade
The blade is sharp as a scalpel right out of the box
Polished finish ensures sustainable use and scratch resistance
Easy one-handed opening and closing folding knife
Textured G-10 handle and finger grooves for comfortable grip
Solid compression lock system provides full security while caring and using
The knife is proudly made in the USA
An ultra-compact lightweight folding knife is also easy to carry around
Available in multiple handle colors, blade steels, various serrations, and edge formats
Cons
Not a deep-carry pocket clip
3. Zero Tolerance 0350TS; Folding Pocket Knife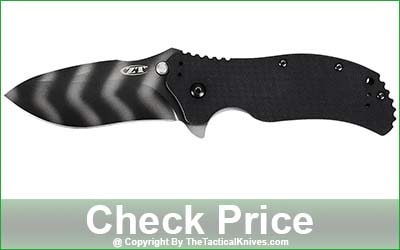 The Tiger Striped 0350 is one of the most popular folding knife models in the market that is manufactured by the famous American brand Zero Tolerance Knives. The full length of the knife is 7.75″, the folded position is 4.625″ and the weight is 6.2oz.
The 3.25″ long blade is made of premium quality S30V stainless steel (57-59 HRC) and is protected by Tiger-Stripe Tungsten coating. S30V steel blade has much higher wear and corrosion resistance than other blades. In addition, the edge of the blade can be sharpened in a short time, which will not be easily dull even in long use.
Laminate composite G-10 scales and stainless steel liners are used to make the ergonomic handle. The G-10 handle is durable, very light, and temperature changes do not affect it.
The handle has a texture-like check pattern and about an inch of thumb jumping, and a curved shape with deep finger choil – all these features will provide you a firm pinch grip even if your hands get wet or perspire at work.
The most important thing is that the knife has an ambidextrous SpeedSafe assisted opening system which allows you to deploy the blade very fast with any one of your hands.
Not only this, with the help of the flipper or thumb studs you can easily open the blade while wearing any tactical gloves.
It has a liner locking mechanism to use the knife safely when open. The system is highly secure and strong enough; there is no chance of sudden closing or any blade play during use.
The knife has a quad mount carrying clip which facilitates transportation in right or left hand and tip-down or tip-up style.
Pros
Ultra-premium S30V stainless steel blade for heavy-duty use
Non-reflective camouflage blade coating
A solid and thick G-10 handle fits perfectly in your hands in any position
Due to the SpeedSafe mechanism, the blade flies out super fast
The knife can be opened and closed with one hand
Thick and convincing stainless steel liner locking system
Multiple carrying options through the 4-position pocket clip and lanyard hole
ZT Tiger Stripe 0350 is proudly made in the USA
Limited lifetime warranty by Zero Tolerance
Cons
Slightly bulky (6.2oz) but a reliable EDC knife
Frequently Asked Questions About the Best EDC Knife Under $150 (FAQ)
Question-: Should I buy a pocket knife for everyday carry?
Answer: Of course, we should all buy a good quality EDC knife. Almost every day we need to use a pocket knife for many tasks such as – opening a letter, cutting a hard packet of any product, cutting a rope, or use it as a tool.
Also, it can be used as a rescue tool in any emergency case such as cutting seat belts, breaking car glass, etc. But a good quality tactical EDC knife would be best for multipurpose work.
Most importantly, as an everyday companion, you can use a folding knife as an effective self-defense gear against snatchers or attackers.