This article will provide you with a complete list of the best fighting knives in the world. Some of these combat knives have a long record and have even been used by regular military personnel and special combat units in many missions and wars. Either way, along with the everyday home utility, military, or campsite cutting duties, a knife works an integral part in self-defense just after a firearm.
What Are the Best Combat Knives in the World?
---
Review of the 13 Best Fighting Knives in 2022
---
1. Gerber StrongArm Fine Edge Fixed Blade – Top Combat Knife
Gerber StrongArm is a full-tang combat knife that stays true to the roots of traditional military-style survival knives. With a lifetime warranty, the 9.8″ long StrongArm is proudly manufactured in the USA at Gerber's Portland, Oregon factory.
The knife has a 0.19″ thick drop point blade made of 420 high carbon stainless steel (58-60 HRC) and protected with a black ceramic coating. The steel core contains additional amounts of chromium which enhances the toughness, corrosion resistance, and long-lasting sharpness of the blade.
Its 4.8″ long fine edge blade is capable of cutting hard to flexible materials such as ropes, set belts, branches, electrical wires, as well as batoning or chopping the firewood. Due to the high carbon steel, the blade quickly and easily takes a razor-sharp edge.
Its 5″ long ergonomic handle is crafted from Glass-Filled Nylon. The diamond-texture rubberized handle gives a comfortable and anti-slip grip that fits snugly in the user's hand.
Also, the handle base has a small striking pommel that can be used to break through hard surfaces in emergencies or during rescue operations. There is also a lanyard hole in the pommel.
With the Gerber StrongArm, you can choose to carry your knife in many ways. From drop-leg system to MOLLE mount to horizontal belt mount – this 7.9oz weighing knife comes with a multi-mount sheath. The sheath allows both active and passive retention – relying upon the mount you use.
Check out its partially serrated version: Gerber StrongArm Serrated Edge Fixed Blade Knife
Pros
Full tang design for good balance and solid construction
Rust-free 420HC steel blade which can be sharpened easily
The blade is strong enough and suitable for all kinds of hard work
Remarkable edge holding capacity, no hassle for sharpening again and again
Ergonomic handle for a comfortable grip and easy handling
The handle is strong, stable, well-sized, waterproof, and unaffected by chemicals or weather
The multifunctional sheath allows versatile and secure carrying options
An American-made knife is absolutely worth every penny
Cons
Some users are not happy with the pointed pommel
Really nice knife, I couldn't find any more cons
---
2. KA-BAR Full Size US Marine Corps Fighting Knife
If you are searching for a stable and high-quality self-defense Knife, then I have one for you. Here is the world's most famous fixed blade combat knife the KA-BAR US Marine Corps. This 11.88-inch knife is manufactured in the USA and offers a limited lifetime warranty. KA-BAR has been constructing knives since 1898 and is known for producing its knives under unique manufacturing processes.
The KA-BAR knife features a 1095 Cro-van steel (56-58 HRC) made 7-inch straight-edge blade. The combination of vanadium and chromium over the 1095 steel with black oxide coating – all have enhanced sharpness, durability, and corrosion resistance. Due to its high carbon steel with plain edge version the 0.165 inches thick blade is quite easy to sharpen and higher edge retention will keep it razor sharp year after year. So, you would not have to worry about your knife's sharpness. The full tang knife comes with the slim-curved brass guard which is situated between the blade and handle to protect your fingers from the sharp edge as well as a pommel on the bottom of the handle for hammering.
Also, this best combat knife has a leather handle for a firm and comfortable grip. Also, it comes with a 100 percent leather sheath which is rugged, sturdy, and long-lasting. Do not compare with the plastic types, this one is unbreakable (no doubt). It promises to serve its purpose; to protect from outdoor moisture and the environment.
---
3. SOG SEAL Team Elite Fixed Blade Knife SE37-N
SOG is well known among military, law enforcement agencies, and industrial customers, as a maker of unique innovation and high-quality knives and tools. After the existing world's most extreme knife performance testing competition which took on by the U.S. Govt., along with knives from other U.S. top cutlery companies, the SOG SEAL Team Elite Knives triumphed.
SOG SE37-N has a 7″ long AUS-8 Stainless Steel blade (HRC 57-58). The core of the blade is produced through an outstanding cryogenic heat treatment method and coated with an appealing non-reflective black TiNi finish. All these processes have made it the world's best stainless steel blade in toughness, edge retention, and higher wear resistance. This racy shape blade has a partially serrated razor-sharp cutting edge for versatile use. The 0.24″ thick fixed blade also features a clip point tip that provides faster and in-depth puncture. Moreover, the blade spine rasp which helps for notching, filing, and thumb placement.
This 12.3″ long SOG knife is also crafted with impact and abrasion-resistant black Glass-Reinforced Nylon handle which is very rugged and durable. The ergonomic deeper finger grooves handle is user-friendly and well-balanced, as it is contoured to ensure you have a comfortable grip when you hold it. For mobility and quick accessibility, this 10.3 oz weighting best SOG knife comes with a MOLLE-compatible black Nylon sheath that has a secure loop and hook closure so you can always have it near to you. The full tang knife has an extended part "handle pommel", suitable for emergency hammering or breaking glass. It has a limited lifetime warranty. So, you have protection against manufacturing defects and materials.
---
4. Ka-Bar KA1214-BRK USA Fixed Blade Fighting Knife
If you require the same features that the US Marine demands in their combat knife then you don't need to search further, the "KA1214-BRK" is the one. The 11.88″ clip point knife gives the surety of a complete kill if the knife is used in any fighting or against a wild animal.
Its 7″ long blade is made out of 1095 Cro-Van stainless steel. With 56-58 Rockwell scale and full tang structure both have made the blade strong and nearly indestructible. The 4.19mm/0.165″ thick razor-sharp blade has a 20-degree partially serrated cutting edge.
The blade is finished with a non-reflective black powder coating to protect it from rust and corrosion. It also increases scratch resistance and decreases friction drag as well.
The best part is, KA1214-BRK comes with a weatherproof Kraton G (that is a composite material of Synthetic Elastomer) handle. The handle feels comfortable and fits perfectly in my hand.
This type of grooved handle provides much better grip and control in tropical, snow, or wet conditions. Even in any extreme situation, you can use the pommel as a hammer and it will not crack or break like wood.
The hard plastic-made sheath has the option to carry it on both left and right sides. The sheath is well matched to tropical circumstances because it repels moisture and water quite well.
Moreover, the sheath comes with another safety system for the kids; when the knife stays in the sheath, a snap strap wraps around the knife handle.
This sturdy knife is a multi-use tool whether for fighting, self-defense, utility, or in any camping, survival, hunting trip, or any other outdoor chores.
The same model is also available in the plain edge version: Ka-Bar #1213 Black Straight Edge Knife
Pros
The knife arrived scalpel-sharp out of the box
Blade holds a sharp edge despite a lot of abuse
Got less snagging for rounded serrated edges
Kraton G is tougher than wood and lasts longer than leather
The cross-guard secures your fingers during fighting
Durable hard plastic sheath for secure carrying
Maintaining or cleaning is quite easy
Ka-Bar KA1214-BRK is proudly made in the USA
It has a limited lifetime warranty
Cons
I like everything except sharpening the serrated edge
---
5. SOG SEAL Pup Fixed Blade Knife – M37N-CP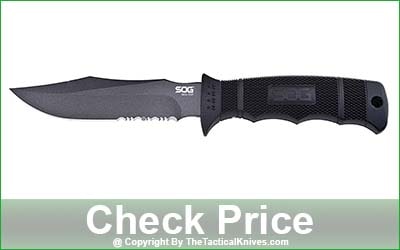 If you want a knife that is compact, easy to carry and use as well as cheap in price then SOG SEAL Pup M37N-CP will be your best choice. The knife is not too big or heavy; it's also not too small for tactical use. Its overall length is 9″ and its weight is 5.4 oz.
SOG uses their famous powder-coated stainless steel AUS-8 (HRC: 57-58) to make this knife's 4.7″ blade. The cryogenic heat treatment process increases blade's hardness, sharpness, and edge holding ability.
The backbone of the partially serrated blade is pretty thick 4.826mm and quite strong but the thickness gradually tapered towards the tip.
The serrated part of the blade makes it easy to cut the rope, paracord, set belts, and electric wires because the teeths really grip flexible material well and the plane sharp part slices cleanly through other materials.
Also after using the blade for clearing small branches, feathering or chopping sticks, processing firewood, it retains its edge and only noticed some scratches on the blade's finish.
It is a full-tang knife with a glass-reinforced nylon handle molded around it. It is not heavy, the ergonomics are excellent and very nicely balanced and this knife feels very secure to hold.
The handle has finger grooves and many raised diamond patterns to resist slip; this knife never slipped out of my hands even if my hand or the handle got wet while using it for various tasks.
The knife can be carried easily with this versatile nylon sheath. The sheath has a vertical strap that allows me to conveniently attach the knife to a belt, pack, gear, or "MOLLE". The sheath also has a pouch that will hold a pocket sharpener or Ferro rod.
Click here to purchase this SOG SEAL Pup M37N-CP with Kydex sheath
Pros
Cryogenically heat treating steel at the atomic level
The knife came quite sharp out of the box
In a short time, it took a razor edge with little effort
The handle is not slippery and feels solid in my hand
Water, electricity, and weather-resistant handle requires zero maintenance
The molle-compatible nylon sheath is more functional
Don't worry the E37T-K has a lifetime condition warranty
It is one of the best pure fighting knives under $100
Cons
The handle is a little short for my larger hand
I think the sheath could have been of better quality
---
6. Gerber Mark II Fixed Blade Combat Military Knife
The Gerber Mark II is the best military knife for those who are looking for gear for personal defense. The blade is made of 420HC Stainless Steel (56-59 HRC) and has a spear point tip. Gerber designed this knife with a double serrated edge to make sure it can deliver optimal piercing ability. Also, this half tang knife features a black oxide coating to reduce reflection and minimize corrosion. With the overall 12.75" and 6.5" blade length, it can serve every combat and survival need of users.
One thing I love about this Gerber knife is the premium quality handle. The handle is manufactured from Die-cast Aluminum which makes it sturdy and unaffected by extreme temperatures. The ergonomically designed Quillon or Crossguard not only provides a perfect grip in your palm but also protects your finger from slippage and touching your opponent's blade.
Gerber Mark II comes with a durable ballistic nylon sheath. It will ensure the maximum safety of the knife and the user. Also, it's among the brand of knives manufactured in the USA and supported by a lifetime warranty. This combat knife is not a common type but a legendary item to own. After seeing this in your hand the opponent will think twice to attack you.
---
7. Cold Steel Leatherneck-SF 39LSFC – Best Combat Knife Under $100
The Cold Steel Leatherneck is a multi-purpose survival combat knife that reminisces the 1776 U.S. Marines. Its 6.75″ clip point blade is made out of famous German tool steel D2 (HRC: 59-62). The hollow grind blade came absolutely shaving sharp right out of the box.
The D2 has higher edge retention because after more than three months of doing almost all kinds of heavy work with the knife (stabbing into dense objects, firewood batoning, and feathering or chopping sticks) its sharpness decreases slightly. The knife needed sharpening for the first time after about four and a half months of use.
The blade is protected with a non-reflective black powder coating. In addition, after washing with the water and despite not giving any kind of oil coating, no crutch or rust was detected within five months.
The 0.19″ thick plain edge blade of this knife is full tang – perfect for fighting, survival, camping, hunting, or tactical use.
This knife has my favorite handle which gave me a non-slip grip in wet, sweaty, or muddy conditions. The choice of textured Kray-Ex for the material of the handle is impeccable for a high-performance grip.
The handle rightly hugs my palm through the oval cross-section and exclusive finger troughs. The full tang handle has a solid steel butt cap so I felt free to use it as a hammer to break something hard.
The balance point of this knife is just right in the middle, so I didn't feel any fatigue or blisters on my hands after using it for long periods of time.
Speaking of safety, a solid steel double quillon guard is integrated with the knife to prevent the user's fingers from sliding towards the sharp edge of the knife and also provide essential protection in hand-to-hand knife combat.
The 11.7 oz weighing knife also comes with a distinct Secure-Ex sheath – in order to make carrying it around safely. The sheath can be completely detached and features a belt loop that is ambidextrous.
This 11.75″ combat knife is made in Taiwan and comes with a manufacturer's limited lifetime warranty
Pros
A fully straight edge blade is easy to sharpen
Super strength, edge holding, and corrosion resistant
The 5″ handle is very ergonomic and comfortable in difficult conditions
Solid steel guard for fingers protection and machined end-cap for striking
The sheath securely holds the knife and is easy to mount on the MOLLE
Its robust construction will give you the confidence to take heavy abuse
For this price point, this knife is hard to beat
Cons
The hollow grind blade has a thin weak tip
It took me a little longer to re-sharpen because the hardness is higher
It would have been better if the weight of the handle was a little less
---
8. Ka-Bar KA1245-BRK Black Tanto Fixed Blade Combat Knife
The Ka-Bar KA1245-BRK has an 8″ long and 0.165″ (4.19mm) thick tanto point blade. Its weight is 11.2 oz (0.70 lbs) with an overall length of 12.81″. The partially serrated blade has a black epoxy powder coating for wear and corrosion resistance.
The core component of the blade is made of premium quality 1095 Cro-Van stainless steel. This type of carbon steel is produced with a combination of Vanadium (0.42-0.55) and Chromium (13.8-15) intertwined with the 1095 steel. The Vanadium component of the steel provides razor sharpness with the highest edge retention, and Chromium increases strength (56-58).
The serrated part of the blade is not too aggressive, and the strong tip is able to penetrate thin iron or wood objects or thick cloth very easily. After about a month and a half of using the knife for puncturing, limbing, feathering sticks, rope cutting, electrical wiring cutting, chopping branches, and other fundamental cutting tasks, I needed to re-sharpen it.
The full tang knife has a manmade Kraton G handle. On the handle profile, I found deeply rounded finger troughs that ensure solid gripping even when wet and don't slip at all.
The handle is complemented with a thick steel butt cap (the cap is not plastic or cheap molding like other products on the marketplace nowadays). So I didn't hesitate to use the butt like a hammer anywhere to inflict terrible blows.
Moreover, this combat fixed blade knife has a steel cross guard. This is an important feature of any combat knife as the guard will protect your fingers when applying it in close combat situations or heavy utility tasks.
For safe carrying and transport, Ka-Bar has provided a black hard glass-filled nylon sheath with this fixed blade fighting knife.
Pros
The blade came fairly decent sharp right out of the box
The blade is tough and holds its edge very well
Easy to sharpen, will take a keen edge for a good minute
100% synthetic handle can withstand freshwater, marine, snow, and mud
The handle fits my large hand perfectly
Not too heavy not too light, balanced feel, and very durable
Finger protective guard and steel butt cap
The knife comes with a sturdy and MOLLE-compatible sheath
The Ka-Bar KA1245-BRK is proudly made in the USA
Don't worry; the knife has a limited lifetime warranty
Build quality and features are very good at a great price
Cons
Required a bit of sharpening to make it hair-popping sharp
Being carbon steel you will store the blade lightly oiled to avert corrosion
---
9. Ontario Spec Plus SP-1 Marine Combat Knife
The Ontario SP-1 is a unique-looking fighting knife that is specifically designed for first responders, sportsmen, and special combat units. The 7″ blade of this fighting knife is made of 1095 Carbon Steel, which holds up well and sharpens quickly. The 0.19″ thick steel blade is coated with a black epoxy powder – which gives it a stealthy finish. With a hardness rating of 57-59, the full-tang blade has a plain edge and a sturdy clip point tip.
Moving on to the knife's handle, it is manufactured by Kraton and has ergonomic finger grooves that feel comfortable and a rubber-like grip on my palm. With a rounded structure, the handle is designed to perfectly fit the user's hand for a high-performance grip. To ensure the safety of the user's hand the handle is equipped with a double finger guard. Also, the pommel has a lanyard hole.
To make carrying this fierce-looking 12.13″ knife around safe, it features a sturdy Leather and Cordura combined sheath. With plenty of mounting options, it has two retention snaps and a leg-tiedown loop with a cord. This 10 oz weighing combat knife is proudly produced in the USA and offers a lifetime warranty protected by the Ontario Knife Company.
---
10. Smith & Wesson CKSUR1 Search & Rescue Knife
The CKSUR1 offers an incredible value for your money and has been specifically designed to meet all your combat needs. Smith & Wesson combines craftsmanship, strength, and bowie style into this good fighting knife. The knife features a 6.03-inch modified clip point blade of Black 7Cr17 High Carbon Stainless Steel. The 4.76 mm thick stainless steel blades are virtually indestructible, meaning this blade can take a beating and last a long time without rusting.
However, the Smith & Wesson CKSUR1 is not serrated, so the knife will work better for chopping wood, and is easier to sharpen. If you're without a whetstone, you can even use an excellent smooth stone for sharpening, making it a razor-sharp combat survival knife. The blade features a black powder finish, which not only supplements the aesthetics but also serves the purpose of minimizing corrosion and reflection. The CKSUR1 offers a limited lifetime manufacturer's warranty.
Apart from the pragmatic and durable blade, another feature that made our team include this knife in our top ten best combat knives list is the rubberized aluminum handle that makes the 10.5 inches knife extraordinarily comfortable and less slippery in your hands. For convenient and secure transportation, the knife also comes along with a heavy-duty multipurpose nylon sheath that is manufactured with metal reinforcements and a hard synthetic liner. The sheath is decorated with a sharpening stone, lashing slots, a D ring, and a front-mounted nylon-made removable storage pouch together with a Velcro shutter. Weighing just a mere 7.0 ounces means the knife is lightweight and easy to carry.
---
11. Benchmade – Nimravus 141 Tanto Serrated Fixed Blade Combat Knife
Nestled at the top of our combat knife review is the rugged and stylish-looking Benchmade – Nimravus 141 Tanto Blade Knife. The Benchmade wanted to bring the best military knife that can accommodate nearly any combat requirements that you might have. This extensive approach is visibly noticed by the sheer glut of unique and multifunctional features of the Nimravus. This 9.45″ long and 5 oz weighing combat fixed blade knife is made in the USA and designed by Warren Osborne as well as provides a limited lifetime conditional warranty and LifeSharp service.
The knife comes with a half-serrated and customized tanto versatile use 4.50″ blade. The high-quality 154CM Stainless Steel core with stealthy black BK1 coating both have made it an ideal blade for corrosion resistance, easy field-sharpening, and good edge retention. The blade can cut many items such as fibrous materials (leather, strapping, set belt, rope, webbing, hoses), electric wires, small firewood batoning, or small branches. Its modified razor-sharp tip gets maximum strength from the dual taper grind and is enough strong to penetrate a thin stainless steel object. For durability, the blade is 0.115″ thick with a Rockwell Scale hardness of 58-61, referring that the blade is forceful, and can basically manage everything you throw at it without bending or breaking.
The most important feature I have found in this fighting knife is the ergonomic and special handle. The innovative handle scales are made of hard-anodized 6061-T6 Aluminum. The scales have deeply textured pressure points for ultimate traction on your palm. These textured grooves perform the function of channeling away mud, blood, water, or oil. Its full tang, large handle with deep finger choil ensures highly versatile use in harsh or wet working circumstances. For a comfortable feeling, the handle is also designed with thumb jimping. The Benchmade – Nimravus brings a black Nylon sheath with a belt strap, adjustable loops, and a MOLLE-compatible clip.
---
12. Schrade SCHF9 Full Tang Drop Point Knife
The Schrade SCHF9 is an extreme combat survival knife under 50 and can completely alternate the requirement of carrying a smaller axe. The SCHF9 Knife is one of the best medium-size knives that comes along with a full length of 12.1-Inch and a 6.4-Inch long drop point blade and weighs 1 pound or 16 ounces. Unlike the knives up in the hierarchy of our fighting knives, the Schrade SCHF9 features a blunted tip. Against the pointed tip, the blunted tip is far better and stronger as well as less risk to break.
In spite of the blunter tip, the SCHF9 still makes a useful defensive tool, and you'll be amazed by the thrust cuts of the knife. The 6 mm thick blade of the knife is constructed from one solid portion of 1095 High Carbon Steel with 56-58 HRC. These kinds of steel are generally harder, sharper, and maintain an edge longer than stainless steel. The material, however, is not the only selling point of the blade. The whole flat-grind nature of the blade on the SCHF9 creates a significantly sturdy edge. The full flat grind shape not only eliminates blade chipping but also makes the blade an excellent choice for slicing and chopping.
This full tang affordable survival knife has a Thermoplastic Elastomer (TPE) made handle and a lanyard hole. The ring textured offers excellent grip even on wet or muddy hands. Moreover, below the handle, the ergonomic finger groves design ensures stable holding, strength, and pleasure. Finally, the SCHF9 comes with a multitasking sheath that is created with a combination of a Ballistic Belt and Cordura. The sheath is well designed and has a heavy-duty plastic insert with an adjustable retention strap for right or left-hand carry, a lanyard, and a removable storage pouch.
---
13. Smith & Wesson SW3B Special Ops Bayonet Combat Knife
Smith & Wesson SW3B Special Ops Bayonet is one of the top combat knives for survivalists, special forces, and outdoor enthusiasts. The United States military highly trusts this fighting knife for the M16 rifle's bayonet. The knife's full length is 12.8″ and weighs 14.5 oz.
The 7.8″ blade of this knife is made of high-quality 420J2 stainless steel (HRC 58-59). 420J2 steel is known for its superior strength and corrosion resistance due to its high chromium content. The knife came shaving sharp ‍and coated with black oxide powder which makes it more durable as well as stain and rust-resistant.
Additionally, the blade has a modified spear point tip that is slightly thicker, yet sharp enough to easily penetrate very thick objects. Also, the blade spine is notched which gave me more advantages than sharp edges for cutting thick tree limbs as well as wood or hard things.
The good news is that the blade steel and its hollow grind edge are so strong that even after three months of heavy abuse I didn't need to sharpen the knife very often.
The handle is made of textured Nylon with black rubber inlay. Rubberized texture, grip pattern, and rounded finger troughs – all these features indicate that the knife has an ergonomic handle for a confident grip. The knife never slipped even when my hands were muddy or wet during normal and heavy-duty use.
To carry this huge knife the company has provided a versatile sheath or scabbard which I liked the most. The scabbard is complemented with hard plastic and nylon.
It has a 45-degree belt loop, a small extra adaptor, a removable pouch, and a built-in sharpening stone. I can easily separate and attach those altogether.
Furthermore, the blade hole joins with a scabbard lock and makes a wire cutter. Also, the head of the tool can be used as an emergency screwdriver.
Pros
The knife is large, sharp, and built just as solid
Although the blade is stainless steel, it was easy to sharpen
There is a spacious blood groove on the body of the blade
A notched spine can do many things that are not possible with a sharp edge
The handle is well sized, comfortable, and feels very sturdy in my hand
Its large guard protects my fingers from the keen edge
The multifunctional tactical scabbard holds it firmly
The military knife offers a limited lifetime warranty
Cons
This is a half tang combat knife
The cheap black coating wears off easily after extreme use
---
How to Choose the Best Combat Knife – Buying Guide
Knives have been an important tool for humans throughout our entire history. Not only can they be used in many different tasks, but act as an efficient weapon in combat. Different types of combat knives have been used in situations ranging from war to self-defense.
However, with so many varieties, it can be difficult to find the right combat knife. For this reason, here I will try my best to explain to you what to consider when buying a fighting knife.
Which One Would Be Better – Fixed Blade or Folding Knife?
One of the larger debates when choosing a combat knife is whether it is a fixed blade knife or a folding knife.
The latter means that the blade can fold into itself, making it easier to carry and not requiring a sheath. This allows the user to keep the presence of the knife a secret from an attacker, making it a surprise advantage if combat ensues.
However, the folding point of the knife is its weakest, and once it is damaged, the knife ceases to fold out easily and making it worthless.
Additional weaknesses include the time it takes to unfold the knife, during which the attacker is either getting closer or attacking; there is a chance for the knife to fold in on itself unexpectedly, even cutting the user.
My recommendation is pocket knives for fighting are preferable for police, or paramilitary forces.
So, choosing folding knives would not be a good idea for using them as personal self-defense for citizens or military forces. A fixed blade knife is not prone to broken folding mechanisms, is easy to use or carry, and overall is more solid.
But a fixed blade knife for combat also has some cons. A fixed blade is unable to become concealed, and there are lots of restrictions to carrying it in a public place.
Lastly, keeping the blade hidden away may not be the goal of the user, as its presence may cause potential attackers to avoid, flee, or surrender to the user.
Consider the Measurement of A Combat Knife
There is a lot of controversy about the size of the combat knife. If a knife is too short, it makes it weak, less likely to penetrate, and gives it a shorter range; too big of a knife and it becomes unwieldy.
Different sizes of knives are required in different cases. So that you can understand the matter better, I will try to explain the measurement of a fighting knife in three different parts.
• Small Combat Knife: The blades of knives of this size are 2-5 inches in length and 5-10 inches in total length.
The most popular combat knives of this size today are Tactical Folding Knife, Boot Knife, Neck Knife, and Stiletto Knife.
This small size allows them to be easily hidden and carried. However, this limits its strength and usefulness.
• Medium Combat Knife: The blade lengths of fighting knives in this range are within 5-8 inches and 9-14 inches overall. Nowadays worldwide, most users of this type of knife prefer this average common ground.
There are many good and effective fighting knives of this size, such as Tactical Knife, U.S. Military Bayonet Knife, USMC Fighting Knife, Dagger Knife, Karambit Knife, Trench Knife, and Ballistic Knife.
It gives it a weight and length that is effective, yet won't weigh the user down. This balance between large and small gives it the power small would have and ease of use large may limit.
• Large Combat Knife: A large fighting knife would be 12-18 inches in total length, with the blade being 8-12 inches long.
Machete Knife, Bowie Knife, Kukri Knife, and Dirk Knife are my favorite knives of this size.
This knife has the most range and power potential. However, its larger size might be unwieldy in inexperienced hands.
Choosing the Blade Steel
Blade steel is extremely important when deciding which knife to choose. This is because this will be the deciding factor of many attributes of the blade, including resistance to corrosion, ability to flex, ease of sharpening, hardness, retention of edge, and many more.
Although weight may seem important, it is less so when it comes to the best military knives due to their smaller size. Unfortunately, no material can be high performing in all the attributes listed below, as many require a tradeoff with another.
The main choices for blade material when talking about knife-making steels are…
• Tool Steel: Knife-making tool steel usually has a carbon content between 0.5% and 1.5%. It is best for keeping its edge, but it takes an extremely long time to sharpen and has average corrosion resistance. The best tool steels for making knives are A2, D2, O1, M4, and CPM series.
• Stainless Steel: Stainless steel for knife making has less than 1% carbon content and more than 10% chromium content. This alloy is extremely effective at resisting corrosion such as rust and is comparatively easy to sharpen, but in hard use, its edge doesn't last long. ‍The most commonly used knife-making stainless steels are CTS, 400, AUS-8, AUS-10, MoV, 154CM, 420J2, Sandvik, and VG.
• Carbon Steel: All those knife-making steels which contain 1%-2% carbon and chromium content of around 10.5% are called high carbon stainless steel. The steel is very durable, relatively easy to sharpen, and takes a sharp edge, yet is prone to corrosion. Some of the most famous and widely used knife-making carbon steels are 420, and 1095.
Due to the primary purpose of the knife in question, combat, the main attributes that will be important are being able to get a good edge and the knife being tough.
This means that carbon steel would be the best choice when you need to select durable combat knives. Although it may be affected by corrosion, this can be prevented through proper care.
Selecting the Blade Shape or Tip
Seeing as this is a combat knife, the blade shape and point are extremely important. These will affect what attacks the user can do and the effectiveness of different attacks.
• Drop Point: A drop point is a blade in which a non-sharpened convex curve goes from the back of the blade to the point. Benefits include a strong tip and long cutting edge, making it great for slicing. However, it does make the point broad, making it a poor-piercing weapon.
• Clip Point: It has an unsharpened back that is straight to about halfway up the blade and then goes toward the tip, which can be curved or straight. This allows it to perform well at both slicing and piercing. However, due to its narrowness, the point is weaker.
• Spear Point: A spear point is a blade that is symmetrical along the long axis. It can be single or double-edged; the latter is suggested to allow a sharp point. Due to its design, it has a strong and potentially sharp point, making it good at piercing, but with limited slicing power.
• Scandi Point: A scandi point has a start straight on both sides with both edges curving towards the point. It is easy to keep sharp, but it is time-consuming due to the amount of material. Since the cutting edge tapers thin, it isn't good in regards to slicing and strength.
• Hollow Point: A hollow point is a blade in which both sides have a conclave edge ground into them, coming together for a thin point. This thin point is very light, making it good for slicing. Its sharp point can pierce well, but its thin nature is prone to breaking.
• Full Convex: A full convex has a gentle curve starting at the base of the blade guard. Due to its shape, it is extremely durable and keeps its edge. Unfortunately, this means it takes a while to get the edge when it is needed.
The Blade Spine
The blade spine is the side opposite to the cutting edge. Although this is often flat, it can be used to increase a knife's potential.
If the knife is made to be double-edged, the point becomes sharper, as well as providing another sharp edge to attack with. However, some disadvantages are that the knife will be lighter, which limits its power.
Some have large serrations on the spine that can be used to cut extremely hard and thick objects.
Selecting the Blade Edge
The blade edge is one of the primary ways a blade is used in knife fighting, the other being the point, making it very important. It should always be kept sharp, as a dull knife is less effective and acts as a danger to the user.
An important decision to make a choice whether a combat knife blade edge is plain or serrated.
• Plain Edge: A plain edge is the usual type of sharp edge when people think of knives. Their simple shape makes it easy to sharpen. Additionally, they tend to be sharper and more precise.
However, it requires more sharpening and can have difficulty cutting through tough or flexible material. They work best with push cuts, rather than slicing.
• Serrated or Saw-toothed Edge: A serrated edge was created to do effectively what a straight edge could not, that being cutting through tough material.
The teeth that make up the edge are great at cutting through things such as thick clothing, even when teeth are dull. The saw-like edge can also cause greater damage in combat by catching the attacker's skin or clothes.
However, it comes with its own weaknesses, such as potentially getting stuck and difficulty in sharpening a serrated knife.
• Combo or Partially Serrated Edge: In recent years, many knives have had a combination of a sharp and serrated edge on one side or putting them on opposing edges. This allows the user to reap the benefits of both types.
However, it isn't perfect. The knife also has weaknesses associated with both, and where each component is placed greatly controls how effective each part is.
Consider the Knife Tang
The tang of a fixed blade knife is a piece of metal that goes from the base to the blade guard to the bottom of the knife's handle. There are several knife tang types but I am recommending only 3 main types.
Full Tang – blade continues fully through the handle
Partial Tang – metal blade only goes partially into the handle, and
Rat-Tail – a thin piece of metal starts at the blade guard and goes all the way through.
Full tangs are the strongest since the metal is a single piece of steel. The other options are cheaper choices, but when choosing a combat knife, it is best to spare no expense.
Considering the Combat Knife Handle
The handle of a knife is arguably just as important as the blade itself. It allows the user to wield the military knife, and a bad handle choice can make a knife uncomfortable to use.
Important things to think about when selecting a knife handle include sturdiness (micarta, titanium, treated wood), its resistance to the elements (G-10, carbon fiber), ability to absorb shock (leather, rubber linings), the ability of the user to grip (shape, pattern, texture), and more.
Handle Grip: Some knife handles have finger grips, which can better a person's hold of their knife. Also, ergonomic patterns, textures, swells, or finger grooves enhance the ways in which the knife can be held comfortably.
Quillon or Crossguard: The quillon is a very important feature of the fighting knife and it should be on the handle, as it keeps the user from cutting themselves on the blade. Also, a crossguard or finger guard protects the user's hand from the opponent's knife attack.
Solid Pommel of the Handle: The pommel of a knife is very important to the structure of the handle, often being part of the tang or an end cap. A solid pommel helps strengthen the structure of a handle.
Additionally, a solid pommel can be used as a blunt attack, potentially driving away attackers before further combat becomes necessary.
Lastly, the handle should be well-sized and easy to clean and repair.
A Fighting Knife Should be Easy to Carry
Knives are often preferred due to their ease of carrying.
A combat folding knife can often fit in a pocket, shortening itself in half once the blade fits itself in the handle.
For a fixed blade, a MOLLE-compatible sheath is required, often made of leather or nylon. This aspect is very important, as an easy-to-carry knife is more likely to be brought along, which means a user is more prepared for combat encounters.
Best Combat Knife Brands
When you are a newbie and looking for the best fighting knife in the world then try the top knife brands for fixed blades. This is one of the easiest and most common tricks to find a qualitatively better knife.
There are hundreds of knife-producing brands in the market and some of them are good or bad. If you choose a top knife manufacturing company rather than a non-popular brand, the probability of selecting the wrong knife would be very low. My recommended top 10 combat knife brands are –
Ka-Bar Knives
ESEE
Smith & Wesson
Columbia River Knife and Tool
Schrade
Cold Steel
Gerber
Kershaw
Benchmade
My Recommendation
There are many attributes to look at when deciding on what would make the best combat knives. In the end, I decided on a long, 12-inch knife with a 7-inch fixed blade. The blade would be made of carbon steel, with a clip point. The spine of the blade would be serrated, with the sharper edge being plain. The knife would have a full tang which acts as a solid pommel, which goes into a composite material handle with finger grips.
---
How to Fight with the Best Fighting Knife
Every good knife combatant should have an absolutely solid grip and balance on his knife such as that it can protect him from any sudden attack in a moment. Through our three key points, strong grips on to fight with the knife, you will know the hub of a knife fight to ease your starting difficulty at the same time as learning how to battle with a top tactical knife.
Forward Solid Grip: A usual and predominant knife holding that is right for a newbie with the blade opposite way with observance to your small fingers.
Filipino Standard Grip: Keeping your thumb a little ahead on the blade's spine is called the Filipino standard grip which mixes saber, hammer, and customized grips.
Solid Hammer Grip: The grip provides users to make a circumference with the fingers below the handle of your knife and thumb imposing by the forefinger.
Modified Saber Grip: Keeping your thumb on the side of the blade is known as a modified saber grip. Also, it is a great martial arts tactic against any horizontal or slashing attacks.
Traditional Saber Grip: Keeping your thumb before the thumb guard or thumb rise is known as a traditional saber grip. Saber traditional grip helps to create more trusting leverage or pressure through your thumb.
Reverse Grip
The reverse grip is something like defensive, and opposite grip toward the stabbing angle as well as the thumb holds the butt of the knife handle and the knife blade is pointed downwards.
Reverse Grip Edge In (RGEI): In this technique, the cutting edge of the blade points toward the knife user through the quillon digging under the palm for the martial art clawing skill of knife combat.
Reverse Grip Edge Out (RGEO): The sharp or cutting blade edge of the knife is far from the body or directed away with a reverse grip which is known as reverse grip edge out.
Pro User Grips
These kinds of solid grips are the resultant techniques of many years of practice and are designed to assist in any dangerous circumstances for the pro user or military experts.
Palm Strengthen: A smart skill where the fighter rests the knife butt in her or his palm to push the blade point like a nail driver directly into the enemy body.
Those Who Need to Learn Knife Fighting Training
Political and Business Man (VIP): If you are a political leader or a VIP or a rich person, there would be so many enemies around you. In this case, basic knife fighting training will give you confidence and security yet without any bodyguard or security.
Military and Solder: Fighting with knives is planned to assist in any aggressive physical conflict, particularly for special combat soldiers.
Citizens Under Intimidation: Learning knife fighting with a knife is something like preparing yourself for any threat from your enemies or attackers.
When Do You Need to Use Your Best Military Knife?
You should now compare the military knives with the tactical knives because tactical knives are used on multi-purpose chores, and also create less physical damage. Actually, fighting with a knife is not anything like sword fighting.
Following unusual circumstances that force an individual to apply the knife:
Self-Protection: If you have any risks to your life then use the combat knife to protect yourself. Also, it is one of the most common gears that are allowed to carry for self-defense, rather than firearms in all most all over the states in the US and other countries.
Vulnerable Places: If a thief or hijacker or evil person attacks you in a vulnerable place like a dark alley, you can use your knife to make him distract and it will provide you enough time to run away if you don't want to engage with him.
Protect Your Family Member and House: If somebody is threatening your family members' life, don't waste a single moment buying a fighting knife and prepare yourself for a knife conflict!
Obstacles, Resolution, and Suggestions for Knife Fighting
Fighting with a knife means 'the knife that will cause struck at a short space while in a hand-to-hand conflict between two people. Let me give you some resolutions and suggestions to assist you when engaging in knife fighting training:
You have to maintain a little bit of distance from the attacker, if you stay in his striking range, he could attempt a sudden attract and that would be unavoidable.
Don't ever try to guard yourself against the opposite arm though afraid you are!
Begin with the solid hammer grip technique; it is an ideal knife-holding step for any newbie.
Remember never to make yourself defenseless by throwing your knife at the attacker however helpless or angry you are.
For a Filipino solid grip, use your thumb; if you have a little bit of time in the combat situation, first check his leg position and aim at a weak point of his body and make a sudden fast move by applying a knife as the thumb extension.
Always keep your attention on holding and controlling your knife with your bare hand.
Conclusion
Learning the combat tactics with a knife is not an easy task, it takes years of practice. You can learn the necessary part of it in a couple of months.
Most people do not want to emphasize the necessity of knife fighting. But it is the best way of saving your life from a life destructive attack.
Every time using your knife fighting skill is not about killing someone, it is a tactic of self-defense and keeps the attackers away.
---
Frequently Asked Questions About the Best Combat Knife (FAQ)
Question: What is a combat or fighting knife?
Answer: In order to decide on what makes combat knives, one must know what a combat or fighting knife is. Fighting knives are designed primarily for close-combat or hand-to-hand knife fighting.
Initially, combat knives were used only by the military, but now they are widely used by civilians for hunting, survival, camping as well as self-defense. Additionally, they serve as a utility tool to help the wielder perform a variety of tasks, such as cutting through plant life.
Despite innovations in guns, knives remain relevant, whether on the battlefield or in the deadly situations citizens may accidentally come into.
Question: Are combat knives legal?
Answer: Combat knives of a certain size can be carried or used by the general public in almost all US states except a few places.
However, some knives such as cane swords, switchblades, throwing stars, metal knuckles, and ballistic knives are considered illegal to buy, sell, or import.
But it will be better if you check what your state and local laws say about carrying combat knives.
Question: Who can fight with a combat Knife?
Answer: Not only the vulnerable person but also everyone should learn how to battle with a knife. Almost everywhere carrying a knife is legal; an additional advantage is concealability and this is one of the core aspects that will help at the end of the day.
Question: What makes a good combat knife?
Answer: There are many attributes to look at but my preference is a 12-inch long knife with a 7-inch long high carbon stainless steel partially serrated blade. Blades should preferably have a clip or tanto point and must be full tang.
The handle should be made of composite material and should have grip patterns or finger grooves for non-slip grip in wet or sweaty hands. Both the knife and the sheath must be black in color and the sheath must be MOLLE-compatible and durable.
Question: How big should a combat knife be?
Answer: Nowadays, a standard-size fighting knife for a soldier should have a total length of 9-14 inches and a blade length of 5-8 inches. Combat knives of this size are big enough and suitable to be used by soldiers. With few exceptions, almost all parts of the world keep close-combat fighting knife sizes within this range.
Question: Who makes the best combat knives?
Answer: There are many brands in the market of fighting knives but I would recommend only 5 brands that have been making value-for-money products with a reputation for buyers for a long time, providing the proper warranty service, and whom you can trust without uncertainty.
Ka-Bar
SOG
Gerber
Cold Steel
Ontario
Question: What knives do the US military use?
Answer: Different units of the US military use different types of knives based on different tasks or situations. Some of the most commonly used knives are
Ka-Bar USMC Fighting Knife
Gerber Mark II Knife
M7 or M9 Bayonet Knife
Ontario MK3 Navy Knife
SOG Seal Pup Elite Tactical Knife
Question: What knife do Navy SEALs use?
Answer: Navy SEALs use the Ontario MK3 Navy Knife. The MK3 is the current military issue knife to the United States Navy SEALs. Ontario MK3 is a 10.75-Inch long fixed blade knife that features a 6-inch long 440A stainless steel blade (49-54 HRC), molded high impact black plastic handle, weighs 10 ounces, and includes a molded plastic sheath.
Question: What is the best fixed blade combat knife?
Answer: In this case, I would choose the Gerber StrongArm Fixed Blade Knife. Because its blade is made of high-quality carbon steel, the handle is very ergonomic and comes with a multifunctional tactical sheath.
Also, this fixed blade fighting knife is quite sturdy, not too big in size, has several modern features in its design, and can be easily used for almost all kinds of tasks.
Interestingly, the knife is available in different colors, and blade serrations, and at affordable prices.
Question: What is the most effective combat knife?
Answer: My first choice here is the Ka-Bar Fighting Knives. Because Ka-Bar Knives are battle tested and have many years of record of use in combat. Also, they are still used by some of the regular and private military personnel and special warfare units in many of their missions and battles.
Some models are worth mentioning
Final Verdict
When looking for a good fighting knife, the purpose of the knife is going to have is primarily one of effectiveness in close combat. I will look for a knife that is good against both opponents that are armed and those not. Secondarily, the knife is going to be one that is tough and able to perform many of the secondary tasks that are expected of a military knife.