Everybody deserves the EDC knife, because of the added advantages. A folding knife is a gear that you may need for everyday chores like cutting, slicing, puncturing any material, opening a can or box, using it as a screwdriver as well as an emergency life-saving tool or self-defense weapon. It is convenient to use, compact in design, lightweight, and highly maneuverable. This kind of EDC knife is the first choice for its multifunctional purpose. Because of the popularity of the pocket knife, various models are available in the market, making it difficult for many people to make a choice. We narrow down the choice for you by reviewing the best EDC knife under $100.
What Are the Best Pocket Knives Under $100?
---
Best EDC Knife Under $100 – Top List Reviews
---
1. Kershaw Blur Black SpeedSafe Assisted EDC Pocket Knife
Kershaw is the leader when it comes to the production of best-assisted opening knives under $100. Whether you want to engage in outdoor trips and so on, no problem, in fact, the 7.88″ long Kershaw Blur can be used for hunting, camping, self-defense, and any type of survival activities.
Its 0.12″ thick blade is made of high-quality Sandvik 14C28N stainless steel (HRC 58-60). A black coating (ceramic-based finish) ensures that the blade is non-reflective and does not easily corrode or rust.
Due to its high-performing steel, the blade can withstand extreme uses. The strong blade is capable to cut through hard objects without bending or damaging its pretty sharp edge. Also, the 3.4″ long re-curve plain edge blade makes it perfect for slicing and push cutting.
The handle material is black 6061-t6 anodized aluminum. Its ergonomic shape and the Trac-Tec pattern give you a comfortable and aggressive grip. The handle is lightweight, stealthy, and strong enough.
The handle is easy to hold and feels spongy. You will not feel any scratches or irritation in long use. The handle size and design are such that it suits the need of the everyday user.
The liner lock mechanism enhances your safety when you are using the knife. The issue of knife opening when you do not operate it does not arise.
If you encounter danger on the way, the SpeedSafe assisted mechanism releases the blade super fast with just one hand and gets you ready to defend yourself from any sudden attack.
Furthermore, a reversible (tip-up/tip-down) pocket clip ensures that it clips strongly in your pocket.
Pros
Blur-1670BLK is one of the best assisted models from the company
The high-performing blade is precisely Nitrogen treated
Outstanding hardness, sharpness, and corrosion resistance
Excellent edge retention; once sharpened, does not dull easily
The blade is protected by durable and long-lasting Cerakote coating
Anodized aluminum handle for durability and solid feeling
Trac-Tec inserts for a non-slip grip in mud, soggy, snow, or marine conditions
Trusted SpeedSafe assisted opening with a secure locking system
A heavy-use pocket knife that weighs just 3.9 oz
Kershaw Blur comes with a limited lifetime warranty
The folding knife is proudly manufactured in the USA
Cons
Re-sharpening is a bit difficult and takes some time
---
2. Benchmade – Mini Griptilian 556 EDC Folding Knife
The Benchmade Mini Griptilian is a modern classic that comes in handy in several situations, especially for its size and flexibility. The 154CM all-around stainless steel blade is designed with the shape of a classic (vintage) drop point. At 58-61 HRC, 2.91 inches long and 0.100″ thick, the tip is further enhanced for smooth piercing with the hollow grind and swedge features, great for details. This adds to its great spine for various utility tasks. The top satin or black coating makes it wear-resistant.
This knife's handle gives it an edge in the best folding knife under the $100 category. Benchmade Griptilian scales are made of fiberglass-reinforced nylon that is strong and lightweight; ideal for shock-absorbing. The nested stainless steel liners beneath the handle make it durable enough to hold extreme pressure. The steel liners are curved for ergonomy, and the handle features lots of jimping, a great thumb ramp, amazing choil, and tight diamond patterns around the handle scales. It is good for a number of hand sizes and a solid grip.
The lock is user-friendly. Deployment is easy and smooth as a result of the ambidextrous Axis Lock. With just a flick of the wrist or some thumb pressure, you can easily open or close the blade with one hand. The black-coated reversible pocket clip of this EDC knife retains pretty well and buries very deep too. Its closed length is 3.87″ and its weight is 2.81 oz. All these features also make it easy to carry around. The knife has a limited lifetime warranty and is proudly made in the USA.
---
3. Spyderco Delica 4 Zome Green Folding Knife Under $100
The model was first introduced to the market in the year 1990. Since then, it has undergone modifications. The 2.87 inches blade is formed of VG-10 stainless steel (HRC 58-60) which makes it durable and strong. With 0.09 inches thickness of the blade, you can use it for different purposes such as webbing, electric cable, and rope cutting, as well as branches and so on. Furthermore, its flat grind with razor-sharp drop point tip helps to penetrate solid objects deeply. Due to its satin finishing layer, it can withstand different conditions without rusting.
The Delica 4 folding knife handle is designed with superior quality Fiberglass Reinforced Nylon. The knife is attached to the handle through screws and this makes cleaning simple and easy. Most importantly, the thumb jimping with spine rasp and textured patterns ensure that it does not slip from your hand when you hold it. The ergonomic design is one of the best things going with this pocket knife under $100. Standard size 7.12 inches Delica 4 is a multi-use knife, suits the everyday need of many people such as sportsmen, hunters, as well as military people, and outdoor enthusiasts.
The innovative lock-back mechanism has made the knife the most protective on the market today. In addition to that, you can carry it in your pocket with its reversible 4-way pocket clip. Its round thumbhole feature helps for single-handed opening or closing. The knife is surprisingly lightweight 2.5 oz, folded length 4.25 inches, and covered with a limited lifetime warranty.
---
4. CRKT Special Forces Tactical EDC Knife – M16-14SF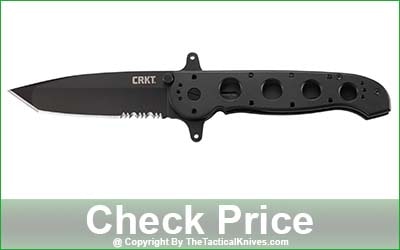 CRKT (Columbia River Knife and Tool) brand has been a popular name amongst sportsmen, special forces, and knife enthusiasts since 1994. Their M16-14SF model is an excellent addition to the tactical knife industry designed for ex-military, survivalist, or extreme users. The knife weighs 5.7 oz, overall length of 9.25″, folded 5.375″.
This serrated folding knife features a 3.99″ long and 0.14″ thick tanto shape blade with triple point serrations constructed of super AUS-8 stainless steel (HRC: 58-59). The non-reflective black titanium nitride on the blade and the entire frame gives the knife a high-resistance ability against corrosion and scratches while the blade material provides strength and extended edge holding capacity.
The blade's shape with the serrations makes it able to cut seat belts, ropes, webbing, limbs, electric cable, cordage, branches, etc. Easy penetration without any resistance is possible due to its tough hollow grind and tanto point.
The handle of this combat folding knife is produced by using lightweight and non-reflective Aluminum with an open build frame. The material features an excellent gripping texture and has high insulating properties. In addition, friction grooves add comfort while holding it firmly.
With the automated liner safety feature having stainless steel liners, it feels like a fixed blade knife when unfolded. The flippers make one-handed opening easy while the pin locks the blade that making it safe to use.
Moreover, folding the knife is a no-brainer task since you only have to pull the security lever back the draw the locking liner over to put the blade inside the frame. Double checkered thumb studs are present as a trademark of the knife.
For easily carrying this best tactical EDC knife, the handle has a 4-position pocket clip. The knife is made in Taiwan and you will be delivered with a limited lifetime warranty.
Pros
The blade is very thick, sturdy and serration cuts well
The blade arrived fairly sharp right out of the box
Holds an edge great and it's easier to re-hone
The handle is comfortable, grippy and fits my larger hand
After opening the flippers take a position as a finger guard
One-handed opening and closing action is very smooth
Automated liner safety feels very solid and no blade play
Design and quality make it a multifunctional heavy-duty knife
Cons
This is not a gentleman's EDC knife
---
5. CRKT Homefront K270GKP EDC Tactical Pocket Knife
It may look old-fashioned in design, but when it comes to performance, this Homefront model is one of the best EDC knives under $100 on the market today. The outstanding attribute of this model is the field strip technology. Homefront name suggests that it can be used for different ranges of domestic activities. AUS-8 stainless steel (HRC 57-58) material is used in manufacturing the blade. The AUS-8 steel-made blades are known for their edges to retain sharpness for a long time and the stonewash finishing guarantees that it does not rust easily even if you expose it to water. Its blade size of 3.5 inches sets it perfect for different kinds of utility and outdoor chores. The 0.133 inches blade thickness makes the knife durable and strong.
The handle is designed from the finest quality 6061 aircraft-graded aluminum material. Jimping on top of the handle and small textured contours ensure that you will get your expected grip. A lug-style flipper also prevents your finger from touching sharp edges. Most importantly, ergonomic design ensures that you do not feel anything uncomfortable when you use the knife. Because of the field strip technology, it is easy to dismantle and clean when you want without using any tools.
The knife features a secure locking liner. It locks the knife perfectly and it cannot open unless you want it. Moreover, the lug-style flipper turns single-hand deploying very simply. The drop point knife comes with a tip-up deep carry pocket clip and a limited lifetime warranty. Its full length is 8.3 inches, closed length is 4.728 inches, and weight is 4.8 oz.
---
6. Benchmade Griptilian 551 Everyday Carry Folding Knife
Benchmade has earned a great reputation when it comes to EDC knives. Whether you are engaged in fishing, hunting, camping, and other outdoor and everyday activities, this 8.07 inches best pocket knife under $100 is the perfect solution for your needs. Designed with the best quality CPM-S30V Stainless Steel and satin finish has made the blade attractive as well as increased rust and scratch resistance. Moreover, once sharpened, it cannot have a dull edge and when that becomes possible, it will be for a long time. Higher toughness (HRC 58-60), razor-sharp plain edge, and 2.92 mm thick drop point blade have created this knife an ultimate cutting tool for different types of objects like cordage, rope, webbing, electric cable, limbs or branches, etc.
Another interesting feature about this pocket knife is its durable handle which is made of glass-filled nylon. The user's hand is firmly gripped in place with the help of the ergonomic diamond shape grip patterns and jimping near the thumb position and separately decorated around the handle profile. On account of the 3.88 oz weight, you can hardly feel anything in your pocket or any burden when you use this model. Benchmade Griptilian 551 is proudly made in the USA.
The knife is friendly to use, because of the fully ambidextrous axis locking mechanism. Once you have opened the blade, it is locked like a fixed blade knife and remained secured until you allowing to fold. You can open or close this manual knife with a single hand within the shortest time. It can be clipped very well in the left/right side pocket through the reversible tip-up method. The knife features a limited lifetime warranty and LifeSharp service.
---
7. Spyderco Manix 2 Lightweight EDC Knife Under $100
Manix 2 is one of the newest EDC models from the Spyderco Company. A CPM S30V stainless steel designed 3.37 inches blade has a drop point tip and razor-sharp cutting edge. CPM S30V steel is comparatively easier to sharpen and holds the edge longer than carbon steel, as well as attractive satin finishing, making it rust protective. The 56-58 Rockwell hardness and 0.13″ blade thickness ensure that it can cut through anything without breaking the blade.
Whether you engage in everyday utility work like slicing, push cutting, puncturing, opening a steel box or other outdoor activities, this lightweight 8 inches pocket knife is an ideal option. The handle is designed with lightweight textured G-10 scales (An Epoxy Filled Woven Glass Fiber). In addition, the gripping is fantastic due to its tacky grip pattern and agile finger grooves design. Just a 2.9 oz weight knife feels nothing in your pocket and makes it easy to move around.
Furthermore, the lock is quite different from other products. It features a next-generation caged ball-bearing lock mechanism. This is a smooth, secure and innovative compressive locking system. One hand can easily release this manual knife through the thumb hole. The knife has an ambidextrous right or left-handed tip-up stainless steel pocket clip. The Manix 2 is manufactured in the USA at Golden Colorado and is backed by a limited lifetime warranty.
---
8. Buck Knives 0347BKS VANTAGE PRO Folding Knife
In my consideration, perhaps Buck VANTAGE PRO is the most friendly folding knife under $100 on the market. The blade is a drop point with an elevated hollow grind in design and a wide belly making it a nice and fast cutting tool for hunting, skinning, slicing, feathering sticks, and overall any indoor task.
In addition to that, the blade size of 3.25 inches and is made out of the finest quality CPM-S30V steel with a satin coating. This type of steel is popular for its toughness (HRC 58-59), trouble-free sharpening as well as guarantee resistance from wear and corrosion.
The legendary EDC knife brand Zero Tolerance uses almost the same type of steel in all of their premium quality ZT knives. Moreover, its remarkable edge retention prevents you from regularly annoying sharpening.
The handle is also designed with an injection-molded Reinforced Nylon with CNC contoured G10 material. Smooth scales and ergonomic design are suitable for everyday use and grip comfortably in your palm. VANTAGE PRO is made in America and has offered Buck a forever warranty. Its full length is 7.63″, its locked length is 4.38″, and weighed only 4 oz.
Surprisingly, the knife features the most efficient two liners locking system for additional safety and strength. This best Buck pocket knife is simple and easy to open. Flipper and thumbhole are the ways you can open this manual knife with both hands. You can just clip it in the right or left side pocket in tip-up position.
---
9. Cold Steel Recon 1 Series Everyday Carry Heftier Knife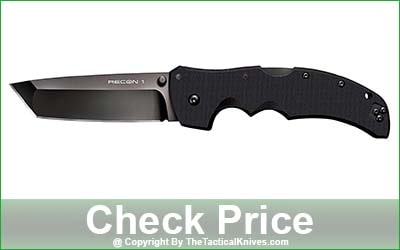 If you are looking for the best hard use folding knife under $100 then you can buy Cold Steel Recon 1 for this purpose. It features a razor-sharp plain edge blade that is made of the world's highest quality stainless steel CPM-S35Vn. Moreover, the higher Rockwell hardness rating (60-62) guarantees that the edge remains sharp for a long time. Most importantly, a durable black DLC (Diamond-Like) coating will ensure that the knife does not rust or scratch no matter how rough you use it. The 4″ long tanto point blade is good enough for different types of tasks such as slicing, skinning game, push cutting, feathering sticks, self-defense, and other fundamental works. Even if you use it in the toughest cutting engagement, the 0.13″ thick blade will ensure that it does not damage or bend.
The handle is made of textured black G-10 scales which. With the deep finger grooves, the handle shape is super ergonomic and the G-10 texture provides an excellent grip. Also, the hand is thick but lightweight and feels very smooth in the palm. Comparing its size this heavy-use tactical knife does not weigh more than 5.2 oz, you hardly know you carry anything with you. Due to its decent rouned profile, you can use or carry this EDC knife through the day you cannot feel the impact.
The simple and secure Tri-Ad Lock System keeps the blade tightly without any blade play. You can carry it with confidence because it will not unlock until you want it. Moreover, thumb studs made it simple to open. Cold Steel Recon 1 is also crafted with phosphor bronze washers which allow effortless single-hand opening and closing. Also, the 9.38″ folding knife has a reversible tip-up carry pocket clip and a limited lifetime warranty.
---
10. Benchmade Mini Griptilian 555HG Best Pocket Knife Under $100
This is slightly different from others because of the thinness, compact design, and ultralight weight. It is an all-purpose knife, which can be used for cutting, skinning, and other domestic chores. The most appealing feature is the blade shape, which is pointed to tanto. The power is more in the pointed tip. This makes it the most suitable for defense and even to attack. The edge is plain and it can last for a long time when you sharpen it. If you take it for the expedition, it does not disappoint. The length is just 6.78 inches. It is good for skinning and cutting. Its satin finish makes the blade attractive, but it is not reflective.
It features an ergonomic handle, which is composed of glass-filled nylon. You can cut and skin the whole day without feeling the impact. It is ultralight with a net weight of 2.68 oz. The locking mechanism is an axis lock. You are completely secured, and it can fit into your pocket through the reversible pocket clip system. You can use the knife with confidence, it cannot disappoint and it does not open when you do not want to. This is a user-friendly knife designed for everyday purposes.
---
11. SOG Tanto Trident Elite – Best EDC Knife Under $100
Trident Elite is one of the latest models of EDC tactical knives taken from SOG and it is famous for its lightweight, compactness, and ease to open.
The blade core is formed with high-quality cryo-hardened AUS-8 Stainless Steel (HRC: 56-58) and coated with a very tough titanium-nitride (TiNi) finish. The heat-treated new generation stainless steel is not only corrosion and rust-free but also sharpens easily and doesn't dull very quickly.
Its 3.7″ long blade has a modified tanto point tip. Practically, the 0.12″ thick spine that moves through to a tip and drops down, makes it a substantial folding knife that can do any kind of heavy-duty chores. Read More: High-Quality Folding Knife Under $200
The handle scales are made out of lightweight Glass-Reinforced Nylon and Rubber Inlays which are laminated over the stainless steel liners. Aggressive jimping on the spine and contour texturing feature on the handle both provide a very solid grip in slippery and wet cases.
The reversible pocket clip can be placed on both sides for left or right-hand tip-up accessibility. The tactical folder is also equipped with a glass breaker and a cord cutter as rescue gear.
Using thumb studs, you can deploy the blade with only one hand and SOG Assisted Technology (S.A.T.) for hassle-free ultra-quick opening.
Most importantly, this best SOG EDC knife is crafted with a newly designed ARC Actuator Locking System. The piston lock mechanism is very safe and can be used with either hand. It will not open unless you operate it.
Its warranty offer is for a lifetime. The general dimensions – overall length 8.7″, folded length 5.2″, and weight 3.9 oz.
---
Final Verdict
In the past, primarily a law enforcement and the police used it. Because of the unique features like self-defense, rescue, or tactical gear. But nowadays everyday carry knives or pocket knives are great for everyone. They are used for indoor or outdoor affairs like fishing, hunting, camping, hiking, and utility chores. You can use this pocket knife for different things. It saves space and you can hardly feel you have anything with you.
Don't Miss: Best EDC Knife Under $50
Modern designs are adapted to serve all these purposes. There are several models of such knives on the market today and because of that, it may not be easy to make a choice. In the above, these entire best folding knives under $100 are available in various styles and designs, making it easy to make a choice.
I have also reviewed some of the high-quality pocket knives under $300; those EDC knives are versatile and feature sharp edges. Those are reliable and handy whenever you need them.
Read More Reviews Of:
Read More Related Posts: