Tactical knives are divided into two major shapes, tactical folding knives, and fixed blade knives. While they each offer different benefits.
Tactical fixed blade knives are growing in popularity and for good reason too. These best tactical knives come in different designs, lengths, handle or blade materials, and edges with the aim of meeting the different needs and preferences of different individuals.
To help you meet your objectives, below is a list of good tactical fixed blade knives the market has to offer. Each product points out its key features and the benefits they offer to ease your decision-making process.
What Are the Best Fixed Blade Tactical Knives?
---
Best Tactical Fixed Blade Knife in the World
---
1. Ka-Bar KA1214-BRK USA – Top Tactical Fixed Blade Knife
If you need all the features that US Marines require in their tactical knife then you don't need to search further. The KA1214-BRK USA Fighting Knife is the one. The metal of the blade is created extremely durable 1095 Cro-Van Stainless Steel. The 7″ blade with 56-58 hardness scale and full tang workmanship both have made it optimum ergonomic and nearly indestructible. The 4.19mm (0.165″) thick blade has razor-sharp 20 degrees half serrated cutting edge. The 11.88″ knife guarantees a complete kill if it is used in any fighting or against a wild animal. The clip point blade is finished with a non-reflective stealthy black powder coating to prevent rust, increase scratch resistance, and reduce friction drag as well.
Most importantly, a man-made Kraton-G handle comes with this tactical fixed blade knife which is a composite material of Synthetic Elastomer. Kraton-G handle is tougher than wood as well as gives a much better grip and control. This handle feels fit and comfortable in your hand. Even you can use the handle pommel as a hammer and it will not crack or break like the wood handle. KA1214-BRK is proudly made in the USA. The knife is the ultimate cutting tool for any survival and hunting trip or any other outdoor task.
The sheath is made of premium quality hard plastic. It has the option to carry it both right or left side. This hard plastic sheath is well suited to the tropical area because it repels moisture and water absolutely well. Moreover, the sheath is equipped with a security system for the kids; when it stays into the sheath, a snap strap that enwraps around the knife handle. The knife offers a limited lifetime warranty.
The same model is also available in the plain edge version: Ka-Bar #1213 Black Straight Edge Knife
---
2. Gerber StrongArm Tactical Fixed Blade Knife
Gerber StrongArm is not only a compact knife but also comes with lots of additional survival and combat features. With a limited lifetime warranty, Gerber StrongArm is proudly made in the USA at Gerber's Portland, Oregon factory.
Its 4.8″ long fine edge blade is constructed with state-of-the-art 420 high carbon stainless steel and coated with a black ceramic finish. The steel core has an extra amount of chromium which means it is one of the world's toughest steels (58-60 hardness rating) as well as resistant to corrosion or rust under any harsh conditions.
With a full tang blade, the knife has great balance and is easy to use or maneuver. The sharp and strong tip of the drop point blade will help you to make a deep hole or knots into the solid object.
Slicing, firewood batoning, feathering or chapping sticks, filleting – all the fundamental tasks of a knife can be done with this all-purpose tactical fixed blade knife. Because of its HC steel, the blade will keep its razor-sharp edge for a longer period even after heavy use.
The 5″ handle is made from Glass-Filled Nylon with rubber over-mold. The rubberized diamond-textured black patterns on the handle provide a very firm grip in wet and slippery cases. In addition, the textured rubber boosts comfort when handling it.
The extended part of the tang becomes a pommel that comes in handy in the event you need to hammer something into place. The pommel even comes with a lanyard hole.
The best part is, its military-grade and multi-mounted Thermo-Plastic sheath. This sheath is mildew resistant which helps to keep the blade looking good as new in the long term.
By the adjustments of snap-together pieces of stuff, you can carry your knife vertically on a MOLLE mount to horizontally on a 1.75″ tactical belt, or in an old-school drop-leg belt mount system.
In an effort to secure your 9.8″ long and 7.9 oz weighing knife into position, it features both active and passive retention – relying upon the mount you use.
Check out its partially-serrated version: Gerber StrongArm Serrated Edge Fixed Blade Knife
Pros
Item is a true multi-purpose tool in the outdoor
Knife is not too big and heavy, nor is it too small
Thick blade arrived razor sharp out of the box
Quickly takes a very sharp and long-lasting edge
Handle is big enough for my XL-sized hands
Well balanced handle absorbs shocks and is not slippery
Sheath has most mounting options I've ever seen
Amazingly cheap for such a quality knife made in America
Cons
Some users don't like the pointed pommel
A great knife with many features; no more serious faults
---
3. SOG SEAL Pup Elite Tactical Fixed Blade Knife E37T-K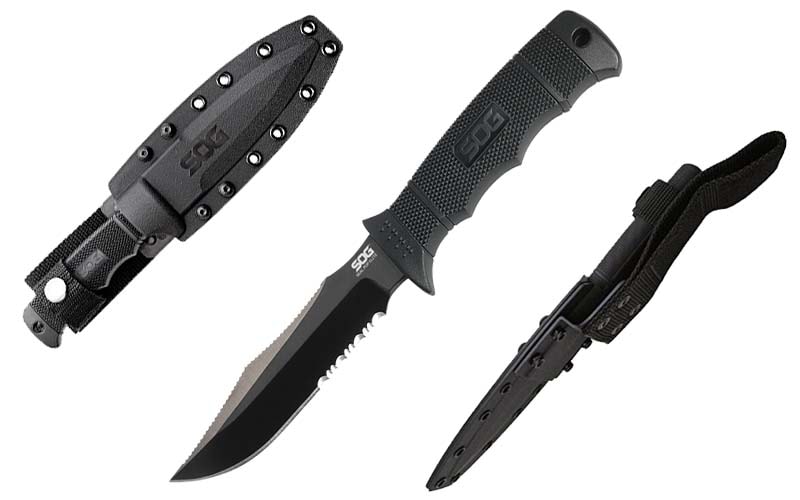 The SOG has more than 33 years of knife crafting experience. At present, SOG Company manufactures different types of knives other than military-inspired designed ones, like tactical knives, outdoor gears, and specialized multi-tools. If you are looking for a versatile use best small tactical fixed blade knife then SOG SEAL Pup Elite E37T-K will be your first choice.
0.185-inch/4.7 mm thick steel core of the blade is formed of unique AUS-8 Stainless Steel (57-58 HRC). SOG's AUS-8 is one of the strongest stainless steel in the world. The most significant point is the blade core has passed through a cryogenic heat treatment method that enhances the sharpness, edge retention, and rust resistance of the blade. Thanks to its TiNi coating and cryogenic heat conducted stainless steel, this all-weather blade capable to survive in tropical rainforests, snowfields as well as saltwater. The 4.85″ long partially serrated multi-use blade makes it the best outdoor gear for self-defense, combat, and survival situation. The spine rasp of the blade supports filing, notching, and easy thumb placement. Its tough clip point tip guarantees to make a dip hole in any hard plastic, wood, or thin steel with less thrash.
The expanded part (3"-4") of the blade passes through the handle that constructs it as a full tang knife. The handle of the knife is formed of high-quality Glass-Reinforced Nylon. This stuff is a material that is capable to tolerate harsh acids, electrical power, and excessive temperatures. The handle is scored by the smooth diamond pattern for a firm grip and pleasant holding. Furthermore, the ergonomic finger grooves give maximum strength and a small size handle guard defends your finger from touching the sharp edge. It features a Kydex sheath with an additional belt loop. You can attach it to the other gears like a backpack and carry it either left or right-handed as well. The SOG E37T-K comes along with a limited lifetime warranty. Its full-length is 9.5-Inch and weighs just 5.4 oz.
---
4. SOG SEAL Team Elite SE37-N Tactical Fixed Blade Knife
After tolerating the world's hardest quality testing competition organized by the U.S. Govt., along with knives from many U.S. top cutlery brands, the SOG SEAL Team Elite fixed blade knives triumphed.
This SOG Knife has a 7″ long blade that is made out of AUS-8 Stainless Steel (HRC 57-58). The core of the blade is manufactured through the innovative cryogenic heat treatment process and protected with a layer of stealthy black TiNi finish. All these methods have formed its world's best stainless steel blade in hardness, higher edge retention, and rust resistance. The new racy blade shape has a half triple point serrations razor-sharp cutting edge for multi-purpose use. Its 0.24″ thick blade also features a clip point tip that ensures faster and in-depth puncture. Besides, the blade spine rasp helps for notching, filing, and thumb placement.
This SOG SEAL Team Elite Tactical Knife Fixed Blade is also crafted with impact and friction-resistant black Glass-reinforced Nylon handle which is very rugged and viable. Its user-friendly deeper finger grooves handle is ergonomics and well-balanced as well as it is contoured to provide you a convenient grip when you will use it. For rapid accessibility, the 12.3″ SOG knife comes with a MOLLE matched black Ballistic Nylon sheath that has a secure loop and hook closure so you can always keep it close to you. The full-tang tactical fixed blade knife has an extended part "handle pommel", useful for hammering or breaking the glass. SOG SE37-N is backed by a lifetime warranty.
---
5. Gerber Bear Grylls Ultimate Tactical Fixed Blade Survival Knife
Whether you are a survivalist or just an avid outdoorsman, this is a knife you should have on your list of essential supplies. Gerber Bear Grylls Ultimate Knife features a 7Cr17MoV High Carbon Stainless Steel (HRC: 57-59) drop point blade with an appealing non-reflective black finish that aims at boosting durability. In addition, this material does not easily rust and is easy enough to field-sharpening. The 4.75″ long and 3.2mm (0.125″) thick half-serrated blade is ideal for an individual looking for a tactical fixed blade knife that is perfect for cutting rope, branches, set belt, small limbs, electric wires, feathering or chapping sticks, and other fibrous materials.
The gray areas of the ergonomic handle have a textured rubber coating that ensures good traction and a solid grip when holding it by your wet or dirty hand in any harsh conditions. The main component and orange areas are made of Glass-Reinforced Nylon. The knife bolster in front of the handle keeps your fingers from slipping and touching the sharp part of the blade. The full tang steel pommel at the bottom of the handle can be used as a hammer.
Another fantastic feature of this knife is its Mildew-Resistant Nylon made the multi-tasker sheath. The sheath is military-grade, lightweight, and mildew resistant with a friction lock system that holds the 10″ long and 11.2 oz weighting knife tightly and safely. On the upright slot of the sheath, you will get a longer fire-making ferrocerium rod in a waterproof holder, and on the opposite side, there is an excellent carbide pull-through diamond stone sharpener system. The sharpener can be moved for left or right-handed use, or replacement or removal.
The lanyard cord has an emergency whistle that creates a louder sound for an emergency signal in a wide range. There are two more lanyard holes in the middle of the knife; you can make a spear by lashing it with a stick. Also, the sheath has a belt loop that helps for sideways carry and a waterproof Bear's "Priorities of Survival" pocket guide which has vital information about clothing, making shelter or traps or fire or drill and bow, about location, signaling to rescue team, navigation, water collection and much more. You can be risk-free as a limited manufacturer's warranty against defects in materials and craft is provided with Gerber Bear Grylls Ultimate Knife.
---
6. KA-BAR Full Size US Marine Corps Tactical Fixed Blade Fighting Knife
No doubt, the KA-BAR knife is reliable. It has been in existence for some 70 years. It served well in world war II, and it still promises to serve you even better. This tactical bowie-style knife comes with a 0.165 inches thick plain edge blade which is constructed of Cro-van Stainless Steel (56-58 HRC). The mixture of vanadium and chromium over the 1095 core with black oxide coating – all have increased the blade's durability, sharpness, and corrosion resistance as well as it will serve you in the long term. The clip point blade features a 7-inch straight cutting edge that helps to deliver on functionality while at the same time makes it easy to hide away with the aim of preventing the risk of hurting oneself.
Its handle is made from leather material with the aim of boosting its ergonomic and optimum comfort. The leather material also provides a firm grip; there is no option for slippage. The full tang knife is designed along with the slim-curved brass guard, situated between the handle and blade to safeguard your fingers from the sharp blade. Also, the handle has a pommel on the base of it for immediate hammering. All these make it the best tactical fixed blade knife for use, especially by hunters, survivalists, military as it can withstand the harsh environment.
In an effort to protect you and carry the knife when you are on the move, it comes with a 100% leather sheath. This also plays a key role in protecting the blade from unnecessary exposure. This material ensures that it does not break while at the same time ensuring durability. Overall, the sheath's design complements the overall look and feel of the knife. The 11.88″ KA-BAR USMC Knife is made in the USA and has a limited lifetime warranty.
---
7. Gerber LMF II Black Tactical Fixed Blade Survival Knife
Gerber is the name I always use to recommend when someone needs a tactical fixed blade knife for a survival expedition. That's why I have kept several Gerber knives in this top list. The Gerber LMF II Survival Knife comes in three particular models and colors. The fact is, all these 3 high-quality fixed blade tactical knives are precisely the same except for their sheath and handle color. You would be proud to know that all the body parts (handle, blade, butt cap, sheath, accessories) are made in the USA as well as Gerber provides a limited lifetime warranty.
1. Gerber LMF II Survival Knife, Black [22-01629]
2. Gerber LMF II Infantry Knife, Green [22-01626]
3. Gerber LMF II Survival Knife, Coyote Brown [22-01400]
Gerber LMF II Tactical Survival Knife comes with 0.198-Inch/5.03 mm thick 420 High Carbon Stainless Steel made blade. The 4.84 inches long blade has a convex curve figure from the blade spine to the blade point. Half serrated cutting edge, 58-60 Rockwell hardness rating, high Carbon steel – all these attributes have built up it an ultimate gear for breaking car glass, set belt, cutting electric wires, rope, vines, branches, slicing, bushcraft chores, prying, chopping, hammering, digging, and other everyday works. To resist scratch, corrosion, and rust the drop point blade is coated with a black oxide finish. Also, it gives a stealthy visual signature.
The handle of this tactical knife fixed blade is created of glass-filled nylon and TPV Overmold. Gerber LMF II was specially designed to save the aircrew members and passengers from an accidental airplane. Also, this tactical survival knife has a 3/4 push tang because it breaks between the butt cap and tang. This kind of unique workmanship protects the persons from being electrically shocked while the users are cutting the live cable and saving themselves from the downed airplane. Additionally, to stop slippage, the handle has half-inch grip curves on its butt-end in the three corners. The handle has two more lanyard holes in the middle place of the knife. Those are used to lashing the knife with a long stick to prepare a spear.
The sheath of 10.59 inches Gerber LMF II is made of military-grade ballistic nylon, and it is finished with a fire retardant coating. The multitasking sheath comes with 2 comfortable leg straps for thigh carry, integrated V shape sharpener, MOLLE adjustable straps, a strap cutter/safety strap, and a waist belt carrying option. Due to its unique friction lock system, the knife is tightly held into the sheath. Furthermore, 2 extra small straps firmly hold the knife with the sheath. While you are moving or running so fast, you don't need to think twice about losing it. The sheath has a right or left hand carrying option and the weight is 11.67 ounces.
---
8. SOG SEAL Strike Tactical Fixed Blade Knife
When you need a tactical self defense fixed blade knife, I will recommend you SOG Knives. SOG produces different types of military-grade knives but some of them are special and this SEAL Strike is one of them. Its design is unique, attractive, and specially designed for outdoor purposes. The most important factor of this knife is its blade which is made of the world's best Cryogenic Heat Treatment AUS-8 Stainless Steel. This process gradually decreases the blade temperature to -300 F, and after that, the blade temperature comes back again to room temperature.
This method relieves the blade core on an atomic level. This SOG's unique method not only increases the toughness (HRC 56-58) of the blade but also heightened wear resistance. Moreover, the edge of the razor-sharp blade stays sharp for a long time after heavy use as well as demonstrate a severe decrease in the edge-chipping and micro-fracturing. This partially serrated clip point blade is 4.9″ long, 0.16″ (4.064mm) thick, overall length 9.6″, and full tang design.
The durable, rugged, and ergonomic handle made of Glass-Reinforced Nylon and stainless steel. The handle is designed with non-slip Digi grip, diamond-pattern texture, and deeper finger grooves which ensure excellent grip even your hands are dirty or wet. The handle is extremely robust and provides natural feeling in your hand. Additionally, it has a hammering pommel on the base of the extended full tang handle.
You will find a hard-molded Nylon sheath and a limited lifetime warranty by SOG with this knife. To make your complete packing and safe journey the sheath comes with a single-stage sharpener, built-in cord cutter, larger attachment points, and fire starter. Don't worry the handle has a lanyard hole for comfortable carrying. Lightweight, super-strong, useful design and features, multitasking capability- all these aspects have made it one of the best fixed blade tactical knives in the world.
Pros
Cryogenic Heat Treatment steel blade
Unique tactical design for different purpose
Durable and ergonomic handle
Special knife with some additional security features
Light weight, easy to use and carry
Designed for both outdoor and underwater adventures
Cons
The aggressive thumb rise is not comfortable
---
9. Gerber Mark II Tactical Fixed Blade Combat Knife
If you are searching for the best combat knife that boasts premium-grade materials, then Gerber Mark II is the perfect pick. Gerber launched the Mark II in 1966 and at that time, it was uniquely designed keeping distinct activities in mind. Since then it is popular as a master of fighting knives and stands tall to its name.
Mark II is not just an ordinary tactical fixed blade knife because it features a double edge blade that is partially serrated and the tip acts like a spear while offering unmatched piercing abilities. The blade measures 6.5″ long and is made using premium quality 420 High Carbon Stainless Steel (HEC: 56-59) material. The blade is also covered with a protective black oxide coating that assists in diminishing reflection as well as resists to corrosion.
This half tang knife has a Die Cast Aluminium handle which makes it a study piece to hold and use. The Aluminium handle is impervious to water and moisture. This combat piece is crafted with a double Quilon guard for great protection of the user's finger from the opponent blade. The guard also prevents your hand from slippage and touching the sharp edge.
The 12.75″ long and 8.0 oz weighting knife comes with a durable Ballistic Nylon sheath. Gerber claims that the knife can endure the test of time and is also backed by a limited period lifetime warranty. Mark II is made in Gerber's factory in Portland, USA.
---
10. Cold Steel Leatherneck-Tanto Tactical Fixed Blade Knife
The Cold Steel Leatherneck-Tanto has a 7″ long and 5mm thick tanto point blade. The core material of the blade is produced by super quality German 4116 High Carbon Stainless Steel. This kind of heat treat steel is produced with the combination of Carbon (0.42-0.55) and Chromium (13.8-15) by Germany's ThyssenKrupp Company. The Carbon component of the steel gives razor sharpness with excellent edge retention, and Chromium improves strength (60-62) and corrosion resistance. The plain edge blade has a rich tuff-ex non-reflective coating.
Moreover, the Leatherneck-Tanto has stainless steel finger guard. It's an essential feature to defend your fingers when applying the knife in any combat state or utility chores. This full tang best tactical fixed blade knife has a Kraton handle. Around the handle, you will find deeply checkered cross-section and ergonomic finger troughs that ensure unsurpassed solid gripping and stabbing force. The handle is also crafted with thick, machined stainless steel butt cap (the cap is not like a plastic or cheap molding). So the butt can be used as a hammer in any situation.
For safely convenient carry, the knife features a multi-use and sturdy Secure-Ex sheath as well as paired with an ambidextrous and fully detachable belt loop. Don't worry; the Leatherneck-Tanto has a limited lifetime warranty, overall length 12″, weight 11.7 oz.
---
11. MTech USA Xtreme Fixed Blade Tactical Knife
For those who are looking for an affordable tactical fixed blade knife that is very ergonomic for camping or survival training, I recommend them to buy this 11″ long MTech USA Xtreme Knife. This is due to its durability and being well-built with the solid steel shank that runs from tip to the handle base, it should hold up under the most extreme conditions.
The 5.5mm (0.216″) thick and 5.5″ long blade is made of black 440 Stainless Steel (58-60 HRC) and also painted with a black finish for increasing stealthiness and wear resistance. The blade features a tanto tip, blood groove, a saw back, and a multipurpose plain edge that comes in handy in providing cutting power thus making it easier to cut through different materials. The different blades and angles really provide versatility for all your carving, slashing, stabbing, cutting, and defense needs.
A G-10 handle that offers a firm and comfortable grip accompanies the blade. The 5.5″ handle has deep finger groves providing it with a firm texturized grip that will prevent slippage. Thanks to its extended guard, it leaves you well protected. In the event, you are not using it and you need to store it away, it features a lanyard hole at the bottom of the handle that you can use to hang it. In an effort to ease storage and portability, this 15 oz weighting knife comes with a black Nylon sheath. This sheath also comes with ties that ensure the blade remains in position. For the price, you can't go wrong.
---
12. Morakniv Bushcraft Carbon Steel Survival Knife
As one of the most affordable tactical survival knives, Morakniv Bushcraft offers durability for outdoor use and everyday utility works. The blade is made of High Carbon Steel and 0.125″ (3.2mm) thick. The 4.3″ long clip point blade is extremely durable and sharp. The blade sharpens easily and stays sharp for a long time. The razor-sharp fine edge blade is hardened (HRC 56-58) to withstand blade stress when splitting, carving, batoning, feather sticks, or wood. The black coating will help to protect against corrosion.
The black rubberized handle is ergonomic with a high-friction grip of rubber. To prevent the knife from slipping off it has a bolster and large finger groves. The handle makes work easier to control and enjoyable. It has a black plastic sheath that comes with a fire starter and diamond sharpener. The survival knife locks securely on the sheath with durable plastic clips. The fire started yields 7,000 strikes and creates a 3,000-degree spark. Works well when it is wet. The sheath has a removable belt clip and belt loop.
The 5.4 oz weighting knife has a limited lifetime manufacturer's warranty. The 9.1″ Morakniv Bushcraft is an everyday carry tactical fixed blade knife with balanced handling and sharp edge. It can be used for tactical, camping, Outdoor hunting, or emergency survival applications. For longevity, the carbon blades need to be oiled after use.
---
How to choose the Best Tactical Fixed Blade Knife?
Choosing a tactical fixed blade knife can be confusing if you don't know what you are looking for or have an idea as to what the main use will be. There are many different styles, and aspects to take into consideration before making a decision. Many different companies can supply you with so many options that a person can get lost and discouraged. Below will outline what to look for in order to choose the perfect tactical fixed blade knives to fit your life.
---
Frequently Asked Questions About the Best Tactical Fixed Blade Knife (FAQ)
Question: What is a tactical fixed blade knife?
Answer: These types of knives usually have a fixed blade that can be plain or serrated. The handle of these knives is usually made from composite material and features a full tang design. They are easy to grip and non-slip. Also, the knife usually comes with a sheath for carrying which is mole compatible or suitable for attaching with a belt.
Question: What is a tactical fixed blade knife used for?
Answer: The knife was originally designed for hand-to-hand combat with military features. But at present, it is used for multiple purposes, including self-defense, survival, fishing, or emergency rescue operation.
Question: Who uses fixed blade tactical knives?
Answer: They are specially used by sportsmen, armed forces, special combat units, policemen, fishermen, and survivalists.
Question: What are the differences between a tactical knife and a regular knife?
Answer: Most of the common people think that there are no differences between a tactical fixed blade knife and a regular fixed blade knife. But there are several verities between a Tactical and a Regular knife. In fact, as long as you can understand or identify those differences, it is almost impossible for you to find the best tactical fixed blade knife. Let me show you some major differences-
Blade Material: Typically, regular fixed blade knives are softer or made from softer or normal steel. Blades of tactical knives are made of harder, stains, or rust-resistant high-quality steel that keeps the edges as to stay sharper longer.
Handle: The handle of the tactical knives also has a comfortable textured rubber coating or different type's non-slip grip patterns with ergonomic finger grooves for super strength holding. Whereas regular knives have more ornate and integrated designed handles.
Sheath: Even the sheaths the knives are stored intended to be different. Regular knives have a sheath that is made with finer, more decorative materials and needs to be maintained more carefully than their counterparts. Tactical sheaths are more weather resistant, less decorated, and tend to be able to take more abuse from the wearer. Also, some tactical sheaths are MOLLE well-matched, integrated with a fire starter, sharpener, etc.
Cutting Edge: One of the last differences is the blade edge type. A regular knife tends to have a straight or plain edge and a tactical is usually partially serrated to some degree. Sometimes it has a gut hook edge or tip. It has a tough and sharp thick point to penetrate the hard object. The differences can be easy to spot once you know what to look for.
Question: What are the best tactical fixed blade knife brands?
Answer: If you choose a reputed knife manufacturing brand rather than a new or non-popular company, the possibility of picking the wrong knife would be very low. There are hundreds of tactical knife manufacturers in the market but I have found these are the trusted tactical fixed blade knife brands in the world.
Gerber
Morakniv
MTECH USA
Smith & Wesson
Columbia River Knife & Tool
Cold Steel
Also, I wrote a piece of content about the fixed blade knife safe rules; look at it, I hope you'll get the detailed concept about the security issues when working with a fixed blade.
Final Verdict
Fixed blade tactical knives are not something that can be chosen generically. The best small tactical fixed blade knife is any that fits your situation, purpose, and style and meets military specs. If you take into consideration the points from above then you are bound to make an excellent and informed choice. It may seem overwhelming to read all the things to consider before making a decision but a knife can be a man's best piece of equipment in a critical situation.
Read More Reviews of:
Read More Related Posts: