When choosing this type of knife you want to make sure that it will give you security, versatility, ease of use, and peace of mind. Make sure that it has a multipurpose blade, an ergonomic handle for a comfortable grip, and a secure locking mechanism.
Different types of tactical EDC knives first became popular in the United States in the early 1990s. In these 30 years, the designs and parts of these knives have been modified and updated.
Keeping that continuity, I am presenting some of the best tactical folding knives in the contemporary period.
What Are the Best Folding Tactical Knives in the World?
---
Review of the 15 Best Tactical Pocket Knives
---
1. CRKT M16-14SFG Special Forces Combat Folding Knife
CRKT (Columbia River Knife & Tool) is one of the praised names in the tactical knife and gear industry. It was founded in 1994 and is reputed for its innovative design and production of tools, knives, and lifestyle gears for workers, sportsmen, outdoor enthusiasts, and professionals.
The tanto shape blade is made of premium-grade 8Cr14MoV stainless steel and its hardness is 58-59 HRC. This type of high-quality steel has excellent edge holding ability and greater strength.
The 3.88″ long blade, hardware, and the entire frame are coated with a black titanium nitride finish which makes it non-reflective as well as enhances its corrosion and scratch resistance.
Its dual grind tanto tip can penetrate hard materials. The uniquely designed partially Veff serrated blade is ideal for easy cutting of objects like ropes, set belts, electrical wires, cordage, webbing, hard limbs, or branches.
The handle of the Special Forces Folding Knife is crafted with scales of non-reflective black G10 and stainless steel liners. The G-10 is known for its durability, lightweight, excellent insulating properties, and not being affected by temperature changes.
Most importantly, this military-grade pocket knife is featured with an automated liner safety mechanism. This innovative automated liner safety design has taken the locking liner to the next level. The locking system has a pin between the frame and the locking liner. That pin uses as an extra tier of security.
When you need to fold the blade just pull the red color buttoned security lever back, draw the locking liner over, and smoothly close the blade into the folded position.
Additionally, this best combat folding knife has equipped with the trademark of Kit double checkered thumb studs. Single hand deploying and closing makes it very easy to use.
The knife has a flexible 4-position pocket clip, a limited lifetime warranty, and is proudly made in the USA. As a 9.25″ long large craft, it's a perfect tool for hobbyists, weapon collectors, and tactical operators.
Pros
The Big Dog is designed for heavy work and special forces everyday carry
Premium-quality 8Cr14MoV stainless steel blade is powerful and tarnish-proof
The extremely versatile blade is scalpel-sharp out of the box
The textured handle has friction grooves for an aggressive and tight grip
Multiple ways to deploy the blade and solid as a fixed blade when open
Carson Flipper doubles work for finger guard, quick release, and uncompromising safety
An automated liner safety system provides an additional layer of protection
Modifiable 4-way clip for right/left hand, tip-down/tip-up action
Cons
At first, it may seem a little difficult to close the knife
Re-sharpening the blade is time-consuming and very difficult
Overall weight 5.9oz which is a little heavy
---
2. Kershaw Clash SpeedSafe Assisted Tactical EDC Knife
Kershaw is one of the best pocket knife manufacturing companies in the world with over 48 years of experience in knife production. In 1974, Kershaw was founded with the goal of creating advanced designs of knives and tools, and users would be proud to buy, use and carry their products.
Keeping this objective in mind, Kershaw launched "Black Clash Serrated" in 2012, and since then it has taken control of the top position of the best lightweight tactical folding knife on the market.
The 3.1″ long drop point blade is made of hardened 8Cr13MoV stainless steel. The blade is coated with a black oxide coating to give it a stealthy appearance and at the same time, the coating enhances scratch and rust resistance.
In addition, the core of the blade is properly heat-treated and nitrogen-cooled resulting in a significant increase in blade hardness, sharpness, and corrosion resistance.
Its partially serrated multi-tasking blade is an ideal tool for cutting hard objects as well as fibrous materials such as set belts, straps, ropes, webbing, electric wires, limbs, or branches.
The textured glass-filled nylon handle has ergonomic designs that include a large finger groove and gentle contour; both of these features ensure a solid, comfortable, and non-slip grip in your hand.
The best part is, this best EDC tactical knife from Kershaw comes with a SpeedSafe assisted system for easy and quick one-handed opening.
With full control, when you pull back the flipper, the assisted mechanism releases the blade quickly with a slight jolt. At the same time, a locking liner mechanism locks the blade securely so that you can use it safely without any blade play.
A reversible (tip-up/tip-down) pocket clip allows versatile carrying options in your pocket or with your belt. The pocket knife has an overall length of 7.4″, a closed length of 4.25″, and weighs only 4.3oz.
Pros
Cryogenic heat-treated blade at very affordable price
Multifunctional blade profile with partial serrations for cutting
8Cr13MoV steel is known for razor sharpness & higher edge retention
The handle is enough strong, light, and provides a sure grip
SpeedSafe assisted mechanism for super-fast deployment
The knife can be opened and closed with one hand
Immediate accessibility and mobility are supported by a reversible pocket clip
The Clash comes with a limited lifetime warranty
Cons
A knife of such good quality with so many features at such a low price, sorry I did not find any significant cons.
---
3. Smith & Wesson SWMP4LS M.A.G.I.C. Assisted EDC Knife
If you're looking for an easy-to-use tactical self-defense pocket knife that's easy to conceal-carry, ambidextrous in design, solid enough in structure, has a reliable lock mechanism as well as some emergency multi-tasking tools, and all at a very affordable price, then Smith & Wesson M&P-SWMP4LS will suit your needs.
This best tactical EDC knife is equipped with features like a multi-tasking combo edge blade, ergonomic handle, assisted opening system, thumb knobs, safety locks, glass breaker, and multi-tools.
Its 3.6″ blade is made of 4034 high carbon stainless steel (56-58 HRC) and safeguarded with a black Teflon coating. HC steel blade holds a razor-sharp edge for a long time, and also it is easy enough to re-sharpen.
The partially serrated blade was extremely sharp. I think the usefulness of serrations in various tactical tasks and the need for a pointed tip for self-defense is relatively high.
I have used this serrated blade for rope, cloth, cord, boxes, cans, tape, cardboard, wood pieces, zip ties, set belts, rubber sheets, and trimming plastic parts. It cuts through most of the flexible and fibrous materials like a hot knife going through butter.
The M&P features an Aluminum handle with darker grey rubber inlay. Its handle is a bit thicker and heavier than other folders. But the handle is easy to grip with large hands and has a good heft to it. Also during heavy cutting tasks, it feels like I'm using a dependable and well-crafted tool.
In addition, the flipper actuator at thumb placement and finger grooves with jumping on the lower side of the handle provide excellent traction and control during heavy penetrating or pus cutting. The overall geometry of the handle provides better grip and comfort while using it in a forceful chore.
The knife can be easily opened by either hand using the thumb plate or flipper/finger actuator button. It has a Multipurpose Assisted Generational Innovative Cutlery (M.A.G.I.C) mechanism that helps to deploy the blade in the blink of an eye. The mechanism is quite durable, after thousands of uses I have not had any problems or failure to fully open the blade.
A liner lock confirms the blade does not suddenly close while using the knife. Rock solid and positive lock up every time and no movement side to side or up and down. Moreover, a sliding safety switch guarantees no accidental flips out in the pocket and provides an extra layer of lock security.
The folder has a non-reversible pocket clip for a tip-down carry option only. Its overall length is 8.6-Inch, closed length 5.2-Inch and weight is 7.6 ounces.
Pros
HC steel is great at putting a sharp edge on a blade
Mine came hair popping sharp out of the box
Partially serrated blade cut through everything with ease
Handle is thick, hefty, heavy, and indestructible
It fits size large hands easily and feels great
Fast & smooth blade flip-out with spring assist
It can be opened and closed with either hand
Safety lock to prevent any randomly flying open
Price for this knife is very low for the actual quality
The knife has a limited lifetime warranty
Cons
The clip is not reversible, tip-down carry only
This pocket knife is heavy for its size
Plastic-made toggle, thumb plate, and safety lock
---
4. Kershaw Blur Tanto SpeedSafe Opening Folding Tactical Knife
The Kershaw Blur Tanto Black is known to be amongst the original Kershaw Blurs. Its 3.18mm thick blade core is made out of Sandvik 14C28N Stainless Steel (HRC 58-60). The blade is coated with durable Diamond-Like Carbon (DLC) to prevent rust and corrosion. The knife is equipped with a 3.4″ partially serrated tanto blade which is slightly re-curved that provides an additional cutting advantage for both utility or tactical works like cutting a cord, rope, set belt, electric wires, puncturing, and other fibrous materials. The Kershaw Blur Tanto is proudly made in the USA.
The knife handle has a very solid grip. This is possible because the handle is created by the 6061-T6 Anodized Aluminum and its Trac-Tec inserts pattern. The facts remain that even though the handle is coated and anodized, it is very light (only 3.9 oz) and durable. The tactical folding knife also comes with the Speedsafe Assisted Opening feature that enables one-handed deployment. By pushing the thumb stud, resistance is overcome, and the blade comes out of the handle instantly and easily.
The Blur Tanto has a limited lifetime warranty against any manufacturing defects and free lifelong sharpening. Moreover, by chance you broke this Blur's blade; Kershaw will replace it just for $10. It also comes with a reversible pocket clip for tip-up or tip-down mobility. Its closed length is 4.5″; overall length is 7.9″ and featured with a liner lock. Most importantly, this model is one of the best-selling pocket knives on Amazon.
---
5. SOG Escape FF25-CP Tactical Survival Pocket Knife
SOG Escape FF25-CP is a versatile use emergency gear that is compact enough to be taken around every day carry. The survival pocket knife comes with a 0.13-inch thick 9Cr18MoV Stainless Steel blade (HRC 57-58). A partially serrated 3.4 inches blade has a Hardcase black finish which eliminates reflective glare and increases wear resistance. The clip point blade shape is ideal for a faster and more in-depth puncture. Its super-fast fly's out blade requires a single hand to deploy.
The ergonomic handle is made of anodized aluminum with a black finish. It is contoured in a user-friendly manner to ensure you have a firm and comfortable grip on your knife. The well-balanced handle also has a line cutter, that you can use to cut a variety of things such as string, cord, seat belts, and so on. Additionally, the handle features a wire stripper, emergency glass breaker, and additional line cutter blades that are framed beneath the handle slab. On the other hand, the handle thumb jimping and blade spine rasp both support for notching, filing, and thumb placement.
The knife has a Lockback mechanism; this feature ensures more safety for you when the blade is open and in use. There is a fixed pocket clip behind the handle. It also can be used as a money clip. The SOG FF25-CP Escape has a limited lifetime warranty that covers all forms of manufacturing defects and materials. The full length of the knife is 8.2 inches, closed length 4.8 inches, and weight 4.80 oz; quite portable enough to move around with all the time.
---
6. Benchmade – Mini Griptilian 556 Drop-Point EDC Knife
Benchmade was founded in 1979 in California as Bali-Song then in 1988 evolving its name to the Pacific Cutlery Corporation. The Benchmade evaluation was set out with a dream to become the world's best knife manufacturing company and now they are. At the present time, Benchmade Knife Company is run by Les de Asis and Roberta in Oregon City, Oregon, United States.
The American-made Benchmade – Mini Griptilian 556 is featured with the 154CM Stainless Steel blade. It is finished with a durable non-reflective black coating. The 154CM is better stainless steel than 8Cr13Mov or VG-10 and has better wear and scratch resistance. The 2.91″ partially serrated blade keeps the sharpness for a long time. Higher (58-61) HRC, 2.54 mm thick, and razor-sharp drop point blade have made this knife an ultimate cutting tool for different types of elements like rope, set belt, electric cable, webbing, cordage, limbs or branches, etc.
The Griptilian scales are made of injection-molded Glass Filled Nylon (GFN) and decorated with diamond shape grip patterns that ensure comfortable and a solid grip for hard tasks. The folding knife is assembled with a one-handed opening and closing ambidextrous design Benchmade's AXIS lock. Very old school, you can swiftly flick this open with a certain amount of thumb pressure. Both thumb studs are approved and field-tested, average in shape and size. A knife for slicing, push cutting, piercing for outdoor activities, and tactical purposes. Benchmade provides a limited lifetime warranty and free LifeSharp service. The EDC knife has a reversible tip-up pocket clip. It measures 6.78″ in open length, 3.87″ in closed length, and 2.81 oz in weight.
Note: On this single listing, there are more Benchmade – Mini Griptilian best tactical folding knives, those are available in several colors in the blade, handle as well as plain or half-serrated blade options.
---
7. CRKT Homefront Tactical Folding Knife with Field Strip
Its 3.50″ blade is made from 1.4116 Stainless Steel that is also popular as 420MoV. The steel is ideal for fresher sharpeners because it gets razor sharpness in a couple of minutes. Furthermore, the blade is 0.13″ thick and very tough with 55-57 Rockwell hardness as well as highly corrosion resistant. It has a non-reflective black Electronically Deposited Paint (EDP) finish. The modified tanto point blade has a combined cutting edge with triple-point serrations.
The handle is manufactured from black Glass-Reinforced Nylon and textured with subtle grip patterns for sufficient grip. Most importantly, this model is one of the best tactical folding knives which is crafted with award-winning field strip technology. First, take the knife in folded position then push the lever up. Second, spin the release wheel clockwise and you will see the handles disengage from each other. At that point, your knife comes apart into 3 different pieces. Third, to put the knife back together in full working order just reverse the process. Due to its field strip technology, it is very easy to dismantle and clean in any adverse conditions without using any tools.
The CRKT Homefront Tactical features a super slick bayonet lug-style flipper for easy single-hand deploying and closing. After releasing the blade the liner lock mechanism locks up like a fixed blade and gives you a secure feeling. It comes with a tip-up fixed pocket clip and a limited lifetime warranty. The knife has an open length of 8.125″, folded length of 4.684″, and a weight of 4.30 oz.
---
8. SOG Flash II TFSA98-CP Spring Assisted Opening Knife
The SOG Flash II is the perfect gear for law enforcement and outdoor enthusiasts like campers, hunters, travelers, or survivalists. They would be proud to carry this knife and use it when the need arises. This best EDC tactical knife has a 3.5-inch partially serrated blade and is made of Japanese AUS-8 stainless steel (57-58 HRC). The drop point blade is 0.13-inch thick and coated with polished Hardcased black TiNi; it's a mixing of nickel compound and titanium. Most importantly, the blade core goes through the Cryogenic heat treatment procedure to make sure that the knife will stay razor-sharp after long use.
The SOG modern technology finishes opening the knife using coil springs that are high tension and then locked into place. This means, that all the SOG II series knives are designed with a secure piston lock which can be loosened swiftly by a sliding button. An easy-open pocket knife requires you just to press the kick that comes through the pass on the lock clincher. When you close it, an extra safety mechanism prevents it from opening in your pocket accidentally.
The handle is constructed of glass-reinforced nylon and has an ergonomic contour textured grip to protect from slipping. The 8 inches knife is designed to fit comfortably in your either right or left hands and is balanced for a natural feel. To make sure that it does not fall out of your pocket it has a reversible clip on the back of the handle that can be used as a money clip too. The knife comes with a limited lifetime warranty. It has a folded length of 4.5-Inch and just 3.1 oz weight that makes it small enough for everyday carry in your pocket.
---
9. Spyderco Para Military 2 Signature Folding Knife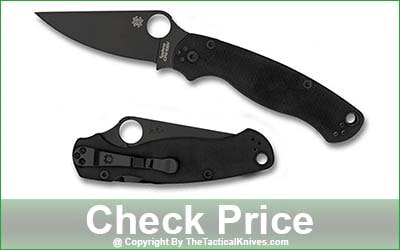 The Spyderco Para Military 2 is one of the best tactical pocket knives made in the USA and this black model was first introduced in 2010 with several changes to the previous version. It measures 4.812″ in closed length, 8.281″ in total length, and 3.83 oz (106g) in weight.
The 3.438″ long blade core is made of new premium steel CPM S45VN (HRC 58-59) and finished with durable black DLC. I found the new steel blade to be relatively easy to sharpen, retain a razor-sharp edge longer, and offer greater corrosion and rust resistance than the previous CPM S30V steel.
The 0.14″ thick blade is sharp as hell out of the box. However, the thickness is gradually tapered towards the tip. With the blade, I easily cut through flexible materials such as leather, cloth, electrical wires, and seat belts. Also, I have cut rope, paracord, tape, and zip ties in one or two slashes.
Since the blade is flat grounded, the cutting friction is relatively low, so it is very convenient for me to open regular mail or envelopes as well as plastic or cardboard packages with this knife.
Overall, the leaf-shaped blade is a perfect cutting tool for slicing, slashing, skinning, stabbing, push cutting, and feathering sticks.
I regularly use this knife for all kinds of light and heavy tactical and utility work and find that I need to sharpen it once a month. It's back to shaving sharp in just a few minutes of sharpening.
The manufacturer uses skeletonized liners and textured G-10 laminate scales for the fairly long (4.84″) handle. The ergonomically designed handle fits my large hand very well even when gloved.
Due to the length, gripping texture, and finger groove design, the handle feels comfortable and very grabby. Also, the knife didn't slip when my hands were wet, oily, or with fish slime. The thumb ramp and index finger choil have jimping, giving me solid traction and more control during heavy or delicate work.
I can deploy the knife very quickly with one hand with a slight push on the 14mm thumbhole or flick of my wrist. Even I can open the blade with a gloved hand.
Most importantly, the folder comes with the integration of a new generation "Bushing Pivot Mechanism" which gives fluid action and constant maneuverability. Although it is manual, the action is so good that it works like a spring-assisted folder.
This knife has a compression lock mechanism which is really very strong. I've carried it daily for 5 months and have never had any blade play after tough uses. The lock is on the back of the handle, which can be unlocked easily with one hand and is quite safe as no fingers get in the way of the blade when unlocking and folding.
The ambidextrous four-way clip enables tip-up/tip-down, left or right-handed carry that makes it easy to remain deep inside the pocket.
The weight of the knife is very light compared to its size so it almost disappears in the pocket while carrying. Also, since there are no sharp edges in the closed condition, my pocket has never had any tearing up and the knife is much easier to put in and out of the pocket.
PM2 is available with a variety of different blade finishes, steels, serrations, and handle colors.
Pros
Ultra-premium steel has great corrosion resistance and edge retention
The blade came scalpel sharp right out of the box
An almost spear-like tip is robust enough to penetrate dense objects
The G-10 handle is durable, lightweight, and weather resisting
The knife has a guard for better grip and finger protection
Open-back construction makes it very easy to clean
Smooth single-hand action for both opening and closing
Versatile quad-mount pocket clip made of stainless steel
This military-grade pocket knife is made in Golden, Colorado, USA
Spyderco offers a rock-solid conditional lifetime warranty
Cons
The price of the knife seems a bit high, besides, I didn't find any significant cons to write
---
10. Cold Steel Recon 1 Series Tactical Pocket Knife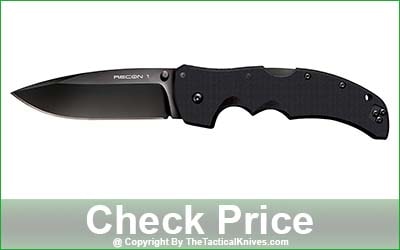 If you are looking for a reliable folding knife for use in extreme conditions, this latest model in the Cold Steel Recon 1 series is the best for you. From my research, the knife is very popular among tactical users such as fire and rescue crews, military and law enforcement personnel.
The knife has a blade length of 4″, closed length of 5.38″, overall length of 9.38″ and weight of 5.2 oz. This best tactical EDC knife is reinvented to be 10% smaller and lighter than the original classic Recon 1.
Its 0.13″ thick blade is made of premium quality stainless steel CPM-S35VN (60-62). The blade has a black DLC (diamond-like carbon) coating that makes it stealthy, reduces friction drag, and makes it very hard to corrode.
The knife has a wide belly, spear point tip, and razor-sharp hollow grind plain edge making it an all-purpose blade. I have used the knife for almost all kinds of work like slicing, skinning, feathering sticks, chopping limbs or branches, push cutting of rope or seat belt or electric wires, etc and I have never been disappointed.
The handle fits like a glove and feels rock solid to me after holding it, but it's also fairly light since it doesn't have metal liners. The textured black G-10 handle scales and deep finger grooves gave me a non-slip grip and control, even with wet, sweaty, or oily hands.
Self-defense and quick action become easy since it comes with the Phosphor Teflon washers for the easy one-handed deployment of the blade. The knife can be opened easily with the ambidextrous thumb studs or with just a flick of the wrist.
The knife is equipped with a secure TriAd locking mechanism for nonstop use. The lock-up on mine is really solid with no wiggle side to side or up and down.
The knife also has a reversible pocket clip to mount tip-up carry on both right or left-handed sides.
Pros
Ultra-premium CPM-S35VN stainless steel blade
DLC coating does not wear off easily
Blade came extremely-sharp from the box
G-10 scales are light, strong & enough textured
Handle sits well in my XL-sized hands
Great ergonomics, allow different holding options
The folder is big but not too heavy
It comes with an extra pocket clip
Knife features a limited lifetime warranty
This model is made in Taiwan, not China
Durable and reliable EDC, worth every penny
Cons
No metal liners but the handle is enough strong
The mechanism is a bit stiff at first
---
11. CRKT M16-14ZLEK Law Enforcement Folding Fighting Knife
Columbia River Knife and Tool M16-14ZLEK knife is designed and manufactured for emergency responders, rugged users, and especially law enforcement officials. This knife is also backed by a limited lifetime warranty and made in the USA. CRKT has used premium quality AUS-8 High-Carbon Stainless Steel for constructing the blade. AUS-8 has higher edge retention or hardness rating (58-59 HRC) and sustainability compared to the other carbon steels. The 3.75-inch blade features razor-sharp and partially triple point serrated edges for cutting things like electric ware, straps, canvas, cord, fibrous materials, rope, vegetation, heavy plastic, etc. Its incredibly tough and sharp tanto tip allows the user to pierce into hard objects and thin metals. Blade, internal hardware, and whole frame are finished with black Ti-Nitride coating for making the knife stealthy as well as increasing scratch and corrosion resistance.
The ergonomic handle is complemented with textured Glass Filled Nylon around a 420J2 stainless steel liner through the innovative InterFrame construction. All the parts of the handle are assembled with offset Torx fasteners to make sure effective permanence and rugged use. This kind of unique handle is designed with friction grooves that provide strength and all-weather grips in your hand. For any emergency situation, there is a very cool seat belt cutter to the Carson Flipper and a handy tungsten carbide-made window or glass breaker on the handle butt. Also, the Flipper makes this M16-14ZLEK really easy for fast single-hand deploying the blade and turns itself as a finger guard when open.
This best folding fighting knife is designed with an automated liner safety system. It sets a steel pin between the frame and the locking liner. The pin works as an extra tier of security. To fold the blade just turn back the red color buttoned security lever, draw the locking liner over, and smoothly close the blade into the folded location. Mobility and immediate accessibility are supported by a four-position pocket clip that conveniently allows the knife to be positioned tip-up, tip-down as well as left or right hand for carrying. CRKT M16-14ZLEK measures 9.25-Inch in full length, 5.5-Inch in folded length, and 6.2 oz in weight.
Note: On this single listing, you will find more CRKT's tactical folding knives that are obtainable in different colors and plain or serrated blade edges.
---
12. Benchmade – Bugout 535 EDC Knife
The Benchmade Bugout is one of the top-rated pocket knives under $150. It is designed and made in the USA with premium quality materials for any use of camping, hiking, backpacking, survival kit, tackle box as well as will work year after year.
This Bugout model comes with a 3.24″ premium quality American-made CPM-S30V Steel blade (58-60 HRC). Also, a 0.090″ thick blade is manufactured for all toughness including good edge retention and resistance to corrosion. It has a drop point characteristic tip which provides extra leverage for slicing and skinning.
Furthermore, aggressive grind, flat belly, and razor-sharp cutting edge ensure more control over those materials that are hard to cut like rope, fibrous material, plastic, or hard object. High-grade S30V steel blades are slightly harder to sharpen than the cheaper steels but their greater edge retention makes it worth it.
The CF-Elite handle with textured diamond grip patterns has made this knife much lighter, stronger, and comfortable for both right and left-hand use. There is half-inch thumb jimping that will give you an additional thumb grip. It measures 7.46″ in overall length, 4.22″ in closed length, featherweight only 1.85oz (52.45g).
The Benchmade – Bugout 535 is a single-handed manual deploying and closing knife. Opening the blade is quite easy and quick, applying thumb studs or with a flick of your wrist. The ambidextrous Axis Locking Mechanism allows the user to secure using the razor-sharp blade.
The reversible tip-up pocket clip which is of a standard type makes it easy to be carried about. Benchmade offers LifeSharp service and a limited lifetime warranty on this knife.
Note: On this listing, you will find more Benchmade – Bugout 535 tactical folding knives that are purchasable in various colors in the handle, blade as well as half serrated edge options.
---
13. BlizeTec Tactical 5-in-1 Best Survival Pocket Knife
If you are in the army, are an adventurous outdoor enthusiast, or survivalist looking for a top-quality multi-tools folding knife under $50 then I will be glad to share with you why BlizeTec 5-in-1 would be your best choice? You will find 5 major lifesaving features in this BlizeTec 5-in-1 tactical survival pocket knife.
1. Multipurpose Blade: The 2.54-3.81 mm thick and 3.5″ long drop-point blade is built from high-quality 420 class Stainless Steel (HRC Rating 57-58). The multipurpose partially serrated blade is finished with a black Oxide coating for more durability and prevents rusting as well as the black Oxide does not reflect light. It has a thumb knob for an easy one-handed opening. The secure liner lock keeps the blade sturdy and fixed when the blade is deployed.
2. Seatbelt Cutter: It comes with another rescue tool seatbelt cutter. You can save others and yourself from an accidental car.
3. Glass Breaker: There is a window or glass breaker on the base of the handle. The glass breaker creates no harsh feeling and is very handy with the handle.
4. LED Light: An emergency detachable LED flashlight is held securely into the place with a magnet that is powered by 4 PCS LR621 button-style batteries, and works for up to 12 hours.
5. Magnesium Fire Starter: A detachable Magnesium fire starter is kept into the handle. All these features have made this BlizeTec tactical folder an ultimate multi-functional gear for military personnel, hikers, campers, survivalists, hunters, and outdoor adventurers.
The 4.75″ ergonomic handle is made of lightweight Anodized Aluminium. The carrying pouch is created from Nylon; you can put it in your pocket or use the belt loop to wear it. Also, it has a stainless steel pocket clip. Don't worry; you are 100% risk-free because this knife is backed by a lifetime warranty. It measures folded length 5-Inch, a total length of 8.5″, and weighs 5.46 ounces (154.79 g).
---
14. Benchmade Barrage Tanto Tactical Folding Knife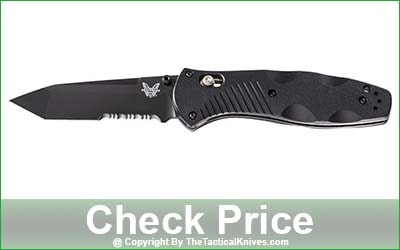 Benchmade is a company that manufactures knives and tools since 1988 and is still doing for tactical operators, collectors, and first responders. If you need an abusable folding combat knife from Benchmade then Barrage Tanto is your perfect choice. The knife measures 8.35″ open length, and 4.75″ folded length and weigh 4.51 oz.
Its 0.121″ thick blade is made of premium, American stainless steel 154CM (58-61 HRC). A black Cerakote finish on the blade gives it excellent rust resistance and a stealthy look.
This 3.6″ partially serrated multi-use blade is designed for cutting rope, set belts, hard plastic, electric wires, small branches, fibrous materials, and other tactical applications. Also, the blade has a tanto style with a good length which helps you apply your full force to a specific point and makes it a deep penetrator.
The handle of this best combat folding knife is made of stainless steel liners intertwined into the Valox scales. The Valox handle is famous for its lightweight, durability, and heavy toughness. Moreover, the Valox resin can repel moisture and withstand extreme temperatures.
Grip lines and small palm swells – all these attributes guarantee a very solid forward grip, allowing more strength for hassle-free cutting. Also, in a reverse grip, you will get a non-slip and comfortable holding even if your hand is muddy or wet.
You can open and close this knife with just one hand. Furthermore, this assisted opening tactical folding knife features an ambidextrous AXIS locking mechanism with an additional slide switch.
It has a reversible left/right hand, tip-up deep-carry pocket clip. Benchmade Barrage Tanto – 583 is proudly made in the USA.
When you purchase this product from an authorized dealer, you will get a limited lifetime warranty and LifeSharp service. So don't worry about sharpening and you can always have your knife in razor-sharp condition.
Pros
Top-notch USA product made with a touch of modernity
Pretty thick blade came absolutely shaving sharp
Superior steel takes a very sharp and long-lasting edge
Precise tip geometry and is great for piercing
Handle feels ergonomic, fits like a glove, and grips well
Solid and reliable lockup, zero side-to-side wiggle
Innovative double-safety system is easy to engage
Easy, quick, and smooth assisted deployment
Switchable, deep tip-up carry, strong steel clip
Benchmade promises to take care of other repairs for you
Cons
---
How to Choose a Best Tactical Folding Knife – Buying Guide
In the beginning, tactical pocket knives were used by sportsmen and then they became an indispensable part of military personnel because each tactical folder has some unique features and it could do a variety of tasks.
If you are looking for an everyday carry tactical self defense folding knife that will give you an advantage against an attacker or protect you as well as be used for a variety of tactical tasks then this buying guide is for you.
What Makes a Knife a Best Folding Tactical Knife?
When you are wondering to buy a tactical folding knife you should know its major attributes. These types of knives have some unique attributes. Let me describe the top 10 key features.
A secure and safe locking mechanism
High-quality blade metal with a razor-sharp edge
Partially serrated blade for multitasking
Modern, durable, and composite material handle
Handle material like carbon fiber, G-10, plastic, metal
Comfortable finger notch with grip skin
Almost always have a secure single-hand opening system
Pocket clip especially reversible
Lightweight, easy to carry, and concealable
At least one life-saving feature: glass breaker, strap cutter, fire starter, etc.
Note: You might not be able to find all the features in a particular knife.
What is the Purpose of Your Knife?
Because there are so many different tactical pocket knives in the market; you should first determine what you are going to use it for. This will help you to narrow it down to a few instead of several hundred. This knife can be used as a survival knife, for self-defense, and as an all-around utility knife, like a knife for protection, or general use for a camping trip. The more you know what its purpose will be the easier it will be to buy the right model.
Features Have to Consider Before Picking Up One
One of the features you should consider is the opening system, which fits your wants, personal style, and needs, locking system, blade types and functions, and more. Make a list of features you would like so you get what you want in the best tactical knife.
The Blade – Most Crucial Part of Tactical Folding Knife
Before you decide on the tactical knife to buy, you need to consider what type of stainless steel blade you need, the blade edge and the length you need, the number of blades you want your knife to have, and the manufacture of the knife.
Some Recommended Core Materials of the Blade
The core element of the blade is generally high carbon steel or stainless steel. How the steel has been heating treated is a huge factor in the performance of the blade. When looking at the blade core material, the first thing that you should do is look for one with a specific alloy name. Most of the knives will have a specification sheet that will list various compounds of the material of the blade. Under the category of blade material, you may see a compound like 8Cr13MoV, 440C, AUS-8, or other compound numbers.
If the manufacturer does not list the alloy but states surgical steel or stainless steel, you should not pay more than thirty dollars for the knife. The next step is to choose the knife from a respected manufacturer. Some knife owners say that the most popular blades are the 154CM and the S30V, AUS-8, carbon steel because these two are sharper, harder, and tougher than some of the more foreign and exotic blades.
Considering Overall Length of the Knife
Blades of a tactical folder can range from very small two inches blades to large blades over eight and a half inches. The size of the blade can make a big difference even if it is only a few inches. Choose the size for how you are going to use it.
Different Types of Blade Length of Tactical Folding Knives
The first thing that you need to do is to check the legality of the length of the blade that you can have in your area. Next, you need to consider what you are going to use the knife for so you can choose the correct blade length and not get one too small or too large.
• Small Blades: These knives are anything fewer than 2.75 inches and are used for intricate tasks. They are legal in most places, lighter, and easier to carry. The disadvantages with this small knife are that they are not as versatile or strong as larger tactical folding knives.
• Medium Blades: These range from 3 to 4 inches and are large enough to handle various tasks but still small enough to be mobile. These knives also have different locking mechanisms. Most tactical EDC knife users prefer medium size blades.
• Large Blades: These folding knife blades are over four inches and focus more on self-defense and can be more intimidating than the smaller blades. They are also not easy to carry discreetly. They are also heavier and bulkier. In some locales, they may not meet the requirements of the law.
Folding Tactical Knife with Various Blade Edges
Sharpening, cutting elements, cutting style – all these things, and the overall performance of the knife depends on the edge of the blade. So stay very careful about the blade edge.
• Plain Edge: This kind of blade edge is better at doing push cuts and gives you better control of the folding knife. It also gives you cleaner, more accurate cuts. Plain edges are easier for the owner to sharpen, so you do not have to send them back to the factory to be sharpened. It does not have the ability to do pull cuts and saw.
• Serrated Edge: This type of edge does a good job of cutting tougher materials due to the extra strength that comes from a higher pressure per area. These blades are usually thinner and allow the blade to cut well than other folder knives. Serrated EDC knives are also difficult to sharpen so you have to send them to the factory to be sharpened.
• Combination Edge: This type of blade edge is both serrated and plain, with the plain edge at the front of the knife. It lets you manage the part of the blade for rigorous cutting and the other division for easy push cutting. Only combining or partially serrated edge knives can give you the ultimate performance of the best tactical folding knife. It will also have to be sent to the factory to be sharpened. It is also not as clumsy as a serrated edge knife.
Blade Number and Its Performance
A folding tactical knife can have a single blade or multiple blades. They may even have tools. A folding knife with more blades may not always be the best. Before choosing the number of blades you want your knife to have looked at the knife's performance.
• Swiss Army or Multi-Tool Folding Knife: These types of knives have more than blades. It has tools like tweezers, nail files, corkscrews, toothpicks, and more. On the market today, these are the most multi-dimensional tactical pocket knives. It was originally created to meet the demands of the soldiers in the fields. They come in many different sizes and shapes ranging from three tools to 87 tools Giant Swiss Army Knife. They are for those who are the jack-of-all-trades.
You May Like: Pocket Knife vs Multi-tool – Which One Is Best for EDC?
• Multi-Blade Tactical Folding Knife: When the knife has more than one blade they will let you do various jobs. They can have from two to four blades. The two-blade knives are very traditional knives, but the three or four-blade knives offer you different blades. There is a blade for skinning an animal. One may let you 'carve wood. Unfortunately, a folding knife with multiple blades is not as strong or durable but does give you a variety.
• Single Blade Tactical Folding Knife: These come in a variety of sizes and shapes. Their size and simplicity are the best qualities of this type of knife. A single-blade knife focuses on the design of one large blade. They usually are sturdier, lighter, and stronger due to their locking mechanisms so they can be used for more demanding work. They are perfect for being an all-purpose tactical folding knife. One disadvantage is there is a lack of variety.
You May Also Like: Best Fixed Blade Tactical Knife
Ergonomic Handle Features of Tactical Pocket Knife
The handle is the second most crucial part of any knife. When you are looking for the best folding tactical knife you must be careful of the 4 different attributes of an ergonomic handle.
• Handle Length: This depends on how large your hand is. With a larger hand, you would need a longer handle so you can grip it better and not be too close to the blade. Hold the knife in your hand to see how the handle fits.
• Handle Material: There are many different types of material that you can choose. Each one has different disabilities. If you like the look of a classic knife choose wood, bone, or plastic but if you want a modern sleek knife, choose a clean metal design. Select a composite material (G10, Rubber, Micarta, Molded Plastic) if you want a tactical appearance.
• Handle Design and Structure: This is decided by the user's carrying preferences and comfort. If you plan to wear gloves when using the knife or have large hands, then you should choose one with a larger handle. Choose a slim handle if you want a compact size and a grip is not an issue.
• Handle Grip: The grip should be efficient and comfortable. It should also feel good in your hand and is easy to grip when you are using it. You do not want one that could slip when you are using it.
Safety Features of Tactical Folding Knife
Secure closing and opening of the blade is one of the essential parts of pocket knife safety rules for everyday carry users. You should make sure that you have the right locking mechanism, so it does not accidentally come open when you are carrying it in your pocket. You need to look at the materials the handle is made of and what type of grip that it has.
Blade Opening Mechanism
When looking at the different opening mechanisms you need to know the speed and mechanism that you want it to open because if you have the knife for protection, it can be a difference between life and death. If you are just using it for doing everyday chores, the speed it opens would not be that important.
• Manual Opening Knife: This type you can use your hands to open it or you can use a thumb stub. On some, there are grooves on the blade that lets your nail grab the blade to open the folding knife.
• Single-Hand Opening Knife: This kind is usually opened using your thumb to push in a stud to open it. There are some with a hole in the blade. These can be opened quickly.
• Two-Hand Opening Knife: This type is generally opened using your fingernail. It is considered a manual open folding knife. The older generation used one.
• Automatic Opening Knife: This is like the popular switchblades that were seen in the 1950s that automatically opened with the press of a button very quickly. Today they are not legal in most places in the USA. These knives are expensive.
• Assisted Opening Knife: It is a hybrid of two systems. The user initiates the opening with their thumb allowing a spring to kick in and completely deploy the blade. Today they are one of the best tactical pocket knives in most places. Most of the users around the world including the USA prefer assisted opening tactical folder knives.
The Locking Mechanism
This is the part of the pocket knife that keeps the blade open like the fixed blade knife. It also helps to prevent the blade from snapping shut accidentally. If it snaps shut on your fingers, it could cause serious injuries. It is a security feature that will keep it closed when you are carrying a knife. There are several different types of locking mechanisms to choose from.
• Lock-Back Folding Knife: This is one of the earliest and most basic designs of locking knives. Along the spine of this knife is a little notch on the handle. You will need to use your thumb to depress the locking mechanism before you store the blade. It does not suit a one-hand operation.
• Frame-Lock Folding Knife: On this type of locking mechanism one side of the frame will slide under the blade when you have it fully deployed and lock it into place. It is easy to operate with one hand and very secure. It uses the handle to assist in folding the knife.
• Liner-Lock Folding Knife: This locking mechanism basically works in the same way as a frame-lock mechanism. The difference is that one side of the liner shifts and locks the blade. The rest of the handle stays in place. On modern tactical folding knives, they are a common locking system. It is functional and very secure.
Carrying Portion or Pocket Clip
One of the most impotent attributes of the tactical EDC knife is the pocket clip. There are two kinds of pock clips available in the market. One is a fixed pocket clip and another is the reversible pocket clip. The best option is the reversible pocket clip. It keeps the knife vertical for comfort. It also rides higher in your pocket for easy and quick access. If you choose not to have a pocket clip, it will take up less space but can slide all the way down into your pocket.
Best Tactical Folding Knife for the Money
Budget is one of the major factors while anyone willing to buy something. In this case, let me show you what should be your budget according to your user experience and what type of folding knife you will find for the money.
Tactical Pocket Knife Under $30
This is the economical range. Most of these are made with not as much attention to detail and from a material that is cheap, but there are some great pocket knives under $30 range. They are sometimes called flea market knives.
Tactical Folding Knife Under $50
For most tactical folding knives this is the ideal price range. Once you go over thirty dollars, you will see that higher-quality steel is used for the blade. The overall design significantly improves, and better material for the handles is available.
Folding Tactical Knife Under $100
In this price range folding knives under $100, there are small improvements in functionality and design as well as better quality material, including the handle and blade. After purchasing a less expensive first knife most will move to this price range.
Tactical EDC Knife Under $200
You will get the best tactical EDC knife on the market in this price range. All these high quality folding knives under $200 have modified a custom design, are good looking and used extremely high-quality materials. This is the price range of collectors and knives from well-known manufacturers.
Check User Product Review and Rating
There are many tactical knives on the market. Most are found on different sites for sale. Every site offers product reviews and ratings, so one knife that is featured on several sites will have different reviews and ratings. This makes it hard to list a particular knife and give it a product review and rating, stating that this is what the consumer rates it when it could be different on another site.
Some Extra Features You Can Consider
Warranty
Blood groove
Blade edge angle
Jimping
Color or finish
Lanyard holes
Knife weight
Decorative milling
Safety features like-
Glass breaker
Paracord
Emergency whistle
Firestarter
Some Trusted Best Tactical Folding Knife Brands
There are hundreds of knife manufacturing companies that exist in the world and choosing one is very skilled work. Here I am listing the top 10 good pocket knife brands and if you buy any of their knives, you will never make a mistake.
Columbia River Knife & Tool
Benchmade
Kershaw
Spyderco
Gerber
Final Verdict
Some say that for it to be the best folding tactical knife has to be expensive, have a carbon steel blade, and be a certain length and more. To some, it may be the one that was handed down to them by their father. If this is your first tactical folding knife take your time and look at all the features and get the one that suits your needs.
Read More Reviews Of:
Read More Related Posts: