If you are trying to buy the best bowie knife on the market and you don't know anything about the original bowie knife, then these are the good bowie knives that I say you should be looking at.
Because you can't go wrong with anything on this top bowie knife chart.
I know, I am not including everything but here you will find high-quality bowie knives under $30 to $200 range.
What Are the Best Bowie Knives in the World?
---
Best Bowie Knife
---
1. Mossy Oak Survival, Hunting, Camping, Tactical Bowie Knife with Sheath, Sharpener & Fire Starter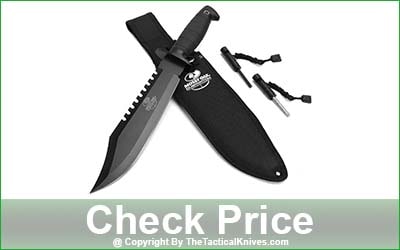 The 10-inch long blade is made of high-quality 440C stainless steel. The beast-size clip point blade is quite sharp and has an anti-rust and stain-resistant black coating.
I have been able to cut bamboo, bushes, small trees for making tents, or tree branches for making walking sticks effortlessly. In addition, having a partially serrated spine has been a great help in cutting thick and hardwood.
Due to the stainless steel and its higher hardness, no rust has been observed in a couple of months of use and edge holding capacity has also been found to be quite good.
The manufacturer used soft TPR rubber to make the five inches long handle. The ergonomically designed handle is easy to hold, comfortable enough to have a soft coating, and no blisters on my hands during prolonged use.
Most importantly, due to the high-friction grip, the 15″ long and 16.8 oz weighting knife did not slip even though my hands got sweaty or wet while doing a lot of hard work.
I got a nylon sheath to carry this knife safely. The sheath is also featured with a belt hanging option as well as an easy-open fastening system.
Pros
A bowie knife of very good quality at a surprisingly low price
Fairly decent sharp blade out of the box
It is easy enough to sharpen and holds an edge well
The sturdy and well-sized handle has a non-slip design
The knife has a 1-year warranty and nylon sheath
As a bonus, it comes with a field sharpener and fire starter
Cons
A knife with many features at $20, sorry, none so far
---
2. Schrade SCHF45 Leroy – Top Bowie Knife
Schrade SCHF45 Leroy is a full tang bowie knife under $50 that comes with a 10.4″ plain edge blade. The clip point blade is made of 8Cr13MoV High Carbon Stainless Steel (HRC 58-59). Due to high carbon stainless steel with extra chromium the blade sharpens easily, retains an edge for a long as well as increases hardness and corrosion resistance. The heftier blade is 0.188″ thick and coated with grey titanium to eliminate reflective glare.
The handle of Schrade Leroy is made from Thermoplastic Elastomer (TPE). The rubberized handle with deep choil, finger guard, grooves, and aggressive thumb jimping – all for providing a good grip in any weather condition and won't slip from your grasp if you get wet or perspire during work. Additionally, while chopping or batoning, the TPE material works as a shock absorber.
The sheath that comes with Schrade Leroy is also produced by hard Thermoplastic. It entirely covers the huge knife and gives many lashing options with several grommet holes on each side. The weight of this knife is 1 lb 7.6 ounces, the total length is 16.5″, and has a lifetime warranty. Overall, it is a perfect western bowie knife for the money, useful for survival, or outdoor camping chores like chopping, bushcraft, firewood batoning, etc.
---
3. Timber Rattler Western Outlaw – Best Survival Bowie Knife
Timber Rattler Western Outlaw is a hand-crafted best classic bowie knife under $30 on my entire list. The 16.5″ beast size knife comes with an 11.38 long, 2.25″ wide across, and 0.187″ thick clip point blade. The full tang blade is made of Pakistani TR65 Stainless Steel (56-58 HRC). The blade edge is not razor-sharp, so you may need to be re-sharpened.
The handle of this knife is made out of classic gray hardwood. Its traditional design is not much grippy but when I was chopping down some woods and smaller trees, its brass-plated finger guard and curl at the handle butt give me proper balance, ergonomics, and strength.
Western Outlaw features a handmade original Leather sheath. Also, two foam spacers have been inserted between the two parts of the Leather. A massive monster-style traditional bowie knife weighting nearly 2lbs makes chopping, puncturing, or firewood batoning quite easy. Furthermore, it includes a limited lifetime warranty.
---
4. Ontario SPEC PLUS SP10 Marine Raider Fighting Knife
If you are a survivalist, military personnel, first responder, or knife enthusiast, looking for the best bowie knife under $50 then 15.20″ Ontario Spec Plus SP10 would be your ideal selection. Due to its cheap price, many of us think that it is a Chinese copy or clone product. But my recommended one is 100% original, covered with a lifetime warranty, and manufactured by the Ontario Knife Company in the USA.
SP10's full tang blade is formed of 1075 Carbon Steel (57-59 HRC) and finished with a non-reflective black epoxy powder coat which makes it more resistant to corrosion than 1095 steel. The 1075 Carbon Steel is popular for easy field-sharpening and longtime edge retention ability. The 9.75″ clip point blade is very thick 0.25″, comes razor sharp and weighting 1.41 pounds – a heavy-duty cutting tool for fighting, batoning, breaking, puncturing, slashing, chopping, and other fundamental tasks.
The Spec Plus SP10 features a well-made solid Kraton handle. The oval-shaped handle has no hot spots but 5 rounded grip circles to provide a very firm grip. In addition, the finger guard and curl at the handle pommel – those are for extra anti-slip security, keep your hand safely at the right place in any circumstances. A Nylon sheath with a plastic insert that Ontario uses on this Spec Plus SP10 Knife. The molle compatible tactical sheath also has a velcro shutter, belt loop, and snap strap as well.
---
5. Ka-Bar Becker BK9 Fixed Blade Combat Knife
All the military troops and special combat units always prefer a heftier fixed blade knife that must be capable of chopping or batoning, puncturing, hammering and all the features in a lightweight set. Keeping this motive in mind, the one and only Ethan Becker has designed this Ka-Bar Becker BK9 for adventures and armed forces. It is made in the USA and comes with a lifetime warranty.
The Ka-Bar Becker BK9 is a large bowie knife under $100 featuring a 9" long scary clip point blade. The blade's core material is High Carbon 1095 Cro-Van Steel (HRC: 56-58). The 0.188" thick steel can hold the edge perfectly while chopping, batoning, piercing or limbing due to its high carbon steel material. The non-reflective black epoxy powder coating on the blade adds to its advantages as a stealthy knife and also makes it rustproof. This plain-edged full tang bowie knife is an ideal tool for camping, combat, or any backyard tasks.
The best Becker knife comes with a Swiss-made Grivory (Glass-Fiber-Filled Nylon) 5.5″ handle consisting of a lanyard hole. Though the handle does not have any texture or grip pattern the curl shape will keep your hand in the same position even if your hand gets wet or perspired during work as well as it will also ensure the safety of your finger while chopping down tree limbs. Moreover, the jimping on the thumb ramp gives an advantage for thrusting. Don't forget the pommel at the end as it serves for emergency hammering.
The 1.05lbs Ka-Bar Becker BK9 will be delivered with a durable black nylon sheath with a molded Kydex insert. The existing front pocket on the sheath allows you to carry extra items like a ferrocerium rod or a portable torch. It has a fast attached or remove function and you wouldn't require more than a single snap to unlock it. To fit the 14.75" knife firmly in the sheath, you would require to use the retention strap around the handle. You can also attach the knife to a vest or a backpack since it is MOLLE compatible.
---
6. Buck Knives 120 General Fixed Blade Hunting Knife
If you are an outdoorsman who wants a good bowie knife under $100 for hunting that can offer you strength and a classic lookout then the Buck 120 General is the perfect knife for you. It has been a perfect hunting tool since 1960. Its 7.38″ long plain-edged fixed blade features a clip point and blood grooves for easy piercing through animal skin and meat. This knife's blade is produced of 420HC Steel (57-58 HRC) that has a thickness of 0.175". Such characteristics make the full-tang bowie knife ideal for acting like a mini sword and using it for de-boning, hunting, camping, and self-defense. Moreover, the high carbon blade is proven to have decent corrosion resistance, edge retention, and is easy to sharpen.
Buck 120 has a long black Phenolic handle that gives a lot of gripping options and the palm swells provide a tight grip. The Aluminum guard keeps your finger safe from the razor-sharp edge while doing heavy-duty tasks and the pommel made of the same material is used for balancing. The bright mirror finish on the blade and the shiny Aluminum guard and pommel on the handle make it a beautiful and collectible piece for knife enthusiasts.
You will get a high-quality genuine Leather sheath with the Buck 120 General. It is both stylish and durable and firmly holds the blade. With the help of the integrated belt loop, you can carry the knife on your belt for accessing it easily. The 12" knife weighs only 8.3 oz and as a result, you wouldn't be defended by the weight while using the knife for heavy-duty work. It is made in the USA and comes with a lifetime warranty.
---
7. Cold Steel 39LSWB Marauder Camping Knife
This rugged Cold Steel 39LSWB Bowie Knife was inspired by WWII for combat and precision. The full-tang knife features a 9" clip point blade made from Japanese AUS-8A Stainless Steel (HRC: 58-59) which has a beautiful satin finish. Top-notch corrosion-free steel with 0.185″ thickness gives the knife the required strength to be usable in camping and survival situations. The deep wide bevels and continuously curved plain cutting edge with impressively large clip blade come in handy while hacking, slicing, hunting, shearing, piercing, and chopping down branches or limbs.
The knife arrives with a unique black double quillion sub hilt Kray-Ex handle formed of rubber Kraton. It consists of a lanyard hole and for an ergonomic grip, it has rubberized material with a grip pattern as well as a sub hilt to lock your index. It is extremely comfortable to use and the finger guards made of the same material provide essential safety.
A Secure-Ex (highest quality injection mold plastic) sheath will be delivered with this knife. The sheath locks the knife in and the security straps make sure it is safe for you while running or in extreme conditions. The sheath has many lashing holes and can be attached to a molle, belt, backpack, or LBV. Cold Steel 39LSWB Marauder is manufactured in Taiwan and protected by a limited lifetime warranty. This 14.13" knife weighs only 11.2 oz which is quite surprising considering its big size.
---
8. United Cutlery USMC Marine Force Recon – Best Budget Bowie Knife
Great looks and a bit of functionality, both can be found in this giant bowie knife from United Cutlery. The half-tang tactical knife comes with a long 11.5" blade featuring saw back on the spine for the multipurpose task. The clip point blade is partially serrated and is produced of AUS-6 Stainless Steel (HRC: 55-57) with a black coating for high resistance against corrosion. The blade looks like it has been made for a zombie apocalypse and that's why many collectors love it. While it is not that great for chopping, the blade can be used for the hack, stab, break, demolish, combat or self-defense.
The handle made of over-molded rubber matches the looks of the blade. Both the rubberized material and the finger grooves work together to give a solid grip on the hefty knife. The metal hand-guard is quite extended for ensuring safety. The handle consists of a lanyard hole and it is recommended to use it since a big knife should be handled with extra caution.
The Nylon sheath that comes with this tactical bowie knife is decent enough for carrying the big beast. You can carry the 16.375" knife on a belt using the sheath. It has a quite cheap feel to it. However, it is a great deal considering the price. This giant knife, which is almost a short sword, is very lightweight. It weighs less than a pound which might be the result of it being half tang. It can be an addition to your knife collection for its Rambo Knife looks.
---
9. Winchester 22-41206 Large Traditional Knife
Winchester 22-41206 is a nice looking best traditional bowie knife under $30 on this list. This full tang bowie knife features an 8.57″ long, 0.187″ thick, and 1.75″ wide surgical 420 Stainless Steel (HRC 55-56) blade. Because of stainless steel with durable satin polish, the blade has higher corrosion and scratch resistance as well as it retains an edge for a long but it is hard to re-sharpen. Large razor-sharp plain edge blade with taught clip point makes an all arounder cutting gear for hunting, camping, survival, or other outdoor trips.
The well-finished handle is made of beautiful traditional wood. Though 14.25″ in full length with 14.4 ounces weighing knife is not easy to control its ergonomically designed large finger grooves handle and brass cross guard provide sufficient grip, stability, and protection during use.
Winchester Knife arrives along with a Ballistic Nylon sheath and a limited lifetime warranty. Additionally, its two retaining straps keep the knife tightly and prevent it from falling down or being lost while moving or running around. Meanwhile, the hard plastic liner protects the blade when not in use.
---
10. Buck Knives 124 Frontiersman Fixed Blade Hunting Knife
Buck Knives, a brand that has been producing knives for more than a century, introduces the 124 Frontiersman Hunting Bowie Knife that has been produced by ensuring supreme quality from tip to bottom. This full tang hunters knife includes a 6.25″ plain edged blade featuring a drop point. It is made by using 420HC Steel (HRC: 57-58) with a satin finish for corrosion resistance. The 0.178" thickness and the combination of high carbon alloys with blade materials and a perfect heat treat, give the blade strength to withstand heavy usage while giving an effortless resharpening and edge retention ability. The blade is handy for survivalists, campers, hikers, and hunters.
Ergonomically designed black Micarta handle ensures a firm grip due to having palm swells and curves. The beautiful aluminum guard secures your fingers and the aluminum pommel acts as a counterweight, giving the knife good balance. Besides all-around functionality, it is a greatly collectible knife for exclusive looks.
The high-quality sheath that will be delivered with the knife is made of genuine protective leather. The black leather looks stylish and keeps the knife secure. Snap fastener allows the sheath to quickly hold the knife. For carrying the knife on a belt, the sheath has an integrated belt loop. The lightweight 13.3 oz knife has an overall length of 11.75″. You will also get a forever warranty with the knife which is proudly made in the USA. All of these features make it one of the best Buck fixed blade knives they have ever made.
---
11. TOPS KNIVES Prather War Tactical Knife
TOPS Prather War comes from the heart of the Rocky Mountains. It is a tactical bowie knife with a plain edge and a unique clip point. The 7.25" full tang blade can be used for hunting, camping, fighting, and survival purposes due to having 1095 High Carbon Steel (HRC: 56-58) and a thickness of 0.250". The durable black traction coating on this blade gives the knife excellent protection against corrosion. This deep wide bevels blade's purpose is hacking, whittling, slicing, carving, dicing and its false edge can easily penetrate while thrusting.
The handle of the Prather War Bowie is proof of ergonomics, function, and aesthetics. Black Linen Micarta scales handle is crafted with Rocky mountain textured for a firm pinch grip and coffin style shape is ideal for holding with or without gloves. The thumb grooves on the blade spine give an extra grip for heavy-duty tasks. The hard pommel which is a slightly extra part of the tang at the end of the handle acts as a hammer.
TOPS Company provides a black Ballistic Nylon sheath. It has a robust construction that is slim and durable. The front pouch of the sheath can be used for carrying a sharpener or a tactical torch while the MOLLE webbing makes the sheath attachable in many different ways. The knife is proudly manufactured in the USA and backed by a lifetime warranty. It has an overall length of 12.63″ and weighs only 14.4 oz.
---
12. SOG Super SB1T-L – Best Combat Bowie Knife
SOG is an award-winning fixed blade knife brand that has a legendary SOG Super Bowie SB1T-L which is an upgrade version to the original SOG bowie knife. One of the finest stainless steel, AUS-8 (HRC:57-58), is used in this premium-quality blade and the black TiNi finish keeps it non-reflective and unaffected by rust. The best part is, that the core of the steel goes through a cryogenic heat-treated process that has not only made it rust-proof but also improved the toughness and edge holding ability. Its razor-sharp clip point blade features precise grind lines that end up with the tip for deep penetration. The 7.5" full-tang blade is very thick 0.25″, compared to other similar-sized knives. I have found a great use for splitting, chopping, bushcraft, feathering sticks, and firewood batoning.
The ergonomically contoured handle is formed of epoxy-filled leather washers as well as it is 5″ long without the finger guard which makes it perfect for large hands. It also has small finger grooves that fit comfortably and provide sufficient grip in my hand. A lanyard hole can be found on the metal hammer pommel.
A black leather sheath with snap closure holds the 12.88" knife safely while you are walking or running with it. It has a belt loop for easy attachment to a belt and a small leather pouch sewed on it which carries the sharpening stone that comes with the set for easy field-sharpening. The 17.4oz SOG fixed blade knife is backed by a limited lifetime warranty for preventing defects in materials and workmanship.
---
13. ESEE ESJUNGLAS-BRK Junglas Bushcraft Knife
ESEE's best chopper, the ESJUNGLAS-BRK Junglas Knife, is made by focusing all on functionality. The 10.375" plain-edged drop point blade is the ideal companion in the jungle as a replacement for the machete. High Carbon 1095 Steel (HRC: 57-58) has one of the best black powder coatings that stays on the blade even after heavy work. The full tang blade contains the necessary strength for the outdoor knife. Premium blade material combined with 0.188" thickness makes it a perfect tool for chopping, batoning, bushcraft, and similar heavy-duty tasks of survivalists and campers.
The handle is produced by Gray Micarta. The material is soft for reducing fatigue while the design of the handle includes a center swell and back contour for providing the right grip to hold the big knife. The extended part of the tang at the bottom is used for any emergency hammering tasks. The bulges at both of the ends of the handle make sure your hand stays in a certain place and eliminate risks.
The survival bowie knife comes with one of the best sheaths on the market. The Kydex sheath has a MOLLE-compatible strap. You can also attach other equipment to the sheath by paracord or screws due to the rivets on the sides and a large drain hole at the bottom. The blade, handle and sheath, all are the best for outdoor situations. The 16.5" knife is a large one weighing 23 oz. ESEE ESJUNGLAS-BRK Junglas Knife is proudly made in the USA and offers a lifetime warranty no questions asked!
---
Frequently Asked Questions About the Best Bowie Knife (FAQ)
Question: What is a bowie knife?
Answer: In general, a bowie knife is a category of large fixed blade fighting knives that are 12″–18″ long and have a clip point blade length between 5″–12″.
Question: Who invented the bowie knife?
Answer: According to the bowie knife history, the Bowie knife was first designed or invented by legendary knife fighter Jim Bowie and a modified version was made in December 1830 by famous blacksmith James Black for Jim Bowie.
Question: What is a bowie knife used for?
Answer: The bowie knife was originally designed and invented for hand-to-hand knife fighting. But now its use has spread much more than that purpose. Depending on the type of bowie knives, nowadays they are widely used for hunting, camping, or survival purpose.
Question: What is the best steel to make a bowie knife?
Answer: In the past, carbon steel was used to make bowie knives, but nowadays high-quality stainless steel alloys are also being used. It is best if high carbon stainless steel is used. This type of HC steel blade can be sharpened very quickly and is capable of retaining its sharpness for a long time.
Here are some best steels that I am recommending for making bowie knives – CPM 3-V, CPM-M4, 1055-1095, Cruwear, 52100, O-1, D2, W2, A2, Z Wear/CTS PD1, 5160, O-1, etc.
Question: How to sharpen a bowie knife?
Answer: First, collect a whetstone suitable for the blade steel of your bowie knife then thoroughly soak it.
According to the cutting edge angle of the blade, do 10-15 strokes on one side and 10-15 strokes in the same way on the other side.
Repeat the process several times and after some time you will realize that your knife is sharpened enough.
Question: Is a bowie knife good for fighting?
Answer: The design of bowie knives makes them ideal for knife fighting, as they have a large fixed blade, clip point tip, and finger guards.
Small and medium-sized bowie knives (with an overall length of 10-14 inches and weight below 20 ounces) are great for hand-to-hand fighting.
However, large and heavy bowie knives can not be maneuvered very quickly during knife fighting so it is best to use them for camping, hunting, or survival.
Final Verdict
There are plenty of other best bowie knives that maybe should be on this list, but I don't have access to them, or I haven't used them, so I can't say anything about those. However, if you think I have missed anything which is should be included in this list then comment down below and let me know.
Read More Reviews Of