For people who haven't sufficient budget for good quality folding knives or just need gear for EDC purposes that is both affordable and reliable, I am sure my top list of the best knives under $30 will give you everything you are looking for.
What Are the Best Pocket Knives Under $30?
---
Review of the 10 Best Folding Knives Under $30
---
1. Kershaw Oso Sweet 1830 SpeedSafe Assisted Opening Folding Knife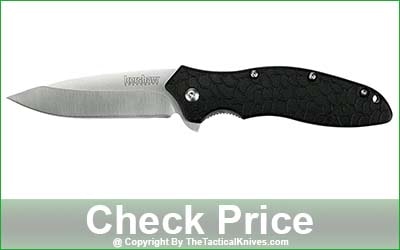 When it comes to budget-friendly pocket knives that are reliable as well as crafted with a variety of features, who could be better than Kershaw?
After using and testing the Kershaw Oso Sweet knife for the last two months, I was amazed at its performance. Also in this budget, Kershaw is offering a knife whose blade is heat-treated, has a GFN handle, assisted opening system, solid lock, and reversible pocket clip.
The Oso Sweet has a 3.1″ long blade made of 8Cr13MoV stainless steel and has a satin finish for its protection. Due to precision heat treatment, this grade of steel has much better sharpness, edge retention, and corrosion resistance than the previous 8Cr13MoV steel.
To test the sharpness I use the blade to cut plastic, cardboard, packages, vegetation, utility rope, stripping wire, feathering sticks, and other fibrous and utility materials, and after 6 weeks of aggressive use, the sharpness of the blade is greatly reduced. However, after a few minutes of work on the whetstone, the blade regains its sharpness again.
The stainless steel liners on the handle have scales made of glass-filled nylon with textured or patterned lines. The standard-size handle feels good, comfortable, and less slippery to me.
The SpeedSafe assisted opening mechanism allows me to open the knife very quickly with one hand. The linear lock system releases easily but strong enough that I can believe that the blade will not accidentally fall on my finger.
The spring assisted tactical EDC knife has a reversible pocket clip that allows tip-up or tip-down carry. Kershaw Oso Sweet is a compact knife (closed length 4.125″, overall length 7.25″, weight 3.2 oz) good for everyday use.
Pros
The steel core is precision heat treated
It came very sharp right out of the box
The blade can take and hold a keen edge with little effort
The handle is durable, light, and well grippy
One hand is enough to open and close the knife
The Assisted Mechanism action is very smooth and quick
Lock-up is firm and steady; no blade play at all – impressive
Kershaw Oso Sweet has a limited lifetime warranty
Cons
The pocket clip is cheap
The handle could be short for an overly large hand
The knife is not suitable for heavy work at all
---
2. Kershaw Brawler – SpeedSafe Assisted Opening EDC Knife Under $30
Amongst the best budget tactical folding knives I have used, the Kershaw Brawler has its place on the top due to its ability to punch through tough objects. The 3″ long blade's core material is high-quality 8Cr13MoV Stainless Steel (HRC: 56-58) that is protected by a black oxide coating for increased corrosion resistance. The hardness of the blade and grinds gives extra strength and power while piercing. I also like its flat belly as it not only gives an advantage for resharpening but also provides a superior cutting advantage and is perfect for bearing down on different chores.
The knife features a durable handle produced of lightweight glass-filled nylon that shows its mesmerizing textured black contours. I get a solid grip on this handle even in slippery or wet situations due to the grip patterns. The handle stood out to me for being usable in multipurpose tasks as it contains angled curves inside the palm of my hand. Moreover, a lanyard hole is present at the bottom of the handle.
One of the best things that I was able to enjoy about the Kershaw Brawler was its comfortable and automatic one-handed deployment that is a result of the SpeedSafe assisted feature. Turning the top of the flipper quickly releases the blade out of the handle while the flipper acts as a finger guard during heavy-duty usage. I was able to use this thing for hours without slipping my fingers due to the handle grip and the flipper. The mechanism also has a liner lock and a 4-position or reversible pocket clip (tip-up/tip-down, left/right). The 3.9 oz lightweight 7.1" folding knife shrinks down to 4.1" when folded and a limited lifetime warranty is given with it.
---
3. CRKT Drifter – Everyday Carry Pocket Knife Under $30
The knife comes along with a 2.88 inches drop point blade which is made out of 8Cr14MoV stainless steel (HRC: 58-59) and coated with Gray Titanium Nitride paint. 8Cr14MoV steel is popular for its great corrosion resistance, edge holding ability, and ease of re-sharpen. CRKT Drifter is one of the best folding knives under $30 that has premium quality G10 scales made handle. Light jimping on the choil and thumb ramp as well as texturing over the handle gives you more gripping power and anti-slip security when your hand is wet or bloody.
Because of the perfect size thumb studs and steel washers, deployment of the blade with just one hand is very simple and smooth. Also, the knife is mechanized with a secure locking liner system. It has a tip-down carry stainless steel pocket clip only for the right hand. The CRKT Drifter includes a limited lifetime warranty. The overall size of the knife is 6.50 inches, the closed length is 3.62 inches, the blade thickness is 0.10 inches, and the weight is 2.60 ounces.
---
4. Kershaw Chill – Everyday Carry Folding Knife Under $30
Kershaw Chill is one of the best inexpensive folding knives under $30 that features a 3.1″ long slim profile blade. The blade is manufactured from heat-treated 8Cr13MoV stainless steel and painted with a stylish bead-blasted finish that eliminates reflective glare. Most importantly, 8Cr13MoV steel (HRC 58-59) strongly gets and retains a razor-sharp edge and has higher wear resistance. Handle made of black textured G-10 scales. The black G-10 scales handle is extremely lightweight and decent texturing assures a solid grip in your palm.
Don't Miss: Folding Knife Under $50
The classic-style flipper helps to deploy the blade with just one hand and makes itself a finger guard when it is open. Also, the knife is mechanized with a secure liner lock system. Two-position reversible pocket clip that supports tip-up or tip-down carrying position. Kershaw Chill is backed by a limited lifetime warranty. Its full length is 7.125 inches, folded length is 3.125 inches, blade thickness is 0.34 inches, and weight is 2.20 ounces.
---
5. Ontario Rat-1 Black Coated Folding Knife – 8846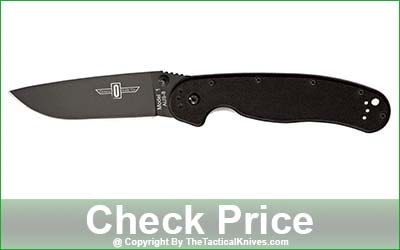 On this list, the Ontario Rat-1 is the best hard-use folding knife under $30 and is able to cut through nearly everything you fall on it. Its opening length is 8.5″, closed length is 4.5″ and weight is 5 oz.
The Rat-1 Tactical Folder Knife has a 3.6″ long drop point blade made of AUS-8 stainless steel (55-56 HRC). The AUS-8 steel blade is famous for its strength, high edge retention as well as easy and quick re-sharpening.
The ‍scalpel-sharp blade has a plain edge style and a full flat grind shape is great for slicing and other utility chores.
Also, the heavy-duty folding knife handle has stainless steel liners and scales of textured nylon that give me a secure grip. The 5-inch long handle makes it comfortable to hold and handle even if your hand is large.
The knife has a spine jimping which allows for excellent control and an ergonomic shape choil that protects your fingers from the sharp edge. As a tactical folder, the handle works pretty well in both reverse and forward grips.
Furthermore, Rat-1 features a strong liner locking mechanism, so the knife is safe for any hard use. It also allows for a swift and easy one-hand opening, all thanks to its big thumb studs.
The EDC knife has a pocket clip of a 4-way (tip-up, tip-down, left/right-handed) position for carrying, as well as a lanyard hole option too.
Pros
Available in multiple colors, blade lengths, shapes, serrations
Came shaving sharp from the factory and retains its edge well
The handle material offers great grip and feel
Easy one-handed operation for both opening and closing
Locking strength is solid and no blade play
Sturdy carry clip that is adjustable in 4 positions
Its open-backed design for easy maintenance and cleaning
A limited lifetime warranty on this pocket knife
There aren't many heavy-duty pocket knives at this price point
Cons
Not a deep carry pocket clip
After 2 months of use, the black coating starts to come off
It would have been better if the weight was a little less
---
6. CRKT M16-01KZ Tactical Folding Knife
CRKT M16-01KZ has a 3 inches spear point thin shape blade that is made of 8CR15MoV (HRC 58-59) high-carbon stainless steel. Its black EDP (Electro Deposited Paint) coating protects from rust and corrosion. The handle is designed with innovative InterFrame construction. The scales of textured Glass Filled Nylon are laminated over the 420J2 stainless steel liner. All the friction grooves, textured grip, and thumb jimping on the top of the blade spine ensure total control over the knife even if your hand is wet or muddy.
Due to its ambidextrous thumb stud and Carson Flipper, single-hand deploying and folding are super-fast and smooth. When the blade is released and engaged the automated liner safety system makes it a virtually fixed blade knife. The EDC knife has one position tip-down carry pocket clip. CRKT M16-01KZ offers a limited lifetime warranty against any defects in workmanship and materials. Measurement: closed length 4 inches, a total length of 7.125 inches, blade thickness 0.10 inches, and weight 2.3 ounces.
---
7. Spyderco Byrd Cara Cara 2 Lightweight Folding Knife
Upgraded design at a very inexpensive cost moves the Spyderco Cara Cara2 one of the best EDC knives under $30. Full flat-ground 3.75-Inch blade formed of 8Cr13MoV Stainless Steel (HRC 58-59). The razor-sharp blade is coated with a satin finish to enhance corrosion resistance. Moreover, the drop point blade has a comet-shaped 0.47-Inch hole for one-hand opening as well as thumb jimping right there spine of the blade for additional control and strength during regular use.
The bi-directional textured Fiberglass Reinforced Nylon handle provides an ergonomic grip for nonslip use. The Cara Cara2 is designed with a mid-positioned Lockback system. Its 4-position pocket clip can be adjusted tip-up or tip-down carrying configurations for both righties and lefties. Spyderco Cara Cara2 gives you a limited lifetime warranty on its parts and workmanship. The open length is 8.5 inches, the closed length is 4.75 inches, the blade thickness is 0.13 inches, and the weight is 5.6 ounces.
---
8. Kershaw Cryo – SpeedSafe Assisted Opening Folding Knife Under $30
Its 2.75″ blade is made of 8Cr13MoV stainless steel (HRC: 58-59) which has a combination of carbon and nickel for toughness, corrosion resistance as well as edge retention. The handle is also manufactured from stainless steel. The steel core includes chromium to increase durability and rust resistance. The whole steel structure of the knife is painted with a matte gray titanium carbo-nitride coating.
Kershaw Cryo features with SpeedSafe Assisted Opening mechanism and frame lock system that allows quick and secure single-handed blade deployment. Convenient and versatile accessibility is available with the 4-way pocket clip. It supports tip-up/tip-down carry on both left/right-handed positions. The knife has a limited lifetime warranty, an overall length of 6.50″, a closed length of 3.75″, and a weight of 4.10 ounces.
---
9. Buck Vantage USA Made Everyday Carry Knife
I am really surprised when I found that the Buck Vantage Folding Knife is made in America and is available for under $30. Its 2.63″ plain edge blade is made of high-quality 420 High Carbon Stainless Steel and protected with a satin finish. The premium-grade 420HC Steel has 58-60 Rockwell hardness, excellent wear resistance, and holds its edge well with little effort. Because of its higher edge retention, you would not be needed a knife sharpening system frequently. Drop point and 0.120″ thick razor-sharp blade with a high hollow grind make it a tremendous cutting tool for slicing, hunting, skinning, feathering, or chapping sticks, and overall any utility purpose.
This 6.5″ Buck Vantage EDC Knife has a black Glass-Reinforced Nylon handle. Smooth scales and two stainless steel liners of the handle are attached with screws to give toughness and durability. Moreover, the ergonomic design of the handle makes it easy to use it continuously for a whole day. Through its flipper and thumbhole feature, you can simply deploy and lock the blade using a single hand. To enhance safety and strength, it is designed with a Liner Lock mechanism. The pocket knife brings a removable and reversible tip-up carry deep pocket clip and it can be altered for both-handed use. Also, the manufacturer provides a lifetime warranty with this best folding Buck knife. Measurement: Closed Length: 3.75″, Overall Length: 6.5″, and Knife Weight: 2.3 oz.
---
10. Gerber Bear Grylls Serrated Edge Everyday Carry Knife
This compact tactical knife has built with the collaboration between survival specialists Bear Grylls and Gerber. Its 3.6″ drop point blade is created with High Carbon Stainless Steel and finished with Teflon coating. The combination of these two elements enhances the blade's durability, corrosion, and rust resistance. Because of its higher HRC 57-59 and Carbon ratio, the edge retention of the blade is very good after heavy use. The half-serrated blade is ideal for feathering or chapping sticks, firewood batoning, slicing, and cutting flexible material like webbing, rope, set belts, electric cables, etc.
In the handle, the major structure or orange parts are constructed with TPE Overmold premium quality plastic. The gray color rubber grip area of the handle is made of ergonomic texture. The rubber grip pattern prevents slippage and protects from serious injury as well as ensures maximum comfort when using it in any hard work. Gerber Bear Grylls Folding Sheath Knife is equipped with a lock-back system. The thumb stud on both sides helps easy and quick single-handed deployment. The pocket knife comes with an exceptionally lightweight and durable nylon sheath which is military-grade and mildew resistant.
The knife has a lifetime warranty. The folding knife is the perfect tactical gear for survivalists, hunters, campers, outdoor travelers, law enforcement, military personnel, knife enthusiast, or collector. Its complete length is 8.5″ and the folding length is 4.9″ and the weight is 4.3 oz. The bonus – is Bear's "Priorities of Survival" pocket guide.
---
Frequently Asked Questions About the Best Pocket Knife Under $30 (FAQ)
Question: What is the best cheap pocket knife?
Answer: From my experience, I would consider the Kershaw Oso Sweet to be the best cheap folding knife. Because at a $30 budget, Kershaw is giving a pocket knife whose blade is heat-treated, has an ergonomic GFN handle, assisted opening mechanism, solid locking system, and reversible pocket clip.
Question: What is the best EDC knife of all time?
Answer: In this case, I will put Kershaw Blur Black SpeedSafe Assisted Folding Knife at the top of my choice.
Due to its high-quality parts, solid build quality, ergonomic handles, easy one-handed opening or closing facility, and open-backed low-maintenance design, the Kershaw Blur seems to be the best of all the EDC knives I have used.
Unfortunately, its price is a bit high and I've reviewed it in my Best EDC Knives Under $100 category list.
Question: Why should you carry a pocket knife?
Answer: A pocket knife can be your daily companion because its necessity in daily work is infinite. Such as-
Survival Gear in an Emergency
Opening a Glass Bottle
Pumpkin Carving
Gathering Some Kindling and Tinder
Opening Letters and Packages
Cutting up Fruits and Vegetables
Sharpening Pencils
Opening Clamshells
Cutting Zip Ties
Separating LEGOs
More details on my "Top Reasons to Carry an EDC Pocket Knife" page.
Question: What size knife is best for EDC?
Answer: As an EDC knife for everyday carrying and use, you should choose a pocket or folding knife instead of a fixed blade knife. Folding knives are light enough, easy to carry, usually do not attract the attention of the public, and are much safer to carry than fixed blade knives.
The blade length of an EDC pocket knife should not exceed 3.5 inches, overall length 7.5 inches, and weight 4.5 oz. But the ideal measurement for me is 3 inches blade length, 4.5 inches handle length, and weight of 3.5 oz.
Question: How big is too big for an EDC knife?
Answer: For a typical user, blades longer than four inches for everyday carrying and utility work are called too-big EDC knives.
Question: What is a $30 EDC knife used for?
Answer: Usually, $30 EDC knives are not used for heavy work but for daily utility cutting chores. These knives are primarily used for cutting cardboard, plastic, cord, utility rope, electric wires, opening packages, feathering sticks, vegetation, zip ties, and other fibrous and utility materials.
Question: What are the top 5 brands that make pocket knives under $30?
Answer: There are many brands in the market that make different types of pocket knives in this price range. However, I will mention here a few best EDC knife brands that produce value-for-money products for the customer, provide the right warranty service, and whom you can trust without hesitation.
Kershaw
Smith & Wesson
CRKT
Ontario
Spyderco
---
Read More Related Posts:
You May Also Like: