When buying a tactical self protection knife, especially if it is your first knife, the primary factors to consider are its size, weight, design, durability, accessibility, and overall compactness that fits your personal needs.
Finding a pure tactical self defense knife among hundreds of knives is difficult enough with these things in mind, but I am making this task easy. Here I have reviewed some knives based on my experience which I believe will fulfill your utility needs as well as personal protection in any situation for both men and women.
Keeping in mind the preferences of different people, I have included fixed, folding, neck, boot, and some top rated tactical knives among the recommended knives.
What Are the Best Tactical Self Defense Knives?
---
Best Tactical Self Defense Knife
---
1. KA-BAR Full Size US Marine Corps Fighting Knife
If you are searching for a stable and high-quality tactical self-defense knife, then I have one for you. Here is the world's most famous tactical fixed blade knife for self defense the KA-BAR US Marine Corps. This 11.88-inch knife is manufactured in the USA and offers a limited lifetime warranty. KA-BAR has been constructing knives since 1898 and is known for producing its knives under unique manufacturing processes.
The KA-BAR knife features a 1095 Cro-van steel (56-58 HRC) made 7-inch straight-edge blade. The combination of vanadium and chromium over the 1095 steel with black oxide coating – all have enhanced sharpness, durability, and corrosion resistance. Due to its high carbon steel with plain edge version the 0.165 inches thick blade is quite easy to sharpen and higher edge retention will keep it razor sharp year after year. So, you would not have to worry about your knife's sharpness. The full tang knife comes with the slim-curved brass guard which is situated between the blade and handle to protect your fingers from the sharp edge as well as a pommel on the bottom of the handle for hammering.
Also, this knife has a leather handle for a firm and comfortable grip. Also, it comes with a 100 percent leather sheath which is rugged, sturdy, and long-lasting. Do not compare with the plastic types, this one is unbreakable (no doubt). It promises to serve its purpose; to protect from outdoor moisture and the environment.
---
2. SOG SEAL Pup Elite Fixed Blade Knife E37T-K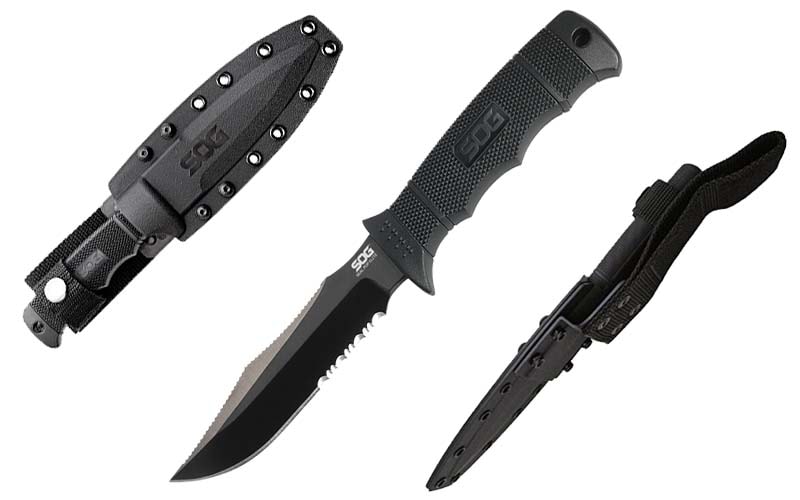 The SOG has more than thirty-three (33) years of knife-producing experience. Today, SOG produces types of knives other than military-inspired designed ones, outdoor gears, and specialized multi-tools. Their knives are generally used by law enforcement, military personnel, survivalists, hunters, and outdoor knife enthusiasts. If you are searching for the best tactical self defense knife under $100, then SOG SEAL Pup Elite E37T-K will be your best choice.
The 0.185″ thick steel of the blade is produced with AUS-8 stainless steel. The steel has a 57-58 hardness Rockwell scale rating which means it is one of the most robust stainless steel in the world. The process of cryogenic heat conducted a procedure that raises the durability, sharpness, and edge retention of the blade. Such a type of heat conducted method with Hardcase Black Tiny coating both have not only formed the steel rust-resistant as well as enhanced the longevity at the same time. The 4.85 inches half-serrated blade is a perfect EDC knife for combat, survival, and tactical activities. Also, you can use it for daily utility tasks like chopping, cooking, cutting, etc. On the other hand, the blade spine rasp helps for filing, notching, and thumb placement as well. Its clip point tip is ideal to create a dip hole in any hard object with less thrash. Because of its TiNi coating and cryogenic heat-conducted stainless steel core, the blade can survive in seawater, tropical rainforest, and snowfield.
The extended part (3″-4″) of the blade goes through the handle which makes it a full tang combat knife. The handle of this knife is made of premium quality fiberglass-reinforced nylon. This element is a component that is able to resist electrical energy, harsh acids, and obsessive temperatures. The handle is scored by the deep diamond pattern for a solid grip and comfortable holding. Additionally, the ergonomic deeper finger grooves also ensure maximum strength and lower-upper thumbs prevent your finger from slipping. This SOG SEAL Pup Elite comes with a Kydex sheath with an extra belt loop. You can carry it with the other gears like an outdoor backpack and attach it either left or right-handed as well. Don't worry the E37T-K has a lifetime condition warranty. Its overall length is 9.5″ and its weight is 5.4 oz.
---
3. Spyderco Para Military 2 Signature Folding Knife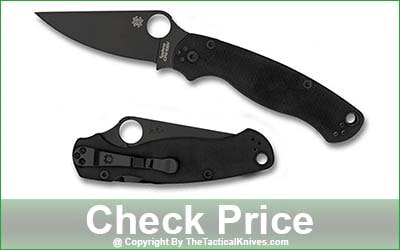 Spyderco Paramilitary 2 was first introduced in 2010 with several changes to the earlier version. This USA-made best tactical self defense pocket knife comes with the integration of a new generation Bushing Pivot Mechanism which gives fluid action and constant maneuverability. The core of the 0.14″ thick blade is made of the world's best premium steel CPM S45VN (HRC 58-59) and coated with a black DLC finish. The 3.438″ blade is relatively effortless to sharpen, holds a razor-sharp edge for a long period as well as guarantees resistance to corrosion and rust. The flat ground clip point blade is a perfect cutting tool for slicing, thrusting, stabbing, push cutting, and chopping smoothly and precisely.
The 4.84″ black handle is designed with textured G-10 laminate scales (Epoxy filled Woven Glass Fiber) around the nested stainless steel liners. Additionally, the knife has jimping to both finger choil and thumb spine to increase the grip and is slip-resistant. To eliminate the inconvenience of hard angles in the pocket, the handle has been made to have a rounded profile.
Spyderco Paramilitary 2 is manufactured with the nested compression lock. All the parts are screwed together. Due to its 14mm round hole on the blade, opening or closing the blade is quite easy with one hand. Even you can deploy the blade with a gloved hand. The knife features a quad mounting pocket clip and it can be configured for tip-up, tip-down, left- or right-handed carry. Spyderco offers a limited lifetime warranty with this military-grade pocket knife. It measures 4.812″ in closed length, 8.281″ in total length, and 3.83 oz (106g) in weight.
Pros
Lightweight, safe, easy-to-carry a tactical pocket knife
Razor-sharp blade perfect for various tactical work
Multiple colors knife for a different choice
One of the best everyday carry (EDC) knife
Blade holds razor sharpness for a long time
Cons
The price is a little bit higher
---
4. Gerber Mark II Fixed Blade Combat Military Knife
The Gerber Mark II is the best military knife for those who are looking for gear for personal defense. The blade is made of 420HC Stainless Steel (56-59 HRC) and has a spear point tip. Gerber designed this knife with a double serrated edge to make sure it can deliver optimal piercing ability. Also, this half tang knife features a black oxide coating to reduce reflection and minimize corrosion. With the overall 12.75" and 6.5" blade length, it can serve every combat and survival need of users.
One thing I love about this Gerber knife is the premium quality handle. The handle is manufactured from Die-cast Aluminum which makes it sturdy and unaffected by extreme temperatures. The ergonomically designed Quillon or Crossguard not only provides a perfect grip in your palm but also protects your finger from slippage and touching your opponent's blade.
Gerber Mark II comes with a durable ballistic nylon sheath. It will ensure the maximum safety of the knife and the user. Also, it's among the brand of knives manufactured in the USA and supported by a lifetime warranty. This combat knife is not a common type but a legendary item to own. After seeing this in your hand the opponent will think twice to attack you.
---
5. Kershaw Clash Black Serrated Pocket Knife – 1605CKTST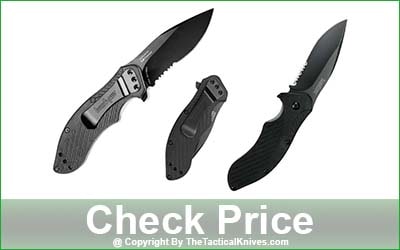 Kershaw believes in quality materials and innovative designs with modern technology. Although Kershaw sells some knives at a low price, they never compromise the quality of their products.
If your budget is low and looking for an all-rounder tactical self defense pocket knife, then you are in the right place. The Kershaw Clash folding knife is one of them.
The full length of this pocket knife is 7.4″ and the closed length of 4.25″ and weighs 4.3 oz (121.903 g). This small serrated folding knife is highly recommended for utility, hiking, camping, and tactical uses.
The 3.1″ long blade is crafted in 8Cr13MoV stainless steel. The 8Cr13MoV steel has excellent toughness (57-58 HRC) and wears resistant in any harsh condition. The drop point blade is finished with a black Oxide coating that gives it a non-reflective stealthy look and increases corrosion and rust resistance.
Additionally, the steel core is proficiently heat-treated for better edge retention and razor sharpness. Its half-serrated multitasking blade is useful for cutting flexible and hard objects like rope, webbing, cordage, seat belt, branches, limbs, or electric wires.
Its 4.3″ long handle is made out of Glass-Filled Nylon. Due to secure contours and textured grip patterns, the ergonomically designed handle provides a solid and non-slip grip in my hand.
Most importantly, the Kershaw Clash is designed with the SpeedSafe assisted opening mechanism. With full authority, a light back presses on the flipper tip, and the SpeedSafe deploys the blade fast with a light jolt. A liner lock system lock-ups the blade in place solidly and safely.
This assisted opening tactical knife has a reversible (tip-up/tip-down) pocket clip and comes with a lifetime great Kershaw warranty.
---
6. TOPS KNIVES Prather War Tactical Knife
TOPS Prather War comes from the heart of the Rocky Mountains. It is a tactical bowie knife with a plain edge and a unique clip point. The 7.25″ full tang blade can be used for hunting, camping, fighting, and survival purposes due to having 1095 High Carbon Steel (HRC: 56-58) and a thickness of 0.250″. The durable black traction coating on this blade gives the knife excellent protection against corrosion. This deep wide bevels blade's purpose is hacking, whittling, slicing, carving, dicing and its false edge can easily penetrate while thrusting.
The Prather War's handle comes from the heart of the Rocky Mountains. The handle of the knife is proof of ergonomics, function, and aesthetics. Black Linen Micarta scales handle is crafted with Rocky mountain textured for a firm pinch grip and coffin style shape is ideal for holding with or without gloves. The thumb grooves on the blade spine give an extra grip for heavy-duty tasks. The hard pommel which is a slightly extra part of the tang at the end of the handle acts as a hammer.
TOPS Company provides a black Ballistic Nylon sheath. It has a robust construction that is slim and durable. The front pouch of the sheath can be used for carrying a sharpener or a tactical torch while the MOLLE webbing makes the sheath attachable in many different ways. The knife is proudly manufactured in the USA and backed by a lifetime warranty. It has an overall length of 12.63″ and weighs only 14.4 oz.
---
7. Benchmade – Nimravus 141 Tanto Serrated Fixed Blade Knife
Nestled at the top of our combat knife review is the rugged and stylish-looking Benchmade – Nimravus 141 Tanto Blade Knife. This 9.45″ long and 5 oz weighing combat fixed blade knife is made in the USA and designed by Warren Osborne as well as provides a limited lifetime conditional warranty and LifeSharp service.
The knife comes with a half-serrated and customized tanto versatile use 4.50″ blade. The high-quality 154CM Stainless Steel core with stealthy black BK1 coating both have made it an ideal blade for corrosion resistance, easy field-sharpening, and good edge retention. The blade can cut many items such as fibrous materials (leather, strapping, set belt, rope, webbing, hoses), electric wires, small firewood batoning, or small branches. Its modified razor-sharp tip gets maximum strength from the dual taper grind and is enough strong to penetrate a thin stainless steel object. For durability, the blade is 0.115″ thick with a Rockwell Scale hardness of 58-61, referring that the blade is forceful, and can basically manage everything you throw at it without bending or breaking.
The most important feature I have found in this fighting knife is the ergonomic and special handle. The innovative handle scales are made of hard-anodized 6061-T6 Aluminum. The scales have deeply textured pressure points for ultimate traction on your palm. These textured grooves perform the function of channeling away mud, blood, water, or oil. Its full tang, large handle with deep finger choil ensures highly versatile use in harsh or wet working circumstances. For a comfortable feeling, the handle is also designed with thumb jimping. The Benchmade – Nimravus brings a black Nylon sheath with a belt strap, adjustable loops, and a MOLLE-compatible clip.
---
8. SOG SEAL Team Elite Fixed Blade Knife SE37-N
SOG is well known among military, law enforcement agencies, and industrial customers, as a maker of unique innovation and high-quality knives and tools. After the existing world's most extreme knife performance testing competition which took on by the U.S. Govt., along with knives from other U.S. top cutlery companies, the SOG SEAL Team Elite Knives triumphed.
SOG SE37-N has a 7″ long AUS-8 Stainless Steel blade (HRC 57-58). The core of the blade is produced through an outstanding cryogenic heat treatment method and coated with an appealing non-reflective black TiNi finish. All these processes have made it the world's best stainless steel blade in toughness, edge retention, and higher wear resistance. This racy shape blade has a partially serrated razor-sharp cutting edge for versatile use. The 0.24″ thick fixed blade also features a clip point tip that provides faster and in-depth puncture. Moreover, the blade spine rasp which helps for notching, filing, and thumb placement.
This 12.3″ long SOG knife is also crafted with impact and abrasion-resistant black Glass-Reinforced Nylon handle which is very rugged and durable. The ergonomic deeper finger grooves handle is user-friendly and well-balanced, as it is contoured to ensure you have a comfortable grip when you hold it. For mobility and quick accessibility, this 10.3 oz weighting best SOG knife comes with a MOLLE-compatible black Nylon sheath that has a secure loop and hook closure so you can always have it near to you. The full tang knife has an extended part "handle pommel", suitable for emergency hammering or breaking glass. It has a limited lifetime warranty. So, you have protection against manufacturing defects and materials.
---
How to Choose the Best Tactical Self-Defense Knife
Although unfortunate, it is important to understand the world we live in is not entirely safe. Crime happens, in some places more than others, and the police will not always be there to protect you. That is why having a tactical self-defense knife is important. However, there are many knives on the market, and it may be difficult to choose the "best". I will look over the many attributes of knives and decide the best one for self-defense.
What Is the Tactical Self Defence Knife?
A tactical self-defense knife I quite self-explanatory; it is a knife primarily used for defense against attackers. Although it is best to try and run immediately when you realize you are in a bad situation, this is not always possible. Although unarmed self-defense training and keeping away from bad areas will limit risk, a tactical self-defense knife is simply an additional level of security.
What is the Purpose of Your Best Tactical Self Defence Knife?
The main purpose of my tactical self-defense knife is to prevent an attacker from harming you, as well as giving the user an opening to flee, get to a safe place, and get help. For the former, the knife needs to keep potential attackers at a difference and well as interfering with attacks from the opponent. Additionally, the knife, once it is pulled out, causes most potential attackers to flee.
Considering the Overall Length of the Tactical Self Defence Knife
There is two main classifications of the knife, fixed blade or folding. The former is a simple knife with no mechanical pieces. The latter is able to fold in on itself. Both have their benefits and disadvantages.
Fixed: Fixed blade knives are sturdier and thus more powerful. As said before, folding knives can cut the space it takes up by half, making it able to be more easily hidden. Much of the choice in this situation is based on law, as it limits what can be used as well as many other attributes. For this essay, it will be assumed laws will not get in the way, and the knife created will be one based on what would make it the best for self-defense. When trying to create the best tactical self-defense knife, fixed blade is the way to go.
Folding: The problem with folding knives is the time it takes to ready it, which is the time which you are vulnerable to attackers. Additionally, the mechanics may jam or another problem occurs, and what was once your protection becomes dead weight. Read More: Best Folding Knife Under $200
Measure the Blade Length According to You Requirement
Now that the type of knife has been determined, let us move onto weight. To optimize a tactical self-defense knife, it should be as long as possible, while not being unwieldy. This means additional reach for the user, which can affect attackers before they get too close. For a fixed blade, one that is 6 inches long fits quite well.
Although it was decided a folding knife wouldn't be the best type, a length should still be determined. The befit of a surprise that comes with a folding knife is very important and should be maintained. A 4-inch folding knife would be both hidden and have the length to defend
Since the blade wanted is one that keeps an attacker at bay, it should be as long as possible. However, smaller or less experienced users may not be able to, so smaller options are provided below. Included are both full knife and length of the blade.
Small Blades: Small folding blades will 4 inches when extended, with a blade of 2 inches. This weapon will be very prone to breaking, especially is defending against attack. It does allow for surprise attack due to its small nature. Small fixed blades will be 5.5 inches, 3 of them being the blade. This will be more study than its folding knife counterpart and will be hidden better than larger fixed blades.
Medium Blades: Medium folding knives will be 5 inches when the knife is out, 2.5 when folded. It remains hidden while allowing strengthening of the mechanics. A medium fixed blade will be 6.5 inches, with the blade being 3.5 inches long. This way it is easy to hold for most while still having power behind it.
Large Blades: Large folding knives will have a 3-inch blade; when the handle is added it is six inches. Although less subtle than smaller folding knives, it is much more powerful. A large fixed blade will be 8 inches, 5 being the blade. This will have the largest reach and most power behind it. This would be the most effective length to use.
Choosing the Blade Material
Blade material is very important, and in this case, it is the durability we want. This will prevent the blade from failing when encountering an attacker. When researching, the best I could find that matches this description is carbon steel, which is known for its sturdiness. Additionally, it keeps its edge for a while one to has been sharpened. It is, however, prone to rust if not taken care of. Thus, it will be important for the user to check the knife daily, to make sure it will withstand attack.
Selecting the Blade Shape or Tip
Seeing as this is a tactical self-defense knife, I will be looking for blade shapes/tips that prioritize slicing to keep foes back; additionally, sturdiness will also be important.
Drop Point: Drop point has the non-sharp side curve towards the point. This causes the tip to be stronger and gives it a long, slicing edge. Due to this wider tip, it is not effective at piercing.
Clip Point: Clip point has the unsharpened edge start off straight but goes to the tip halfway. This allows to pierce and slice very well. This design is thinner, so it is weaker.
Spear Point: Spearpoint has both edges curve to the center in the same way; if single edged the point won't be as sharp. This sharp point is not great for the slice but is meant for piercing.
Scandi Point: Scandi point starts of straight on both sides but curves after a while. This blade takes a long time to sharpen but is easy to be consistent. It isn't good at slicing.
Hollow Point: Hollow point has it edges go to the point in a concave fashion. Due to the lightness of the design, it is good for slicing, but it is very delicate.
Full Convex: Full convex has a gentle curve on both edges starting at the bottom of the blade. Its design makes it durable and able to keep its edge. However, it takes a long time to sharpen.
Blade Spine: The spine of the knife is the opposite of the sharp edge, meaning it is facing the uses. The tactical self-defense knife should not be double-edged, as if the knife if knocked back when block, the user could cut themselves. Additionally, make sure the spine is solid, as it may be used to block or attack in a pinch.
Selecting the Blade Edge
The blade edge is what you will be used against an adversary, whether it be making slices to try and chase the attacker away or protecting against attacks. Thus, it is important to choose whether the blade edge is going to be serrated or plain.
Plain Edge: A plain edge is straight, simple, and is very versatile. It is easy to sharpen and is quite terrifying to potential adversaries if wielded intelligently. There potential for slicing, which drives foes away, and ability to reflect incoming attacks on its smooth surface, make it the best choice for our tactical self-defense knife. It does need to be said that slicing with it isn't likely to penetrate thick surfaces.
Serrated or Saw-toothed Edge: Serrated edges are good at one thing, that being to cut through tough material. This may originally seem like a perfect addition to the tactical self-defense knife, seeing as attackers may wear hoodies, leather jackets, or other thick materials. However, I will not suggest it, as it is like that a serrated blade would get stuck, whether on clothes or flesh, disarming you and leave you with less defense.
Combination or Partially Serrated Edge: Simply put, a combination is when the blade edge has part serrated, usually the lower portion, and part plain, often situated above the serrated section. Additionally, the blade edge can be plain and the knife spine is serrated. As stated earlier, the spine will be used for something else, so this option is not suggested, as well as serrated edges tendency to get stuck. Also, you need the best knife sharpening system for honing the serrated edge blade.
Knife Tang For Fixed Blade
A knife tang is the part of the blade within the handle. Depending on how much is there, a knife can be severely weakened, especially when made to defend against attack. The sturdiest, and the one I suggest is the full tang, which has a solid piece of metal that goes all the way from the base or the blade to the pommel. This makes the knife extremely strong. The other types, partial tang and rat-tail, are partial versions of the full tang, which are weaker and not suggested.
Considering the Knife Handle
The knife handle is what makes the blade useable, so its quality is extremely important. Make sure it is comfortable and fits in your hand. A blade of about 3.5 inches works for many people. Additionally, look for guards that can be added to provide greater protection. Example include knuckle guards, which protects the finger while helping the user make stronger punches. An upward angled quillion can cat blades and protect the hand. Make sure there is some soft padding between your hand and the handle; this to absorb shock when blocking blows. Making the handle out of a sturdy material, such as steel, also help by making the knife a more solid object. Lastly, make sure it fits snuggly in your grip, both with gloves and not, as that can have a large impact on how tightly you hold onto the knife.
Solid Pommel of the Knife Handle
The solid pommel within out tactical self-defense knife is important for many reasons. Firstly, it is the main component of keeping the handle together, so its quality is important. Most of this comes down to the tang and knife material, which has been discussed. Secondly, a pommel can act as a blunt method of attacking, fending off attackers without resorting to bloodshed.
Easy To Carry
Since this knife will be used for self-defense, it must be carried on the person to be effective. This is more likely if the knife is easy to carry. Since the suggested type was fixed blade, the best way to carry it is in a sheath. Make sure that it holds the knife securely yet is easy to draw the knife out of. Every second counts in self-defense.
Final Verdict
The best attribute for a tactical self-defense knife is to be fixed, an 8-inch-long knife with a 5-inch carbon steel blade. The blade will have a drop point, with a plain edge. The knife will have a full tang, which acts as a strong pommel.
Read More Reviews Of:
Read More Related Posts: