A fully serrated or partially serrated blade can be found on many pocket knives. These serrated edges look like teeth or a saw.
They are used in a similar way to a saw. This type of blade is best for cutting rope, bone, wood, or anything that would need a "saw" motion over a simple plain blade.
The ideal type is a combo edge blade. Here you get the early part of the knife to be like the standard blade and the back of the knife with the serrated edge. It gives you the best of both worlds and increased flexibility.
What Are the Best Serrated Pocket Knives?
---
Best Partially Serrated EDC Knife
---
1. Kershaw Clash Black Serrated Pocket Knife – 1605CKTST
If you're looking for a serrated EDC knife that's compact, safe, durable, easy to use, and all in an affordable package, then you've come to the right place. The Kershaw Clash is the perfect knife for your needs. It has a closed length of 4.25″, an overall length of 7.4″, and a weight of 4.3 oz.
This knife features a 3.1″ long 8Cr13MoV stainless steel blade that is precision heat treated. The blade has a black-oxide coating to increase corrosion resistance and give it a stealthy look. Half of the wide belly comb edge blade has triple point serrations and the rest has a very sharp straight edge and the tip is drop-pointed.
I have cut the rope, packages, letters, wires, zip ties, heavy plastics, cardboard boxes, and more with the multi-tasking blade. With both downward pressure and saw motion, the blade cut through various flexible materials like a hot knife going through butter.
Handle scales are made of glass-filled nylon which is a bit heavy and thick but strong enough. The handle is a bit short but pretty wide. However, due to the texture, grip line, and deep index finger groove, I was able to hold it easily despite my large hands.
With SpeedSafe Assisted, the blade flips open by simply pulling back the built-in flipper. The lack of thumb studs makes the knife more compact to me, but it would have been better to have the feature for deployment. The liner lock system takes its position as soon as the blade is deployed and the lockup is very solid and reliable.
Both the assisted and locking mechanism is secure enough as the knife has never opened accidentally in my pocket or failed me to lock up or had any problems during months of use. Best of all, I can easily open and close the knife with one hand.
The pocket clip is reversible (tip-up/tip-down) and has a slightly wider profile. It holds the knife firmly in the pocket.
Pros
Great multi-use blade came ridiculously sharp straight out of the box
Heat-treated steel holds a good edge and sharpens very shortly
Ergonomically designed handle is comfortable and not slippery
Handle feels solid, sturdy and fits perfectly in my hand
SpeedSafe assisted action is very quick, smooth, and safe
Solid lock-up, no side-to-side wiggle or play when deployed
A strong reversible pocket clip for tip-up or tip-down carry
Lifetime warranty and free sharpening service from Kershaw
Best small pocket knife serrated of all time costs less than $40
Cons
The handle material felt like a cheap plastic
The clip cannot be reversed for lefties
---
2. Smith & Wesson M&P Assisted Opening Tactical Folding Knife – SWMP4LS
If you're looking for an affordable as well as hard-use EDC knife under $50 with a lot of functionality, the Smith and Wesson M&P is a good fit for you. It features useful tools like a glass breaker, both serrated and smooth-edged blades, a safety switch, and an assisted opening mechanism.
The 3.6″ long clip-point blade is crafted from 4034 high carbon stainless steel (HRC: 56-58) and features a combo cutting edge. I was worried about the Teflon coating wearing off, but it has been quite durable. It arrived scary sharp right out of the package.
I used this blade to cut through rope, cord, boxes, cans, tape, cardboard, wood pieces, zip ties, rubber sheets, and trimming plastic parts and the partially serrated blade did it all in a breeze. The HC blade only took me a few minutes to grind to razor sharpness.
The aluminum handle has rubber inlays, jumping, and finger groves that add to the ergonomics in my hand. The handle is quite thick when compared to other flippers, but I found that this added to the stability and good heft of the knife in my hand as I used it. It also weighs more than you might expect, but it gave me the feeling that I was holding a heavy-duty and well-crafted tool.
Using a tab in the back I can easily flick it open with the flip opening. The M.A.G.I.C. assisted mechanism makes it amazingly easy to quickly deploy the knife for use. The tab on the knife itself is there for a more assisted ambidextrous open. It is a more common opening pocket knife with its thumb plate which I have found very easy to use.
The locking mechanism is extremely sturdy, even after thousands of uses. Perfect blade centering and positive lock-up every time. There is absolutely zero wiggle in the blade, and when it is opened, cutting is fluid and I was never worried that the knife might spring closed.
The knife features a convenient safety lock, which you slide over a red pin. Once this is done, the blade stays in an opened or closed position, which was useful when I was putting the blade through some unorthodox positions while cutting.
The pocket clip is snug and won't come loose, but I thought it would be more useful if it offered more than a single, tip-down carry option. It is 8.6″ in overall length and 5.2″ in closed length, and weighs 7.6 oz. Although it feels a little heavier, it's not uncomfortable to carry around in my jeans pocket.
This knife is great for use as a daily carry self-defense tool, and features like the glass-breaker and serrated blade make it perfect on the job site or around the farm. It's a workhorse knife that won't let you down. If you're looking for a tough knife at a great price, this is it.
Pros
HC steel holds up better and will sharpen quickly
The serrations are nice and sharp and triple-point
Cut through materials like a hot knife through butter
Handle is thick, solid, bulky, and indestructible
Handle has plenty of room for XL hand to hold
Fast and smooth spring assist opening
It is easy to open and close with one hand
Safety lock to prevent accidental opening
For the price, this tool is hard to beat
It comes with a limited lifetime warranty
Cons
The single-sided pocket clip
For its size, the knife is quite heavy
Safety lock, thumbrest and toggle are plastic-made
---
3. SOG Escape Tactical Folding Knife FF25-CP
My expectations from SOG are high as it is an award-winning knife producer that has previously impressed me with its exceptional design and superior performance.
SOG Escape FF25-CP, in my opinion, is one of the best all-purpose tactical folding knives. The folding pocket knife is an emergency gear for survival situations.
Its 0.13" thick blade is manufactured of 9Cr18MoV Stainless Steel (HRC 57-58). Due to a Hardcase black finish, the 3.4" blade with partial serrations is wear-resistance and does not glare. I find it easy to puncture with this blade for its clip-point shape.
The knife's handle has a beautiful black finish, and it is produced of anodized aluminum. The well-balanced handle gives me a solid and comfortable grip as it possesses a user-friendly design.
The line cutter of the handle can be used for cutting seat belts, cords, strings, etc. The multi-tasking handle also features an emergency glass breaker, a wire stripper, and another line cutter situated beneath the handle slab.
For filing, notching, and stable thumb placement, the knife provides handle thumb jimping and spine rasp.
The Lockback mechanism of the knife impresses me as I have seen folding knives improve the techniques of deployment to increase safety. It makes one-handed deployment very easy and secure.
I use the fixed pocket clip on the handle both for carrying and as a money clip.
The 4.80 oz portable knife is backed by a limited lifetime warranty.
The overall length of it is 8.2″, and it shrinks down to only 4.8″ when you close it.
Pros
Everyday carry tactical knife features extra emergency tools
The blade is sharp as hell right out of the box
The anodized aluminum handle is durable and feels pretty solid
The handle design is ergonomic and gives a nice grip
Very smooth one-hand opening and closing
A very strong and secure locking mechanism
Reversible, tip-down, low-carry pocket clip
Cons
It was a little hard for me to close in the beginning, but now it's okay
The belt clip is not strong enough
---
4. Spyderco Tenacious – Best Fully Serrated EDC Knife
If you are looking for a good quality full serrated pocket knife that is solid, lightweight, and affordable then this is it. Its open length is 7.77″, closed length is 4.45″ and weight is 4 oz.
This knife has a 3.39″ long 8Cr13MoV stainless steel (HRC: 56-58) blade. The clip point blade is 0.12″ thick and fully flat grounded.
The fully serrated blade is mercilessly sharp right out of the box. With this blade, I can cut rope, cord, cardboard, leather, hard plastic, and other similar things more easily than a plain edge knife.
After two months of continuous use in light and heavy cutting jobs, its sharpness started to decrease a bit which I was able to sharpen again in a very short time – even with a little effort.
I find its handle much more ergonomic than other models of the Tenacious. The handle also guarantees an anti-slip grip on sweaty or wet hands.
This is because scales of injection-molded Fiberglass-Reinforced-Nylon (FRN) have been used to make the handle and where there is a bi-directional texture pattern for the grip which other models do not have.
The blade has an oversized Spyderco's conventional round hole that allows me to open the knife with one hand.
A heavy-duty liner lock mechanism is used in the knife. I didn't face any blade play while using it and the lock seemed secure enough.
The fully serrated folding knife features everyone's favorite four-position pocket clip that can be carried in tip-up/tip-down as well as left/right-handed positions.
Pros
Available in different serrations and colors
Small, lightweight, and perfect for everyday use
Corrosion resistance is great and easy to sharpen
The edge holding capacity of the blade seemed good enough to me
The knife has a fully skeletonized stainless steel liner for strength
A lightweight and sturdy handle provides comfortable non-slip grips
The 4.38″ long handle fits in my hand very well
A single-handed knife that opens quickly and folds easily
Deep carry quad-mounted pocket clip
The knife is fully backed by Spyderco's lifetime warranty
Cons
I really can't think of a single con
---
5. Benchmade – Mini Griptilian 556 EDC Knife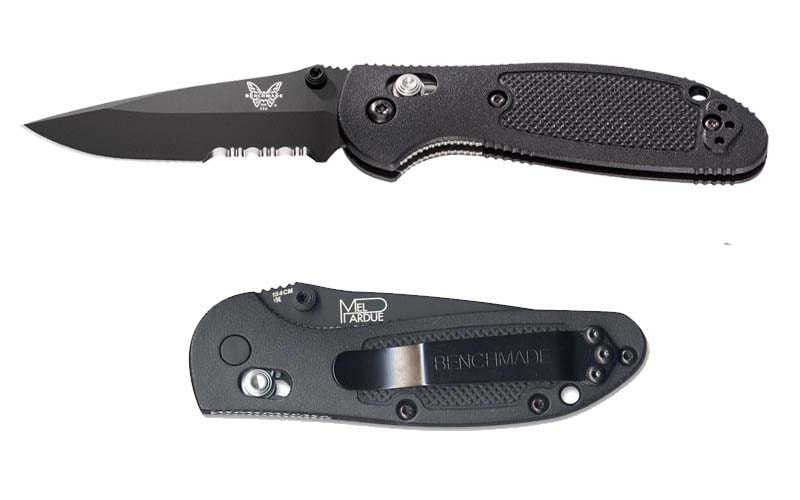 Popular for performance and unparalleled functionality, Benchmade has time and again offered first-grade knives that are ideal for numerous uses, including the Mini Griptilian 556.
This American-made pocket knife under $200 features a CPM-S30V stainless steel blade that offers exceptional resistance against corrosion and high-quality edge retention.
The blade measures around 2.91" long and has a hardness of 58-61 HRC. The bade comes super sharp right out of the box and partially serrated.
Built for absolute versatility and precision, which comes from its accurate drop-point, make and built this mini but a fierce and is a little marvel from Benchmade that has been crafted for rugged, everyday use.
The handle is made using highly durable Grivory. Also, the Benchmade Mini Griptilian scales are molded from glass-filled nylon to increase their durability. The ambidextrous handle offers a textured surface and firm grip, helping the user to hold the knife with a stronger grasp.
Along with these, you can find stainless steel liners, an AXIS locking mechanism, a steel clip, and a lanyard hole on the handle.
The Mini Griptilian 556 comes with a reversible tip-up pocket clip. It measures 3.87″ closed length, 6.78″ overall length, and a weight of 2.81 oz.
Every Benchmade knife offers a Life Sharp Service and lifetime limited warranty so that you can get unmatched service till the time you own this knife.
---
6. Gerber Bear Grylls Serrated Edge Everyday Carry Knife
This compact tactical knife has built up with the collaboration between survival specialist Bear Grylls and Gerber. Its 3.6″ drop point blade is created with High Carbon Stainless Steel and finished with Teflon coating. The combination of these two elements enhances the blade's durability, corrosion, and rust resistance. Because of its higher HRC 57-59 and Carbon ratio, the edge retention of the blade is very good after heavy use. The half-serrated blade is ideal for feathering or chapping sticks, firewood batoning, slicing, and cutting flexible material like webbing, rope, set belt, electric cable, etc.
In the handle, the major structure or orange parts are constructed with TPE Overmold premium quality plastic. The gray color rubber grip area of the handle is made of ergonomic texture. The rubber grip pattern prevents slippage and protects from serious injury as well as ensures maximum comfort when using it in any hard work. This knife is equipped with a lock-back system. The thumb stud on both sides helps easy and quick single-handed deployment. The half-serrated pocket knife under $30 comes with an exceptionally lightweight and durable nylon sheath which is military-grade and mildew resistant.
The knife has a lifetime warranty. The folding knife is a perfect tactical gear for survivalists, hunters, campers, outdoor travelers, law enforcement, military personnel, knife enthusiast, or collector. Its complete length is 8.5″ and the folding length is 4.9″ and the weight is 4.3 oz. The bonus – Bear's "Priorities of Survival" pocket guide.
---
7. SOG Twitch II Folding Knife TWI98-CP
The SOG Twitch 2 Folding Knife TW198-CP has a partially serrated edge with a 2.65-inch AUS-8 Japanese steel blade with a satin coating and drop point outline. The handle has a graphite coating and is made of aluminum which is anodized. The handle is ergonomically contoured so it will fit comfortably in your right or left hand. These knives are designed with intricate construction so they stand out in their class. The lightweight folding knife under $100 weighs only 2.60 ounces and has an overall length of 6.20-inch.
The knife has a pass-through lock peg where the "kick" of the knife blade comes through so you can press on the "kick" to open the knife. Using the SOG-assisted system coil springs of high tension complete the opening and then locks it securely open. On the back of the handle is a pocket clip that doubles as a clip to hold money. Being a smaller knife makes them great for everyday carry.
This SOG folding knife highlights the company's quality construction and sophisticated style. This knife has a dependable serrated cutting edge and a well-balanced body that makes quick work of any task you need a knife for. The owner gets a dependable, sharper knife-edge due to the Cryogenic Heat conducted procedure it goes through. To prevent accidentally opening there is a safety locking mechanism along the spine of the knife. SOG produces this top serrated knife in the USA and offers a limited lifetime warranty.
---
8. Gerber Paraframe II Tanto Point EDC Folding Knife
Since the 1939s, Gerber Company has been producing the world's best outdoor tools and several types of knives, especially for survivalists, hunters, sportsmen, law enforcement officers, and outdoor enthusiasts. If you knew Gerber before now, then you will understand that its gears and knives are made durable and quality enough to stand the test of time. No doubt, the large Paraframe II Pocket Knife will not be less of wonder itself.
Firstly, this knife has a very lightweight (4.30 oz) open-frame construction. So, the knife is easy to open, carry, and clean. The tanto point blade is constructed with sturdy 7Cr17MoV Stainless Steel (58-59 HRC) and covered by black titanium nitride-coated finish. Also, the 3.5-Inch has a partially serrated blade for multiple tasks.
The handle of this best half-serrated folding knife is made of 3Cr13 stainless steel. Its naked and skeletonized structure cut down on the additional weight which is innovative craftsmanship for a large tactical folder knife. Also, the handle is carved out in a way that provides optimum comfort and firmness when you hold your knife.
You will agree with me that this EDC knife is portable enough to be carried around every day and every time. It can easily be added to your pocket clip, with the tip down option and your knife is well kept and safe. It features a dual thumb studs one-handed opening mechanism for easier and faster blade deployment. Also, its folding mechanism is a frame lock type for safety. To assure you of quality, this blade has a lifetime warranty. Also, the knife is available in different blade lengths.
---
9. ​Harnds Military-Grade Double Safety Lock Tactical Folding Knife
Multitasking, military-grade, one-hand deployment, large size, razor-sharp blade, robust handle, double security locking system, suitable price, hard-to-beat all-rounder tactical folding knife – are you looking for this? Then this Harnds Folding Knife is definitely for you.
The blade core of this pocket knife is produced of black 9Cr18MoV Stainless Steel. Due to its higher hardness rating of 58-62, the blade has excellent edge retention and stays razor-sharp after heavy use.
The 4.2″ drop point blade has titanium carbonitride finish that turns it stealthy as well as enhances rust and corrosion resistance. The half-serrated blade is 33 mm (0.15″) thick which means you can use it for cutting hard and flexible materials like limbs or branches, electric cable, webbing, rope, cordage, seat belt, etc.
The G10 handle is textured with a black and red grip pattern. The ergonomic finger grooves ensure solid and comfortable holding even if your hand is wet or muddy or bloody.
The most important and unique feature is its lock back and Liner lock system which assure double safety and guarantee.
It has a steel pocket clip for everyday carry. This folder also comes with a nylon sheath, portable in your bag, or with a belt. The knife features a limited lifetime warranty.
Its weight is 11.3 oz, closed length is 5.4″, and overall length is 9.6″. The EDC knife is highly recommended for hunting, slicing, camping, survival, and fishing.
---
10. Benchmade Bugout 535 – Best Serrated EDC Knife
Here are one of the best combo edge folding knives that offers versatile applications. Benchmade manufactures premium-quality products, and that's evident in this Mini Griptilian.
It has a compact design with a blade length of 3.4″, a closed length of 4.22", and an overall length of 7.46″. This little buddy can serve camp cooking, piercing, slicing, and as a push cutting blade.
Also, the EDC knife under $300 features an American-made CPM-S30V steel blade which is one of the best steels for serrated knives. Such premium quality steel is known for its ultimate edge retention and corrosion resistance.
Its hardness is 58-60 HRC, with a thickness of 0.090" and a drop-point half serrated edge that delivers versatility and strength. Moreover, the blade has a wide belly and comes with a satin finish to minimize scratches and rust.
Its Grivory handle is entirely ambidextrous and constructed from glass-filled nylon to ensure ultimate durability. Moreover, the hand thickness is 0.42" to confirm that you can use it all day long without stress. The ergonomic textured handle also provides sufficient grip in wet or perspired conditions.
The tactical knife comes with an Axis locking system that ensures the safety of the user. Also, it only weighs 1.85 oz as well as allows for easy closing and smooth opening.
It also features a reversible tip-up pocket clip for multiple carrying options. The Benchmade 556 is a unique product manufactured in the USA and backed with a lifetime warranty.
---
Frequently Asked Questions About the Best Serrated Folding Knife (FAQ)
Question: What is a serrated folding knife?
Answer: In general, a serrated folding knife blade has saw-like teeth suitable for cutting thick, tough, and fibrous objects. Also, a serrated pocket knife does not mean that the blade of the EDC knife will always be fully serrated, it can also be a combo or partially serrated blade too.
Question: Are serrated pocket knives good?
Answer: Serrated pocket knives are specially designed for cutting hard, thick, or fibrous materials. Such materials cannot be cut or are extremely difficult to cut by a plain edge blade.
In some cases, a serrated blade can even cut cleaner and more effectively than a plain edge blade, as the serrated edges can catch and grab unto surfaces.
Question: What is the best use for a serrated knife?
Answer: Serrated knives are especially used to cut thick, hard, or flexible materials, such as rope, cord, bone, wood, leather, tree benches, set belt, hard plastic, thick cardboard, etc.
Question: Is a serrated knife better for cutting?
Answer: A serrated knife is practically better for cutting soft, hard, thick, flexible, and fibrous materials.
Question: How do you sharpen a serrated edge knife?
Answer: Many people think that it is very difficult to sharpen this type of blade because of having serrated teeth, but that is not the case at all. You can easily sharpen any serrated blade using the right tools or sharpeners.
I have tried to explain the whole thing very simply in a separate article, you can come and see if you want. Click Here – Best Way to Sharpen a Serrated Knife
Read More Related Posts: