The SOG is an award-winning brand known for its unique design of knives and tools with uncompromising performance among industrial, military, and law enforcement customers.
SOG is also one of the best multi-tool, outdoor gear, and military knife manufacturing companies in the world. They have more than 36 years of knife-producing expertise. All the products manufactured by SOG are very good in quality, reliable, and field-tested.
Best of all, every knife on this top chart has a limited lifetime warranty that protects against defects in workmanship and materials.
What Are the Best SOG Knives?
---
Best SOG Knife
---
1. SOG SEAL Strike Tactical Fixed Blade Knife
When you need a top rated tactical fixed blade knife, I will recommend SOG Knives. This is a great knife for beginner survivalists, campers, or self-defense because it has good durability and reliability straight out of the box without the need to be sharpened, making it excellent for any tactical job.
The knife has an AUS-8 stainless steel blade that is cryogenic heat-treated with a black titanium nitride coating. This gives the blade an extremely resilient edge and makes the knife as a whole very durable.
Out of the box, the edge was extremely sharp, able to cut through twine, paper, kindling, and other non-hardened materials without the need for much sawing. When sawing is required the serrated edge at the base of the blade is perfect for the job.
The blade is 5" long with the bottom ⅓ of the blade being serrated and the other ⅔ being smooth, the serrated edge being comprised of regular saw teeth and jigsaw teeth.
The blade came pre-sharpened which is a nice bonus and throughout all the testing I couldn't detect any dulling or chipping of the edge, nice and resilient without the need to sharpen as often as other knives.
Sharpening the blade is more difficult than some because of the hardened steel that the blade was made with, fortunately, the sheath has a built-in single-stage sharpener to ease the process of renewing the edge.
The knife has a full tang with the handle being made of glass-reinforced nylon held together with stainless steel. The nylon offers great grip and the pommel can be used to break glass in an emergency. The full tang extends out of the end of the handle and can be used for self-defense or for breaking glass and hard plastics.
The knife is well-balanced, the handle is comfortable to hold and easy to grip, this makes the knife feel safe and easy to use because it will not slip out of your hands while sawing. The handle design works best when held in the standard or reverse grips, it is less effective with the overhand, blade-down position. The great grip of the blade makes it safe in all weather conditions and a great choice for any activity.
The sheath comes with a variety of different utilities, it has a small clip to attach to a belt or rucksack. It has a seat belt cutter that uses the knife's blade while it is sheathed, it can be used to cut twine and string as well, and when not in use it has a panel to cover the cutter which is a nice quality of life addition.
It comes with a fire starter rod which is always convenient. The built-in sharpener is a good quality sharpener and is useful to help renew the edge of the blade. The sheath is nice and hard and it is reversible if you're left-handed.
Pros
The blade comes pre-sharpened out of the box ready to use
The blade retains its edge for a long time
The anti-slip handle is easy to grip comfortably
No matter what weather the handle will grip
It has a full tang construction.
The sheath is versatile, equipped with a fire rod, belt cutter, and a decent quality sharpener
Easily usable in a variety of situations
It is a good value knife with a lifetime warranty
Cons
The belt clip on the sheath is not reliable and difficult to position easily
---
2. SOG Escape Tactical Folding Knife – FF25-CP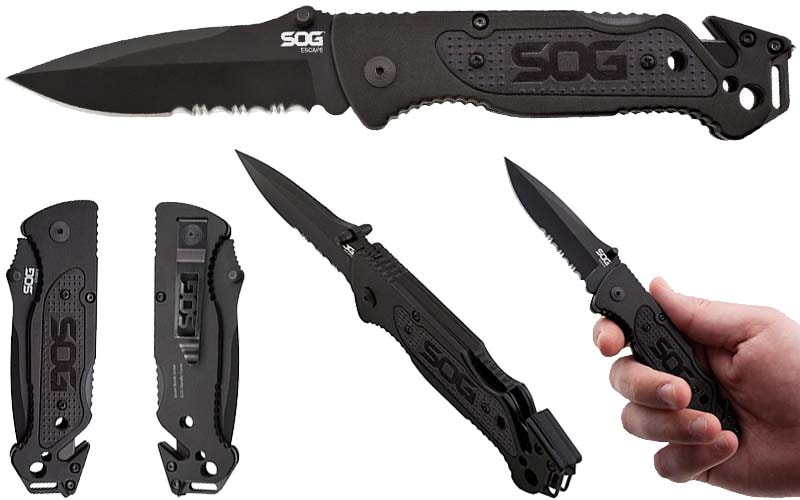 If you're looking for a great tactical folding knife at an affordable price that's full of tools for self-defense as well as everyday use and emergency rescue work, there's nothing better than the SOG Escape FF25-CP. It's a compact knife with an overall length of 8.2″, a closed length of 4.8″, and a weight of only 4.80 oz – all things considered, it's great for everyday carry.
The 3.4" long partially serrated blade of this knife is made of 9Cr18MoV stainless steel (HRC 57-58) with a thickness of 0.13". A durable hardcase black finish is used on the blade. To keep its sharp edge it goes through the cryogenic heat conducted method.
The serrated blade arrived hair-off sharp right out of the box. I tested the multi-purpose blade by cutting tape, plastic, wood, cloth, paracord, electrical wire, set belts, and utility rope, and the blade cut through all materials with ease.
The handle also has a black coating and is made of anodized aluminum. It is well-crafted and ergonomically contoured to fit comfortably in my hand. This knife is designed to sit comfortably in your right or left hand and has a natural feel.
To initiate one hand opening I just press on the "thumb stud" and the blade opens instantly. When I open the knife there is a secure lockback mechanism on the spine of the blade that will keep it open when in use.
On the back of the knife is a fixed pocket clip that is tip-down and can be used as a money clip. The SOG Escape FF25-CP is made in Taiwan. If you know of someone that is a first responder and collects knives this would be the ideal one to add to their collection.
Pros
Strap cutter & window breaker works very well
EDC knife for outdoor, tactical, rescue applications
Factory edge comes shave-sharp and easy to sharpen
Retained its edge after months of light use
Handle is grippy and big enough for large-hands
Escape's lockback is very solid with no play
Deep-carry pocket clip and lanyard hole
Comes with a limited lifetime warranty
Cons
Difficult to open and close with one hand
Clip is not reversible and sturdy
---
3. SOG Seal Pup Elite Tactical Fixed Blade Knife – E37SN-CP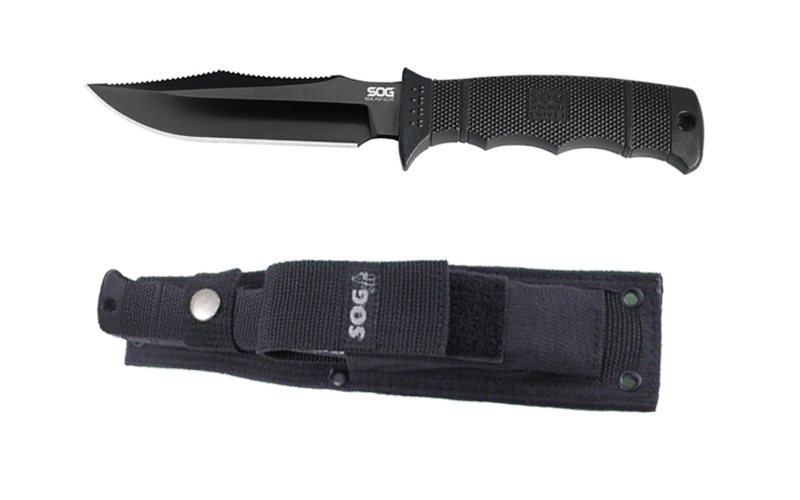 On hiking, tenting, hunting, or survival trips, you must need a compact fixed blade knife that can be used for versatile work. In this case, the SOG E37SN-CP will be your best selection. Due to its remarkable durability, the knife is praised by the maximum number of users.
This knife offers a 4.85″ long AUS-8 stainless steel blade along with an attractive black TiNi finish. The solidity is 57-58, and the thickness is 0.19″ or 4.83 mm. It is a full tang clip point knife, and the overall length is 9.5″. The blade has a heat-treated black coating; that makes it stainless and scratched resist.
The blade shape and super sharp edge make the cutting process very easy. It creates deep cuts! piercings fast and smooth. But the major points are that it's extremely durable in saltwater and lightweight as well as can field sharpen easily.
The Glass-Reinforced Nylon-made handle has dipped finger grooves, thumb placement, and a diamond pattern grip. The well-balanced handle provides flexibility and safety for any difficult task. Like others, the handle has a lanyard hole at the bottom.
This SOG E37SN-CP comes with a nylon sheath and it is also MOLLE computable. Additionally, this sheath has a belt loop with a stainless steel button attachment.
All these features make this knife suitable for law enforcement, marine or military work, industrial customers, tactical or survival use, etc.
Pros
Strong and durable AUS-8 steel blade
Very sharp out of the box, could easily shave arm hair
Blade steel and shape make it easier to re-hone
Full tang with good balance feels great in my hand
Handle feels comfortable, and non-slip even with wet/oily hands
It has a compact size that makes it easy to handle
Durable & MOLLE computable nylon sheath with velcro shutter
Comes with a conditional lifetime warranty
Cons
This model is not made in the USA
Sheath requires attention so you do not tear it
---
4. SOG Assisted Opening Folding Knife – Twitch II TWI8-CP – Aluminum Handle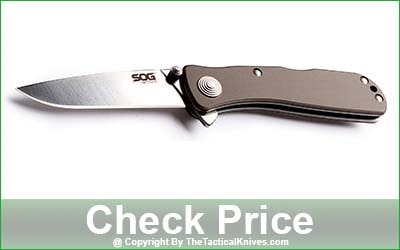 The blade of SOG Twitch II TWI8-CP is made from AUS-8 stainless steel and has a satin coating. The core steel undergoes the cryogenic heat conducting process to ensure that the blade will stay sharp.
This best pocket knife under $50 comes with a straight edge 2.65″ blade with a drop point outline. This makes a fast job of anything you are doing and the blade sharpens easily.
The "kick" of the knife blade sticks through the pass-through lock clincher. When you press on the "kick", it initiates the one-hand opening of the knife. The SOG-assisted loose mechanism finishes the job of opening the knife by using coil springs that are high tension and securely locking the blade open.
When it is opened, the safety mechanism ensures it will not accidentally close. The lockback mechanism is more reliable, easier to access, and stronger than your conventional liner locks.
The handle of this best SOG pocket knife is well crafted, slip-proof, contoured ergonomically, and made from aluminum that is anodized and has a graphite coating.
There is a reversible pocket clip located on the handle's back that can double as a clip to hold money and allows the knife to sit low in your pocket for a discrete carry. This 2.60 oz lightweight knife with a 3.55″ length folded makes it easy to carry.
Pros
I'd call a perfect EDC gentleman's knife
Very sharp out of the box and holds its edge well
Very sturdy handle, comfortable grip, and easy to hold
Open and close action is effortless and one-handed
The lock engages perfectly and has no wiggle
Extremely light, I barely know it's in my pocket
It comes with a limited lifetime warranty by SOG
SOG Twitch II TWI8-CP is made in Taiwan
Cons
Lockback kinda old school style
A small knife only for light chores
---
5. SOG Seal Pup Elite Tactical Fixed Blade Knife – E37T-K
Believe it or not, the E37T-K is my best choice of all of SOG's fixed blade knives. It is designed for law enforcement, used by Navy SEALs or military work, tactical or survival use, industrial customers, etc.
This is a full tang clip point blade with hard cased black TiNi finish. The blade is made of high-quality AUS-8 hardened stainless steel and it is 4.85″ long with 4.83 mm thickness. The tip is very strong, providing a quick and deep puncture, with no bending or breaking even after many heavy uses.
The toughness of steel is greatly increased due to cryogenic heat treatment. The HRC rating of this blade is 57-58 and also can be sharpened quickly. Although, it is not easy to sharpen the partially triple-point serrated edges; it will be much easier if you have a guided knife sharpening system. However, the partially serrated blade maintains excellent edge retention.
The newly designed deeper finger notch black handle is made of durable glass-reinforced nylon. The diamond pattern around the handle will provide you with essential grip while you will be holding it with your sloppy or muddy hand. Also, it has a lanyard hole in the base of the handle which will help you to carry it on both sides of your neck.
At the same time, this E37T-K small bowie knife offers a black color hard Kydex sheath including a belt loop attachment. All these features have made this knife innovative and given it a unique futuristic style that has won numerous users' hart worldwide.
Pros
Mine literally would shave hair right out of the box
AUS-8 steel holds an edge better than most
Great multi-use blade cuts through all materials with ease
The handle is ergonomic, never slips, and fits like a glove
Kydex sheath is durable, lightweight, quality top notch
This knife is definitely well worth the money
The knife has a limited lifetime warranty
Cons
No option for mole attachment except through the sheath hole
---
6. SOG SEAL Pup Fixed Blade Knife – M37N-CP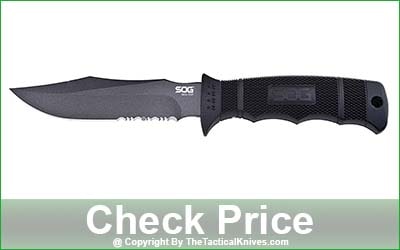 The SOG E37N-CP is recognized world's best affordable tactical knife. Because the knife is very versatile with its amazing features and utility but at a very low price.
This SOG knife comes with a 4.75″ long and 0.19-inch thick blade that is made of medium-grade AUS-8 stainless steel. It has a full tang 9″ knife and a clip-point shape with a powder coating that keeps it safe from salt water. The blade has 57-58 HRC and razor sharpness and you can easily re-sharpen it.
The handle is very special as it is made of injection-molded glass-reinforced nylon, which ensures long time usage. The latest and specially designed longer ergonomic handle has deeper finger grooves and diamond pattern grip lines scored. This kind of handle is very easy to use and gives essential grip/control even with muddy or wet hands.
That is why the SOG E37N-C is a masterpiece for choosing and including regular use of navy or military fighting, hiking, backpacking, self-defense or survival use, campaign, and much more.
Additionally, this SOG knife is available for purchase in either a MOLLE well-matched Kydex or nylon sheath with a Velcro shutter.
Pros
Cryogenically heat-treating steel at the atomic level
The knife came quite sharp out of the box
In a short time, it took a razor edge with little effort
The handle is not slippery and feels solid in my hand
The Molle-compatible nylon sheath is more functional
Don't worry the M37N-CP has a limited lifetime warranty
It is one of the best SOG fixed blade knives under $50
Cons
The handle is a little short for my larger hand
Nylon sheath could have been of better quality
---
7. SOG Tech Bowie Fixed Blade Knife – S10B-K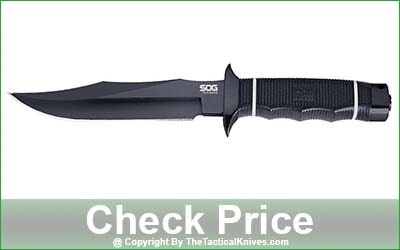 This modern-day Bowie knife is perfect for anyone looking for a reliable fixed-blade knife to use while out in the backcountry, camping, hunting, or survival trip, capable of just about any task needed out there.
The 6.4″ long blade is made from renowned AUS-8 steel (HRC 57-58), perfectly resilient and dependable for most outdoor activities. The TiNi finish is near perfect, corrosion and rust-resistant, it just needs a slight polishing with a gun oil rag or one of that nature.
The blade is hollow-ground and has a slightly curved and narrow spine. The blade has a clip point shape that punctures deeper and pierces quicker than some other, the tip of the blade being as thin as it allows for multiple different functions, it can unscrew flathead screws, it can pry open containers and it won't break due to the extra thick blade.
Straight from the box the blade was incredibly sharp and ready to use. When using it to delimb and carve up some wood the blade performed tremendously demonstrating a full capability for the task at hand. The blade is thick (0.24″) enough to be used for everything from splitting small pieces of wood for a campfire to hammering in pegs.
After completing the testing process (3-5 trips can be completed), it started to dull which proves the edge retention of heat-treated AUS-8 steel is truly unmatched. Resharpening the blade was fairly simple, the blade is not too brittle or hard. A little more difficult to sharpen than some knives but nothing overly strenuous.
The full tang handle is made from black synthetic rubber (Kraton). The handle is very ergonomic as it has a variety of grip patterns and the surface feels slightly sticky and rubberized. The handle is neither small nor big and the finger grooves fit perfectly into my hand. Overall, it won't fall out of your hands unexpectedly and allows the knife to be used with more pressure without worrying about the knife flying away or sliding up to cut your hand.
The overall design of the handle also makes it very trustworthy, slightly thicker grip and steel cross guard make a safe feeling handle. It also has some weight to it making the knife's overall balance better and creating a better feeling strike when hammering with the pommel.
The best part is, the molded kraton is comfortable and is perfect for tons of different holds depending on what you're doing with the knife. The handle has a lanyard hole that is convenient in a number of situations.
The Kydex sheath is a little tight but overall perfectly average. It has a button clasp and belt attachment. The sheath also features a drainage hole that will protect it from water damage and rust but not much else.
The retention clip is also secure enough to hold the knife sideways or in the up-sight-down position without the strap. The knife certainly will not fall out of the sheath once it is in there. I would always recommend using the retention strap though.
If the SOG Tech Bowie isn't available, you can see two knives of the same design. They are of better quality but a bit more expensive. (1) SOG Super Bowie – SB1T-L and (2) SOG Bowie 2.0 – S1T-L
Pros
AUS-8 offers incredible edge retention & wear resistance
Very strong blade that holds a good edge
Strong and lethally sharp tip, great for stabbing
Handle fits comfortably in large hand & well balanced
Obtain a solid grip on the knife in difficult conditions
Feels very ergonomic any way you hold it
The sheath offers excellent carrying flexibility
Medium-sized bowie knife for the rough life
The knife is backed by a limited lifetime warranty
Bit pricey, but I was pleased with the quality
Cons
The blade is not useful for heavy batoning
The sheath is flimsy, it could be better
The belt loop attachment is bulky
---
8. SOG Seal Pup Elite TiNi Knife with Kydex Sheath – E37S-K
This SOG Fixed Blade E37S-K knife is a medium-size best fighting knife. The 4.85-inch razor-sharp blade is made of solid AUS-8 stainless steel. The hardness of the steel is 57-60 which has made the blade perfect for hardworking use. As a result, this knife is suitable for any campaign task. The full tang knife comes with a fixed edge angle. The fixed blade has a clip point with a black TiNi finish. This extra black TiNi coating has made it a stain and saltwater resist blade. The overall length of the knife is 9-inch and the weight is 4.5-ounces. Moreover, this lightweight blade is suitable for carrying and includes everyday use like hiking backpacking, tactical or military fighting, self-defense or survival use, hunting, and much more.
The knife has a glass-reinforced nylon handle which makes it feel better when holding and using the knife. Also, this longer durable black handle provides a sufficient grip for strong holding while used to cut anything. This model offers a black hard Kydex sheath with a belt loop attachment that helps to carry the knife with the user's jacket or hang with his belt. The hard-side Kydex sheath looks cool and is best for long-lasting use. The adventure-seeking person will be not disappointed by this SOG Black TiNi 4.85″ AUS-8 Fixed Blade E37S-K.
---
9. SOG Seal Pup Elite Partial Serrated Fixed Blade Knife – E37TN-CP
SOG's other great Elite production is SOG Black TiNi 4.85″ AUS-8 Partially Serrated Fixed Blade E37TN-CP. It has 4.85 inches long and 0.190 inches solid AUS-8 stainless steel made fixed blade. Also, the partially serrated blade has a clip point form with a black TiNi finish that makes it scratch and stain resistant at all seasons. The tactical knife has a full tang blade and the HRC rating is 57-58. This SOG E37TN-CP knife is an ideal selection for hunting, tactical or survival use, hiking backpacking, and much more. The 9-inch is the overall length of the blade and the weight is 153 grams.
The longer ergonomic handle is made of injection-molded glass-reinforced elements. Like others, this model has a lanyard hole in the bottom of the handle and you can hang it around your neck. The deeper grip grooves and diamond pattern lines of the black handle ensure secure holding and thumb placement opportunities. Because of its finger grooves and grip lines, you can safely use it with a muddy or wet hand. Moreover, you will find a black Kydex and Nylon-made MOLLE well-matched sheath with this best SOG knife. The sheath has a belt loop attachment. The blade is also useful for, marine or military work, law enforcement, industrial customers, etc.
---
10. SOG Twitch II Review – Folding Knife TWI12-CP
This SOG Twitch ll TWI12-CP has Japanese AUS-8 steel, 2.65-inch straight-edge folding blade with a drop point shape. To make sure that the blade retains its sharp edge it goes through the Cryogenic heat conducted mode. For easy opening, you just need to push the "kick" that is sticking out from the pass-through lock bar to initiate the opening of the blade. The Twitch ll Assisted Folding Knife TW112-CP-Black Folding Pocket Knife is made in Taiwan and presents a limited lifetime warranty.
Using the SOG-assisted instrument the knife is fully opened and securely locked in place. This technology will use coiled springs with high tension to accomplish this. To give you a secure grip for accurate, safe positioning the ergonomically contoured handle is crafted from anodized 6061-T6 aluminum with a black coating. On the back of the handle is a pocket or money clip.
Thie tactical knife weighs 2.60-ounces and has a closed length of 3.55-inch so it is very easy to carry. The thickness of this SOG Twitch ll blade is 0.1-inch. The locking mechanisms of the knife are more reliable, easier to access with either hand and stronger than many other liner locks. The knife is well-balanced to give you a natural feel that will inspire confident cuts. It is designed to fit in your right or left hand comfortably.
---
11. Seal Pup Elite Straight Knife with Kydex Sheath – E37-K
The SOG Specialty Knives & Tools Straight Knife E37-K is another excellent creation of this best knife brand. This SOG knife comes with a 4.85-inch super strong AUS-8 stainless steel-made blade. This fixed blade's HRC rating is 57-58 and thickness is 4.83 mm, which ensures razor sharpness for longer use. This full tang blade offers a clip point shape and straight edge which has made this knife extremely suitable for thrusting, cutting, and making a deep hole in any object. The overall length of the blade is only 9.5-inches which ensures easy carrying and handling for the users.
Like the above SOG knives, this model has a rugged and durable Zytel-made handle. The newly designed longer ergonomic handle has a deeper finger notch and grip lines scored. Such a type of hand is very easy to use and makes a balance. This is why the SOG Straight Knife & Tools E37-K is an excellent piece for caring and including everyday use like hunting, hiking backpacking, self-defense or survival use, tactical or military fighting, and much more. Moreover, this SOG SEAL Pup Elite fixed blade has a black hard side Kydex sheath with a belt loop attachment.
---
Frequently Asked Questions About the Best SOG Knife (FAQ)
Question: Is SOG a good brand?
Answer: All things considered, SOG is a really good brand with a reputation for long-lasting quality knives. There have been some issues with their customer service since their takeover by GSM.
However, their products are still absolutely up to the standards that SOG is known for, making them one of the best brands in the knife space.
Question: What does SOG knife stand for?
Answer: SOG knife stands for Studies and Observation Group knife. SOG specialty knives named themselves after the military unit that the original MACV-SOG was made for.
Question: Are SOG knives worth the money?
Answer: SOG knives are considered to be at an incredibly reasonable price point. The knives deliver the military-grade quality SOG is known for even on their knives below $100. Their knives are also very durable so even their pricier range is a long-term investment.
Question: Are SOG knives good quality?
Answer: SOG has got a lot of history and a reputation as a well-crafted knife brand. While the quality they are known for is still absolutely evident in their current lineup, there is some variation in quality based on where knives were manufactured.
Their highest quality knives are currently being manufactured in Japan and to some extent Taiwan whereas their cheaper blades are being made in China.
Question: What steel does SOG use?
Answer: SOG uses different types of steel depending on the knife they are making. For their cheaper knives, they usually use 3Cr13 or something similar. For their more high-quality knives typically steel like AUS-8 or VG-10 is used.
These materials have a higher chromium content and they also have vanadium. Blades made with these materials are stronger and maintain their edge for longer.
Question: Where are SOG knives made?
Answer: Some SOG knives are made in the USA however the majority are manufactured abroad. Their highest quality knives are made in Japan. Their knives made in Taiwan are very close in quality to the Japanese manufacturers however there is some difference in durability.
Their cheapest knives are currently being produced in China, while these knives are the lowest in quality in terms of SOG knives they are still high quality in comparison to other knives on the market.
Question: Do SOG knives have a lifetime warranty?
Answer: Yes SOG knives do have a lifetime warranty however it is only for when there is a quality issue with the knife and not for damage caused by user error.
Question: How to claim a warranty on SOG knives?
Answer: Like sending a knife back for sharpening you will need to get a Return Authorisation number through SOG customer service. You must pay for shipping yourself, as SOG will not accept COD packages.
Your package must include your Return Authorization number, your shipping information, and of course your knife. Once your package has arrived your request will be processed and the product will either be refunded or exchanged based on what you requested.
Question: How to get SOG knife replacement parts?
Answer: For SOG knives you can buy replacement parts from SOG and they will be completely interchangeable.
If the reason you need a replacement is a problem with the quality it will be covered by the warranty if you contact customer service.
If the knife was damaged by the use you will have to pay.
Clip replacements are free although you do have to pay for shipping.
Question: How can I send back my SOG knife for sharpening?
Answer: To return a knife for sharpening you must contact SOG customer service at 877-269-8490. You need to tell them the quantity and type of knives you are returning in addition to your credit card info for shipping.
Then they will give you your Return Authorization number. This number and your return shipping information must be included in the package that you send to SOG along with your knife. The sharpening is free however you will pay $10 for shipping.
Question: How to return a SOG knife for repair?
Answer: If your SOG knife breaks you can purchase replacement parts or receive replacement clips for free. If the knife has not been abused you can do a warranty exchange however SOG does not perform knife repairs only knife sharpening.
Question: Did the US Army use SOG?
Answer: The original MACV-SOG Fighter knives came about during the Vietnam War. They were unmarked knives used by special operatives in the US military.
However, in terms of SOG the company, which was inspired by the SOG knives from the Vietnam War, their involvement in the US Army began with the creation of the SOG SEAL 2000 and subsequently the SEAL pup.
These knives were made specifically for Navy SEALs. After intense and thorough testing they were named the official knife of the US Navy SEALs.
Question: What made the Marine SOG knife such a great tool?
Answer: The SOG SEAL 2000 and the SEAL Team Elite knives are impeccable due to the grueling testing they endured to be approved by the US army for use in the Navy. It is resistant to saltwater, as well as gasoline and acetylene torches, and has very low reflectivity.
In terms of the actual blade strength, it underwent different types of tests including actual field experience. It had to be able to cut 6 types of rope and handle combat, all while still maintaining its edge and sharpness.
This made it a fantastic tool for all situations especially while at sea.
Question: Does the Marine Corps still issue SOG knives?
Answer: While the Marine Corps no longer issues SOG knives they are still widely used by both Marines and SEALs, as there is some level of personal choice in terms of the knives they carry. SOG's SOG SEAL Team Elite knives are widely considered to be some of the best knives for naval use.
Question: Is the SOG overrated as a combat knife?
Answer: SOG is absolutely not overrated as a combat knife. Their roots being in creating replicas such as the MACV-SOG knife gave them a reputation very early on for high-quality knives. Many agree that the knives continue to be high caliber and deserving of their space in the combat knives market.
Their knives are still preferred by many SEALs and other members of the military for their durability and intuitive design, particularly their SEAL Team Elite line and Ops line are both considered very good combat knives.
Question: Is SOG a good fighting knife?
Answer: As their roots are in military replicas SOG has released quite a few knives that are fantastic for fighting for instance their SEAL Pup Elite. They are fixed-blade knives with two cutting edges one straight edge and the other serrated.
That serrated edge is what makes it great for fighting situations in addition to its ergonomic handle which is designed to be held in numerous ways and allows you to shift your grip while fighting.
Question: Is SOG a military knife?
Answer: SOG is absolutely a military knife that has always been an important part of its image. They started the company by making military replicas and gained their reputation through their partnership with the US Navy.
Today they are still considered very innovative in the military knife space and widely preferred by many different members of the military.
Question: Are SOG good survival knives?
Answer: SOG knives are a favorite amongst survival experts for their durability and versatility. SOG also offers a wide variety of knives, which gives survivalists the options they need to find the best knife for the situations they are in.
SOG SEAL Team Elite knives are great for survival situations because they are good in pretty much any situation you put them in. They are resistant to seawater, their ergonomic handle design makes it almost impossible to lose your grip, not to mention they are super sharp.
Question: Is a SOG a good hunting knife?
Answer: While SOG is famous for its tactical knives it also has a wide range of knives incredibly well designed for hunting. One such knife is their Kiku SR LTE this knife is a perfect demonstration of SOG's hunting knives.
Its blade is made out of XHP steel, which is incredibly strong and maintains a sharp edge, a very important quality when hunting. It also manages to be extremely lightweight while still being strong enough for skinning.
Question: Is the SOG good for self-defense?
SOG knives are very versatile. They are designed to be able to withstand a multitude of situations, which makes them perfect for unpredictable situations such as defending yourself.
They are durable blades that have multiple cutting capabilities and ergonomic handles that give you plenty of grip strength this gives you a lot of flexibility in terms of defending yourself with them.
Question: How to close a SOG knife?
Answer: For folding knives such as the Aegis or Trident, you need to pull the button on the Arc-Actuator and then use both hands to pull the blade back within the handle.
In terms of knives like the Twitch instead of a button on the Arc Actuator, there is a lock bar you must push on to close the blade. Once closed be sure to put on the safety simply by pushing the safety button into the locked position. The button should show green if locked properly.
Question: How to attach SOG knife to battle belt?
Answer: SOG knives all come with Kydex sheaths with a clip on the back, meaning they can easily be clipped onto battle belts. Its design is ambidextrous allowing you to choose where on the belt you place it without sacrificing function.
Question: How to attach SOG knife to molle?
Answer: There are two ways to attach the Kydex sheaths on SOG knives to the molle. You can either secure it using the clip on the back of the sheath, or you can use the eyelets along the edge of the sheath to lash it onto the molle using paracord.
You can adjust the retention of SOG's Kydex sheath meaning that you can mount it in whatever direction you want without worrying that it will fall out.
Question: What is a good sharpening stone for SOG knife?
Answer: There are plenty of sharpening stones on the market. Some of the best would be the water stones from Japan such as Naniwa Whetstones; many professionals use them, including in the sharpening of SOG knives.
There has also been an increase in the popularity of Diamond sharpening stones such as the DMT stones. They do not need to be re-flattened and are much faster at sharpening.
Question: At what angle do you sharpen a SOG knife?
Answer: For SOG's pocket knives, it is typically recommended to sharpen them at a 20-degree angle. As a general rule for most SOG knives, 17-20 degrees should get your knife nice and sharp, once you've tried an angle in that range you can adjust to your preference.
Question: What are the major differences among these SOG Seal Pup Elite Knives?
Answer: You might see that all the elite knives look the same but there are lots of differences among these best fixed blade knives. The major differences are blade structure and length, handle component, sheath and its material, country of origin, and weight.
If you really want to know what the main distinguishes among these tactical knives then you have to read carefully all the Top SOG Seal Pup Elite reviews and features.
Question: How should you store a SOG knife?
Answer: SOG knives should always be cleaned before storing, use water and a gentle soap to clean them, and remember to rub them clean do not soak them in water, once clean dry thoroughly.
You should also oil your knife especially if you plan on storing it long-term. This will protect against corrosion.
When storing your knives it is recommended that you use a cardboard sheath instead of one made with nylon or leather. These materials trap moisture, causing knives to oxidize faster whereas cardboard wicks moisture.
---
Final Verdict
When you purchase the Best SOG knife, you can get a serrated or straight blade. There is a model to suit everyone's personal preferences. SOG Specialty Knives, Inc. is famous for its reproduction of the SOG Knife from the Vietnam era. This top pocket knife brand was founded in 1986 and is located in Lynnwood, Washington. Here are all the SOG pocket knives that have a lifetime limited warranty against any defects in materials and craftsmanship.
Each knife is created with the help of chief engineer and company founder Spencer Frazier. All of his creations have a unique futuristic style and highlight dependability and innovation. Those that love these knives are military, industrial, and law enforcement customers. This versatile folding knife would make a great gift they will be sure to enjoy.
---
Read More Reviews Of