You May Like: Best Fixed Blade Camping Knife Under $200
---
Best Tactical Camping Knife
---
1. Gerber StrongArm Tactical Fixed Blade Camping Knife
The Gerber StrongArm is a full-tang fixed blade knife that stays true to the roots of traditional combat-style camping knives. The knife is manufactured in Gerber's Portland, Oregon factory and offers a lifetime warranty. Measurement: overall length 9.8″ and weighing 7.9 oz.
The 4.8″ drop point blade of this knife is formed of 420 high carbon stainless steel (HRC: 58-60) and finished with a non-reflective black ceramic coating. The extra chromium that blends with the 420HC steel increases the blade's strength, durability, and corrosion resistance.
The 0.19″ thick blade has a plain edge that is ideal for cutting versatile objects like electric wires, rope, branches as well as chopping or batoning firewood. Also, 420HC steel is very good in easy field re-sharpening and edge holding ability.
Ergonomically designed 5″ handle is made of Glass-Filled Nylon. The rubberized diamond texture handle provides a very secure anti-slip grip in all circumstances including mud, snow, marine, and freshwater.
The handle also features a pointed striking pommel. It can be applied to break through solid surfaces during rescue activities or emergency situations. The pommel also has a lanyard hole.
Gerber StrongArm comes with a revolutionary multi-mounted Thermo-Plastic sheath. The innovative modular strap-together system helps to carry the knife in many ways – from vertically on a MOLLE mount to drop-leg style to horizontal carry with a 1.75″ belt.
Check out its partially serrated version: Gerber StrongArm Serrated Edge Fixed Blade Knife
Pros
The knife is strong enough for heavy camping work
The knife is very handy, neither too small nor too big
The blade is thick and came out of the box razor sharp
Easy to re-sharpen in the field and edge retention is relatively good
The full-tang handle is well-balanced and fits my XL hand like a glove
The rubberized handle is comfortable as well as vibration and slip resistant
The sheath has the most versatile retentional design I've seen
An awesome USA product available at a relatively low price
Cons
Many people don't like the pointed pommel
The knife is really good, I didn't find any other significant problems
---
2. Kershaw Blur Blackwash Tactical Folding Camping Knife – 1670BW
The Kershaw is one of the most trusted tactical pocket knife manufacturing companies in the world. All the knives produced by this brand have some extraordinary features. All the blade that comes from Kershaw are made of superior quality material and also tested to ensure proficiency and long-lasting durability. The Kershaw Blur Blackwash – 1670BW is also one of them. This model is proudly made in the USA.
The blade is made of high-quality 14C28N Sandvik stainless steel that goes through the cryogenic heat treatment process to keep your knife blade sharp for a long time. The blade is 3.4″ long and when adding in the length of the handle the total length is 7.875″ and a closed length of 3.4″. The blade has a thickness of 0.12″.
The ergonomically contoured, well size handle is made of 6061-T6 aluminum that is anodized with a graphite coating. The handle has Trac-Tec inserts that are extremely textured scales to give you a secure grip.
Opening a pocket knife with one hand is made easy with this knife, just press on the ambidextrous "thumb studs". Once it has started to open the SpeedSafe advanced technology uses coiled springs of high tension to finish opening it.
After it opens, a safety liner lock mechanism locks it into the open position. To close the blade you will have to unlock the mechanism. It will be locked into place so the knife cannot accidentally open while carrying it in your pocket.
Pros
One of the best tactical spring assisted knives from the company
The high-performing blade is precisely Nitrogen treated
Outstanding hardness, sharpness, and corrosion resistance
Excellent edge retention; once sharpened, does not dull easily
The blade is protected by durable and long-lasting Cerakote coating
Anodized aluminum handle for durability and solid feeling
Trac-Tec inserts for a non-slip grip in mud, soggy, snow, or marine conditions
Trusted SpeedSafe assisted opening with a secure locking system
A heavy-use pocket knife that weighs just 3.9oz
Kershaw Blur comes with a limited lifetime warranty
The folding knife is proudly manufactured in the USA
Cons
Re-sharpening is a bit difficult and takes some time
---
3. Ka-Bar Becker BK2 Campanion USA Made Fixed Blade Knife for Camping
If you need an indestructible fixed blade knife, then you must choose Ka-Bar Becker BK2. Its 5.25″ drop point blade is made out of the toughest 1095 Cro-Van Stainless Steel (56-58 HRC) which is 0.25″ thick. Black Epoxy Powder Coat protects the blade from scratches, stains & rust. The 20-degree edge angle provides tactical benefits for stabbing in deep penetrated on the hard element. The knife is 10.5″ long and full tang – ideal for survival, camping trip, skinning game, cutting branches, and chopping or batoning wood in any harsh environment.
Its 5.25″ ergonomic handle is produced by high-density plastic Grivory (Glass-Fiber-Filled Nylon). The extended part of the tang, the heavy pommel, can be applied for crushing things or hammering. Also, the large finger guards always keep your hand in the right position as well as protect your finger from touching the sharp blade when your hand is wet or gets perspired. The Ka-Bar Becker BK2 is made in Olean, New York, and designed by Ethan Becker.
The knife comes with a Glass-Filled hardshell black Nylon sheath. Sometimes it comes with a Kydex sheath too. The sheath has a belt loop for secure and pleasant carrying. The knife tucked into the sheath solidly with a click sound. The sound confirms that it will not fall down or lose when you will be running or moving fast with it. Of course, it has a lanyard hole and limited lifetime warranty and weighs 15 oz.
---
4. Zero Tolerance Tiger-Stripe Camping Pocket Knife – 0350TS
The Tiger Striped 0350 is one of the most popular folding knife models in the market that is manufactured by the famous American brand Zero Tolerance Knives. The full length of the knife is 7.75″, the folded position is 4.625″ and the weight is 6.2oz.
The 3.25″ long blade is made of premium quality S30V stainless steel (57-59 HRC) and is protected by Tiger-Stripe Tungsten coating. S30V steel blade has much higher wear and corrosion resistance than other blades. In addition, the edge of the blade can be sharpened in a short time, which will not be easily dull even in long use.
Laminate composite G-10 scales and stainless steel liners are used to make the ergonomic handle. The G-10 handle is durable, very light, and temperature changes do not affect it.
The handle has a texture-like check pattern and about an inch of thumb jumping, and a curved shape with deep finger choil – all these features will provide you a firm pinch grip even if your hands get wet or perspire at work.
The most important thing is that the knife has an ambidextrous SpeedSafe assisted opening system which allows you to deploy the blade very fast with any one of your hands.
Not only this but with the help of the flipper or thumb studs you can easily open the blade while wearing any tactical gloves.
It has a liner locking mechanism to use the knife safely when open. The system is highly secure and strong enough; there is no chance of sudden closing or any blade play during use.
The knife has a quad mount carrying clip which facilitates transportation in right or left hand and tip-down or tip-up style.
Pros
Ultra-premium S30V steel blade for heavy-duty use
Non-reflective camouflage blade coating
A solid and thick G-10 handle fits perfectly in your hands
Due to the SpeedSafe mechanism, the blade flies out super fast
The knife can be opened and closed with one hand
Thick and convincing stainless steel liner locking system
Multiple carrying options through the 4-position pocket clip
ZT Tiger Stripe 0350 is proudly made in the USA
Limited lifetime warranty by Zero Tolerance
Cons
Slightly bulky (6.2oz) but a reliable EDC knife
---
5. ESEE 6P-B USA Made Fixed Blade Knife for Camping
Since 1997, the ESEE (Training and Randall's Adventure Company) has been producing and selling their knives continuously. With more than 20 years of workmanship, the ESEE knives are famous for their top-quality product. Most of their knives are specifically designed for law enforcement, military, and special combat unit. The ESEE 6P-B is one of them and is proudly made in the USA. Surprisingly the knife comes with an unconditional (No Questions Asked) lifetime warranty.
The knife has a plain 20 degrees cutting-edge fixed blade. The drop point blade is made of 1095 High Carbon Steel and protected by durable black powder coating. Moreover, for increasing thumb grip the full tang blade has jimping on the spine. The razor-sharp blade is 1.56″ wide and 4.77 mm thick with 57-58 Rockwell hardness scales. All these features have made it a perfect all-purpose cutting tool for survival, camping, batoning, and thrusting to penetrate any hard object to create a dip hole. The extended part of the tang can be used as a hammer and has a lanyard hole.
The handle is constructed of sustainable material Grey Micarta. The Micarta was manufactured from the soaking tiers of linen canvas/cloth in resin after that compressing all of those under pressure and heat. Due to the curve shape and Micarta scales of the handle, you will get a solid grip and strength in your hand. High-quality black Molded Polymer Sheath has various carry options. The screws of the sheath are made of stainless steel. This MOLLE well-matched sheath has several lashing holes, those can be used for wrapping 550 paracords around it and attached paracord to make a belt loop, pommel lanyard, or used as a leg strap. The blade length of this knife is 6.50″, overall 11.75″, and weighs only 12 ounces.
---
6. SOG Flare Tactical Folding Knife – FLA1001-CP
If you need the affordable tactical camping knife on the market, make the SOG Flare your selection today. It is an easy knife to carry as it only weighs 3.1 oz with an overall folded blade length of 4. 5″. It would make an ideal commemorative gift for anyone working in a warehouse, construction site, or job site.
The blade is made of 8Cr13MoV stainless steel with a 3.5″ straight edge and a clip-point structure. Having a razor-sharp blade that is very thick and a dependable cutting edge, this pocket knife can make quick work of any job. SOG Flare is great for hunting, camping, fishing, hiking, and everyday uses.
The tactical knife has a lot of grip patterns and SOG images on the handle scales. The ergonomically contoured handle is made of lightweight glass-reinforced nylon that is anodized and has a lanyard hole. The handle is grippy, pretty wide, and long which makes it easy to hold with big hands.
To make opening the knife quick and easy there is a SOG assisted mechanism that uses coil springs with high tension. To open the knife all you do is press on the ambidextrous thumb studs with your forefinger or thumb.
The blade locks securely in place to ensure it doesn't close off suddenly during use. A safety piston locking mechanism will keep your knife securely closed when not in use.
On the handle back is a pocket clip that can also be used for right or left-handed carry and keeps the knife, tip-up.
Pros
A versatile EDC knife cost less than $30
Shave my hair-off sharp right out of the box
Non-slip plastic handle lightweight yet strong
Fast and easily I can open and close with either hand
Once deployed is firmly locked no blade play at all
Can get deep in the pocket for low-profile carrying
Cons
The plastic handle feels a little cheap
The SOG Flare pocket knife is made in China
---
7. Gerber Gear Ultimate Tactical Survival Knife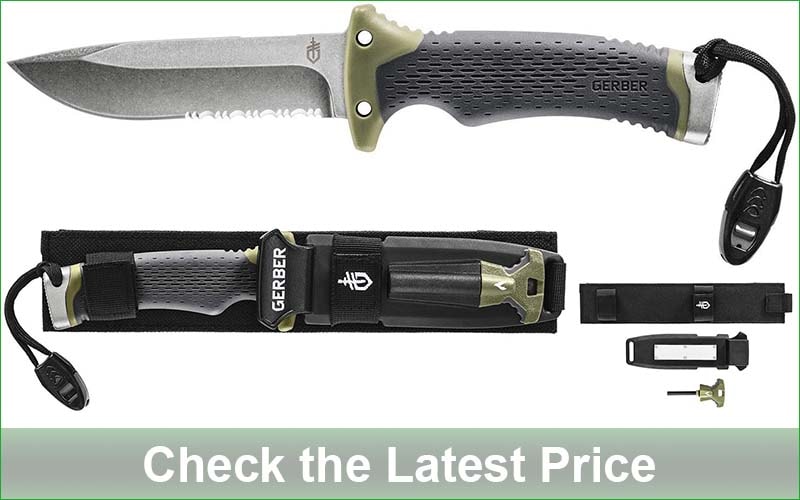 The Gerber Ultimate is a top-rated tactical camping knife recommended for everyone. With its partially serrated fixed blade, it can serve every camping and survival needs of users. Also, this brand ensures ease of use with the overall 10″ length and 4.75″ blade length, which can fit into different backpacks.
The blade is made with 7Cr17MoV high-carbon stainless steel and has a drop point shape. Gerber designed this knife with a serrated edge to make sure it can deliver optimal cutting ability.
One thing we love about this Gerber knife is the premium quality handle. The handle is constructed with ergonomic textured rubber which makes it comfortable, and non-slip and provides a perfect fit in your hand for a confident grip.
The 10.9 oz weight of this Gerber Ultimate is sheathed in a premium quality ballistic nylon material to ensure maximum safety for the user. Also, it's among the brand of knives manufactured in the USA and supported by a lifetime warranty. This tactical knife is not a common type but a legendary item to own.
---
8. Ontario Rat I Folding Camping Knife – ON8848-BRK
On this list, the Ontario Rat-1 is the best hard-use folding knife for camping and is able to cut through nearly everything you fall on it. Its opening length is 8.5″, closed length is 4.5″ and weight is 5 oz.
The Rat-1 has a 3.6″ long drop point blade made of AUS-8 stainless steel (55-56 HRC). The AUS-8 steel blade is famous for its strength, high edge retention as well as easy and quick re-sharpening.
The ‍scalpel-sharp blade has a plain edge style and a full flat grind shape is great for slicing and other utility chores.
Also, the heavy-duty folding knife handle has stainless steel liners and scales of textured nylon that give me a secure grip. The 5-inch long handle makes it comfortable to hold even if your hand is large.
The knife has a spine jimping which allows for excellent control and an ergonomic shape choil that protects your fingers from the sharp edge. As a tactical folder, the handle works pretty well in both reverse and forward grips.
Furthermore, Rat-1 features a strong liner locking mechanism, so the knife is safe for any hard use. It also allows for a swift and easy one-hand opening, all thanks to its big thumb studs.
The EDC knife has a pocket clip of a 4-way (tip-up, tip-down, left/right-handed) position for carrying, as well as a lanyard hole option too.
Pros
Available in multiple colors, blade lengths, shapes, serrations
Came shaving sharp from the factory and retains its edge well
The handle material offers great grip and feel
Easy one-handed operation for both opening and closing
Locking strength is solid and no blade play
Sturdy carry clip that is adjustable in 4 positions
Its open-backed design for easy maintenance and cleaning
A limited lifetime warranty on this pocket knife
There aren't many heavy-duty pocket knives at this price point
Cons
Not a deep carry pocket clip
It would have been better if the weight was a little less
---
9. SOG Bowie 2.0 Tactical Fixed Blade Camping Knife – S1T-L
The SOG S1T-L full tang knife is an upgrade to the original SOG bowie. The 6.4″ long blade features a clip point that is able to penetrate deep. High-grade AUS-8 steel (HRC: 57-58) is used as the core material of the blade and the black TiNi finish keeps it unaffected by rust. The straight-edge blade is very thick and sharp and it can be used for feathering sticks, splitting wood, chopping branches, and light batoning.
This knife has an ergonomically contoured leather handle. The leather handle is enough long without the guard which makes it ideal for large hands as it has an excellent comfortable grip. The solid guard and hard pommel give the knife an artsy look. It is quite well-balanced and gives ease while handling the big knife.
A black leather sheath holds the 11″ knife safely while you are walking or running with it. It has a belt loop for easy attachment to a belt and the snap closure feature helps to easily fit the knife inside. A leather pouch is sewn on the sheath that carries the sharpening stone that is provided with the set. You will get a limited lifetime warranty with this 11.2 oz knife.
---
10. Benchmade Barrage Tanto Tactical Folding Camping Knife
Benchmade is known for making some of the best pocket knives in the industry, by incorporating traditional and contemporary manufacturing into their knives – including their Barrage. This 4.51 oz weighing Benchmade Barrage measures 8.35″ in open length and 4.75″ in closed length.
The 0.121″ thick blade of this knife is crafted in premium quality 154CM stainless steel which makes this blade incredibly tough (58-61 HRC) and wear-resistant. The 3.6″ long blade comes with a black Cerakote coating and has a stealthy look. Also, Benchmade thoughtfully integrated a fierce-looking tanto tip to the blade and a partially serrated edge.
The handle is made of black Valox scales and stainless steel liners which are anti-slip and provide a really strong grip. Moreover, the ergonomic structure of the handle allows the user to have a rather comfortable grip.
The tactical knife comes with the strongest assisted mechanisms that enable easy single-handed deployment for both righties and lefties. The action is very smooth and quick, just a slight flick or push of my finger on the thumb stud opens the blade.
Another plus point of it is its AXIS Locking Mechanism which ensures the folding knife is properly locked in its position. In terms of safety for both opened and closed positions, the AXIS Locking Mechanism is definitely the winner.
The good folks of Benchmade also made sure to include a reversible left/right-hand pocket clip – which has good retention but is not too tight. The pocket clip is tip-up and can be used to safely hold the knife to the user's belt or pocket.
The folding knife under $300 is made in the USA and comes with a lifetime warranty – to help you keep your knife in the best possible condition.
Pros
The blade is fairly thick and scalpel sharp out of the box
Holds its edge very well before needing resharpening
Fearful tip geometry and is great for stabbing
The very sturdy handle fits my hand comfortably
Fast, secure, and smooth assisted operation
Easy one-hand opening and closing
Solid lockup with double-locking and no side-to-side movement
A pocket-friendly, reversible, tip-up pocket clip
Rock solid lifetime warranty and sharpening services
Cons
Handle material feels like a cheap plastic
The knife doesn't have a lanyard hole
Maybe a bit pricey
---
How to Choose the Best Tactical Camping Knife
While specificity was the guiding factor when choosing a hunting knife, versatility is the goal when choosing a tactical camping knife. A camping knife is not a bushcraft or hunting knife. However, the right tactical camping knife can accomplish a wide array of tasks. The camping tactical knife should aid you in cooking, cleaning small games or small components of the larger game, and building and maintaining a fire.
Fixed Blade Knife or Folding Knife
Similar to choosing a good tactical knife, choosing a good tactical camping knife starts with the same question; fixed blade or folding knife?
Since you are looking for a tactical camping knife and not a survival knife, you do not need a knife that can fell a tree or one with a handle designed to store "the survival essentials." However, you will need a knife that is sharp and durable. You will need a knife that allows you to trim a branch for kindling and clean a fish. Based on these requirements, unless you have several knives with you, we may feel steered toward fixed blade knives. This is only an illusion.
Folding knives can accomplish all the tasks of a good tactical fixed blade camping knife with the added benefit of collapsibility. The locking mechanism for such a knife is a paramount choice. The last thing you want is for the knife to collapse when you did not want it to. If you plan to do a lot of cutting, slicing game or splitting limbs for a fire, you will find that a fixed blade knife is a superior choice.
With no moving parts, the amount of buildup the fixed blade knife accumulates will not affect the performance or use of the knife. The folding knife, however, may suffer failure – in the locking mechanism- if extreme care is not taken to ensure no buildup negatively affects the knife's performance. Once you have selected a fixed blade or folding knife, the next choice will be size.
Measurement of Your Best Tactical Camping Knife
A good tactical camping knife needs to be easy to wield. Carrying a giant Rambo styles knife will only impede you and possibly result in you injuring yourself. Likewise, a small blade will also prove fruitless. A tactical camping knife needs to be a lightweight, durable, medium-sized blade. Most importantly, your tactical camping knife, whether a fixed blade or a folding knife, must be rigid and durable. Rigidity and durability mean the knife will not chip, crack, or easily rust.
Choosing a carbon steel will provide more durability but leaves the knife susceptible to rusting. Selecting a stainless steel will prevent rusting, with no additional work, but limits the knife's flexibility. If you opt for a stainless steel knife, choose a grade of 440 or higher. Adding a serrated edge can increase the versatility of the knife, but unless you are cutting bread or ripping and breaking bones, this option may prove useless in a camping knife.
While you do not want the knife to be so heavy you get tired holding it; the weight is less important than the length. As mentioned earlier, the length of the knife must be appropriate to the tasks. Choosing a tactical camping knife with an overall length of eight to ten inches provides an excellent length to weight ratio. The blade geometry will directly contribute to this ratio and the overall weight.
Blade Design of Your Tactical Camping Knife
Likewise, the blade shape will play a large factor in the knife's weight. Most tactical camping knives will be a drop point or a variant of a drop point. If you chose to deviate from a drop point, to a gut hook or a clip point, it is imperative you understand what you are sacrificing and what you are gaining.
A drop point gives you a strong blade tip and a wide 'belly' for cutting and slicing. The tip is not as sharp as the clip point, but unlike the gut hook, it has a functional tip. Since the tip is not as sharp, the knife is more durable, much like the gut hook. The gut hook also has an excellent 'belly' for slicing and cutting. The durability of the drop point knives means that if you keep them sharp, they can easily slice game and small timber.
Here we can accomplish several of the tasks we want from a tactical camping knife, cooking, preparing and maintaining a fire, and cleaning small game or small pieces of the larger game. If you plan to do a lot of prying you will want a stronger tip like you to find with a drop point. Likewise, if you plan to rip through a lot of small bones, you may want to add a serrated edge to the blade.
The Handle Structure of the Tactical Camping Knife
As with any knife, the handle must be suitable for the tasks. Wooden handles often provide an old-world feel and add to the overall beauty of the knife. However, a wooden handle can be damaged by water and subsequently fail, resulting in an injury. Taking care of the knife and cleaning it regularly can prevent this from occurring. Maintaining a grip trumps the desire to have an attractive knife.
If a wooden handle fits your hand and provides grip, the only deterrent to having a wooden handle tactical camping knife is your ability to maintain the knife. Other options such as bone and plastic exist too. Like a wooden handle, a bone or plastic handle must fit in your hand well and allow you to grip the knife in all circumstances.
The Sheath
If you choose a folding knife, you will not need a sheath. However, if you pick a tactical fixed blade camping knife – which is most likely a better choice for your needs – you will need a sheath. Many knives come with a sheath so selection may be as simple as color, material, or both. Since you are not hunting, choose a sheath that fits well is durable; a stands out in case you drop it in the woods.
A tactical camping knife should make camping easier. You should have a durable knife that is easy to hold on to and when cleaning game and preparing a fire.
Read More Reviews Of:
Read More Related Posts: