The comparison between Benchmade Mini Griptilian vs Mini Barrage folding knives is a topic of great interest among knife enthusiasts. Both models, known for their exceptional quality and functionality, offer unique features and designs.
Although these two knives are made by the same company and look somewhat similar, they are two completely different series of models and made of different materials.
There are a lot of key differences that must be considered when choosing between them. In this post, I will deeply analyze their differences and similarities to help you make an informed decision.
Benchmade Mini Barrage 585 EDC Knife – 585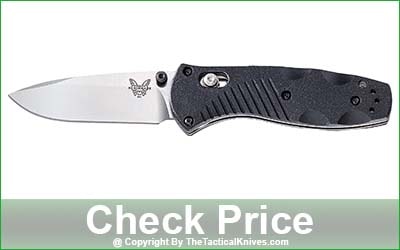 Benchmade Mini Griptilian 556 EDC Knife – BKC556-S30V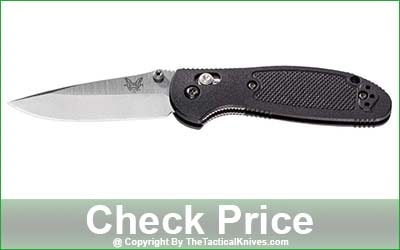 What Is the Difference Between Mini Griptilian and Mini Barrage?
From their design and features to their performance and overall value, discover which knife is the perfect fit for your needs. Here I will try to explain the differences between these two knives in six main categories-
Blade
Handle
Opening and Locking
Pocket Clip
Measurement
Price
1. Blade Comparison
Without the knife's blade, the knife can't fulfill its function. Since this makes the blade a hugely important part of the knife, it must be looked at in order to see which blade is better suited for one's needs.
Blade Steel
The Mini Barrage is made of 154CM stainless steel, while the Mini Griptilian uses S30V steel. Both steels are used in many different types of knives, showing that they are good quality alloys and are able to withstand the wear and tear that comes with knife use. Both alloys contain carbon, chromium, vanadium, and molybdenum, although at different percentages, and the 154CM steel also contains manganese, silicon, phosphorus, sulfur, and tungsten.
Blade Stain and Corrosion Resistance
In general, both steels are good at resisting corrosion, although it is important to note that all metals will eventually start to rust. Both alloys have the same amount of chromium, which plays an important role in corrosion resistance. Based on this, it is safe to say that both blades will remain stainless for most, if not all, of their lifetime.
Blade Shape
The Mini Barrage is made with a drop point blade, with either a straight or partially serrated edge. The drop point is a common blade shape for knives, showing that it is practical and versatile. The drop point of the Mini Barrage is a smooth and slight slope. For the Mini Griptilian, it also has a drop point blade that can be smooth or half-serrated. Its slope is a lot steeper compared to the Mini Barrage, giving it a slightly more unique shape.
I have recommended some of the best serrated pocket knives based on my experience after using them, you can check them out if you are interested. With these serrated tactical knives, you can cut many things that are very difficult or in many cases impossible to cut with a plain-edge blade.
Blade Sharpness
Both knives come pre-sharpened when they are bought. The Benchmade Mini Griptilian and Mini Barrage are both able to easily cut through rope and cardboard, as well as other tough materials. Some people say that they have been able to use the knives to shave their hair with ease. Both of these use cases showcase the knives' sharpness.
Blade Strength
Since the S30V steel blade of the Mini Griptilian is slightly higher on the hardness scale than the 154CM steel of the Mini Barrage, the Mini Griptilian's blade is slightly stronger. Both knives do have the strength to cut through tough objects without breaking, but the Mini Griptilian is slightly better. Some reviews also state that the Mini Barrage does occasionally have some issues cutting through thick objects.
Blade Cutting Performance
Benchmade suggests that the Mini Barrage is an everyday and outdoor and tactical use knife, while the Mini Griptilian is for utility, everyday, and outdoor use knife. For those who want to get a little heavier multitasking out of their tactical pocket knife, they would probably prefer the Mini Barrage based on Benchmade's as well as my recommendations, but both knives are very versatile, making them a great tool for most situations.
Blade Edge Retention
On the Mini Barrage, the blade has about 58-61 HRC. In comparison, the Mini Griptilian has about 58-60 HRC. A higher rating on the Rockwell Hardness scale corresponds to a better ability to retain a sharp edge. Since both of these have a similar rating, they both have good edge retention. Based on my experience, it seems that the Mini Griptilian is slightly better than the Mini Barrage, though.
Blade Sharpening
They are both made by Benchmade, which offers a free lifetime warranty for sharpening. This means that the knife would be able to be sent back to be professionally sharpened. Manual sharpening is also an option, in which case the 154CM steel of the Mini Barrage is easier to sharpen than the S30V steel of the Mini Griptilian.
2. Handle Comparison
Without a good handle, it is difficult, if not impossible, to actually make use of a knife. The comfort of the knife is also largely dependent on the handle, which again shows the importance of considering the handle when buying a knife.
Handle Material
The Benchmade Mini Barrage and Mini Griptilian handles are made of Valox and nylon, respectively. Valox is a type of reinforced resin, so it's a material made of a polymer. Both Valox and nylon are considered to be light, durable, and damage-resistant, but they both have a plastic feel to them.
The Valox is considered to be smoother and the scale is of hollow plastic design, but it is strong enough, on the other hand, the nylon scale is solid, but both materials make a good knife handle.
Again both knives have stainless steel liners so there is no difference here either.
Handle Color
Both handles come in black color and the black color is preferred by most of the users. On Benchmade's website, both knives are only available with a black handle. However, both knife handles are available in other colors such as desert, blue, orange, and multicolor on Amazon and some other e-commerce websites.
If I talk about adding customized scales then Mini Griptilian will be ahead in terms of versatility and availability. You can check out the best Mini Griptilian scales reviewed based on my experience.
Handle Design
The handles on both the Mini Barrage vs Mini Griptilian are designed to be symmetrical, allowing ambidextrous use. Both handles are flared near the blade. The Mini Barrage feels a little sleeker than the Mini Griptilian, but the Mini Griptilian is quite heavily textured, which allows for more grip. Both handles do have a slight curve to them, emulating the natural curve of the palm.
Handle Grip
Both handles are considered to have good grip, although the Valox handle of the Mini Barrage is a little more slippery. The handles of both knives have some texture on them. The texture on the Mini Barrage is less prominent. On the other hand, the Mini Griptilian has a distinct texture along with jimping almost the whole handle.
Handle Ergonomics
The Mini Barrage's handle features a couple of divots along the top and bottom, which are intended for the user's fingers. This feature is actually not ideal, since it doesn't allow the user to lock their fingers together properly, resulting in more strain. The Mini Griptilian doesn't have divots. Both handles do increase in size near the middle, which allows for the hand to lay more naturally and comfortably.
Handle Comfortness
The handles of these knives are lightweight and comfortable, because of their size, design, and high-quality material. They fit in a person's hand well, allowing for comfort when using the knife. However, the handle of the Mini Barrage is slightly longer, so it offers a bit more convenience for those with big hands.
3. Opening and Locking Mechanism Comparison
When using a knife, it's important to be able to trust its locking system so that you know you won't accidentally get injured. Opening systems can be assisted or manual; depending on the individual's preference, the opening system could make a big difference between which knife to buy.
Opening Mechanism
While the Mini Barrage has an assisted opening system, the Mini Griptilian opens manually. The Mini Barrage has an extra spring in its mechanism that allows the blade to snap into place after it's initially released by a thumb stud. For the Mini Griptilian, the user has to manually move the blade into its open position.
Locking Mechanism
Both knives have a version of the AXIS Lock; the difference is that the Mini Barrage has the AXIS assist, which allows for an assisted opening. The AXIS lock which is one of the best locking mechanisms has been used by Benchmade for a long time, showing that it is reliable. Once the blade is in place, it doesn't move around and can be trusted to stay in its position.
Hand
While a lot of knives are only made for one hand, usually the right hand, in the case of Mini Barrage or Mini Griptilian, both knives are ambidextrous because of their symmetrical design. This allows both left-handed and right-handed people to use them. Both knives can also be opened and closed with one hand, although it might take some practice at first.
Action Smoothness
For both knives, the locking mechanism is smooth and locks without any problems. The assisted opening of the Mini Barrage is also smooth, with the blade springing out easily and quickly.
Reliability
Since the AXIS Lock has been used for quite some time, it can be assumed that it is a reliable locking system. The AXIS Assist is also generally well-loved and is reliable with both the locking as well as the opening systems.
4. Measurement Comparison
Different individuals will have different preferences when it comes to knife size; some might prefer to carry a larger knife, while others prefer a more discreet and smaller one. This makes the measurements an important criteria to consider.
Blade Length
The Benchmade Mini Griptilian or Mini Barrage knives have the same blade thickness of 0.100″. Although both knives have the same length of the blade (2.91″), the Mini Barrage has a wider bevel than the Mini Griptilian, making it a great slicer.
Closed Length
Looking at the closed length of a knife is important to see whether it will fit in your pocket in the way you want. Once again, the Mini Barrage is larger than the Mini Griptilian; the Mini Barrage's closed length is 4″ and the Mini Griptilian's closed length is 3.87″. This makes the difference between the two about 0.13″ (0.34cm).
Overall Length
The overall length, or open length, of these two knives, is quite similar, with a difference of only 0.13″. The overall length of the Mini Barrage is 6.91″ and the overall length of the Mini Griptilian is 6.78.
Knife Weight
While both of these knives are pretty small, they are considered "lightweight" knives. They are pretty close in weight; the Mini Barrage is only 0.6oz heavier than the Mini Griptilian. The Mini Barrage weighs 3.40oz (122.19g) and the Mini Griptilian weighs 2.81oz (110.00g).
5. Pocket Clip Comparison
Both of these knives have the same type of pocket clip. Their pocket clip is a standard one, allowing the knife to securely stay in a pocket. Because it is a standard one, the knives might be slightly visible at the top of the pocket.
Comparing the clip position of Mini Barrage vs Mini Griptilian, the clip's position is the same in both cases; it is positioned for a tip-up carry and is reversible. Once again, the position of the clip does come down to personal preference, but for these two knives, they would both have to be carried tip up.
6. Price Comparison
According to Benchmade's website, the Mini Barrage pocket knife costs around $200, and the Mini Griptilian EDC knife costs about $150, meaning that there is about a $50 difference. Obviously, prices do fluctuate and they can differ on different platforms. In general, though, the Mini Griptilian folding knife will be about $50 cheaper than the Mini Barrage, but in both cases, the knives are high-quality, so the prices are understandable.
Check the latest price of these two knives
Benchmade Mini Barrage 585 EDC Knife
Benchmade Mini Griptilian 556 EDC Knife
Benchmade Mini Barrage or Mini Griptilian – Which One to Choose and Why?
Both the Mini Barrage and Mini Griptilian are high quality knives and would be worth adding to one's collection. These criteria (the blade design, handle grip, opening mechanism, and price) are where these two knives differ the most, so they have to be considered when choosing between them.
If you want a reliable spring assisted tactical knife that is one of the high-end pocket knives yet compact enough that you can carry and use every day then the Mini Barrage is best for you.
Personally, I would go with the Mini Griptilian because of a couple of factors like compactness, lighter weight, smaller size, affordability, simplicity, and ease to use and carry. While I do like the handle design of the Mini Barrage more, after testing ergonomics and grip, I think that the Mini Griptilian offers more in both of these categories.
It is slightly smaller than the Mini Barrage as well, which for me is preferable. As well, I would personally prefer the manual opening of the Mini Griptilian. The price is quite a big difference and if someone's on a budget, they would definitely prefer the Mini Griptilian.
Read More Reviews Of:
Read More Related Posts: