The Tiger Striped is one of the best ZT knives made by this brand. It is equipped with a plain edge blade that ensures high performance for versatile tactical use. The S30V stainless steel core 0.121-inch thick blade is coated with tungsten DLC that has enhanced the blade's hardness as well as made it resist corrosion. The diamond pattern G-10 handle ensures a good grip against the hard elements and higher longevity. Most importantly, this best EDC tactical knife is designed with a SpeedSafe manual to assist which is why the blade deploys fast with a light jolt and folds in place safely.
Important Features and Specifications
The blade length is 3.25-inch, the thickness is 0.185-inch, closed length 4.625 inches, and overall length 7.75 inches
The blade core is made of S30V Stainless Steel with Tungsten DLC coating
Plain edge, the non-serrated blade is finished with tiger stripe, weight 5.6 ounces
Textured matte durable black G-10 handle ensures easier usage and secures grip
The tactical blade is prepared with a SpeedSafe manual and reversible pocket clip
That makes it easy and safe one-handed open and carrying with different kinds of wardrobe
The blade has a liner lock for safely close in place
Upgraded knife lighter than primary model and 10 % smaller, made in the USA
Zero Tolerance ZT0350TS comes with a limited lifetime warranty
The Blade Type of Zero Tolerance ZT0350TS
The 3.25-inch drop point non-serrated blade comes with a plain edge and is designed with S30V tiger-striped non-reflective finish. One hand quick opening and closing blade, even wearing gloves by using the ambidextrous, large thumb stud or using blade protrusion. This Zero Tolerance ZT0350TS versatile blade is made in the USA.
Check out its half serrated folding knife version: Zero Tolerance Tiger Stripe 0350TSST
Blade Construction Material
There are lots of metals that have been used for making the knife's blade. But some of the metals are highly durable and capable of tolerating extreme use. S30V stainless steel is one of them. To produce such kind of element needs a high-quality carbon counterpart and a sintering method that binds particles closer, thereby the blade becomes weather protected, also sharpens easier, keeps razor sharp for a long time despite the heavy use as well as enhances the blade's ability to slash thick materials.
The blade core component of this Zero Tolerance ZT0350TS knife is made of S30V stainless steel. Such kind of steel is mostly used for producing a high-quality knives. The tungsten DLC coating (Diamond-Like Carbon) protects the blade from surface rubbing and reduces reflective glare which is quite essential for hunting purposes, tactical use, and survival situation. The blade is 3.25″ long and 0.185″ thick. The blade weight and dimensions are qualified by Everyday Carry Knife (EDC).
You Might Also Like Some Other Reviews
The Handle and Its Material
It's very important as the performance of a folding knife depends on its handle structure and holding grip. The Zero Tolerance ZT0350TS Knife comes with high quality textured matte durable black G-10 handle. The 4.625″ long and approximately 0.5″ thick handle has a diamond pattern grip liner that ensures easier usage and secures holding. Additionally, the grip-able handle provides comfort feeling in the hand.
Usually, the G10 laminated elements are typically used in electronic procedures since they soak little if it becomes moisture. Moreover, civil engineers also used it for structural support. All these qualities have made this textured matte black G-10 handle extremely durable and long-lasting. The handle has a lanyard hole at the base the handle and a pocket clip.
Secure Opening and Locking System
While you are searching for a safe folding knife, then you must consider about "SpeedSafe" feature. As a folding blade, there should be a security mechanism for safely opening and locking the blade. The Zero Tolerance ZT0350TS G10 Handle Folding Tiger Striped Blade has a SpeedSafe manual assist mechanism that allows deploying and locking the blade with one hand.
When we apply any pressure on the thumb stud, it releases the torsion pin that holds the blade in its folder location. While it opened, a plumb lock bar called a leaf spring or liner lock secures the blade tightly in the right place at the tang. This locking system provides all the strengths like a fixed blade to every folding knife.
Reversible Pocket Clip
This Zero Tolerance 0350 Knife has a reversible pocket clip that makes this premium quality tactical knife easy to carry in the pocket or your belt. It contains a quad mounting method for tip-down or tip-up as well as right or left-handed clip carry.
The Usefulness of Zero Tolerance ZT0350TS Knife
Always you should select a versatile, useful tactical folding knife. In this case, Zero Tolerance ZT0350TS G10 Handle Folding Tiger Striped Blade would be your best choice. The razor-sharp blade is capable of cutting off any thickness of rope and different kinds of hard materials like- plastic, paper box, making feathering sticks, or such things. Additionally, you can use it for cooking, try to open any rusted small ornamental box, use it for cutting any plastic cable, and much more. Its lightweight and streamlined design make the knife easy to carry in any style of wardrobe.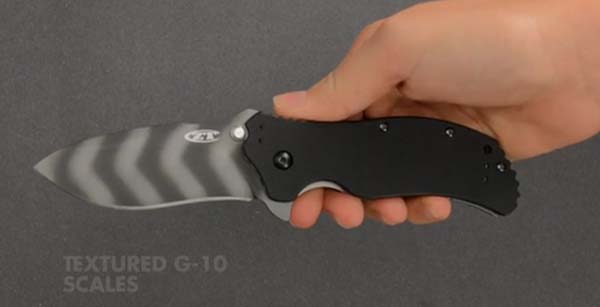 However, the tactical knife uses are not bound around the household utility work; this Zero Tolerance Knife is a highly effective tool for outdoor purposes. The 7.75-inch knife with a 3.25-inch razor-sharp blade is expedient in outdoor hunting, skinning, gut fish, yard work, camping, and tactical use. Even if you need it for survival use, against any animal or human, the high-ground razor-sharp blade just needs one dip blow on its body. Most of all, in different cases, the durability and hardness of this knife have made it a more useful tool.
Warranty
Above all, the Zero Tolerance ZT0350TS G10 Handle Folding Tiger Striped Blade has a limited lifetime manufacturer's warranty against quality and defects in materials.
Pros
The S30V stainless steel made 3.25-inch plain edge blade
The blade is easy to sharpen and holds sharpness despite the heavy use
The S30V stainless steel and tungsten DLC coating has made it weather protected
Extreme quality G10 handle with comfortable holding and grip
SpeedSafe assisted opening with a flipper
Made in the USA
Cons
Some users have received tight deployment SpeedSafe knife
Frequently Asked Questions (FAQ)
Question-1: What will be the best sharpener for this knife?
Answer: The blade comes with razor sharpness from the factory. The regular sharpener is not sufficient for this blade. While you need to sharpen it just send it to the ZT, and they will sharpen the blade free.
Question-2: The handle has some rough scales around it. Does it rip my pockets?
Answer: No, the scales are beautiful in texture. No one ever finds such a problem. But they will give you a good grip for proper holding.
Question-3: I just want to know about the safe SpeedSafe system?
Answer: The SpeedSafe is a locking mechanism that helps to open and close the folding knife safely. There is no doubt about safety while a tactical folding knife is equipped with SpeedSafe. This best combat knife also includes a secure SpeedSafe as well.
Question-4: What is the actual weight and dimension of this knife?
Answer: The Zero Tolerance ZT0350TS Knife has a 3.25″ long, 0.185″ thick blade, closed length of 4.625″, an overall length of 7.75″, and weight of 5.6 ounces.
Question-5: Does the blade has any recurve?
Answer: Yes, the 3.25-inch blade has a small recurve on the cutting edge near the midpoint.
Question-6: Does the knife have any finger nub on the reverse?
Answer: Yes, it has, when folded.
Final Verdict
100% Quality construction component, excellent design, easy to use, and carry – these entire useful features have made this Zero Tolerance ZT0350TS one of the best folding knives under $200 category. The price is a little bit high but reasonable for its great superiority. Lightweight with small size and stealthy features, weather protection, substantial strength, and durability will full fill your all desired expectation in any situation. The ZT brand always uses superior quality material to produce the Zero Tolerance 0350 knife series. All the ZT knives are made in America.
Read More Reviews Of: