If you are an outdoor enthusiast and looking for a heftier survival knife then KA-BAR BK-10 would be your best choice. The famous knife designer Ethan Becker was the first to design the Becker Crewman models.
The Becker Knife & Tool Company was established in the early 1960s. At that time, originally their purpose was to design, manufacture and sell industrial quality survival and tactical knives.
The KA-BAR BK-10 Becker Crewman is an advanced version of the original knife launched many years ago.
Important Features and Specifications
The knife has a 0.20″ thick straight edge clip point blade
The blade length is 5.50″, the handle length is 5.4″ and the full length is 10.875″
The blade is made of premium quality 1095 Cro-Van stainless steel (HRC rating 56-58)
The blade has a black Epoxy Powder coating
The handle scales are crafted from Zytel
The heavy-duty knife weights 12.20 oz
It comes with a polyester sheath
The knife is made in the USA
The Blade of Ka-bar BK-10 Becker Crewman Fixed Blade Survival Knife
The best KA BAR Becker knife comes with a 5.5″ long full tang blade. It has a clip point, with the tip low enough to make the profile of the blade fairly symmetrical, so some people might be forgiven for calling it a spear point. The length and weight of the blade create a good counter-balance with the 5.4″ handle.
High-quality 1095 Cro-van stainless steel (56-58 HRC) has a good reputation for giving strength and sharpness for a long time. A non-reflective black Epoxy Powder finish also protects the blade from rust, stain, and scratches.
The 0.20″ thickness, full tang design, and 20-degree edge angle of the blade provide additional leverage for cutting thick branches, chopping, or batoning wood on any survival or camping trip.
You May Also Like
The Handle of Ka-bar BK-10 Becker Crewman Fixed Blade Knife
Most survival experts prefer a handle that has good grip, balance, and finger protection, and is able to withstand any kind of harsh situation. From this view, KA-BAR BK-10 Becker Knife has a 5.4″ long black Zytel handle which ensures good durability, balance, and a nice grip.
Although the handle has no texture or grip pattern, the shape of the curl will always keep your hand in the same position even if your hand gets wet or sweaty at work. The curl also ensures the protection of your fingers when cutting tree parts or batoning wood.
When working for a survival campaign you may need to do various cutting tasks when this type of durable handle will help you to do your task more effortlessly. The extended part of the tang is the pommel which can be used for emergency hammering. The handle has a lanyard hole for ease of carrying the knife.
Becker BK-10 Sheath
As a fixed blade survival knife, it always needs a high-quality sheath for essential security when caring. The KA-BAR BK-10 also comes with a heavy-duty polyester sheath. The sheath also features a snap and multiple holes that give you the option of different attachments.
The long-lasting sheath includes a front pocket that offers the user to carry some small parts in it. With this good-looking sheath, the knife brings a special outlook to its overall features.
The Usefulness of KA-BAR BK-10 Becker Crewman Survival Knife
If you are surfing the internet for one of the best fixed blade knives, KA-BAR BK-10 will be your ideal option that is able to meet all your needs.
Sometimes when you need to build a safe shelter in a remote jungle you definitely need some bamboo or small trees for your structure and this knife helps you to do those tasks effortlessly.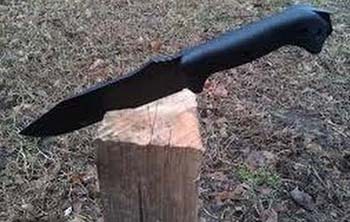 This tactical knife can help in collecting wood, hunting, preparing food, making tools, and even protecting oneself in the event of a disaster.
This knife is perfect for bushcraft fans who are sure that whenever they go out in the wild, their knife is ready to take many misuses.
Pros
Solid construction and materials
Premium quality stainless steel blade
Flat grind has a reputation for ease of sharpening
The knife is proudly made in the USA
The Thumb ramp provides additional grip and control
Cons
Some user is not satisfied with the polyester sheath
Epoxy Powder coating seems to wear fast
Frequently Asked Questions (FAQ)

Question-1: Is this a bowie knife?
Answer: No, it is not. Its big brother BK-9 is an original bowie knife.
Question-2: What is the cutting edge angle of the blade?
Answer: 20 Degree.
Question-3: Does the knife has an end cap?
Answer: No, the extended part of the tang looks like an end cap and you can use it as a hammer.
Question-4: What is the original length of the blade?
Answer: The clip-point-shaped blade has a length of 5.5″.
Question-5: Where is the KA-BAR BK-10 Becker Crewman manufactured?
Answer: The KA-BAR BK-10 Knife is designed and manufactured in the USA.
Question-6: Is this BK-10 has a drop-point and a finger groove like BK-2?
Answer: No, this one with a clip-point shape and no finger grooves on the handle.
Question-7: How about its spine as shown in the picture?
Answer: The BK-10 blade has a 5mm or 0.196″ thick flat spine.
Question-8: What are the blade material and material origin of the Becker BK-10 knife?
Answer: Becker BK-10's blade material is 1095 Cro-van high-performing stainless steel and the core alloy's origin is the USA. There is no doubt about the originality of the knife.
Question-9: Is the 1095 Cro-Van steel stable enough for woodworking?
Answer: Not only the steel is suitable but also the blade design is perfect for woodworking.
Question-10: Can I have a leather sheath with this BK-10 Tactical Knife?
Answer: Sorry, this one comes with a heavy-duty polyester sheath included a front pocket, I guess you like this.
Question-11: Why would you buy a KA-BAR BK-10 for the ultimate survival trip?
Answer: The heavy-duty blade, comfortable handle, and polyester sheath – all have made the blade one of the great gear for extreme survivalists.
Final Verdict
After reading the overall review of this KA-BAR BK-10 Becker Crewman knife, you probably understand how the knife is suitable for survival and outdoor use.
Also for any abuse or heavy-duty task, this legendary Ka-Bar Becker BK-10 Crewman Fixed Blade Survival Knife can be suitable and best performing in the field.
If you are searching for a knife for survival, tactical, camping, or bushcraft then this one can be your trusted companion.