When selecting the best military pocket knife, you want to ensure the best quality to assist you with all tactical needs. Spyderco has the best military tactical knives to ensure you are ready for any job. The most popular knives from this section are the Spyderco Military Knife and the Spyderco Paramilitary 2 Knife. Both knives are known for their excellent capability and durability throughout any job. Yet, the knives also have their unique features.
Spyderco Military Signature Folding Knife – C36GPDBL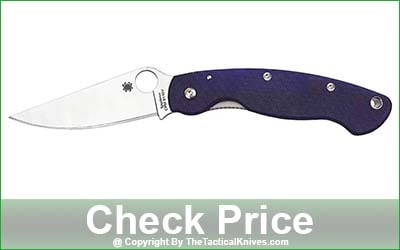 Spyderco Para Military 2 Signature Folding Knife – C81GPBK2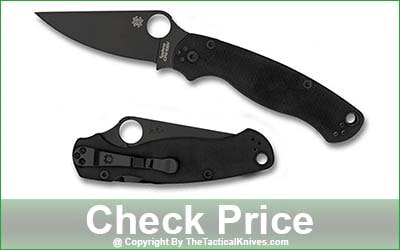 What Is the Difference Between Spyderco Military vs Paramilitary 2?
Although the two knives look almost similar to the naked eye, there are many differences between them. As these differences are found in their features and due to those features, special variations are also observed in practical usages. I am trying to explain the differences between the two knives mainly by the following features.
Blade
Handle
Opening and Locking
Pocket Clip
Measurement
Price
Blade Comparison
Blade Steel
The Spyderco Military blade is made out of CPM S110V steel and the Spyderco paramilitary 2 knife is made of CPM S45VN steel. The CPM S110V steel contain about 2.9% carbon, 15.1% chromium, 9.2% vanadium, 23% molybdenum, 2.95% niobium, and 2.6% cobalt. Likewise, the CPM S45VN alloys contain about 1.45% carbon, 14.1% chromium, 2.95% vanadium, 2.1% molybdenum, and 0.6% niobium. Both are high-quality stainless steels and very good for making blades but overall S45VN is slightly better and premium quality than S110V.
Blade Stain and Corrosion Resistance
Chromium plays the most important role in the blade's stain and corrosion resistance. Therefore, their resistance can be understood by the amount of chromium in the two steels. S110V contains about 15.1% chromium and S45VN contains about 14.1% chromium. In this case, it is clear that the amount of chromium in both the steels is almost equal, there is only one percent difference between them. In addition, both steels contain high amounts of chromium. So, since both steels fall under the category of stainless steel, their stain and corrosion resistance can be said to be quite good.
Blade Shape
A noticeable difference between the blades is their format. The Military has a longer leaf shape with a full flat grind. In contrast, the Paramilitary 2 blade is designed with a shorter leaf shape with a high flat grind. Although the shape of the Paramilitary 2's blade is almost the same as the Military one, the shape of the Military blade is more suitable for outdoor work and the compactness of the Paramilitary blade can advance the everyday cutting ability.
Blade Sharpness
Out of the box these blades have razor-sharp edges. However, as the hardness of S110V is higher, its sharpness is slightly higher than that of S45VN. Although, when I test them through field use, this difference is barely noticeable.
Blade Strength
The hardness of S110V is high and its strength is also high, but this type of blade is prone to chipping due to heavy use, stress, bending, or hard impact on the edge. On the other hand, S45VN has balanced stiffness and adapts itself through flexibility to overstressing, making it less likely to chip/break under adverse conditions even if the strength is low.
Blade Cutting Performance
The Military blade is made longer and created with more resistance. This longer blade is also made to be used for heavy-duty combat and more strenuous jobs. The Military is more reliable for quick cutting or slicing jobs due to its thinner blade. The thinner blade allows the user to slice cleanly through other materials without being caught on anything. Also, the tip is narrow and long enough for deep penetration, but any kind of abuse of the tip can easily break it.
The Paramilitary 2 blade is made to be a more wide-range tool. It is much broader and smaller than the Military blade, allowing it to be used for various heavy-duty tasks. The design of the blade is perfect for quick maneuverability and all-purpose use. Its tip is stronger than the Military and can penetrate much tougher objects with confidence.
Overall there is not much difference in cutting performance between the two knives. I've tested both knives for a variety of cutting tasks like rope, paracord, cardboard, opening packages, stripping wire, zip-ties, feathering sticks, puncturing wood/plastic boxes, skinning game, and none of them let me down.
Blade Edge Retention
Steel particles like vanadium and niobium, cobalt are highly alloyed with strong S110V steel which plays a major role in retaining the edge of the blade. That's why the Spyderco Military blade doesn't need to be sharpened as often and its edge retention lasts longer. Spyderco Paramilitary 2's S45VN has fewer steel particles that increase hardness and sharpness and because of this feature, it has less edge retention. So Paramilitary 2 blade may need to be sharpened more frequently.
Blade Sharpening
I have sharpened both the Spyderco Military and Paramilitary 2 blades. Speaking from experience, it took me about the same amount of time to sharpen both blades. However, due to the high hardness of the Spyderco Military blade, those with less experience or newbies may take a little longer to sharpen it. The Spyderco paramilitary 2 blade is slightly more flexible than the military blade which makes it easier to sharpen.
Handle Comparison
All About Spyderco Military's Handle: Regarding knives, the handle is just as important as the blade itself. The handle determines how comfortable and secure your grip on the knife will be and whether the knife will suit your intended use. The military knife boasts a handle of 5.5″ and is crafted with a G-10 composite material known for its incredible strength, feather-light weight, and exceptional comfort. The texture on the handle ensures a non-slip hold in the dampest weather conditions. The military handle does not only provide a secure grip, but it's also expertly crafted to fit perfectly in your hand. This allows the user to work with the knife for hours on end without experiencing any discomfort.
All About Spyderco Paramilitary 2's Handle: On the other hand, the Spyderco Paramilitary 2 Knife features a handle measured at 4.84″. The handle is made of G-10 material and steel liners. The handle has a similar texture to the Military's, but it is flatter and less shaped. This material also makes the knife easy to use and ensures a secure grip to handle it without any hassle. The only adverse effect of the Paramilitary 2 is the handle is smaller, so you will have less to grip. Some users with larger hands may find the Paramilitary 2 more challenging because they have less to hold.
The handles of these knives are more than just functional. You are also able to customize the handle to your desire. Whether you're looking for a sleek black design or something more colorful, the handles can come in any color. You can even tailor the knife's design to your preferences to feel like the blade is a part of you. This concept is a game changer when you need a knife created for yourself, your family, your friends, and more.
Opening and Locking Comparison
All About Spyderco Military's Opening and Locking: The opening mechanisms of the blades are different due to their locking components. The Military incorporates a liner lock mechanism into their knives, allowing users to open the blade with just one hand. This nifty invention works by inserting a sturdy piece of steel between the blade tang and lock attachment point, creating a secure wedge that keeps the blade firmly in place. It's a simple yet effective mechanism that provides a secure lockup for your knife.
All About Spyderco Paramilitary 2's Opening and Locking: In comparison, the Paramilitary 2 uses a compression lock system that can be seen as an updated liner lock. The Compression Lock uses a short piece of steel to wedge between the rear tang and a stop pin. It works similarly to the Axis or Ball Bearing lock, but instead of a bar or ball bearing with a spring, it uses a little piece of metal that looks like a liner lock. Unlike the Liner Lock, which might lose its grip over time, the Compression Lock is engineered to cling tightly to the tang as it wears, ensuring a consistently tight lock every time you use it.
The Spyderco Paramilitary 2 has an advantage over the Spyderco Military due to its compression lock. This locking mechanism is a cut above the rest and is considered one of the best. It provides secure safety while also being extremely convenient. That's why it's the perfect choice for those carrying a knife daily or for tactical purposes. The compression lock lets you feel confident that your knife will stay securely in place until needed. Thanks to its robust system, the compression lock featured in the Paramilitary 2 is the epitome of reliability. On the other hand, if you prioritize convenience, the military lock comes close without the security most people want.
Pocket Clip Comparison
All About Spyderco Military's Pocket Clip: The Spyderco Military is a tactical masterpiece, complete with an adjustable clip that can be positioned in not one but two different ways. The knife can be placed for tip-up or down-pocket carry. The clip is made of titanium, known for its strength and lightness. This means that the Military's clip is tough and lightweight, making it perfect for those needing a knife that can withstand heavy use without adding too much weight to their pockets. The clip's satin finish gives it a classic look that complements the Military's overall design. The clip is also a low profile, which makes it easy to carry and less likely to snag on anything. However, some reports have reported that the clip is stiff, making it difficult to attach or remove from their pockets. Unfortunately, switching the clip over to the opposite side is impossible. If you're a leftie or someone who values ambidexterity, you might think twice about the Spyderco Military. While it does come pre-drilled for tip-down carry, it only accommodates right-handed users. This limitation is a significant drawback that may impact your overall experience with the knife.
All About Spyderco Paramilitary 2's Pocket Clip: Unlike its counterpart, the Military model, the Spyderco Paramilitary 2 knife is genuinely in a league of its own compared to its counterpart. Its revolutionary four-position pocket clip sets it apart, which allows for ambidextrous use and can be easily attached to either side of the knife. With this innovative feature, you can carry your knife quickly and conveniently, regardless of your preferred hand. This item allows users to hold the knife in a way that suits their preferences. This clip's sleek appearance and durability are made possible by its stainless steel material and black finish. The clip was designed to be low profile making it less noticeable and more comfortable to carry. The clip allows the knife to sit deep in the pocket, adding to its discretion. So, whatever preference you have, you are assured that your knife will stay comfortably in your pocket without causing any distractions.
Measurement Comparison
All About Spyderco Military's Measurement: The Spyderco Military model is a folding knife with a 4″ blade. This results in a total length of 9.52″ when the blade is fully extended and closed length of 5.52". The knife weighs 4.2 ounces which makes sense for its size. The military knife stands for its name, showing countless times impressive craftsmanship and resilience. Though it's not a compact knife, its size offers many possibilities that a smaller knife cannot provide.
All About Spyderco Paramilitary 2's Measurement: On the contrary, the Paramilitary 2 has a slightly smaller 3.42″ blade. This would give the Paramilitary 2 an overall length of 8.24″ when the blade is expanded and a closed length of 4.8". It weighs 3.8 ounces. Compared to the Military model, the Paramilitary 2 is 1.28″ shorter, making it more convenient to carry around.
Price Comparison
The Spyderco Military model is specially designed for military use. With the help of its long and thick blade, the military model can handle various jobs. This versatile knife can be used for camping, slashing boxes, self-defense, and more. The Spyderco military knife will ensure you can have a knife you can rely on. On the other hand, the Spyderco Paramilitary 2 is a tough knife that can handle any job. Its compact use is excellent for quick jobs needing a trustworthy knife. In addition, the Spyderco Paramilitary 2 is generally more affordable than the Military model. The Paramilitary 2 has a price range of $40 to $60 less than the Military. The prices vary slightly depending on the blade's style, color, and handle pattern.
Spyderco Military or Paramilitary 2 – Which One to Choose and Why?
If I had to choose between the two knives, I would select the Spyderco Paramilitary 2 blade. The Paramilitary 2 is more compact, so I can take the knife anywhere I please without worrying about it becoming a distraction. Furthermore, the Paramilitary 2 is still equipped with the same features as the Spyderco Military knife, as the blades are alike in material and their G-10 handles. This knife also has more support as it is equipped with steel liners on the handle and a Compression lock system. As mentioned, the Paramilitary 2 is also more affordable than the Military model. In conclusion, the Spyderco Paramilitary 2 is the knife I would choose.
Read More Related Posts: