A great quality and recommendable everyday knife. Meant for regular pocket knife tasks and little to medium work. Do not think you are missing out because the knife is smaller than most other knives. It is incredibly durable and it does not need to be handled with care.
Important Features and Specifications
Model Number: V3488C1
Blade: 154CM Stainless Steel
Blade Finish: Satin
Blade Length: 2.63″
Closed Length: 3.55″
Overall Length: 6.18″
Blade Point: Sheep's-Foot Style
Blade Edge: Plain
Blade Thickness: 0.106″
Handle: G10
Opening Mechanism: Manual, Flipper
Locking Mechanism: Liner Lock
Pocket Clip: Tip-Up Carry
Knife Weight: 3.17 oz
Blade
Overall, the Kizer Mini comes with a 2.63″ long sturdy and durable blade that will cut with excellent performance for light to medium work and holds up very well.
Blade Steel: The blade is made of high-quality 154CM stainless steel (HRC: 58-61). The 154CM alloy is very famous for making knives because it is tough, rust-resistant, and has high edge retention.
Blade Coating and Corrosion Resistance: It is stainless steel and I have gotten it in grease, left it damp and covered in dirt, and have yet to see any signs of rust developing. I love the satin finish, it gives such a clean look to the lines on the blade, as well as glare reductions, which is nice working in the sun.
Blade Shape: An interesting-looking blade, it does resemble a sheep's foot, but kinda looks like a cleaver. It has a swedge at the top and gets very thin at the edge and has a larger belly. It carries a lot of strength and I quite like the divot in the front of the blade for my finger which gives excellent control.
Blade Sharpness: With a thick blade that comes to a fine edge, this knife is scalpel-sharp straight out of the box. Some new knives come moderately sharp and need to be sharpened. But not this knife, it will glide through cardboard, it could even shave that hair off my arm!
Blade Cutting Performance: This blade can cut well. Passed the paper test right out of the box. Most knives need to be sharpened a bit when new but this one was able to slide right through paper without stuttering. I use this knife every day, and it gets through materials such as cardboard, cords, and packages without hesitation – it has yet to fail me.
Blade Tip Performance: It comes with a wide and sharp tip, enough to get into a package, and does rugged draw cuts. Its tip is not pointed like other knives, so can't be used to stab neatly or pierce deeply something hard. Its tip is not as pointed as other knives, so cannot be used to stab neatly or pierce something hard deeply.
Blade Edge Retention: This knife has become my daily go and putting in through yard work and housework, the blade edge has held up incredibly well. It provides excellent wear resistance, I have yet to see significant wear and tear. Expect to sharpen the blade after three to five months of moderate use.
Blade Strength: For such a small blade with 0.106″ thickness, it packs quite some strength. It is made for lighter work, but it can withstand the pressure applied to it while getting through tougher materials without damaging the knife.
Blade Sharpening: I used this knife almost every day during testing and every few weeks I did a light touch-up with a fine stone to keep it at its best sharpness. However, restoring it to its factory edge after heavy use is not hard but just a matter of time.
Handle
It has a fiberglass handle and is aesthetically pleasing with a clean look. It's ergonomic if you can get a good grip and is pretty lightweight. Provides excellent balance and comfort for effective use.
Handle Material: The material of the knife handle is G10. The G10 scales make it a strong and durable handle even though they are very light. The fiberglass allows it to have a smooth textured surface which improves overall grip.
Handle Liners: The liners are the same color as the blade and are made of alloy steel to make a clean, matching look with the blade. It's strong and supports the handle structure when the blade is out and leaving a gap in between the liners.
Handle Color: I have seen a couple of different colored versions of this knife handle. I love the clean looks of the darker colors, red and black. I got mine in black.
Handle Design: Looks good and isn't that threatening. There are three diagonal lines going down the handle which doesn't really add to the grip, it's probably for the aesthetic. The fiberglass material adds a rough surface improving grip. The shape of the handle allows for some positioning with the finger grooves, but it is still difficult for larger hands to grip.
Handle Size/Fit: I see that my big three fingers practically swallow the entire handle. But if the thumb and index finger are placed near the pivot point, the remaining three fingers can grip the handle well and a pinch grip is obtained. My wife has smaller hands and the knife fits well for her, she can get four fingers around it. However, those with medium/small hands will be able to grip it better.
Handle Grip: The grip is more comfortable when using the spot right at the end of the blade to hold it in a choked-up position which provides excellent control. Holding it in a standard position on the grip works for me, but having larger hands might be uncomfortable.
Handle Ergonomic: The ergonomics can be trickier if you have a larger hand and have trouble getting a comfortable grip. Those with medium or small hands will find excellent ergonomics for being such a small knife, it has a ton of freedom.
Handle Comfortness: The handle is comfortable for work, I wear a small Mechanix glove. I can imagine that for someone wearing a large Mechanix glove, the handle may cause discomfort when holding it traditionally.
Opening and Locking
Opens and closes cleanly. The knife has a flipper tab for easy opening and can be closed with minimal pressure applied to the back of it. Opening and closing it is smooth and has a pleasant fidget aspect and clicking noise to it.
Opening Mechanism: Caged ceramic ball bearing pivot is used in the knife for smooth and swift opening with one hand. This knife is a flipper and has a flipper tap as its opening mechanism. On small knives, I love the fun aspect of being able to fidget with and flip the knife open. When holding the knife it's easy to flip the tab to open the knife, although if I don't have a good grip on the knife it has caused my finger to slipped off the flipper tab.
Locking Mechanism: It has a liner lock. This one is very comfortable and clicks into its opened position easily. The part of the blade meeting the stop pin is shouldered, allowing for more surface area and easier, less wear on the liner lock. It locks easily and you can tell that it has been properly locked because it has a clicking sound.
Action Smoothness: Smooth action and fun to fidget with. Easily and quick to pull out and put away while working, I don't have to waste any time with it when using it on daily tasks.
Mechanism Reliability: The mechanisms have yet to cause any substantial problems on my knife, other than the odd occasion that I have to apply a little extra force to get it to go down and lock in the closed position.
Pocket Clip
The tip-up pocket clip does its job, nothing special. It isn't too pronounced and doesn't stick out of my pocket a lot. It is only for right-hand users, and there isn't an option to switch it to the other side.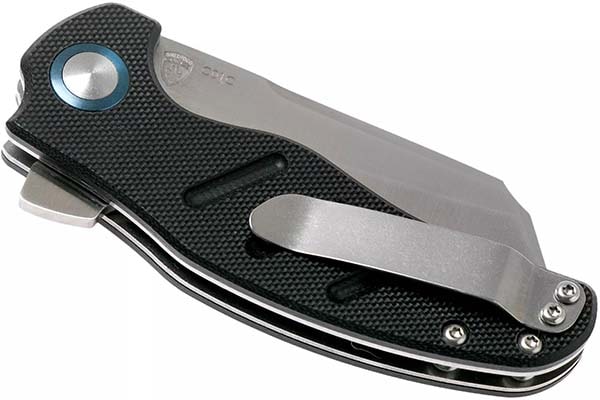 Users
When holding the knife the pocket clip does not become an obstacle. However, left-handed users may face some problems while using the knife but there is an option to remove it. By removing the pocket clip or not finding it a problem, both lefties & righties can use the knife in parallel.
Warranty
According to KIZER customer service, if the product is purchased from an authorized dealer, they provide a limited lifetime warranty. And guaranteed on the product against defects in material and workmanship.
Pros
154CM steel is a superior metal for the money
Blade has an excellent cutting performance
Easy one-handed flip opening and closing
Lock-up is solid, no side-to-side play in the blade
Open back construction for easy cleaning
Very well made, sturdy, good size for pocket
Available in different sizes and color options
Almost all states allow carrying it under knife laws
Cons
Pocket clip is non-adjustable
Knife has no lanyard hole
Handle is short for large hands
Conclusion
Kizer Mini makes an excellent everyday carry knife. This knife is best suited for those who are looking for a small everyday knife for pocket knife-like tasks. It's great for breaking down cardboard boxes, opening mail and packages, as well as using it in my garden landscaping.
It would probably work better for individuals with smaller hands, they may be able to get a better, more proper grip on it. I would recommend this knife to someone looking for an EDC who would be comfortable gripping a smaller knife as its efficient cuts and strong structure make it an excellent choice.